I can't even tell you how much I love my Tower Garden! If you follow me on FB and or IG you will see my post and photos with my Tower Garden. It is seriously the easiest thing I have ever done. There is no weeding or watering involved. The Tower Garden is on a timer and it actually waters itself. Yes, you heard me correct.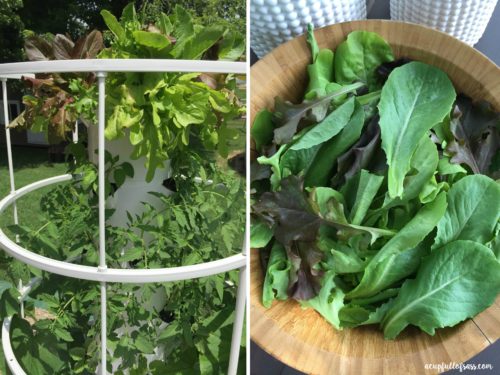 You probably already know that you should eat a lot of fruits and vegetables every day—and the more variety, the greater the benefit. Luckily, you can grow both a high number and large variety of vegetables, herbs, fruits and flowers with Tower Garden.
In fact, Tower Garden can grow more than 150 different wellness-promoting plants. (The only real exceptions are root crops—such as carrots and potatoes—grapevines, bushes and trees.)
Intro to Aeroponics:
An advanced form of hydroponics, aeroponics is the process of growing plants in an air or mist environment rather than soil. Aeroponic systems use water, liquid nutrients and a soilless growing medium to quickly and efficiently grow more colorful, tastier, better smelling and incredibly nutritious produce.
Grow 30% More, 3x Faster, with 98% Less Water. 
Check out this short video showing how the Tower Garden works.
Why a Tower Garden:
As a convenient vertical aeroponic growing system, Tower Garden by Juice Plus+® simplifies gardening. Easily grow almost any vegetable, herb, or flower and many fruits at home with 90% less space and water and in a fraction of the time compared to conventional gardening. It's perfect for urban settings—rooftops, patios, balconies, terraces—or just about any relatively sunny place outside.
Best of all the Tower Garden is more affordable than you might think. Here is what it breaks down to.
Tower Garden Growing System
Ready to grow your own vegetables, herbs, fruits and flowers the easier way? Get everything you need to start growing up to 20 plants now.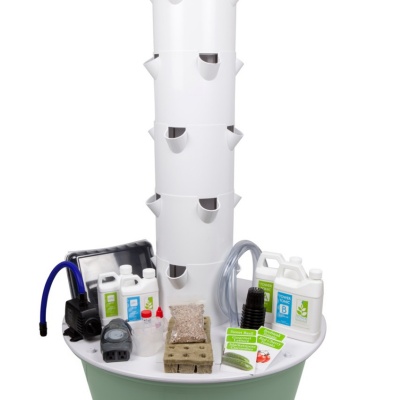 You can get the Tower Garden for only $45.25 per month for 12 months. That's $11.00 per week.
If you are like me that is what you probably spend on tomatoes and spinach at the grocery store per week. The Tower Garden can be broken down into 12 monthly payments for a lifetime of healthy organic vegetables and fruit.
Here is what is included:
Vertical, aeroponic Tower Garden
Non-GMO basil, beefsteak tomato, bell pepper, cherry tomato, cucumber, eggplant and gourmet lettuce seeds
Seed starting supplies, including germination tray, 20 rockwool cubes, vermiculite and net pots
Pump, timer and drain tube
Tower Garden Mineral Blend plant food (one qt. each) and measuring cup
pH test kit and one bottle each of pH adjusters
Dedicated customer support and comprehensive growing resources to help at every stage of your Tower Garden experience
Product Dimensions:
Made from high-quality, USDA-approved, UV-stabilized, food-grade plastic
Dimensions: 62 x 30 x 30 inches
Tower Garden Grow Lights Kit
Another great thing is this you can even use the Tower Garden inside during the winter months. Get fresh, homegrown food, regardless of climate and season? Don't have a suitable space to garden outdoors? The Tower Garden Grow Lights Kit* allows you to easily grow leafy greens, herbs and other non-fruiting crops indoors year-round.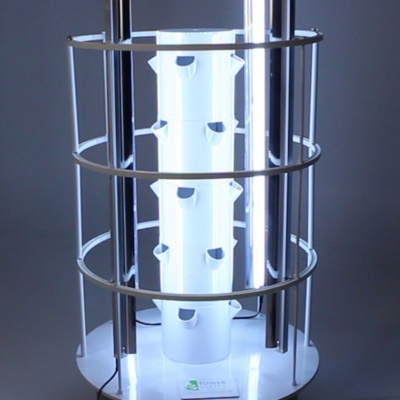 So if you have ever wanted a garden or if you have ever had a garden and it did not go well, check out the Tower Garden.
This my friends, is how a girl should garden. Coffee in hand and picking fresh vegetables.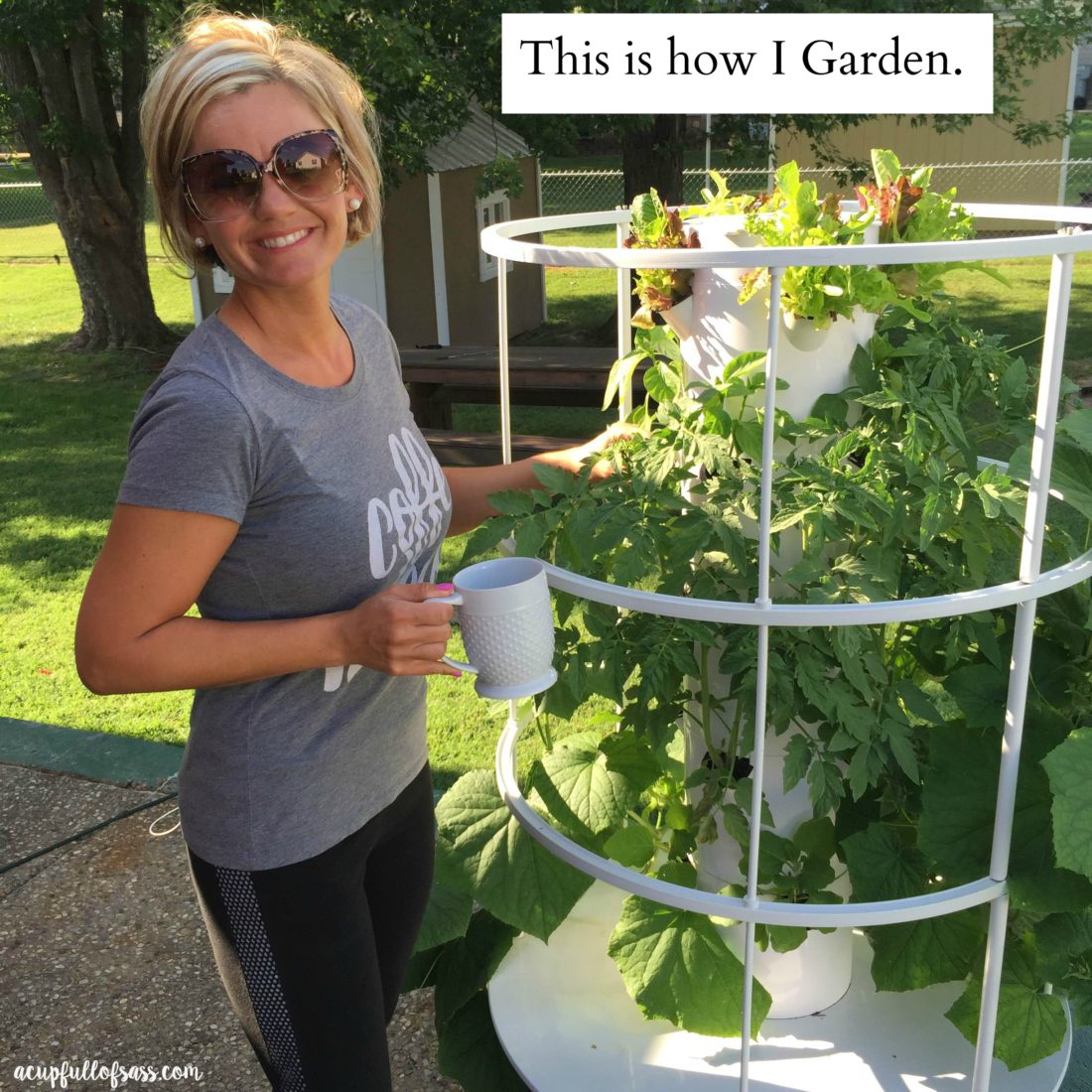 Contact me and I can help you get started on starting your own Tower Garden!