Today I am sharing my Amazon Favorites for February. Since I do most of my shopping from Amazon I thought this would be a fun monthly post to do. This is an array of different things. Clothes, shoes, and things I can't live without. I had a hard time deciding which ones to pick for this month. Because seriously I have so many favorite Amazon finds. I hope this new monthly post is one that you will find helpful and beneficial.
NOTE: Please click on each items at descriptions or below on the large pictures.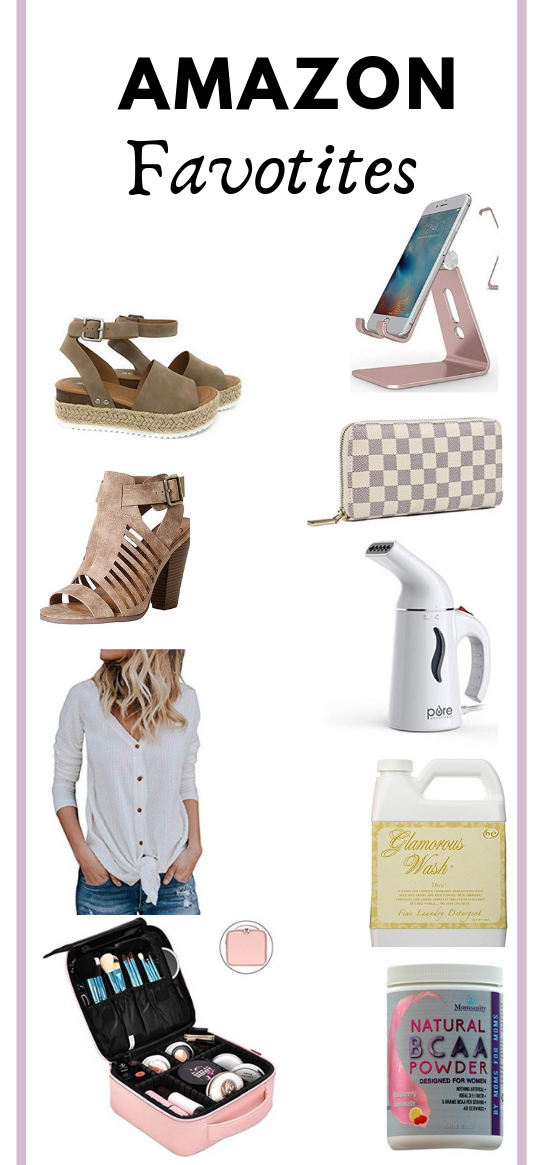 Rose Gold Adjustable Cell Phone Stand
This cell phone stand is my favorite Amazon finds. I bought all of my kids one after they were constantly asking to use mine. I can watch videos while washing my face at night or while I am cooking or cleaning. It's adjustable too. It's definitely a must!

Jade Roller for Face
I use this at night after I wash my face. I love the way it feels. The Jade Roller can promote blood flow and rids of fatiguing toxins, via lymphatic drainage. I think it helps with my sometimes puffiness too.

Makeup Bag Travel Cosmetic Bag
This is one of my most recent top sellers. This makeup bad is life changing. I keep my everyday makeup in it for easy access.


Faux Leather Leopard Earrings 
These earring are inexpensive and adorable.

Tortoise Shell Hoop Earrings
These hoop earrings come in different sizes and look great with all of my outfits!

Bracelet
This is a popular dupe and I get questions on where I found it.

Off Shoulder Knit Top
This top was a top seller last month. It's so easy to wear and perfect for spring.

Cutout Stacked Heel Sandal
This sandal is adorable and can be worn with jeans, shorts or even a dress.

Henley Tie Knot Top
This henley top was loved by so many of you. It comes in several colors.

Wedge Platform Sneakers 
Too cute to pass up!

Flatform Wedge  Sandals
I found these and they are currently in my shopping cart. I can't wait to wear them this spring and summer.

Wedge Sneakers 
This is one of my most popular shoes and with good reason. They are stylish and easy to wear.

Tunic Top
I love this tunic top. It's designed with a string for adjusting on the one side, which can shape your body more perfectly.

Women's Fleece Boyfriend Crew Sweatshirt
The quality of this sweatshirt is seriously amazing! I am wearing an xs and it fits perfect.

Casual Off the Shoulder Top 
I love this top. You can dress it up or dress it down. Comes in many colors.

Off Shoulder Weekend Sweatshirt
Who doesn't love a fun weekend shirt to wear while running errands.

Camo Sweatshirt
Love this camo sweatshirt. It can even be worn with shorts and sandals in the spring.

Lace Bralette
I wear this with all of my off the shoulder tops. Comes in many colors.

Checkered Zip Around Wallet 
This wallet is a dupe and perfect any purse.

Waffle Spa Body Wrap
I love to wear these when I get ready in the mornings.

Spa Facial Headband
These are perfect for keeping your hair out of your face when it.

Glamorous Wash Laundry Detergent
I like to wash my sheets with this laundry detergent. It has a perfume typre scent to it.

Silk Pillowcase
I like sleeping on a silk pillowcase because it is better for my face. It helps to prevent sleep wrinkles and keeps my hair from getting tangled.

Norwex Basic Antibacterial Microfiber Cloth Package 
Best cleaning cloths I have ever used. Removes everything with just water to remove up to 99% of bacteria from surfaces.

Norwex Dusting Mitt
This mitt makes dusting easier because I can pick up items and easily lean them.

Wool Dryer Balls 
I use these when I wash my comforters, blankets and towels.

Handheld Steamer
I could not live without my handheld steamer. I travel with it too. It has replaced my iron. I use it for my clothes, curtains, shower curtains, you name it.

Natural BCAA Powder
Can't love without mu BCAA powder. I drink it after I workout and sometimes I just drink it when I am fasting in the morning. This is perfect for all of my Faster Way to Fat Loss friends!

Alyssa's Gluten Free Vegan Cookies Healthy Cookies
I love these cookies and I can eat them without feeling guilty. Another great choice for my FWTFL friends.

Yeti Tumblers
This is how I travel with my coffee. Yeti tumblers are my favorite. I have them in several colors.

Magnetic Car Mount Holder
This cell phone mount is great for driving, and keeping your phone in your car has never been easier

Nato Smart Mount Magnetic
The Nato Smart Mount is a stick-on for Smartphones. It's a magnetic car mount, that will not block the air vent nor the windshield of your car.

Sport Luxe Deodorant – LAVANILA
This is an aluminum-free, high-performance deodorant. My daughter and I both use it. It's free of harsh chemicals, aluminum, silicone, petrochemicals, propylene glycol, mineral oil, formaldehyde, and synthetic fragrance or dyes. We love it.

Side Cut Out Capris
One of my favorite workout capris and they are so affordable.

WOW Shampoo
I love this shampoo. It is formulated without sulfates and does not contain any silicones, conditioning agents. Great for people with extensions too.