Let me first start out by saying I am not a fashion blogger. I love fashion but I really don't know anything about it. I just wear things I like. I am a mom and most days I am wearing yoga pants and a tee shirt. However, since my kids are getting older, I have had time to actually put outfits together. And I am loving it. I have been posting some pictures on A Cup Full of Sass facebook page and I have received several comments and emails asking for more. I was asked if I would share how I put outfits together. I have to say I was so flattered. Again, I am not a fashion expert by any means. But I did want to share with you things I do.
Accessories can change the look of any outfit. A necklace, bracelet, scarf , watch, belt, handbag and or shoes. It is crazy how something that would seem so minor like a necklace can change the entire look of an outfit. The best part of accessorizing is you can wear the same outfit over and over and it never feel like it. The first three pictures are outfits, jewelry (except the tortoise shell necklace) and shoes I have had for a year plus. By wearing different jewelry and shoes, I felt like it was a new outfit. You can purchase trendy cute jewelry at places like Jane, Forever 21, Charlote Russe and even Walmart. You don't have to spend a fortune to accessorize. Same goes for shoes.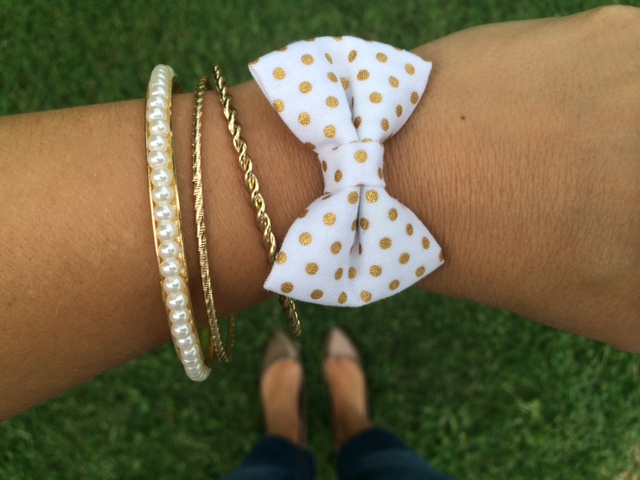 This adorable gold polka dot bow bracelet is from OhSoBowBracelets on Etsy. I'm in love with it! You can get one here. Other bracelets I bought at Walmart.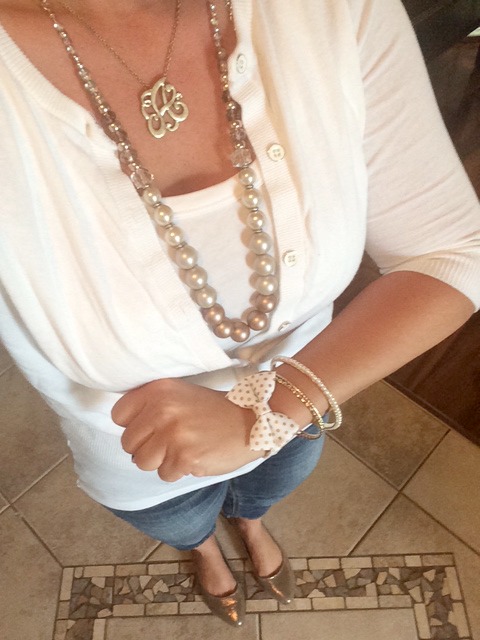 Bead necklace is from NY and Company. They always have trendy jewelry. Monogram initial necklace is from Francesca's. Polka dot bow bracelet is from OhSoBowBracelets Etsy store. The Gold shoes I bought from Maurices. And would you believe me if I told you I found them on clearance for $5? Score!! The white cardigan is from the Gap Outlet. You can even find cute cardigans at Walmart and Target.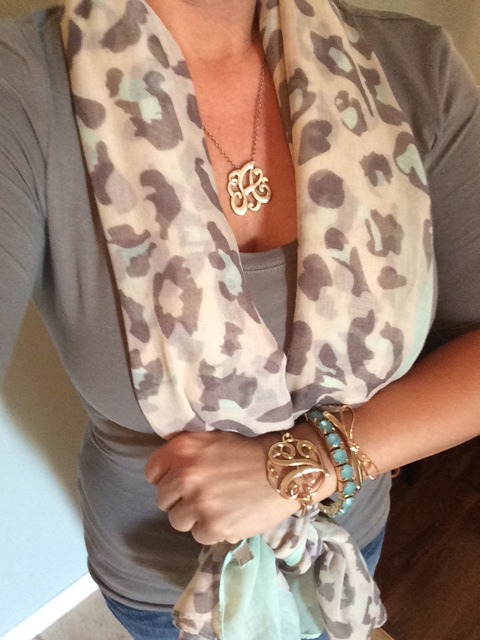 My top is from Marshalls. The Mint and Tan Leopard Print Scarf is from Amazon. Unfortunately, it is not available at this time for purchase. But scarfs are pretty much at any clothing store. Monogram initial bracelet and necklace from Francesca's. Mint bracelet is from Walmart and bow bracelet (Kate Spade inspired) is from Jane.com. Jane.com is one of my all time favorite online stores! They offer trendy clothing, jewelry and much more. And they have amazing prices and new products added daily. You must check them out.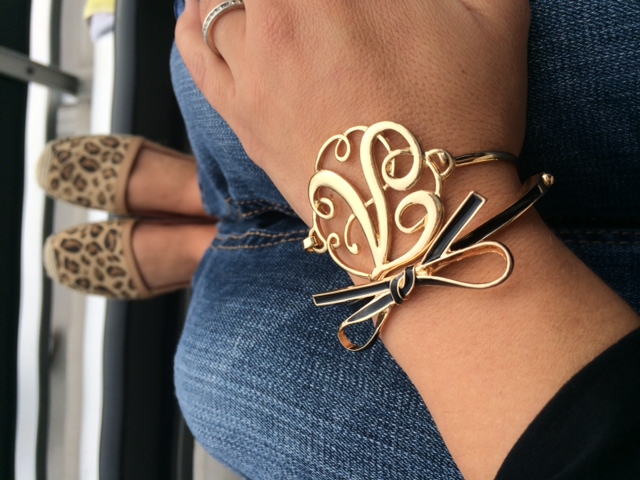 This is another bow bracelet (Kate Spade inspired) from Jane.com. I love arm candy! 🙂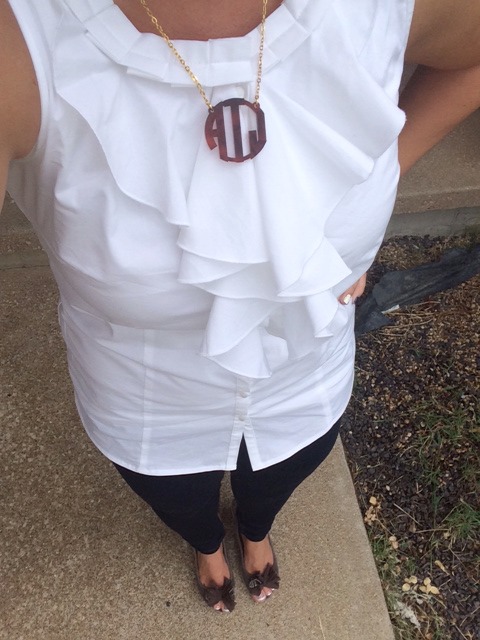 White ruffle top from Banana Republic Outlet. I bought this a couple of years ago. HUE Women's Original Jeanz Denim Legging Amazon. Wedge sandals from New York Company. Again, this was purchased a couple years ago. Tortoise shell monogram necklace from ChristyTreasureBox on Etsy.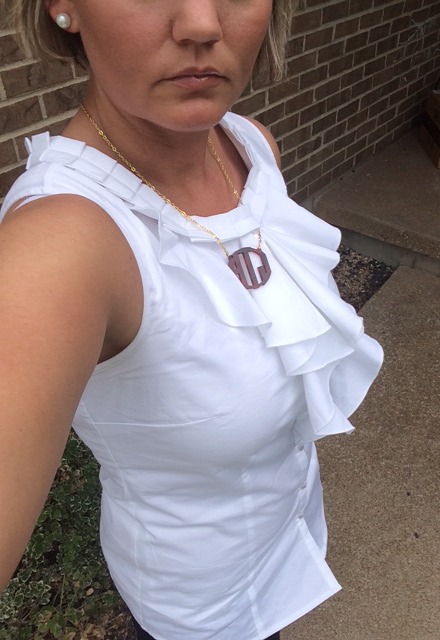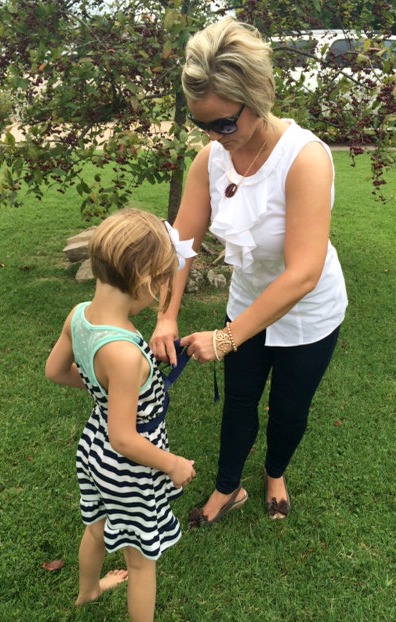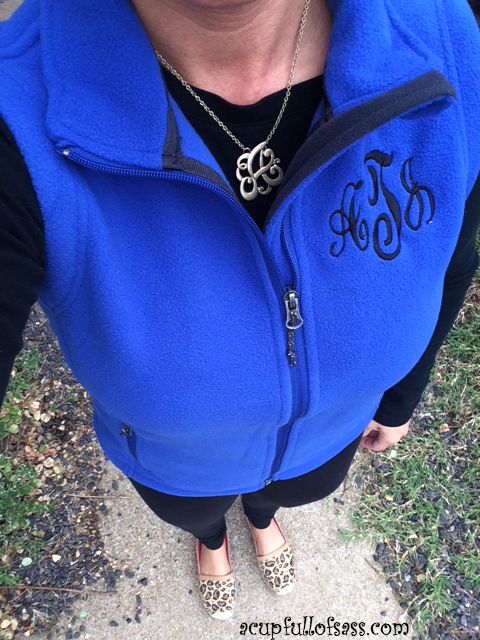 Necklace from Francesca's. Leopard print Sperry shoes from Nordstroms. Fleece monogram vest is from Marley Lilly. If you are a monogram addict like me Marley Lilly is a great place to get your stuff!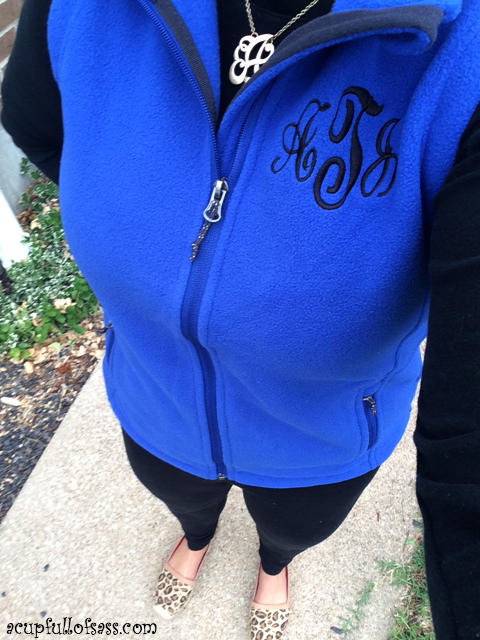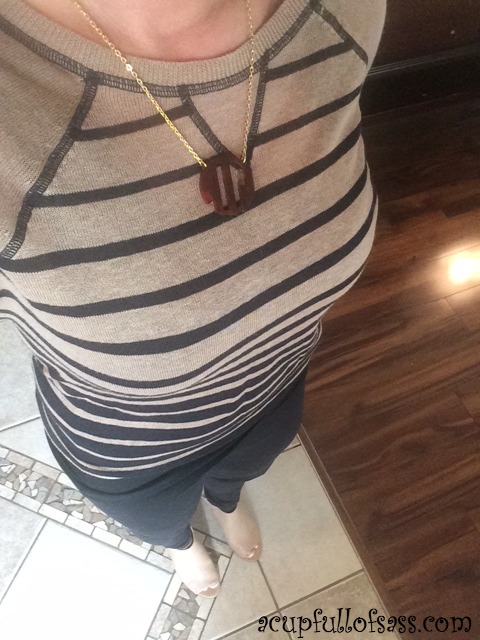 This tan and black striped sweater is from Marshall's. Peep toe ankle boots from Target. I found these on clearance when we were visiting Seattle. I love these shoes! Monogram tortoise shell necklace from ChristyTreasureBox on Etsy.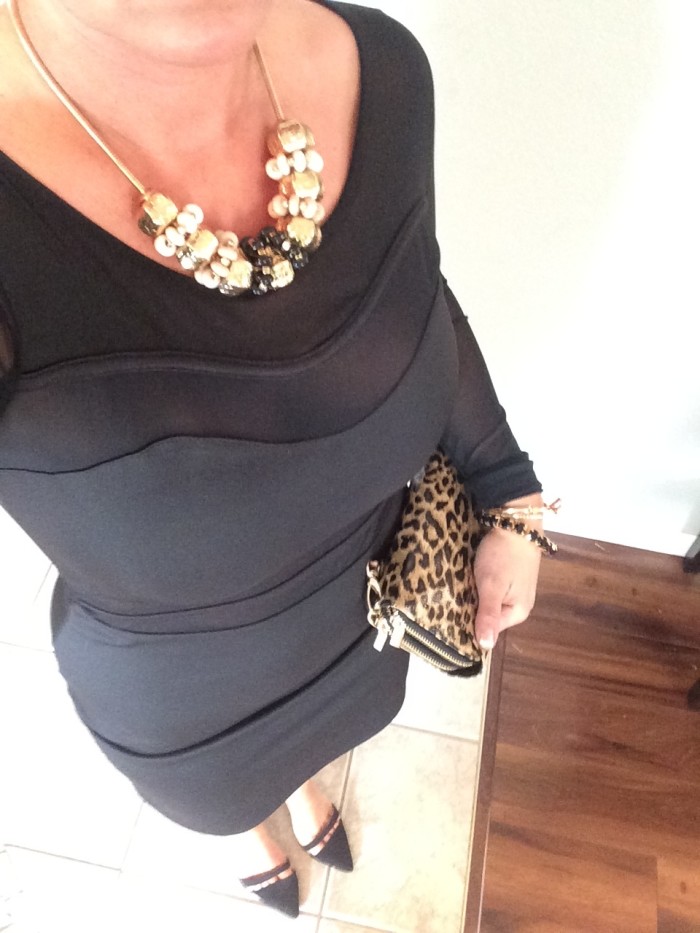 This outfit I wore to a friend's wedding. I wanted to show you how the necklace, bracelet and wallet adds to the dress. I purchased the dress at Macy's. The two tone high heels from JCP. Necklace and bracelet from New York and Company. Leopard wallet from Charlotte Russe.
Wearing layers of different style bracelets is big right now. Bangles are really popular too. So don't be afraid to try something new. And remember accessories can be the key to any outfit.