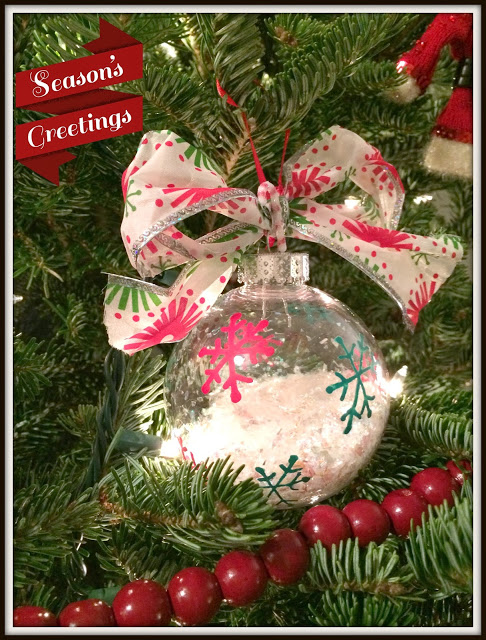 This DIY Christmas Ornament is so easy, fun and can be addicting.  There are so many ways to make these. O personally love the DIY Glitter Ornament the best. They make wonderful gifts for friends and family.  Here is all you need.
Supplies:
Glass or plastic clear ornaments
Floor Cleaner (like Pledge)
Glitter
Artificial Snow
Paint Pens
 Ribbon
 Directions:
Decorate the outside of the ornament with a paint pen.  I decided to make snowflakes but the possibilities are endless.
Now for the inside.  Squirt floor cleaner into the ornament and coat the inside by gently swirling it around.
Next drain the access.
Use a funnel to pour glitter into ornament.
Then cover the top of the opening with your finger and coat the inside of the ornament.
Once coated evenly pour the remaining glitter out.
Let dry overnight.
Or skip the glitter and add artificial snow.
Then add a ribbon to hang.

Now you have a gorgeous ornament made by you.  I gave these away as gifts and they were very popular.  Or keep them for yourself.  I won't tell.  😉
Facebook | Pinterest | Twitter| Instagram| Periscope