This Christmas breakfast charcuterie board is something fun for the holidays. Both kids and adults love it! You can create your board with both store-bought items as well as homemade ones. I did both. There are so many things you could add to your board depending on what you and your guest like. The ideas are endless.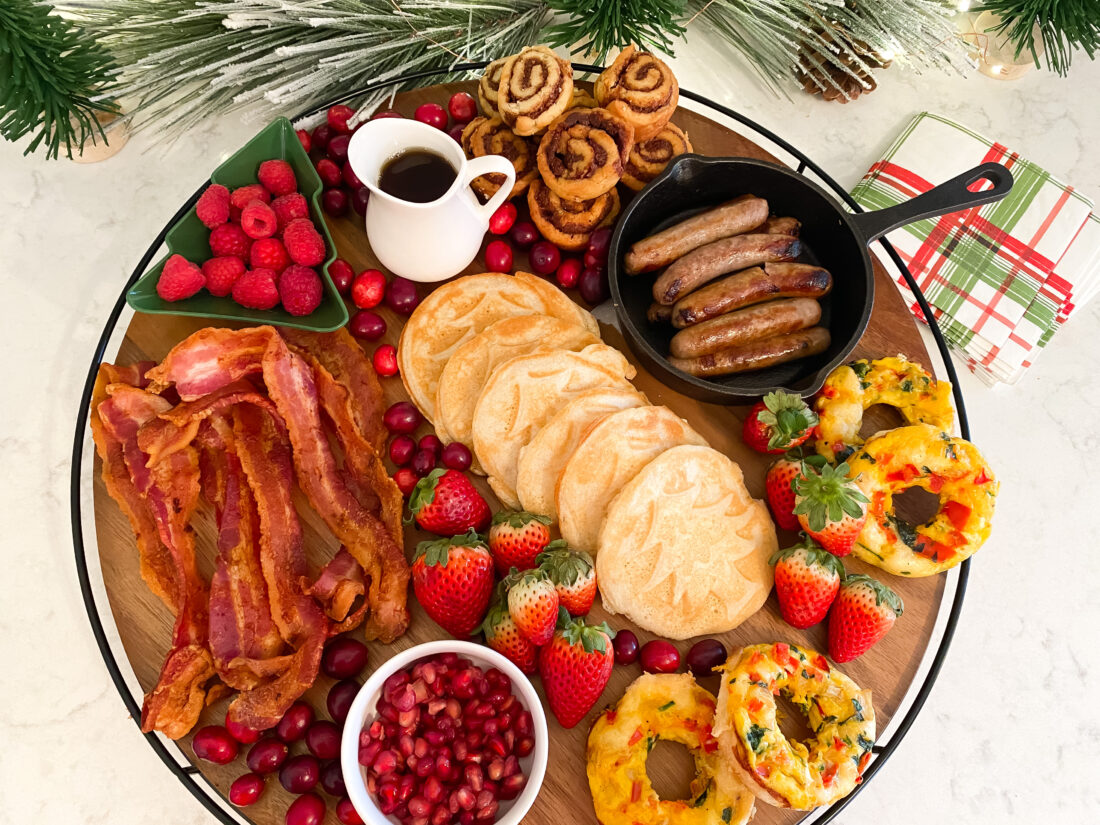 BREAKFAST ITEMS FOR YOUR GRAZING BOARD
Add your favorite breakfast foods. I served homemade mini Christmas Tree pancakes using a mini waffle iron I bought here. My family loves my bacon and I bake mine in the oven and it is so easy to do. This mini cast iron skillet worked out perfectly to hold the sausage links. I made crustless mini quiches that looked like a Christmas wreath. You can see how I did it here. How fun are these? I also used store-bought mini cinnamon rolls.
BREAKFAST ITEMS I USED:
mini pancakes
mini cinnamon rolls
bacon
sausage links
crustless mini quiches
fresh fruit
pomegranate
cranberries (to act as a filler)
OTHER BREAKFAST ITEMS FOR YOUR CHARCUTERIE BOARD
mini muffins
mini croissants
mini donuts
mini waffles
scrambled eggs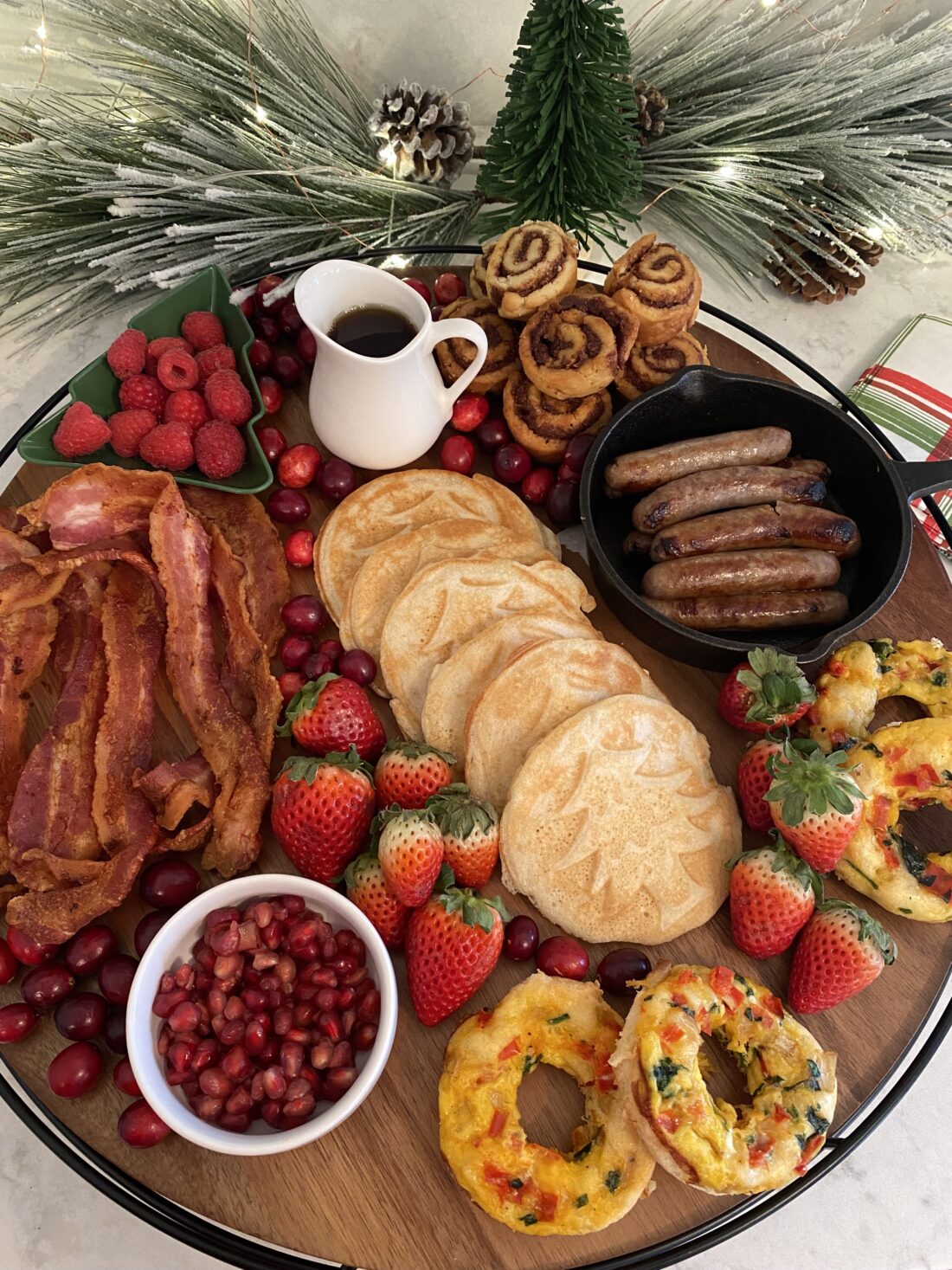 Make it a Christmas Theme
I love creating a theme around my boards. Being this is for a Christmas board, I like to add themed shaped bowls and or decor to help create the holiday feel. Use a Christmas tree mini waffle iron to crate Christmas tree pancakes. Add red and green colors to your board for a festive look. Throw a few rosemary stems to fill in areas.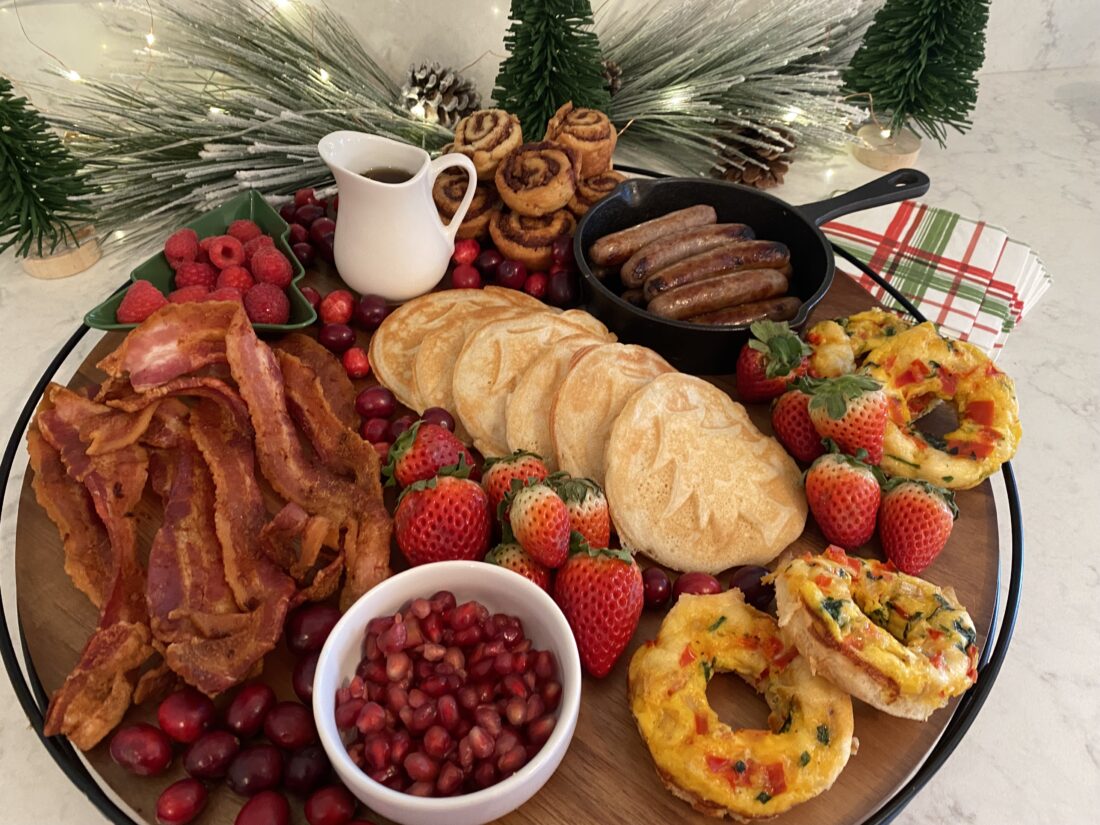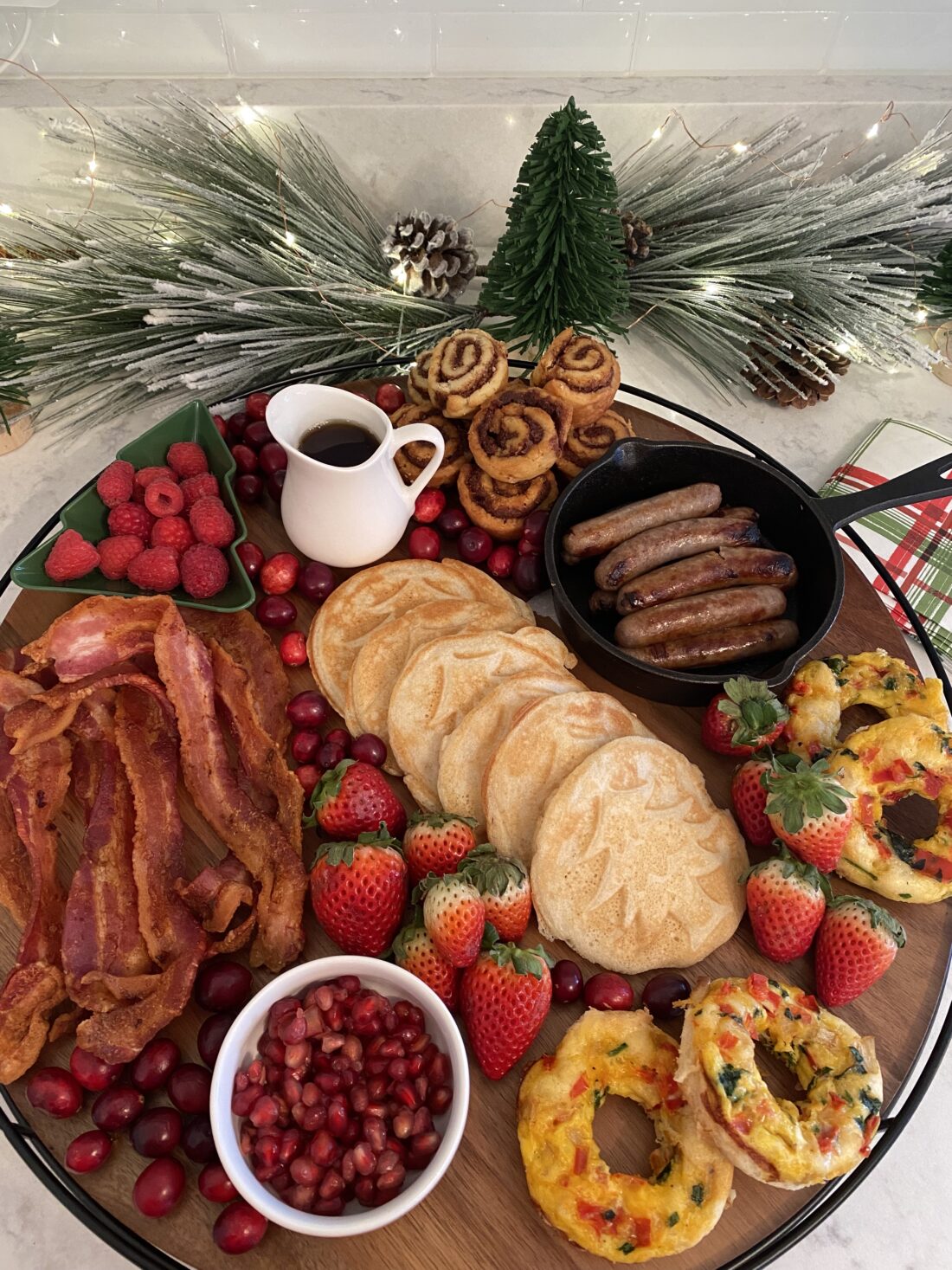 Remember this you your Christmas board. Have fun with it. Trust me, your family and guests will love it. Check out my hot chocolate charcuterie board for another theme board.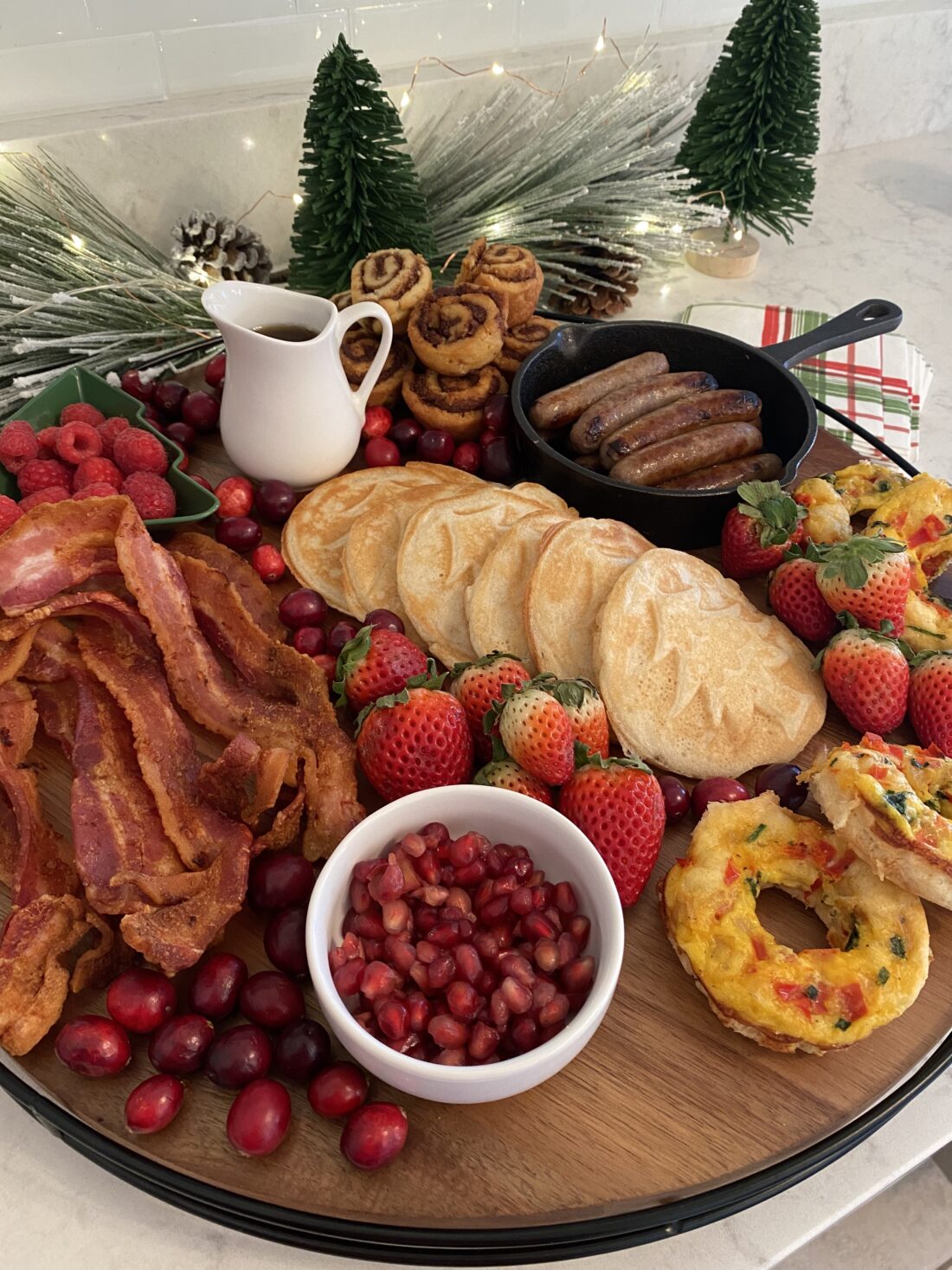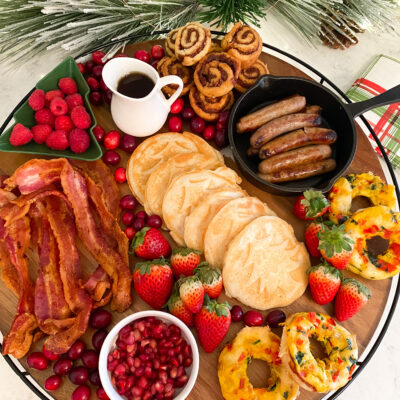 Christmas Breakfast Charcuterie Board
Create a fun breakfast charcuterie board for Christmas morning.
Ingredients
Mini Pancakes (homemade or store-bought)

Mini cinnamon rolls (homemade or store-bought)

Bacon

Sausage Links

Crustless Mini Quiches

Strawberries

Pomegranite

Cranberries
Instructions
Use a large wodden board to display your items.

Stack your pancakes or waffles at an angle, overlaping one another.

Use small decoritve bowls to hold items

Use a mini cast iron skilliet to hold sasage links.

Add your Crustless Mini Quiche to an open area.

Fill gaps with fruits and cheese.

Add rosemary stems for a festive Christmas look.