I hosted a Favorite Things Party with some of my favorite girlfriends. I am taking all the guesswork out so you can host your own Party. I posted everything on my Instagram stories and Facebook stories If you have ever wanted to host one of these parties, do it!
How the Favorite Things Party Gift Exchange Works:
This is the most common question I usually get asked. Here is how the Favorite Party Gift Exchange Works. There are many different ways you could do this, but I am going to share how I did it.
Each guest brings three of the same "Favorite Things" that cost $20 each, wrapped and ready to exchange. You can set the number of gifts they bring and the price. It's entirely up to you. Note: Your guest can also combine multiple things into one gift that adds up to the price point you setEach guest writes down their name on 3 slips of paper and drops them into a bowl. When it is time to exchange gifts ask someone to volunteer to go first. That guest will stand in the front of the room and will draw three slips of paper from the bowl. Those three people receive that guest's gifts. You can also have them say why it is their "Favorite Thing". And then it just continues from there. Each person will go home with three new gifts.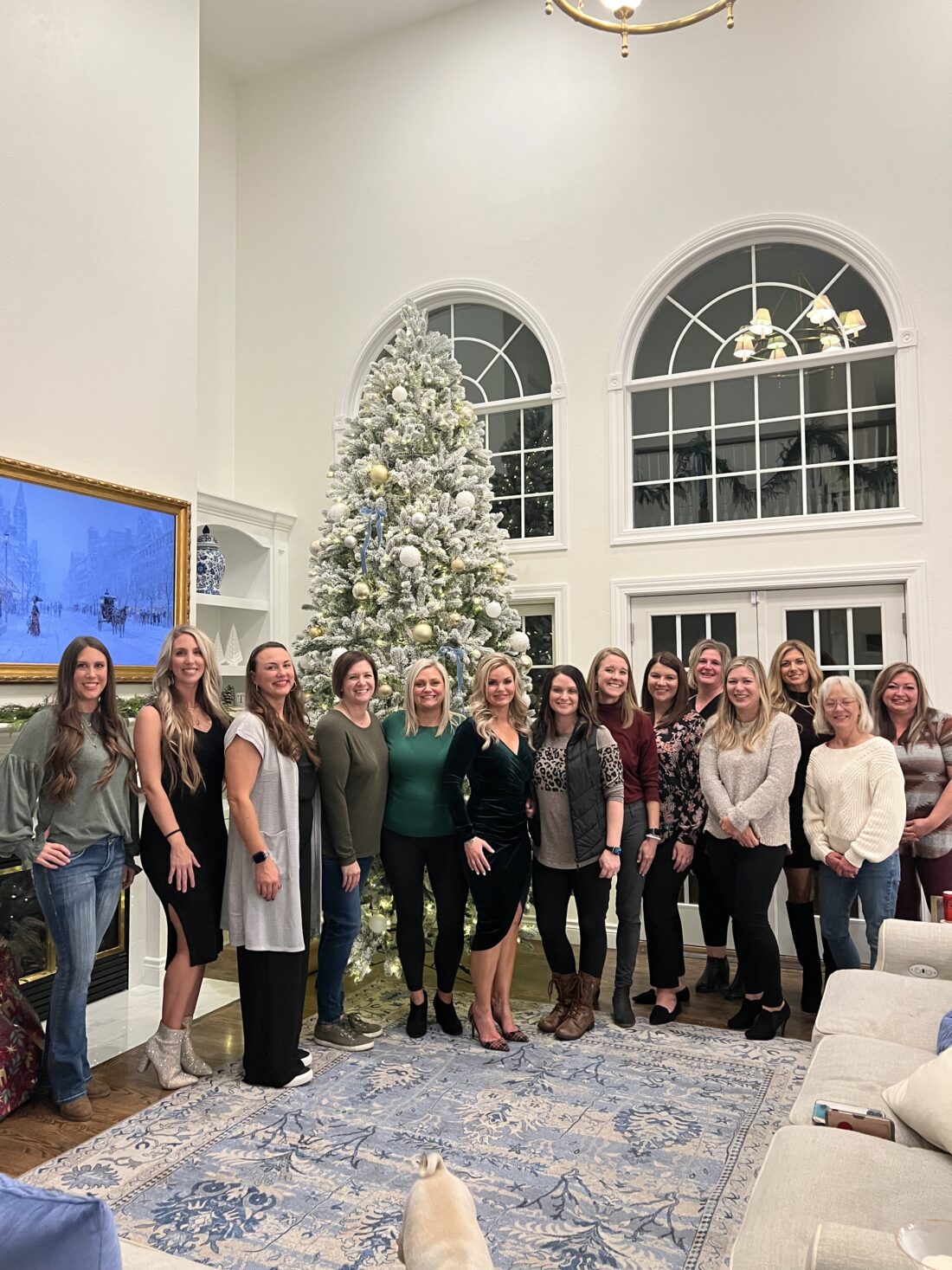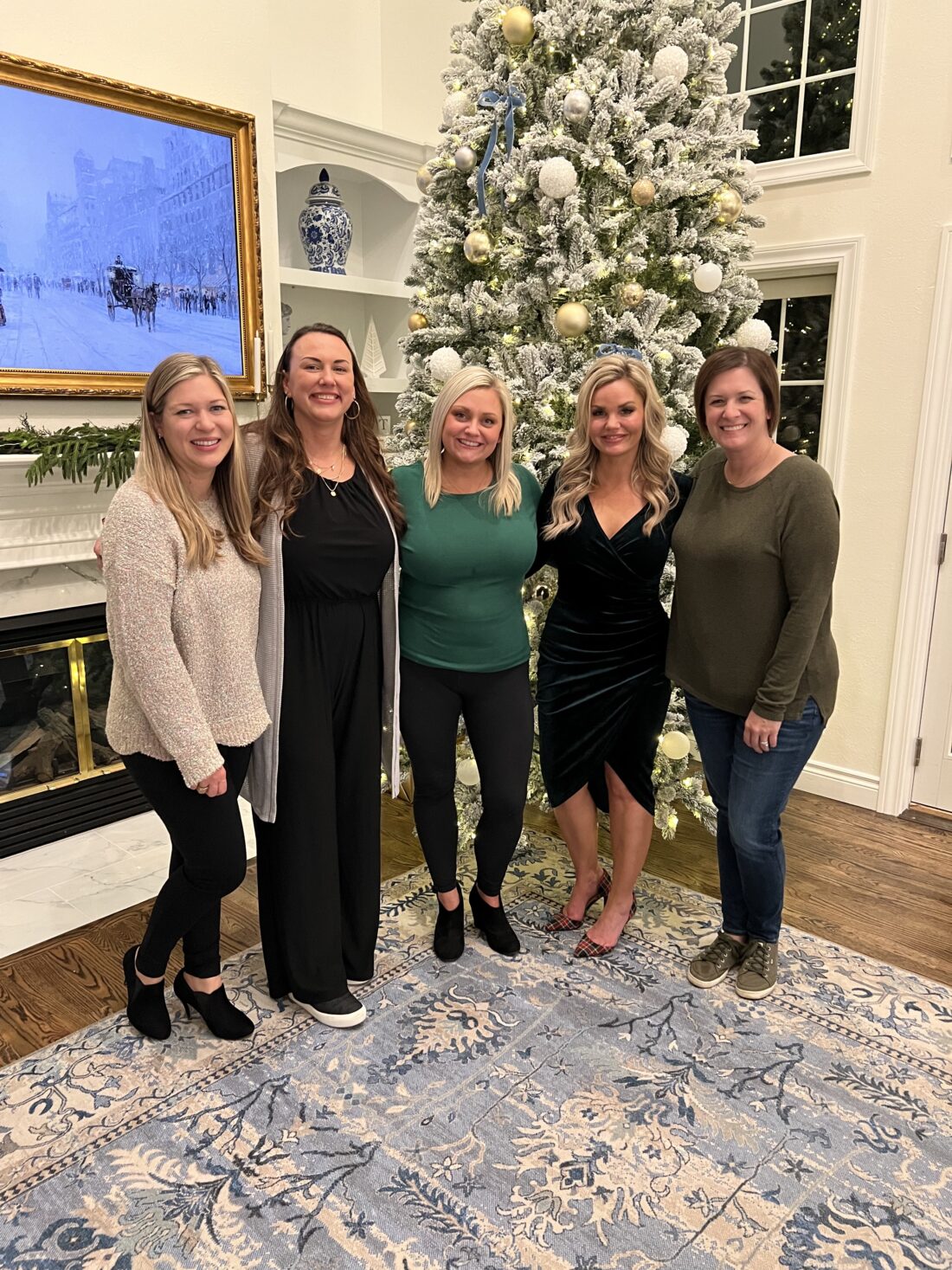 Favorite Things Party Gift Ideas:
Some Favorite Things Party gift ideas can range from so many different things. It really depends on the price range you decide to set. Here are some popular items.
Candles
Lip mask
Blankets
Spa items
Charcuterie boards
Gift cards
Wine
Tumblers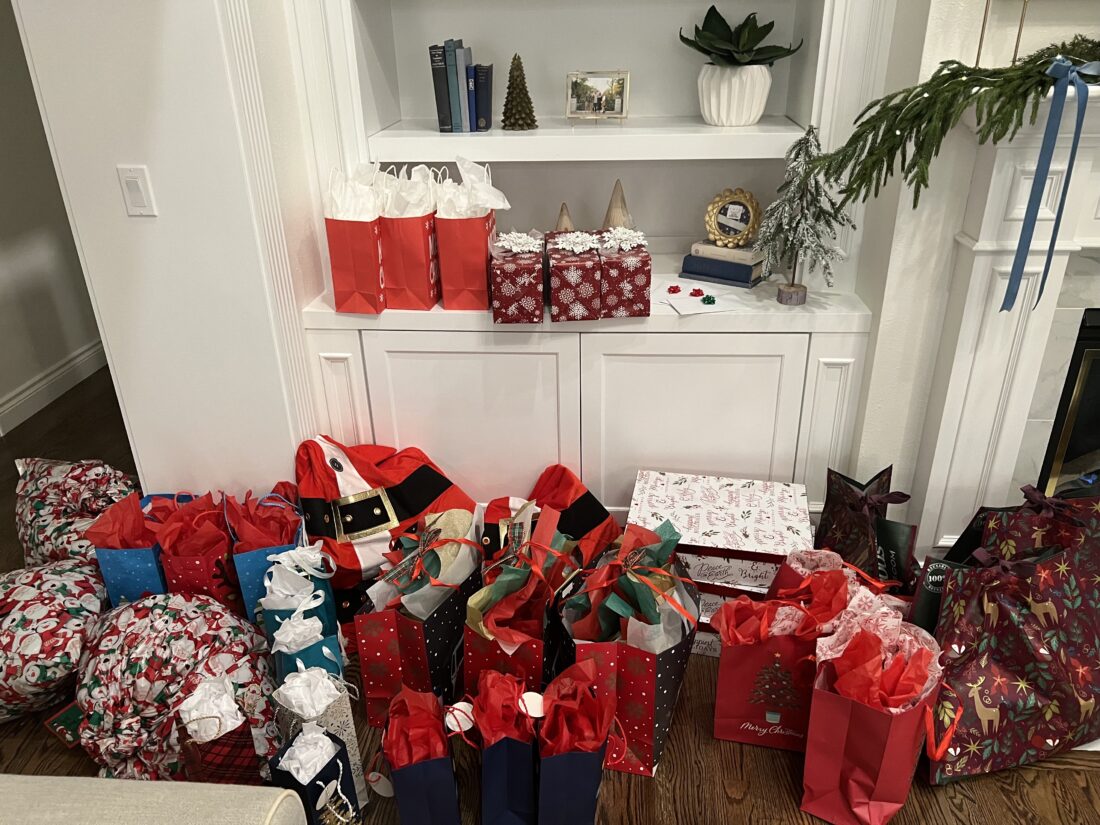 I can't even begin to tell you how fun this was! My girls came down to help as my assistant.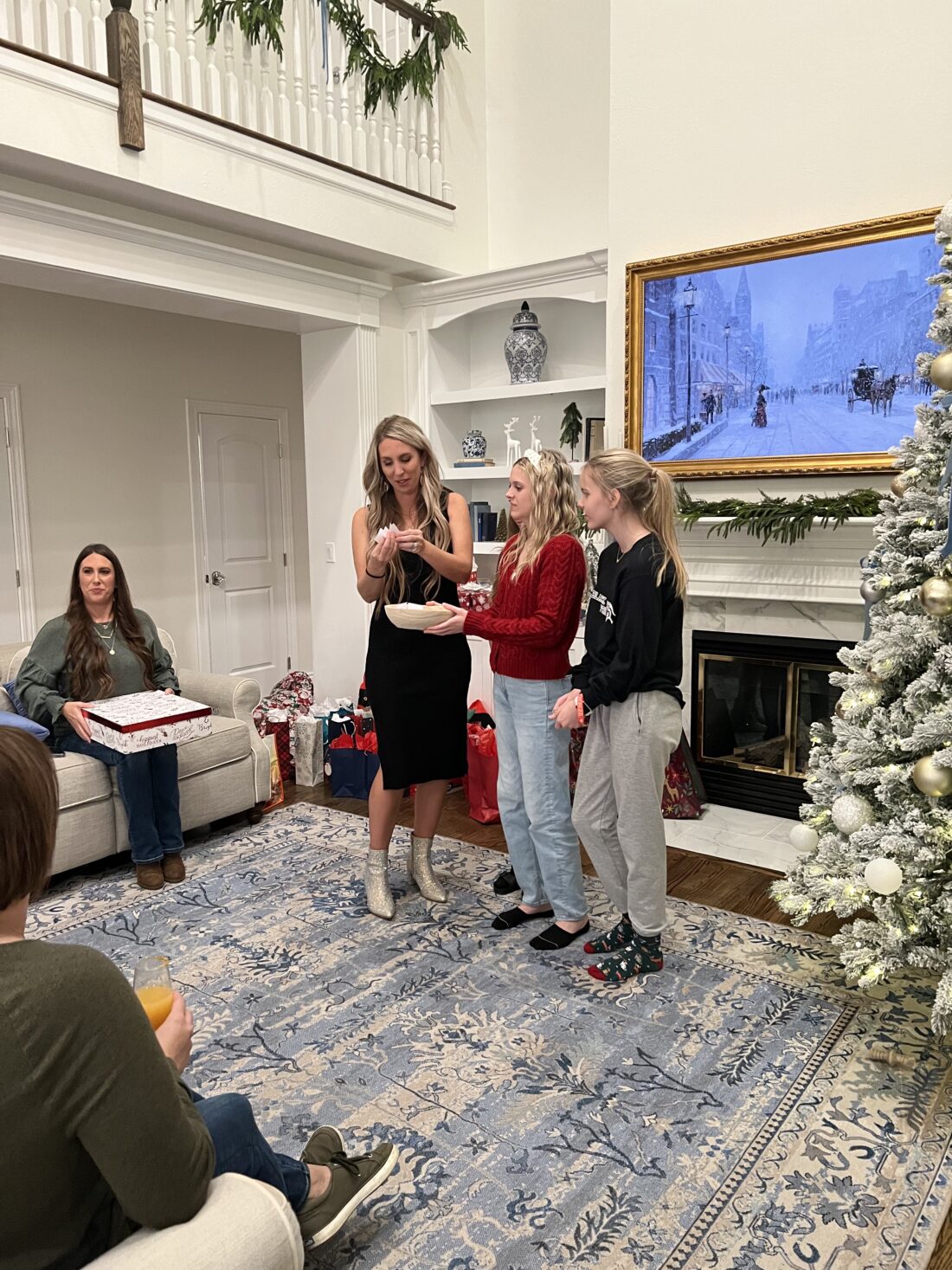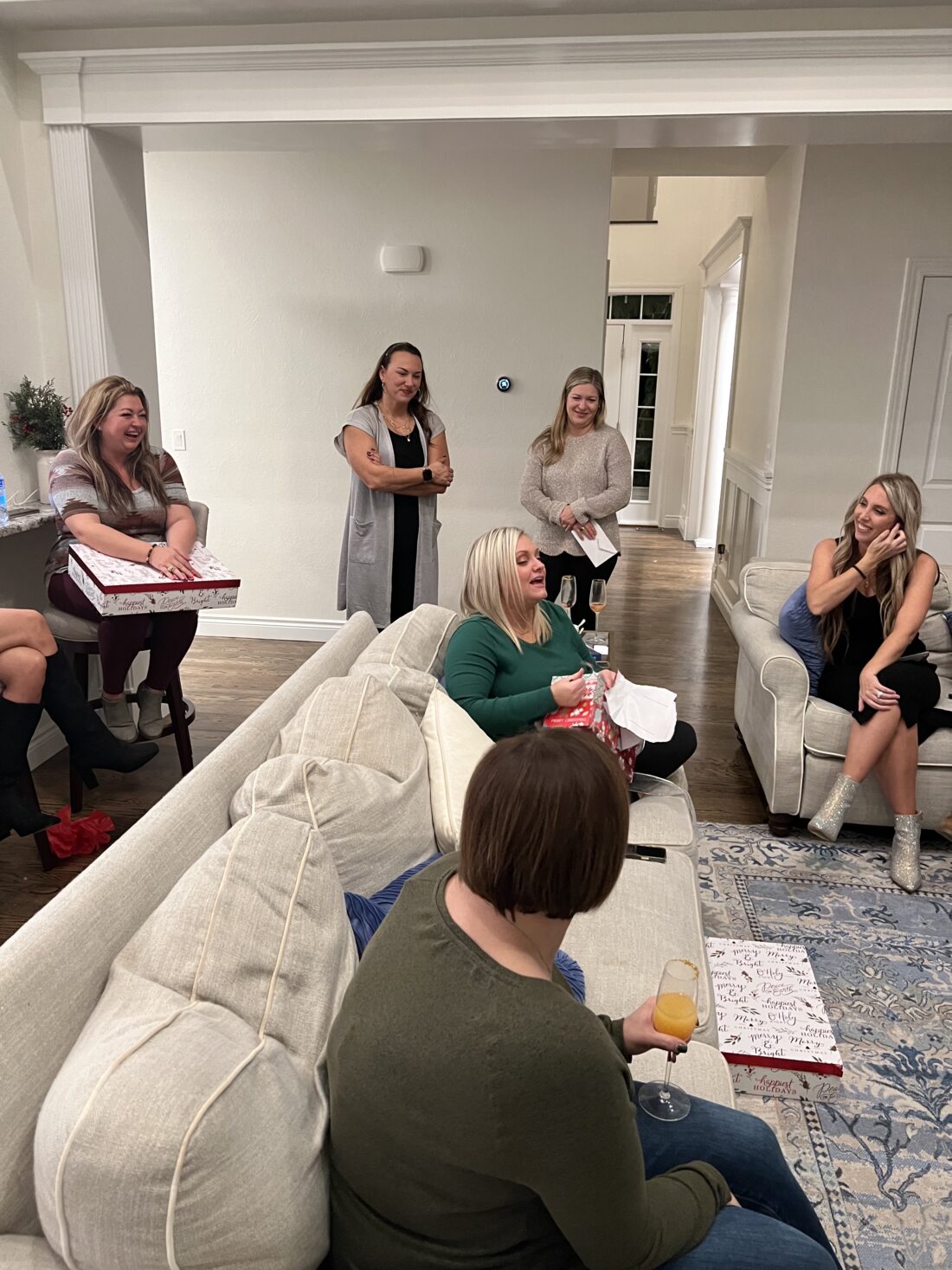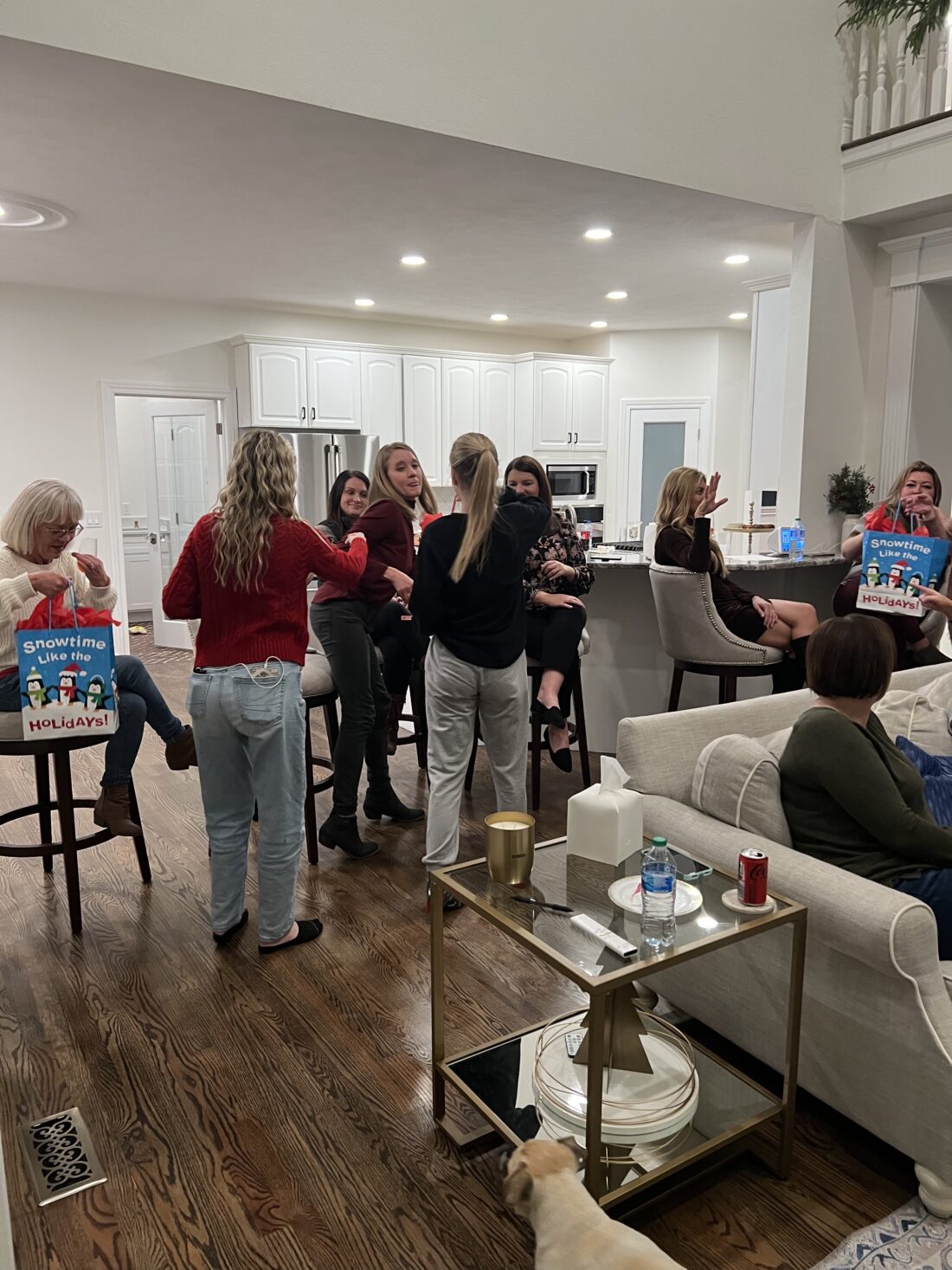 What to Wear to a Favorite Things Party
I sent a text to all my guests just in case they wondering what to wear etc. They all responded saying I read their mind and a huge Thank You! I told my guests to wear whatever they felt comfortable it. If they wanted to dress up, do it. If they want to wear jeans, do it. This is so helpful for your guests. It helps them to know what to expect. If you're anything like me I like to know all the details.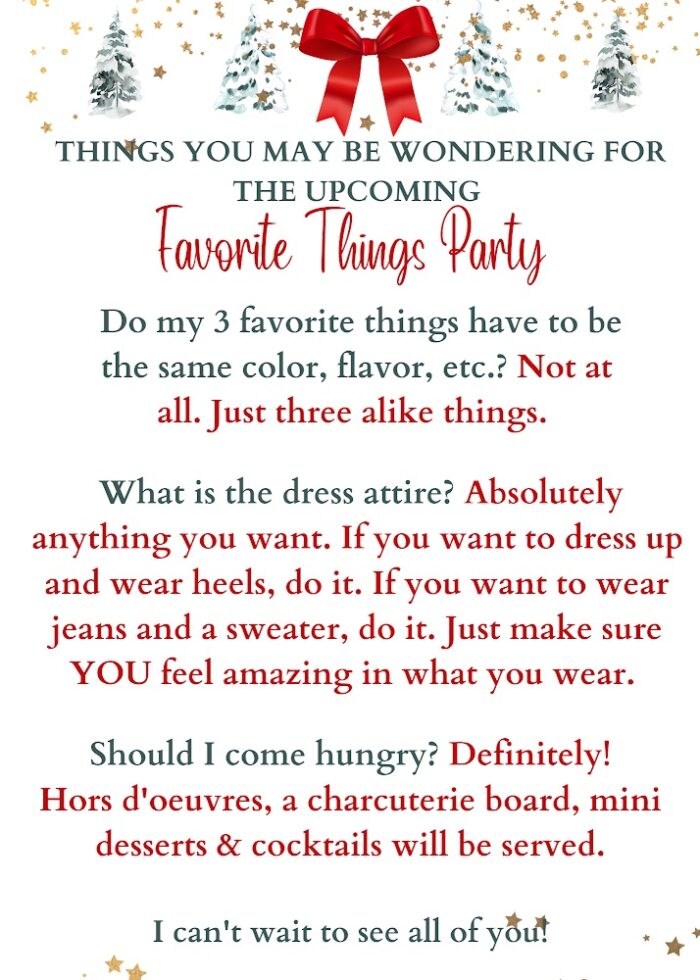 Now onto the party details.
Favorite Things Party Food Ideas
Since my Favortie Things Party stated at 7 pm I decided to serve hors d'oeuvres. I knew I would not be able to make all the food needed for my guest so I decided to have most of the food catered. I used a local restaurant and they were amazing to work with. Not to mention, it saved me so much time.
Mini Crab Cakes & Beef Wellington Puffs
These mini crab cake & beef Wellington puffs fit right in with my party. Here is a little description of each one.
Mini Crab Cakes are small bites of fresh crab meat made with breadcrumbs.
Beef Wellington Puffs are pieces of beef tenderloin wrapped in puff pastry. Typically served with horseradish dipping sauce or aioli.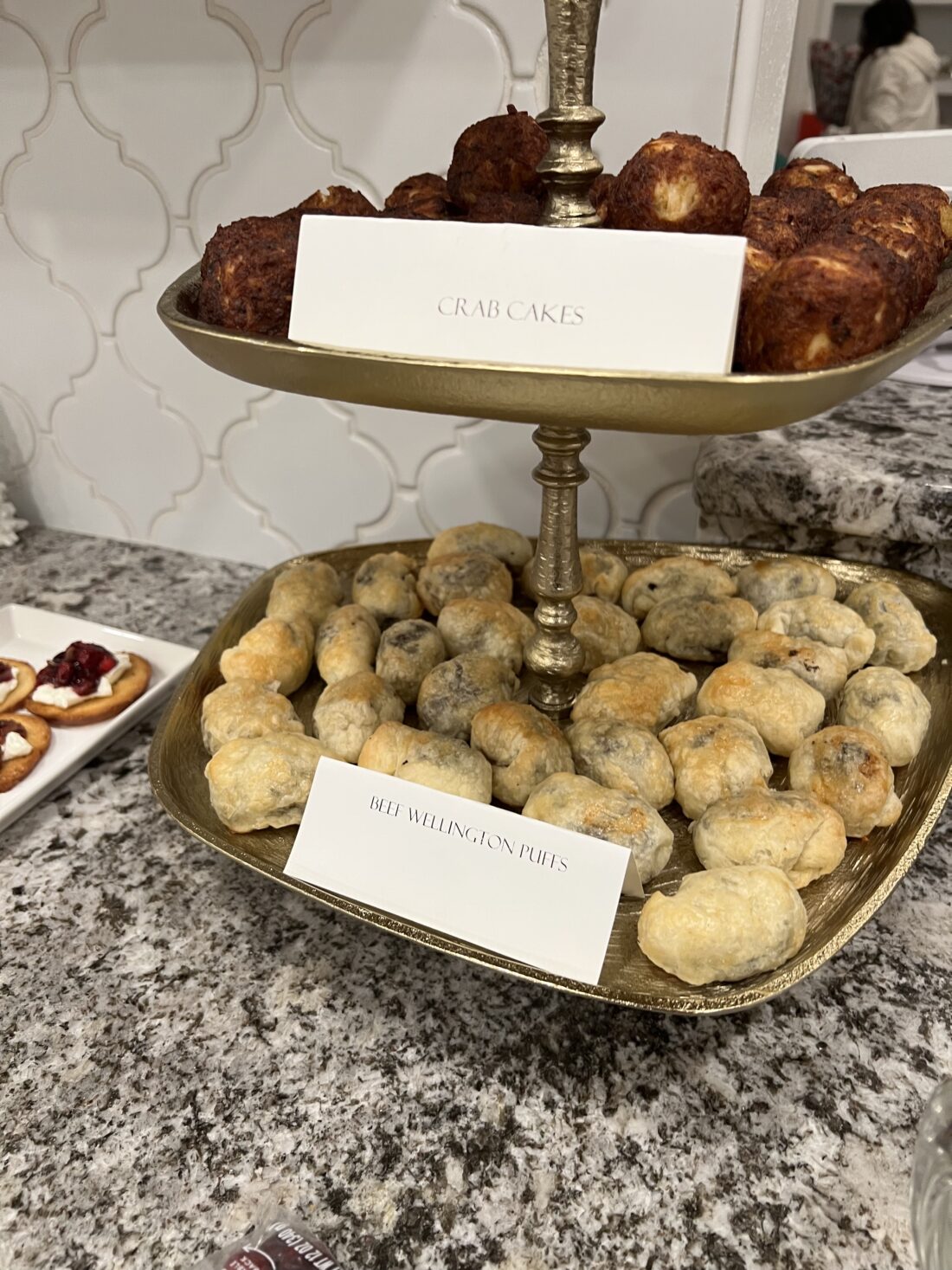 Salmon Polenta Bites
These little bites were so tasty. A pancake-type bottom topped with smoked salmon.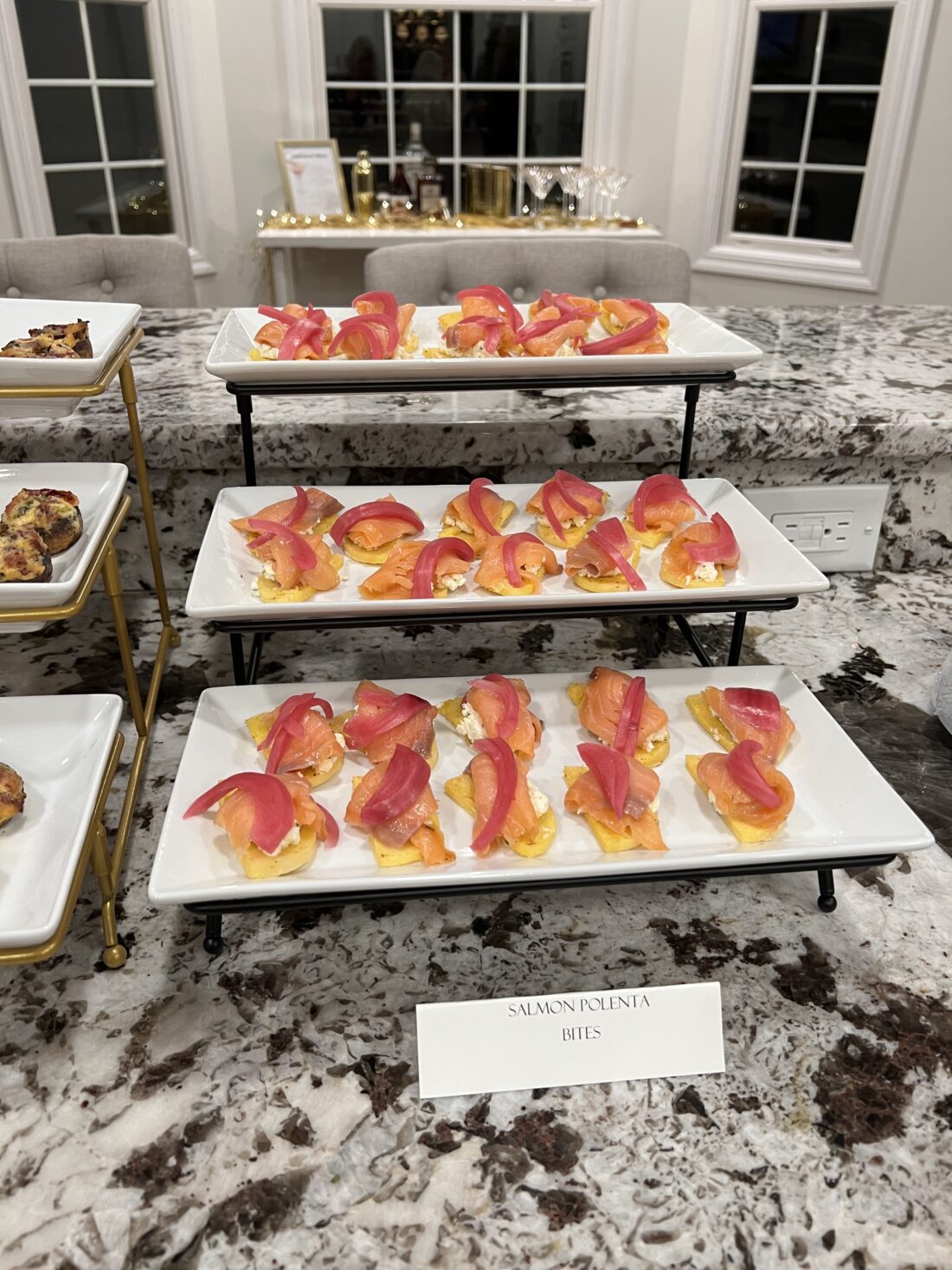 Stuffed Mushrooms
You can never go wrong with these at a party. I had the chef stuff the mushrooms with bacon and goat cheese. Can I just say Yum!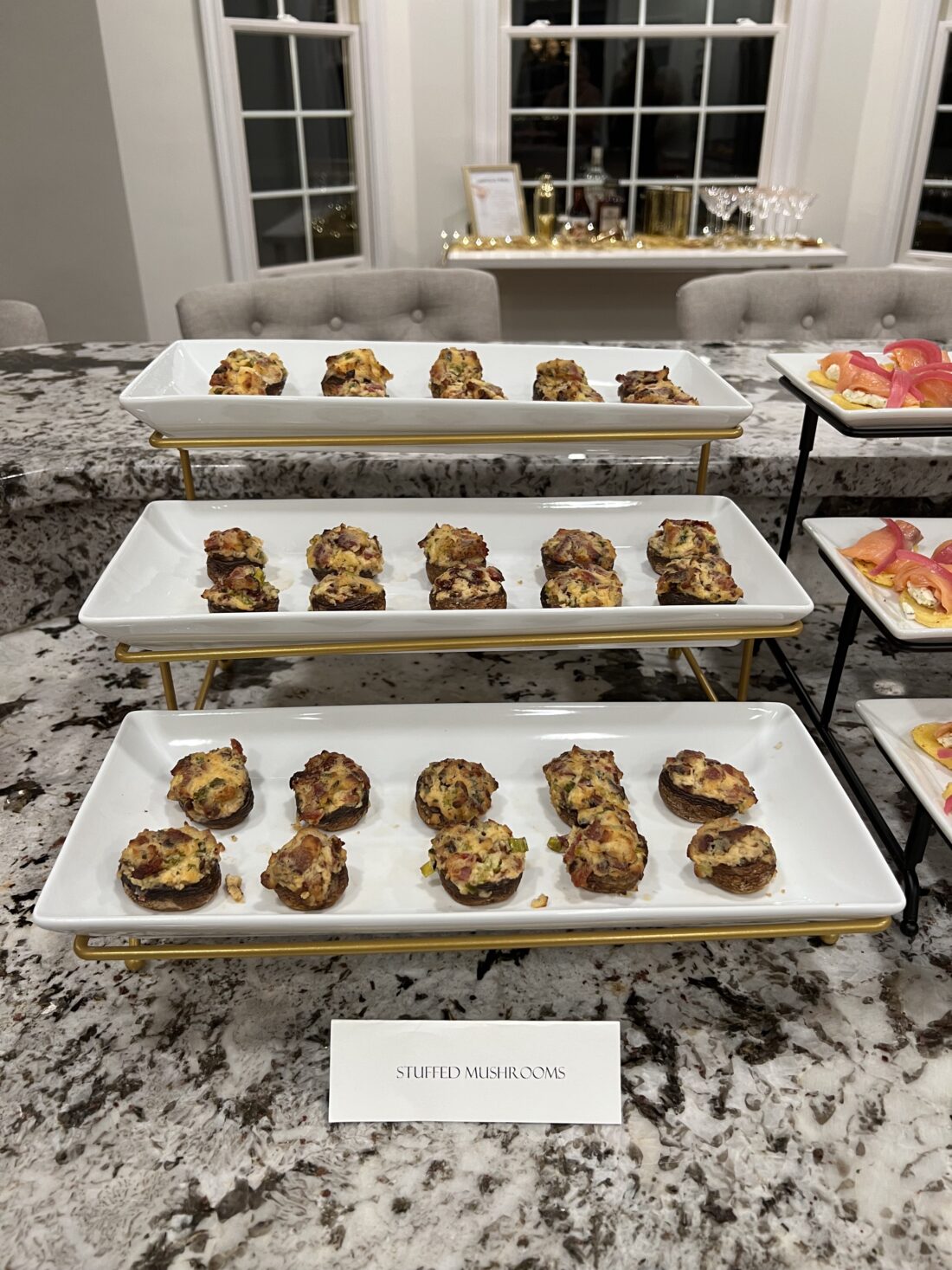 Cranberry Goat Cheese Crostini
A fun holiday hors d'oeuvre. Cranberry, Goat Cheese on a Crostini. Need I say more?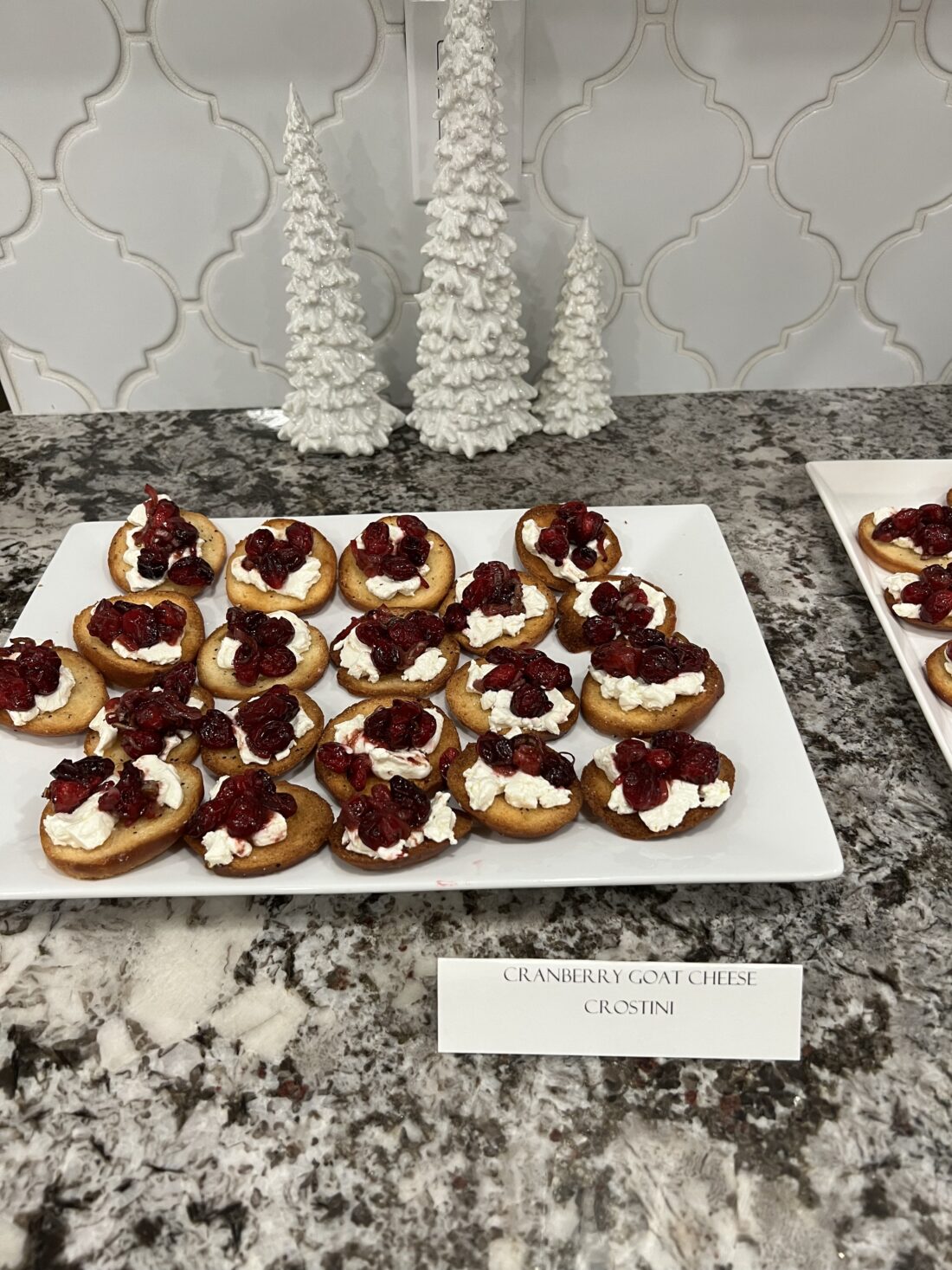 Charcuterie Board Grazing Table
Oh, how I love a good charcuterie board Grazing Table! So much so that it was my Favorite Thing gift for the party. If you have been following me for a while you have probably seen some of mine. I knew with this party I needed a pretty large one to feed everyone so I created a Grazing Table. You may be wondering what that is. A grazing table is similar to a charcuterie board but just much bigger. I created a tier of meats, cheeses, vegetables, dips, and crackers. I used multiple trays and bowls to elevate the look. I love how it turned out!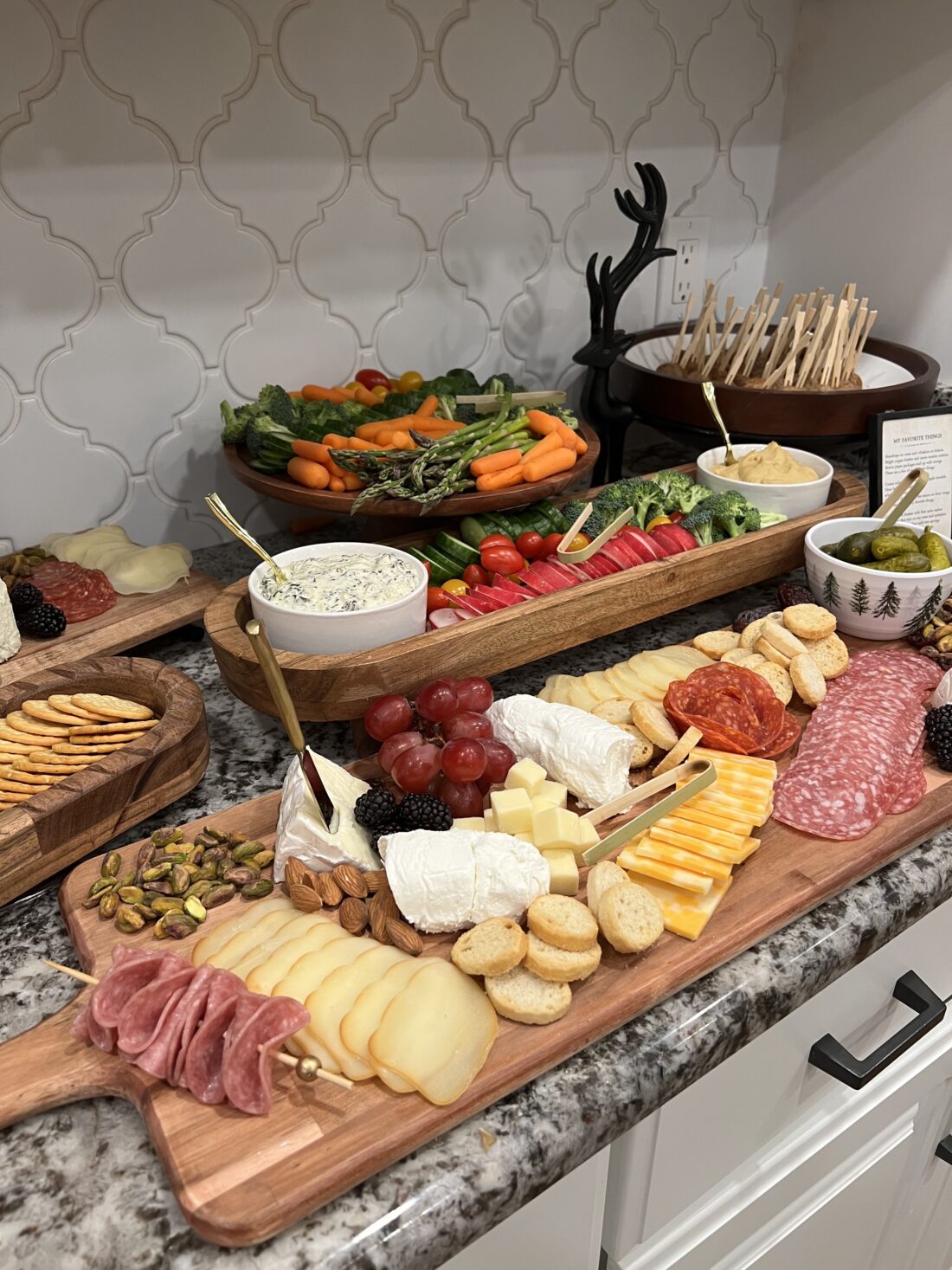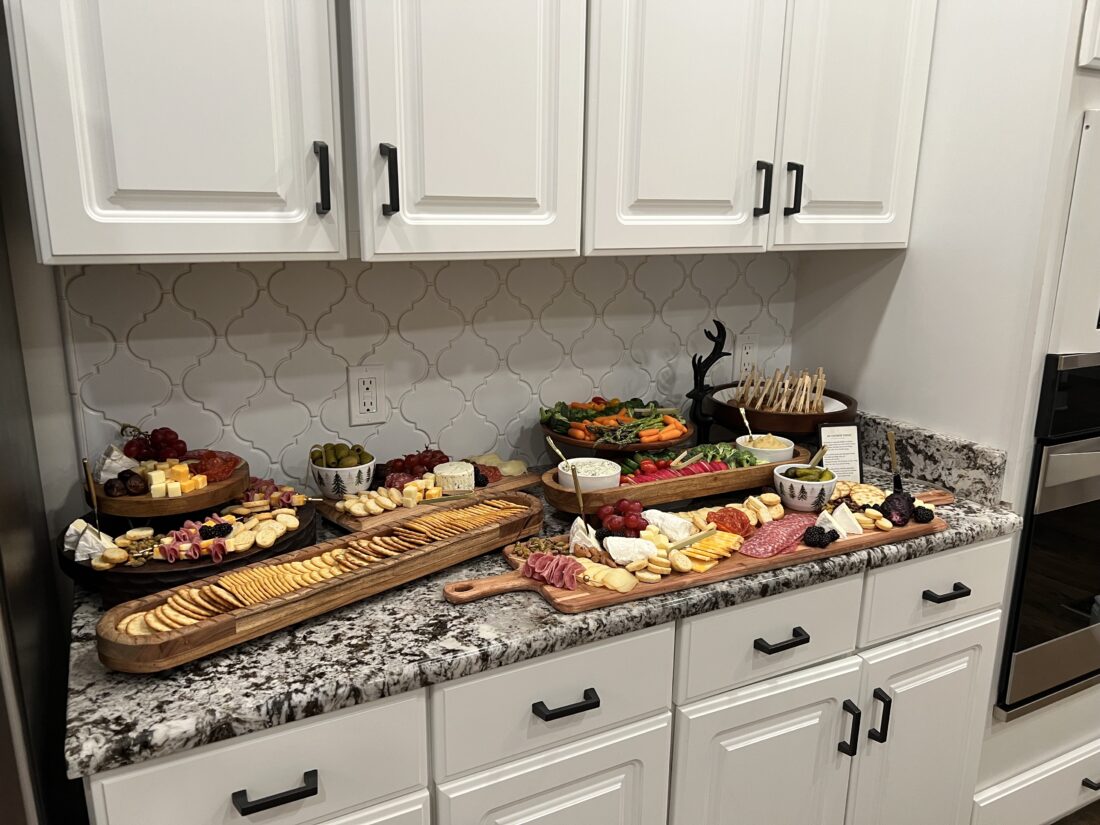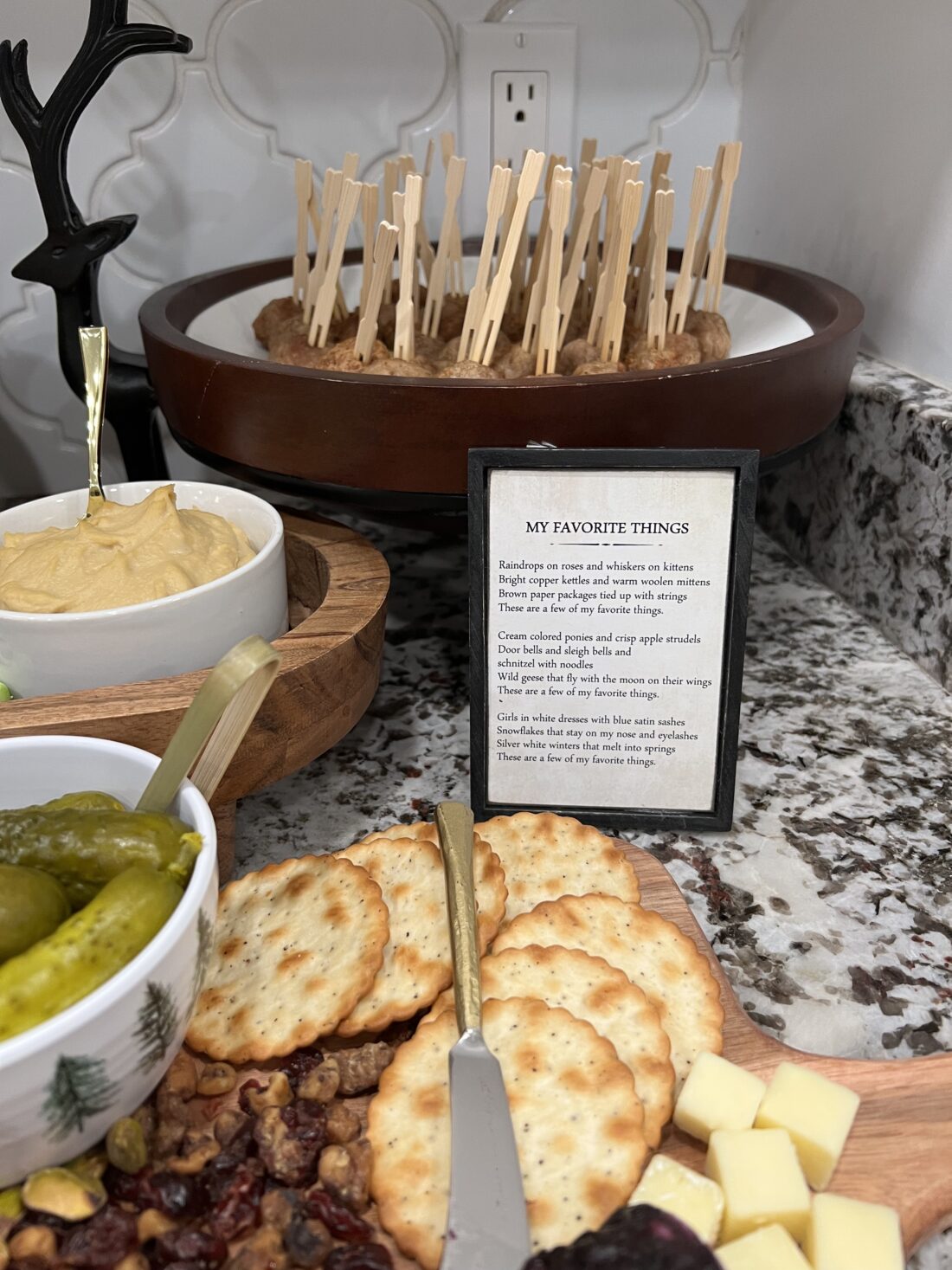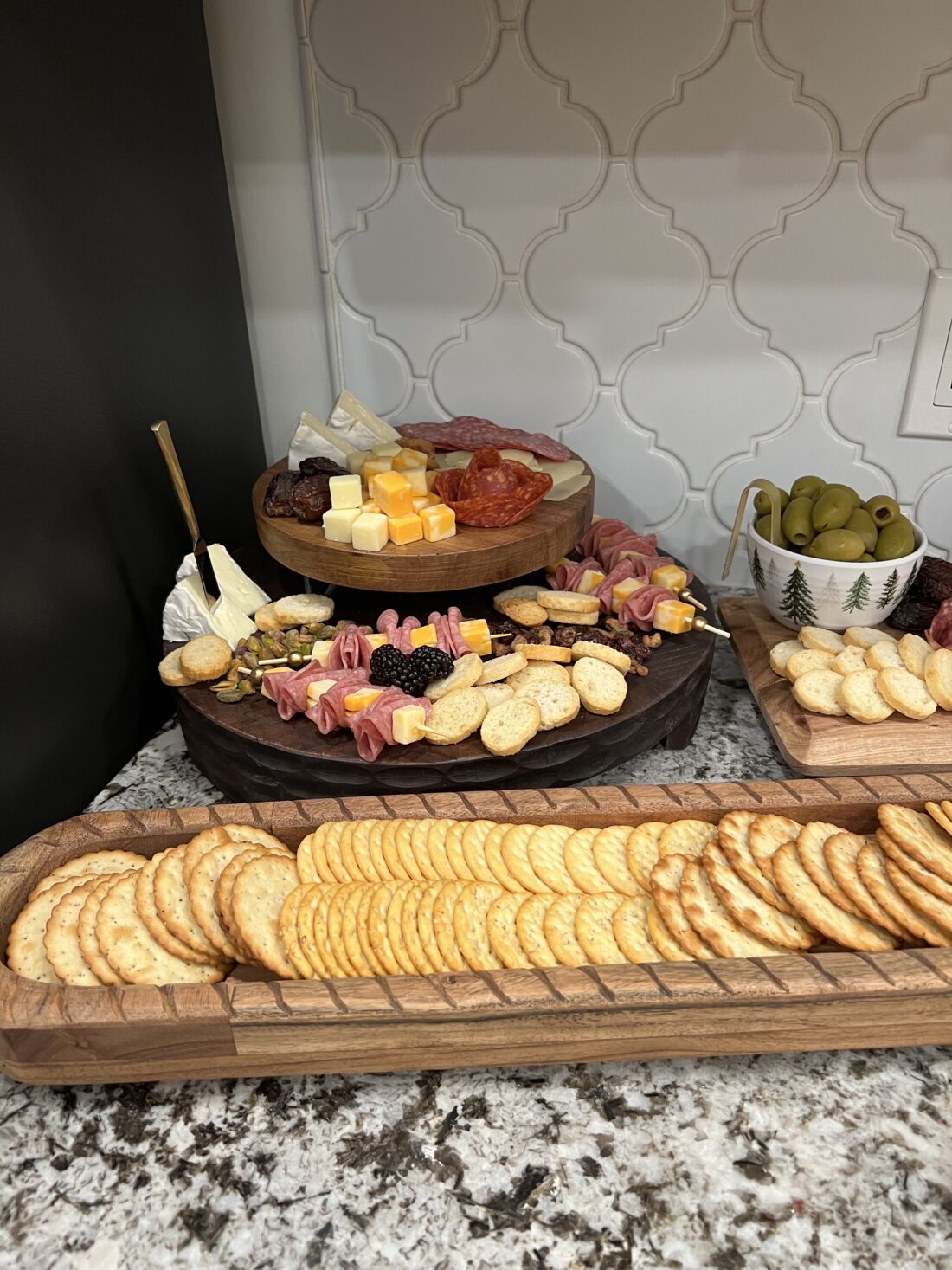 Holiday Cocktails
Every good party needs a signature drink or two. Am I right? I decided to create a Snickerdoodle Martini bar & my oh-so-popular Sunset mimosa bar. I also served a pitcher of Jingle Juice. I also had a variety of wines and different champagne. I printed this Christmas cocktail sign here.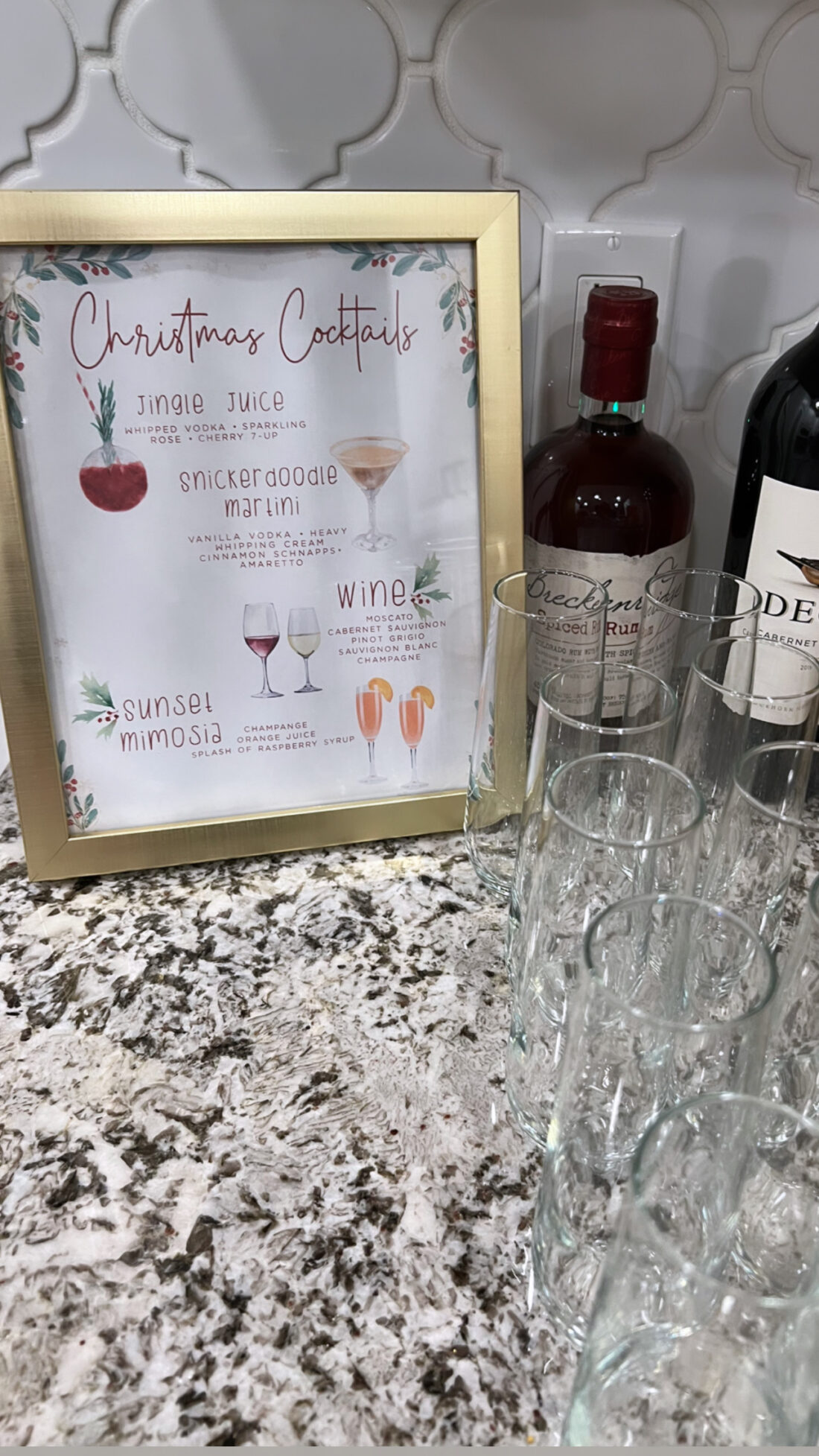 Snickerdoodle Martini Bar
This Martini Bar was fun to set up. I created a list of ingredients needed and instructions showing how to make their own Snickerdoodle Martini.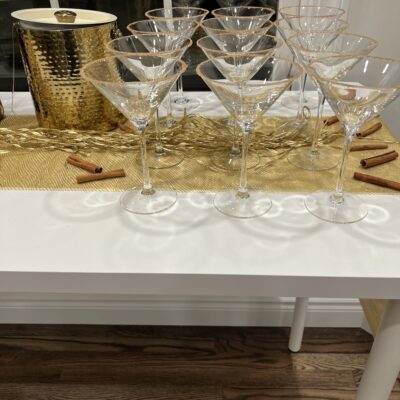 Snickerdoodle Martini
A Snickerdoodle Martini is a holiday cocktail that tastes like a delcious snickerdoodle cookie. Serve at your next holiday party.
Ingredients
2

ounces

vanilla vodka

1

ounce

heavy whipping cream

1

ounce

ameretto

1/2

cinnamon schnapps
Instructions
Coat the rim of the martini glass. See how below.

Add ice to a cocktail shaker.

Next add vanilla vodka, heavy whipping cream, amaretto, cinnamon schnapps to shaker.

Close lid and shake well.
Nutrition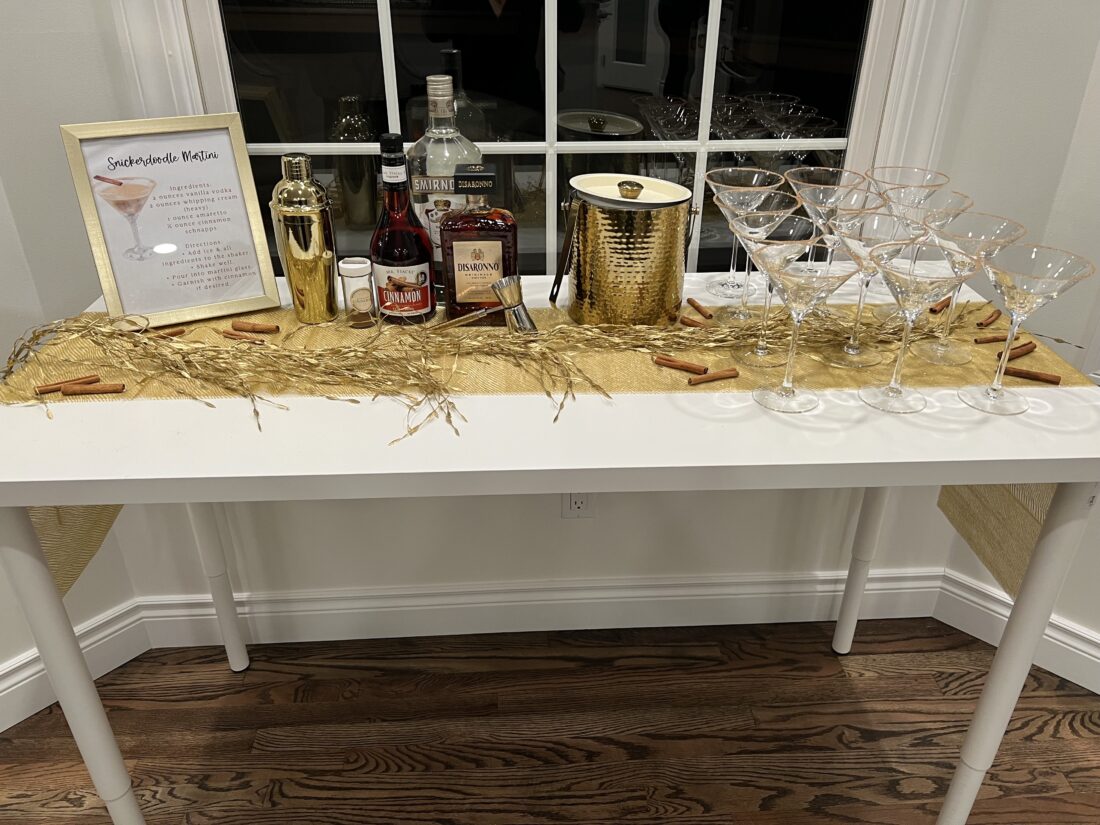 How to Rim a Cocktail Glass:
I coated the rims of the martini glasses with cinnamon and sugar. Here's how you do it.
Sprinkle the cinnamon and sugar into a shallow dish.
Coat the rim of the martini glass in the Karo syrup.
Dip the rim in the cinnamon and sugar.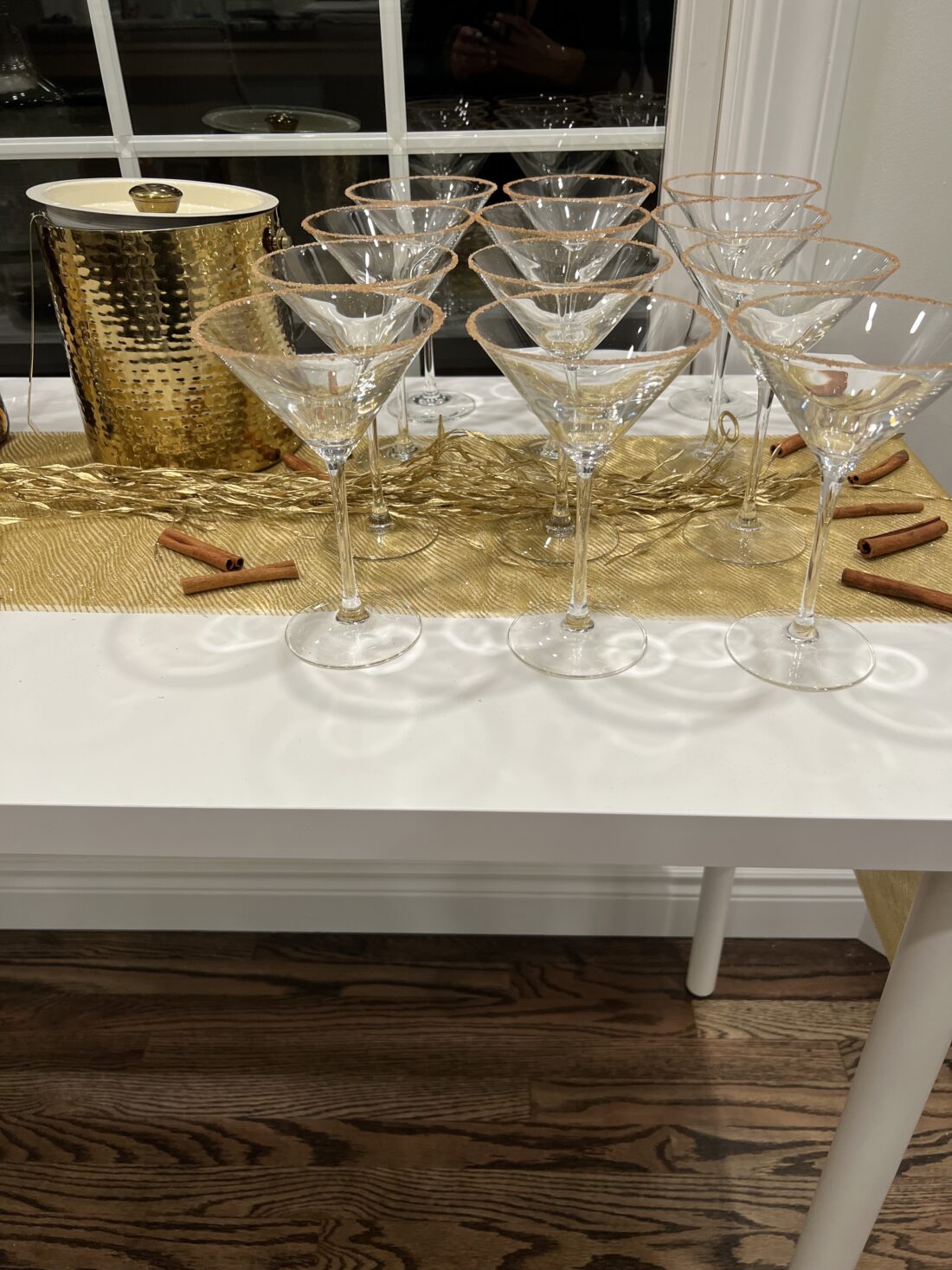 I created a fun Snickerdoodle Martini sign with instructions on how to make your own. I did have about six premade martinis ready right before my guest arrived.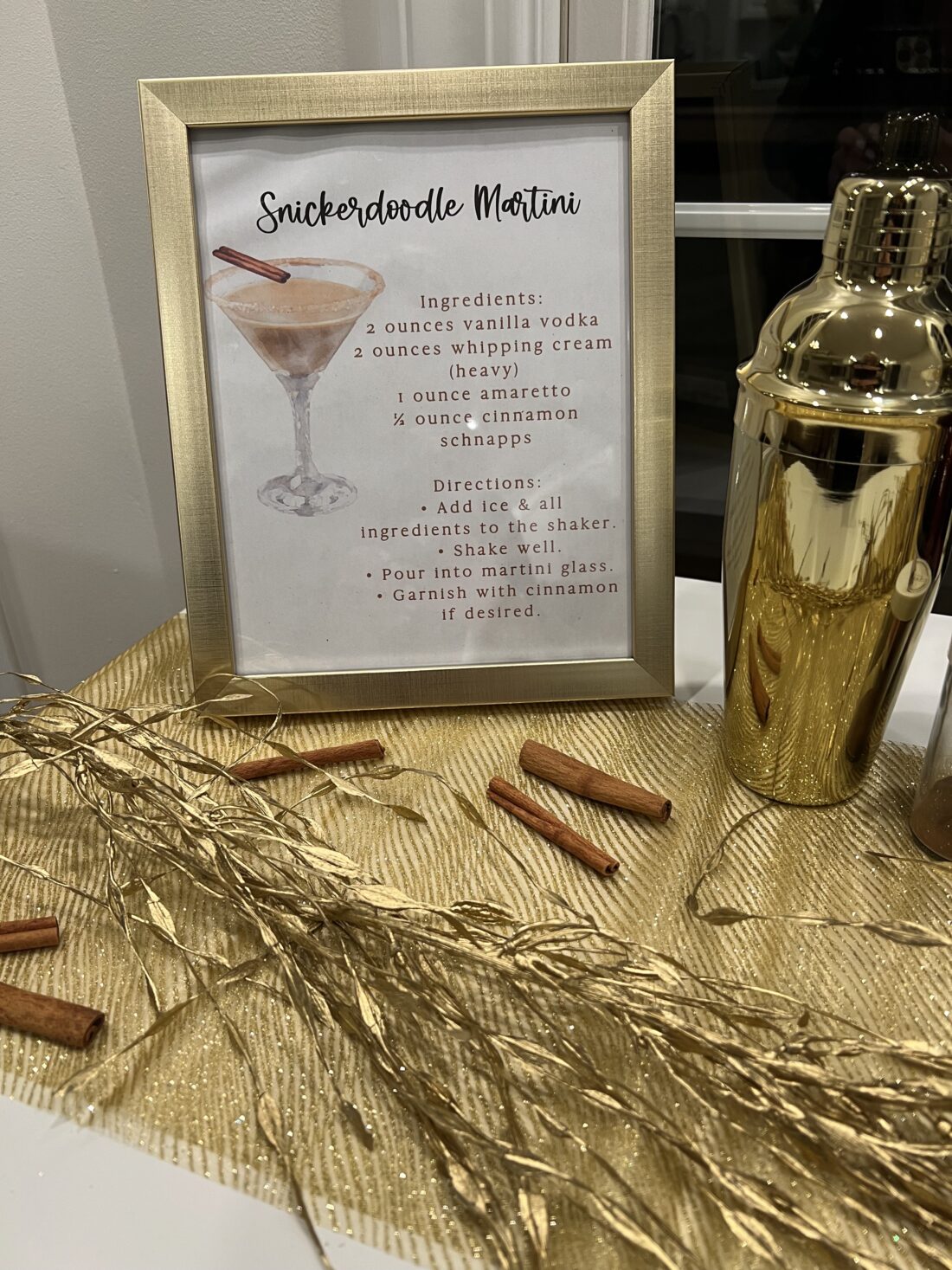 Sunset Mimosa Bar
This is my go-to signature drink at all of my holiday parties. It's also one of my top blog posts. I have to say this may have been the top "Favorite Things" drink.
Here is how to make the drinks look festive and party-ready. Coat the rim of the champagne glasses with Karo syrup then dip in gold sprinkles.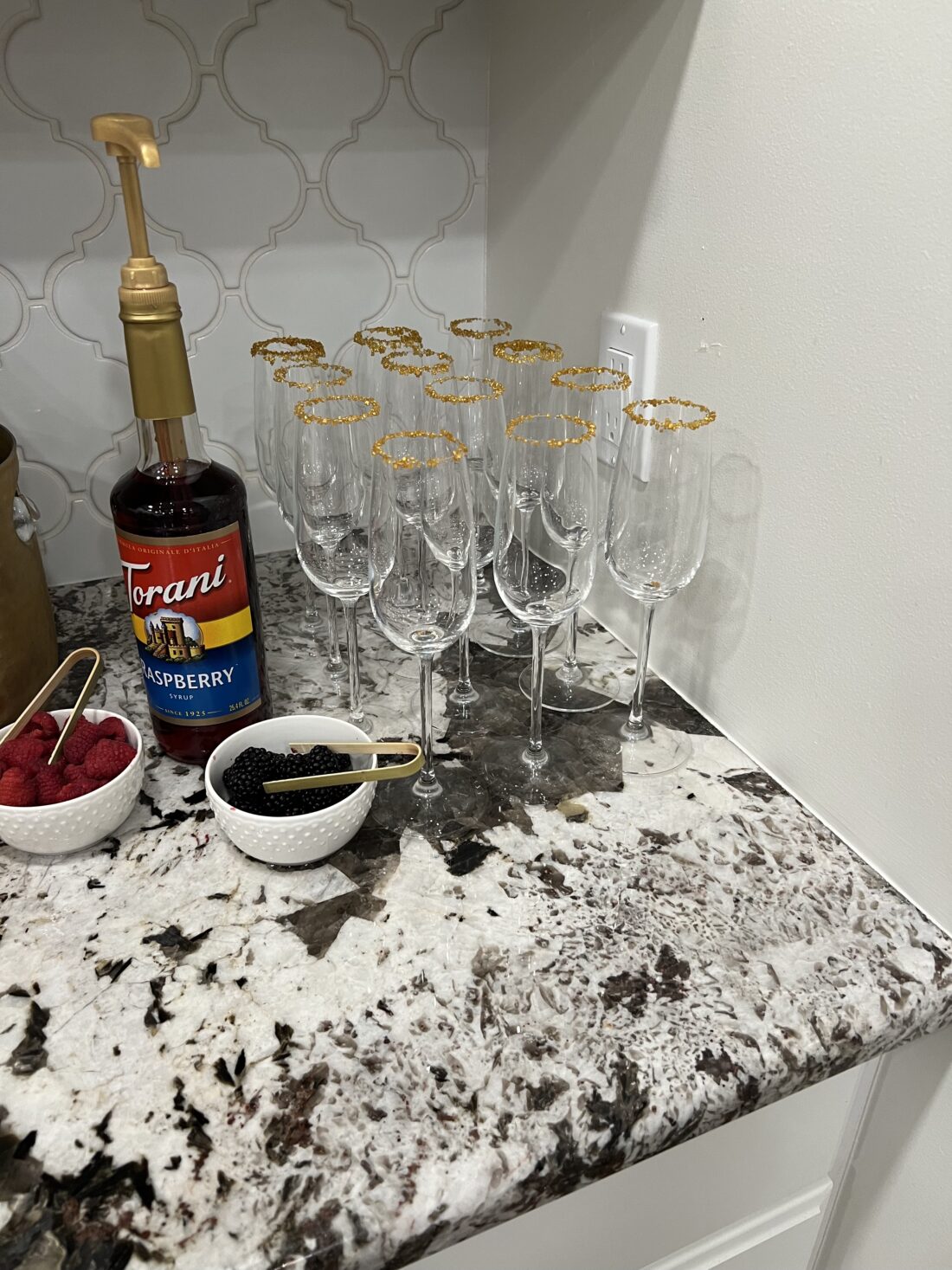 Here are the ingredients for my Sunset Mimosas: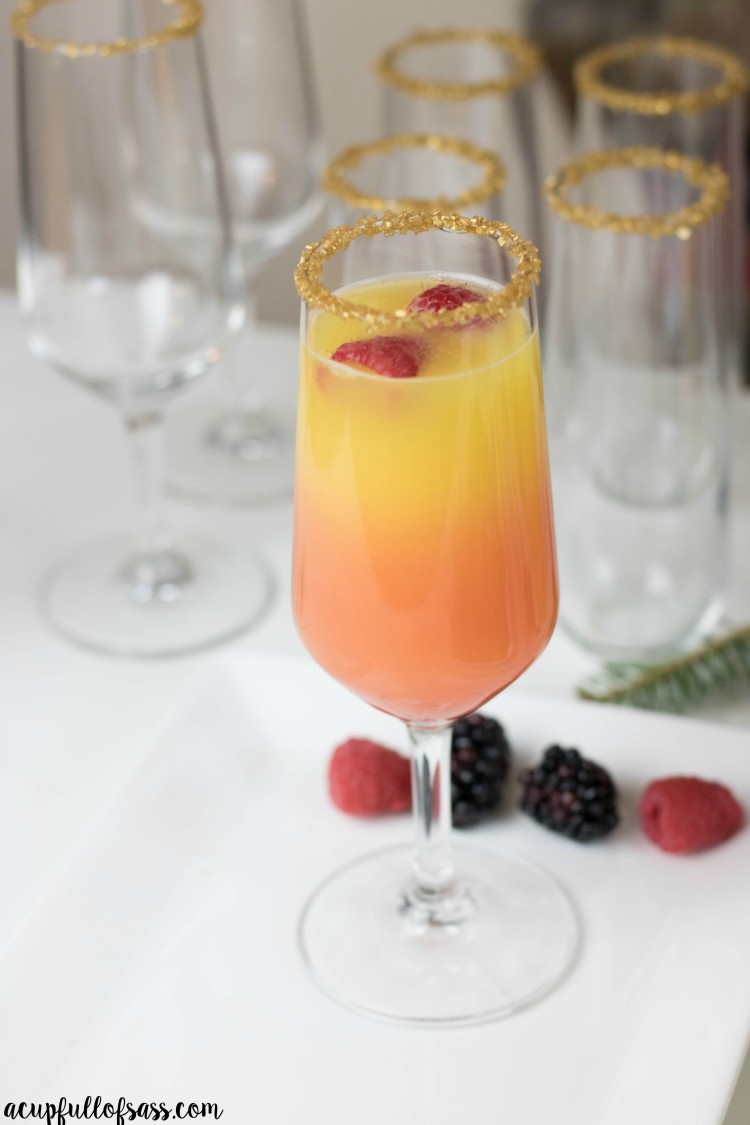 Jingle Juice
This was an easy drink because you just pour all the ingredients into a glass pitcher. I added a holiday ice ball infused with pomegranate for a fun festive look.
Ingredients:
1 bottle Cherry 7-up
Cranberries
1 bottle bottle Pink champagne or sparkling rose
1 bottle of Vodka, Whipped
Directions:
Pour in the whipped vodka, pink champagne, and Cherry 7-up into a pitcher.
Stir the ingredients together until they are well combined.
Optional: Add a holiday ice ball infused with pomegranate for a fun festive look.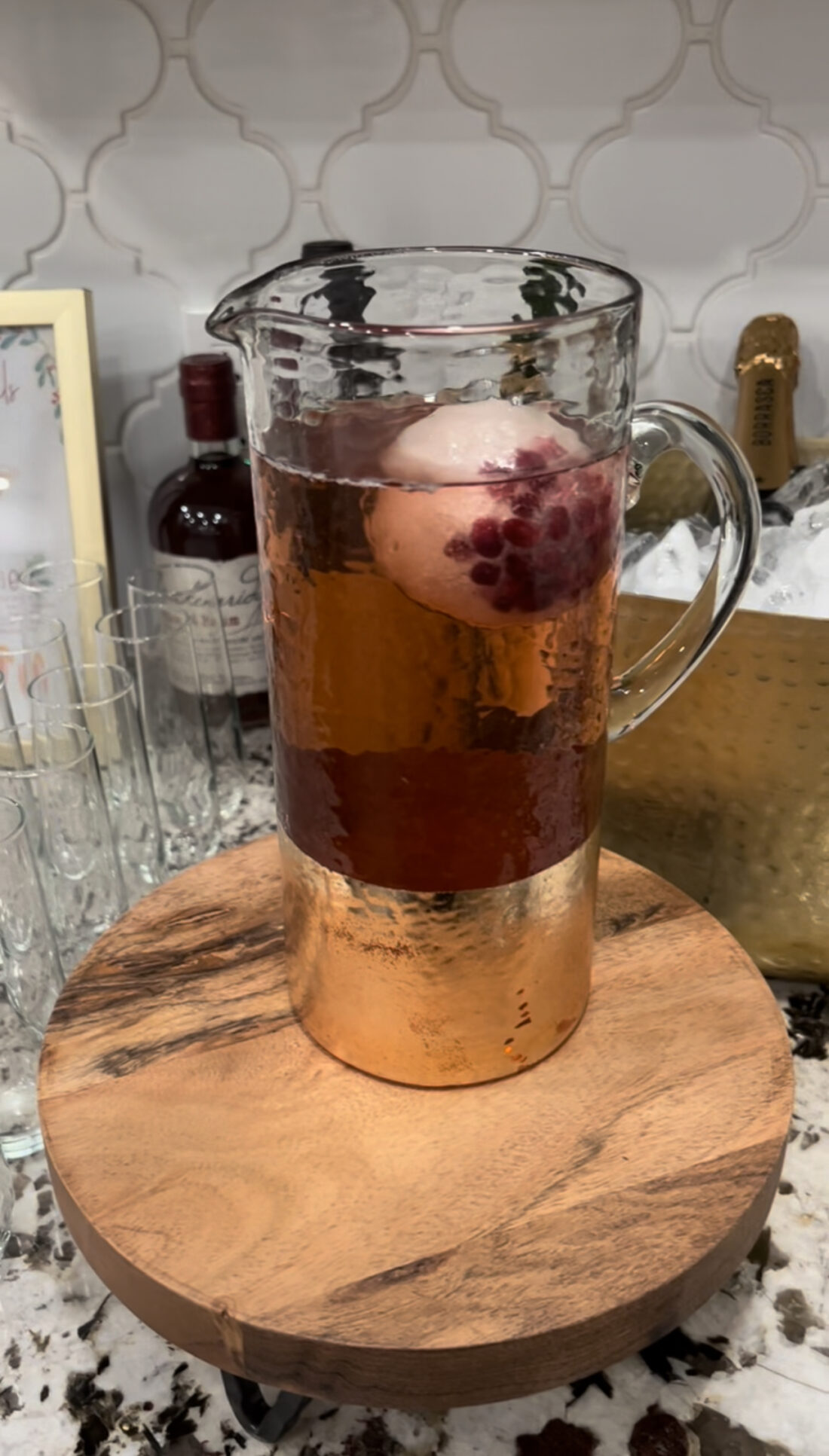 Dessert
I had the Pointe restaurant make these S'mores Pots De Creme in Ramakins. I completely forgot to take a picture and that was all that was left. All I can say is Yum!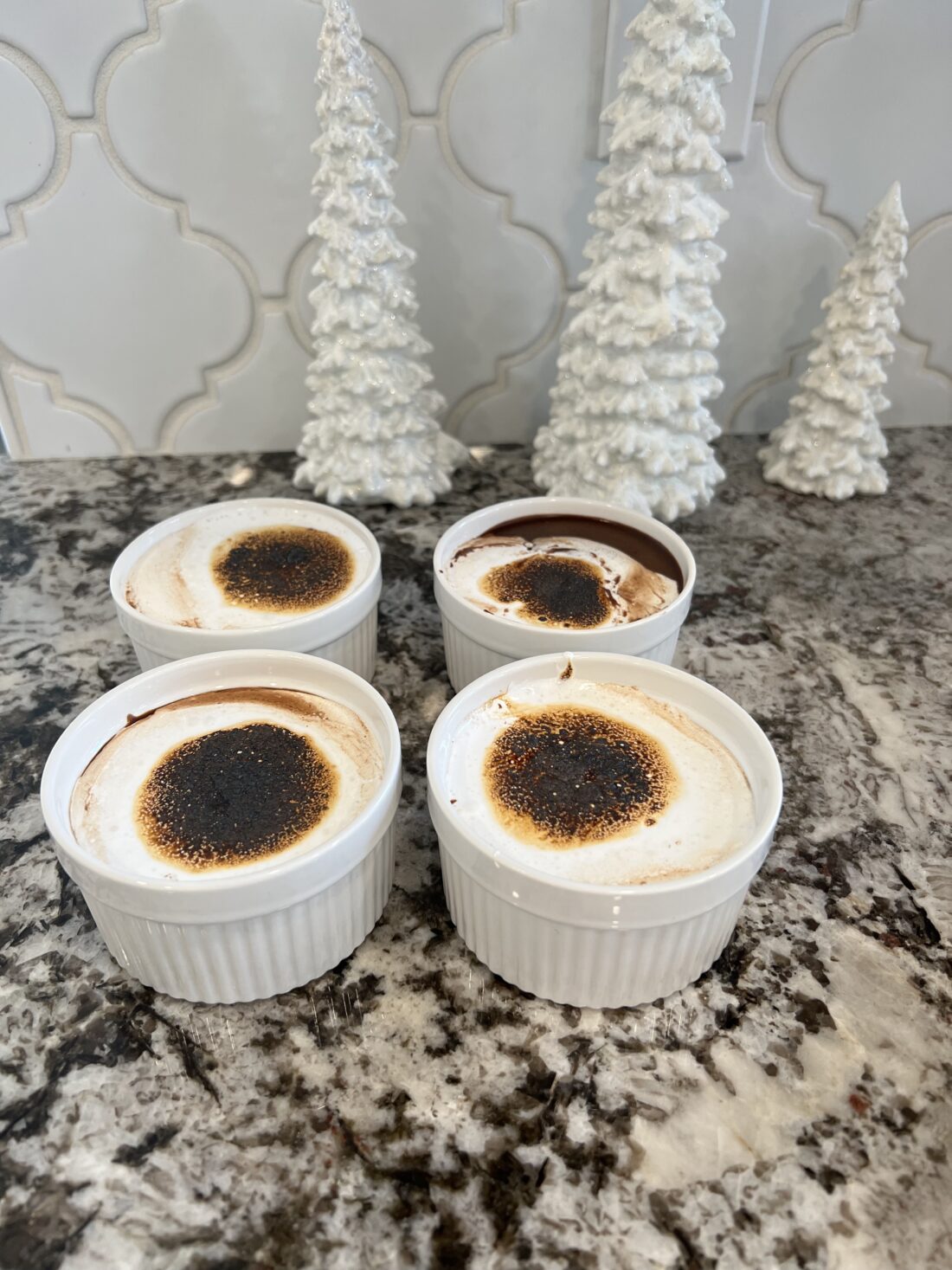 Hostess Gifts
Tell me my friends know me without telling me they know me. Seriously though, they know me. Wine, Nutcracker, and Anthropology lotion. Bringing a hostess gift is not necessary when it comes to me, but it is a nice gesture.