I love adding a little Halloween decor to my front porch. I am not one of those scary-loving Halloween people. I like more of a fun non-scary look. Truth be told I hate horror movies. I am more of a Hocus Pocus gal. Bats, black crows, and floating witch hats are more my speed.
Floating Witch Hats
I decided to hang floating witch hats from my front porch. It was so easy to do. All you need is a pack of witch hats, a clear fishing line, a threading needle, and some command strips. You can also make a luminary witch hat by adding a candle or votive inside. I decided not to do this only because I did not have the extra time for it. However, I may do it next year. Just adding the witch hats made my porch look Halloween-ready.
Here is what you need to make these hanging witch's hats:
How to hang Witches Hats (Floating Witch Hats):
Figure out how long you'd like the Witch's hats to hang. It took me a few tries to determine how long to make mine.
Attach the command hooks to the areas on the ceiling where you want the hats to hang. Let the hooks set up for about 10-15 minutes before hanging the hats. They need time to set.
Thread the clear fishing line through your needle. Feed the needle line through the point of the witch's hat.
Tie several knots on both sides of the string so it does not pull all the way through.
Make a loop at the top of the fishing line to hang from the hook on the command strips.
Hook the sting on the command strip and there you have it.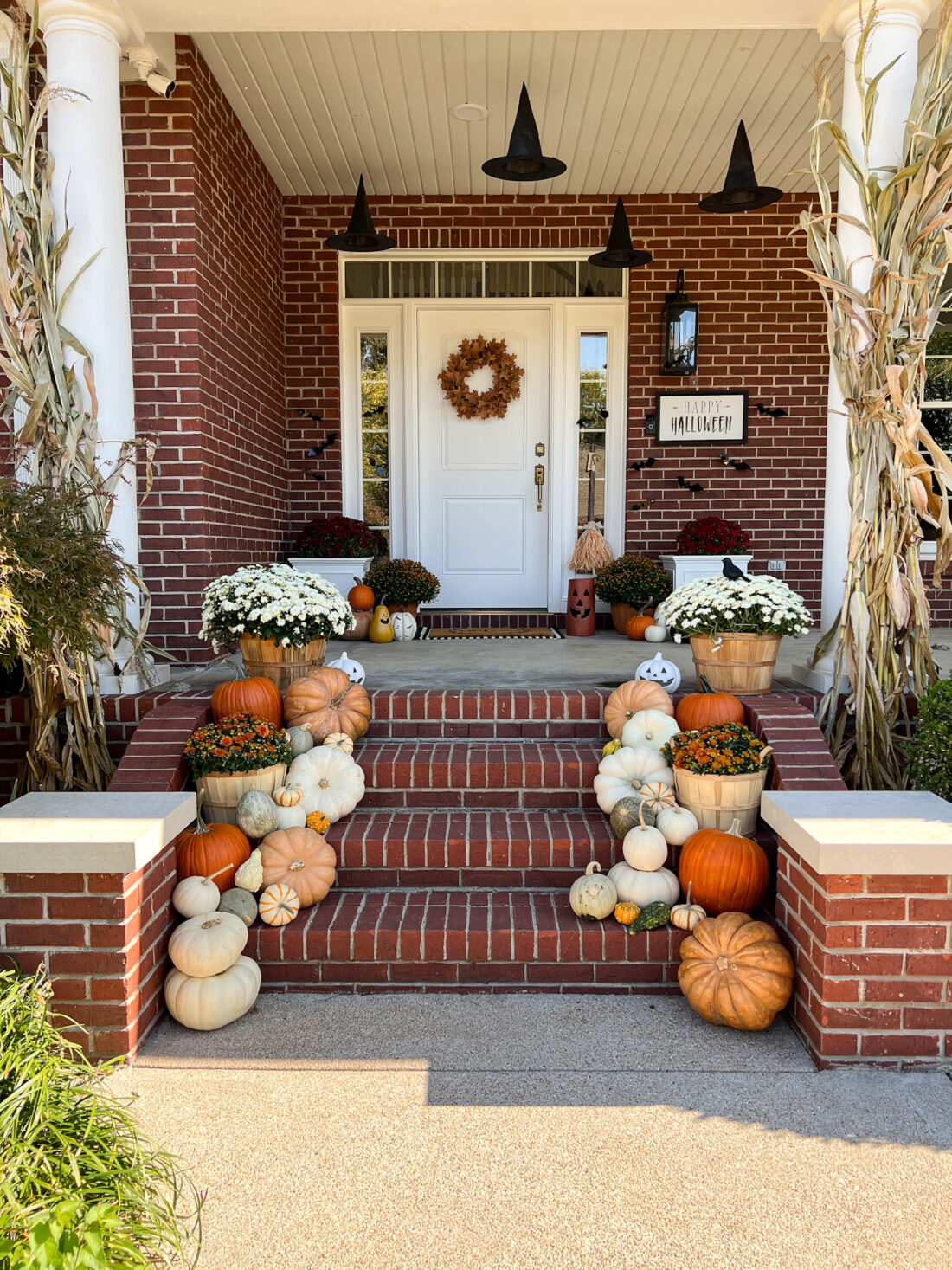 Bats
You can't do a Halloween porch without bats? I have had this set of bats for six years now. They have held up well. The way I hang them is by using painted tape for the inside decor and dot glue for the outside. So far I have not had any issues. Painters' tape could also work outdoors depending on the surface.
Jack O Lanterns
I added some ceramic Jack O Lanterns, pumpkins, and mums. I found the black and white pumpkin with bats at Lowes. I found the large orange Jack O Lantern when I visited Maine. It was the only one they had otherwise I would have bought more. I love it!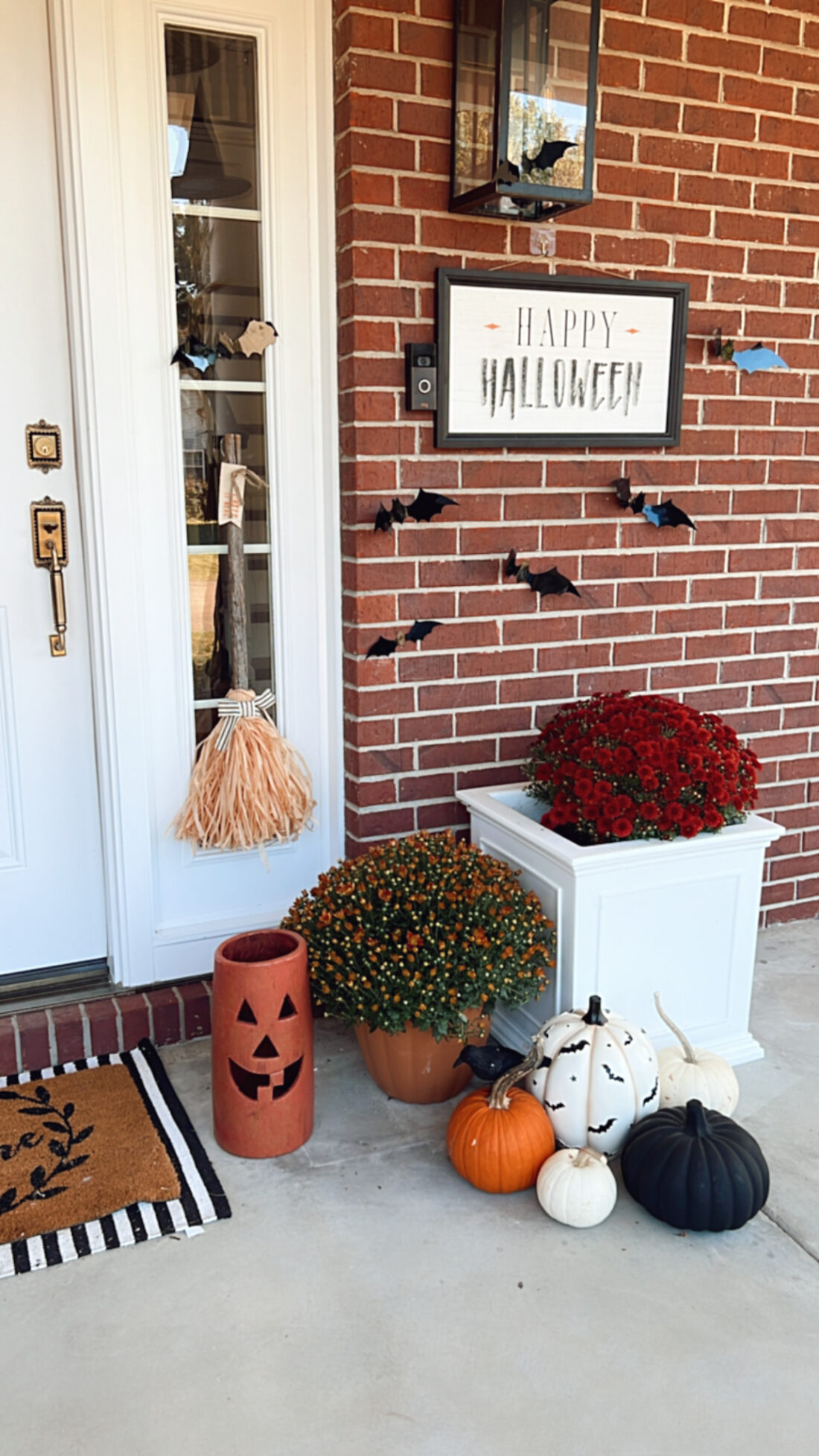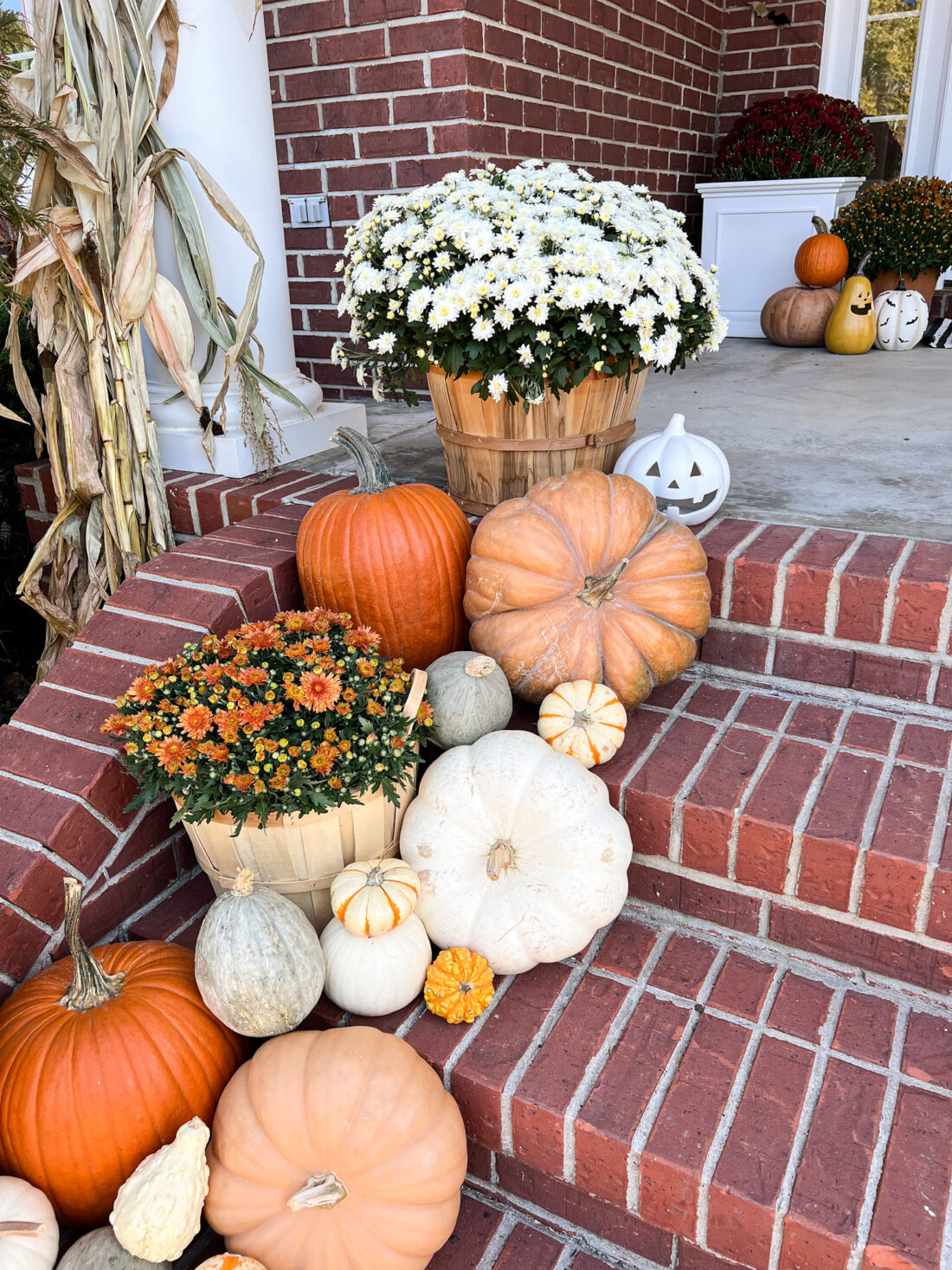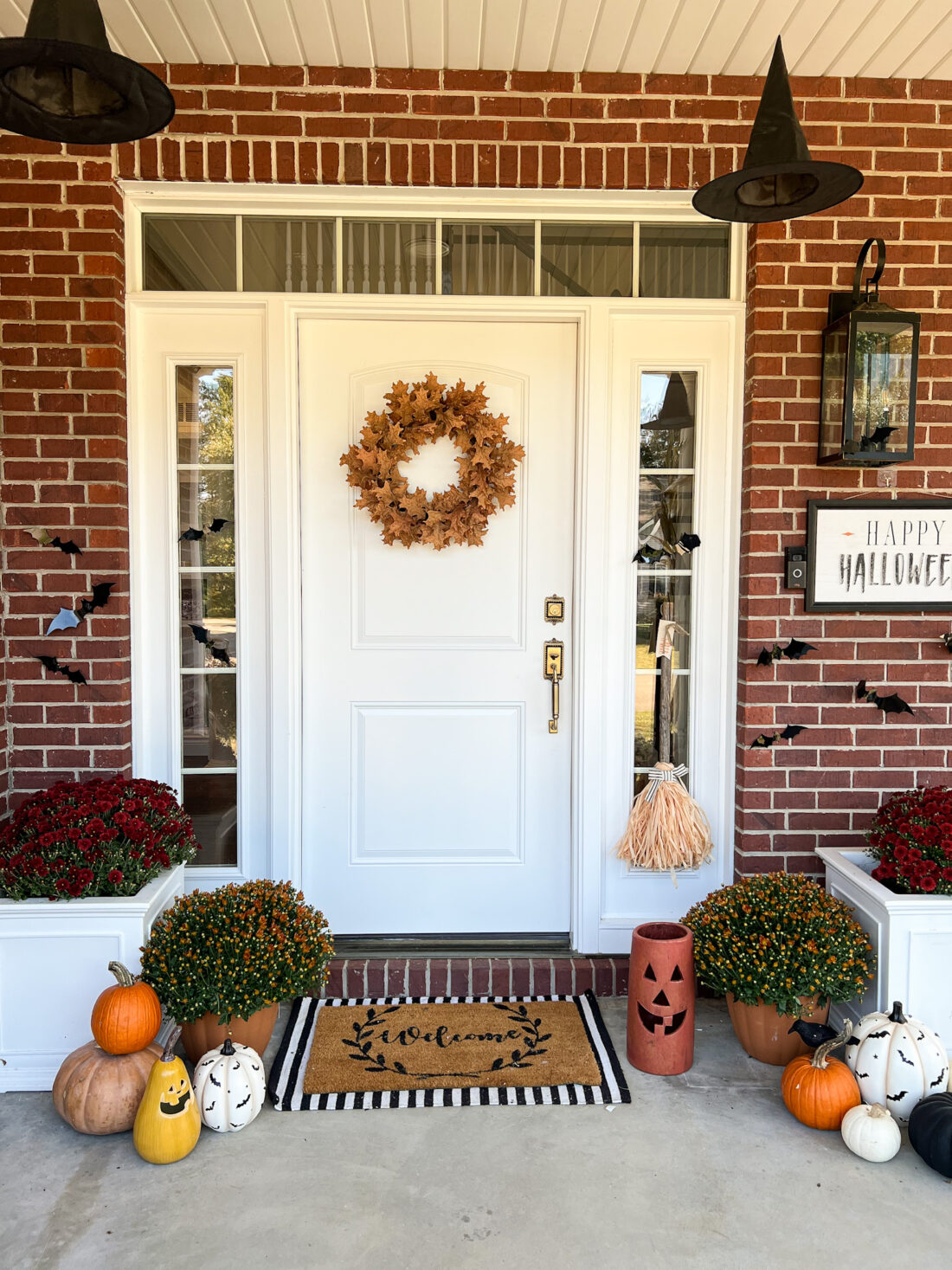 Black Crows
I add a couple of black crows for more of a Halloween look.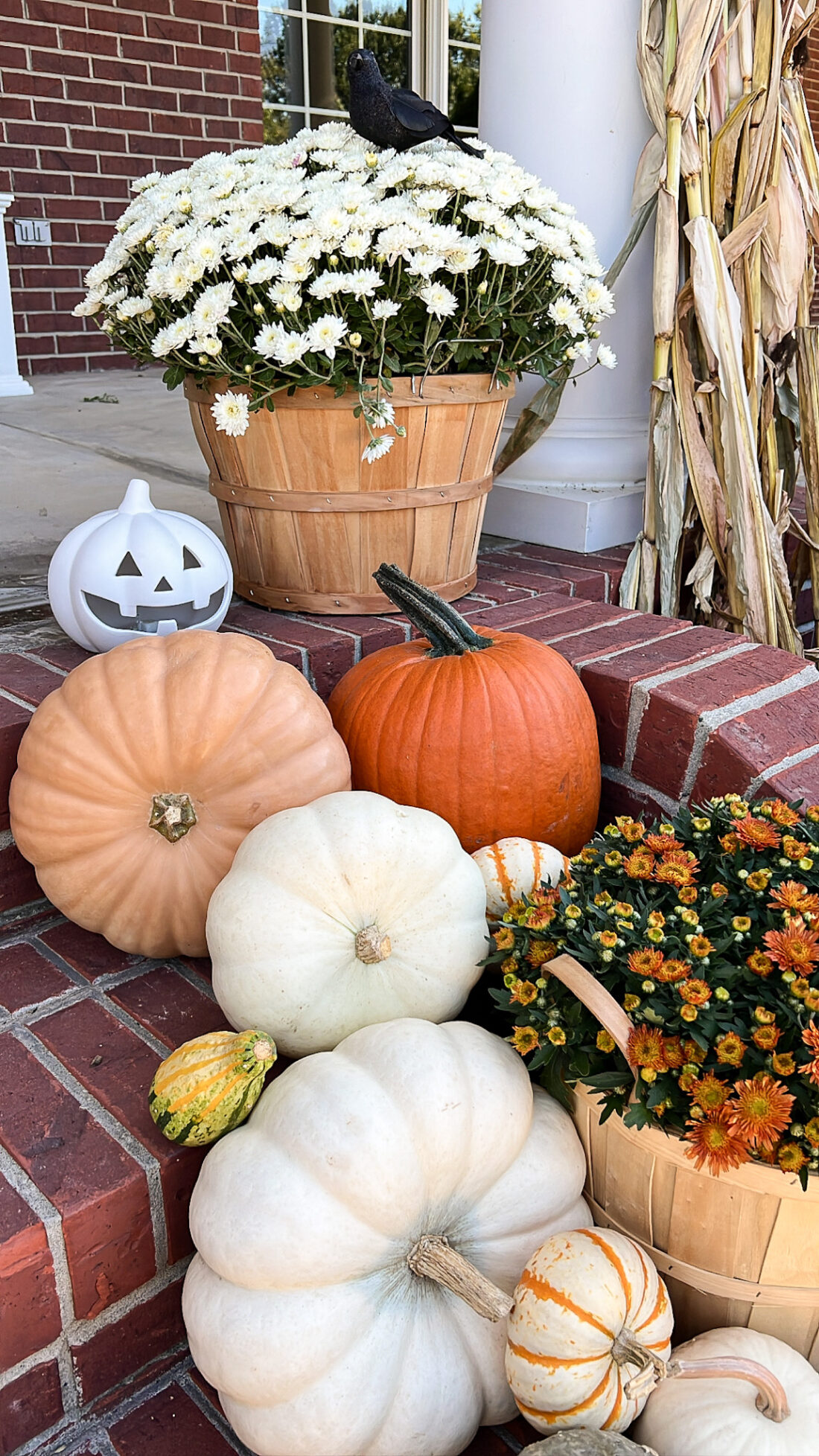 I absolutely love how my Halloween porch turned out. I added just enough but not too much. Find me on Instagram to see my IG reels.
Check out my DIY Halloween costumes.