It's HERE!! My STITCH FIX has Arrived!! I could hardly wait to rip open the box! Are you as excited as me? If you remember, I quit Stitch Fix last spring after not having any luck with my fixes. But I'm giving Stitch Fix another try. You can see my full post on why I signed back up here. I also did an Unboxing Video at the end of this post.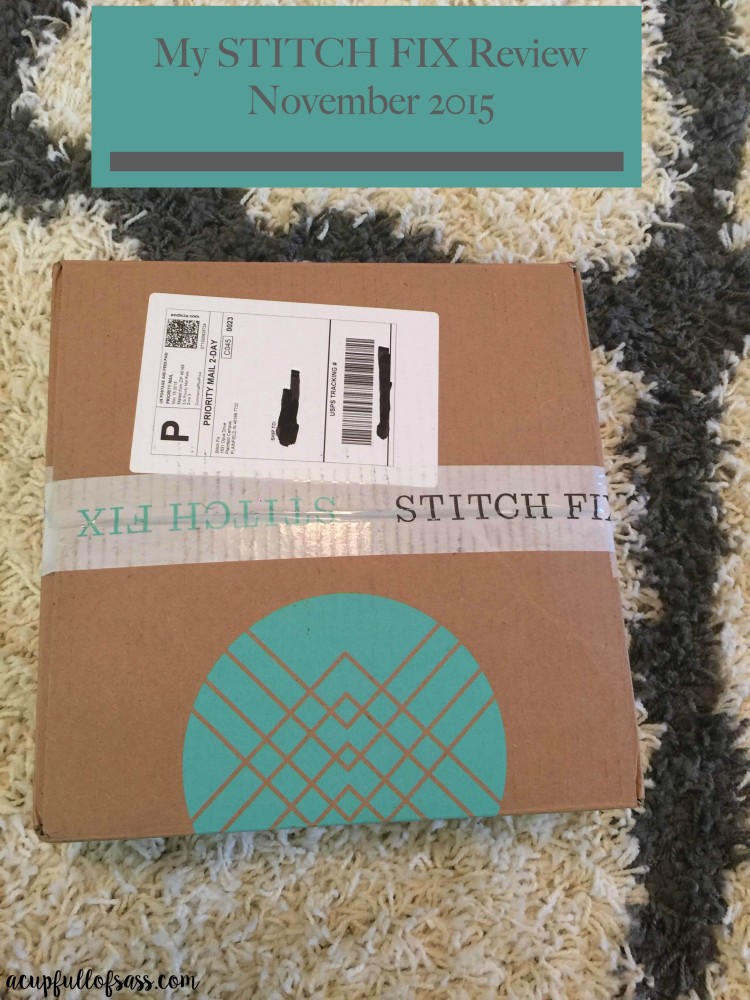 Here is what I got in my Fix for November 2015:
Item#1 –41HawthornHilda Embellished Neckline Blouse – Light Purple $68  This was pretty, but a BIG NO!! So not something I would wear. Not my style. I don't really care for free flowing type tops. Item #1 –  Sending Back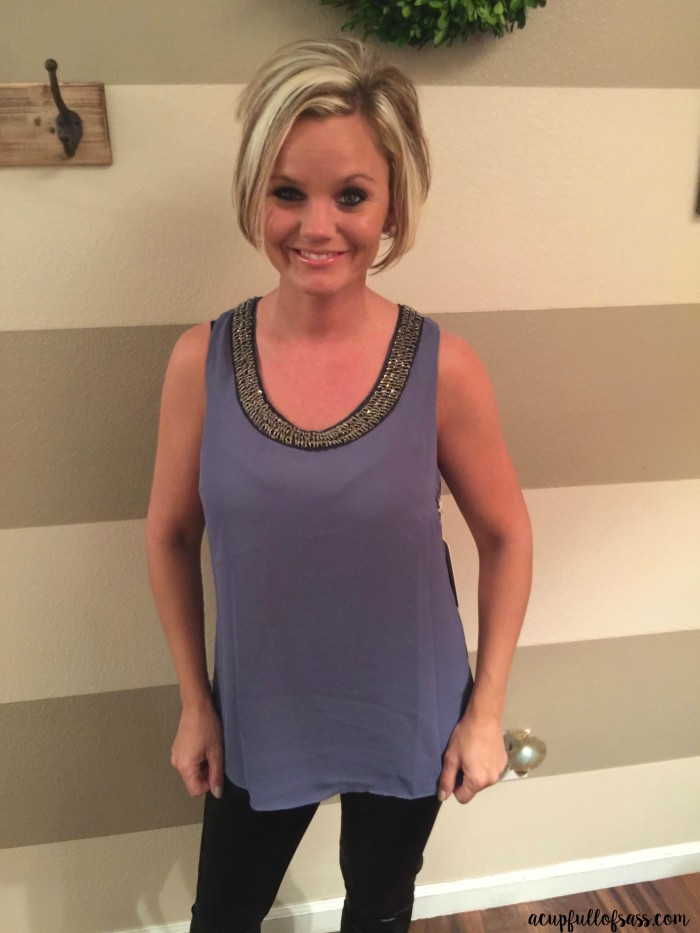 Item #2 – Loveapella Karuh Cold Shoulder Banded Knit Top – Grey $58  This was a grey thin long sleeve top with the shoulders cut out. I LOVE it!! It's so different and fun! I love it with my faux leather pants. Item #2 – KEEPING.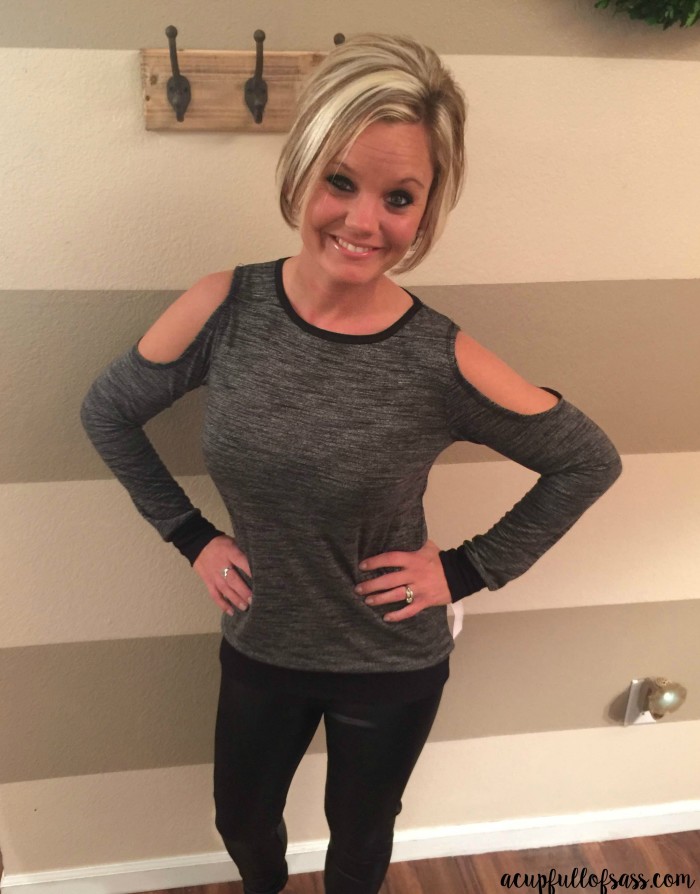 Because I loved it so much I am showing another picture. Eek I love it!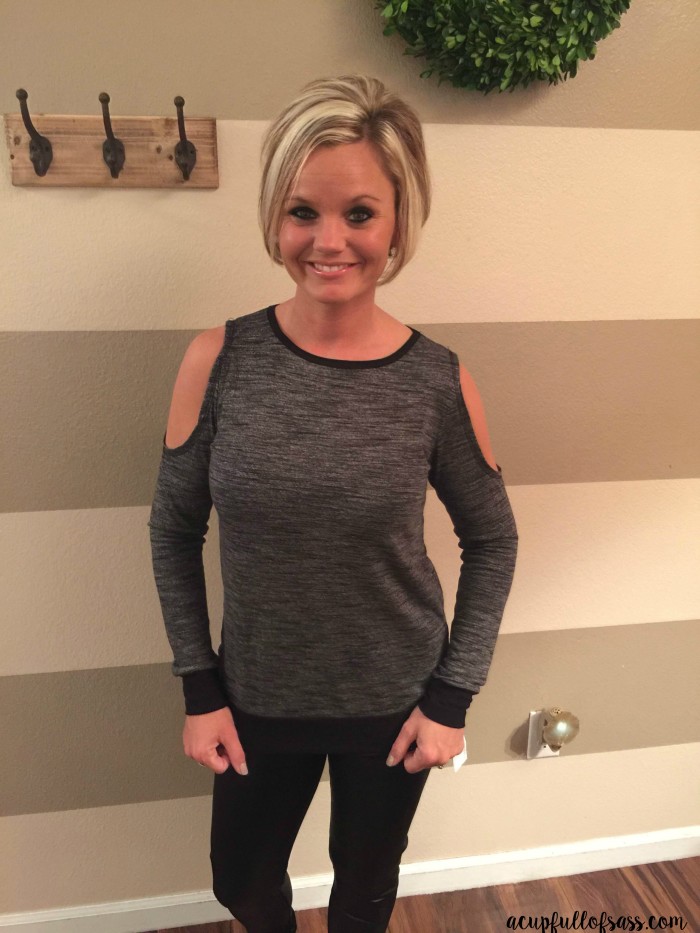 Item #3 – Pixley Yuli Lace Cap Sleeve Blouse – Black – $68   This top was actually cute. It was lace with a cute zipper in the back. I think it would look good with a pair of skinny jeans, cute statement necklace and black heels. It fit well, but I don't know if I'll wear enough to keep. What do you think? Not to mention the price is a little high in my opinion. Item #3  – Sending Back…I think.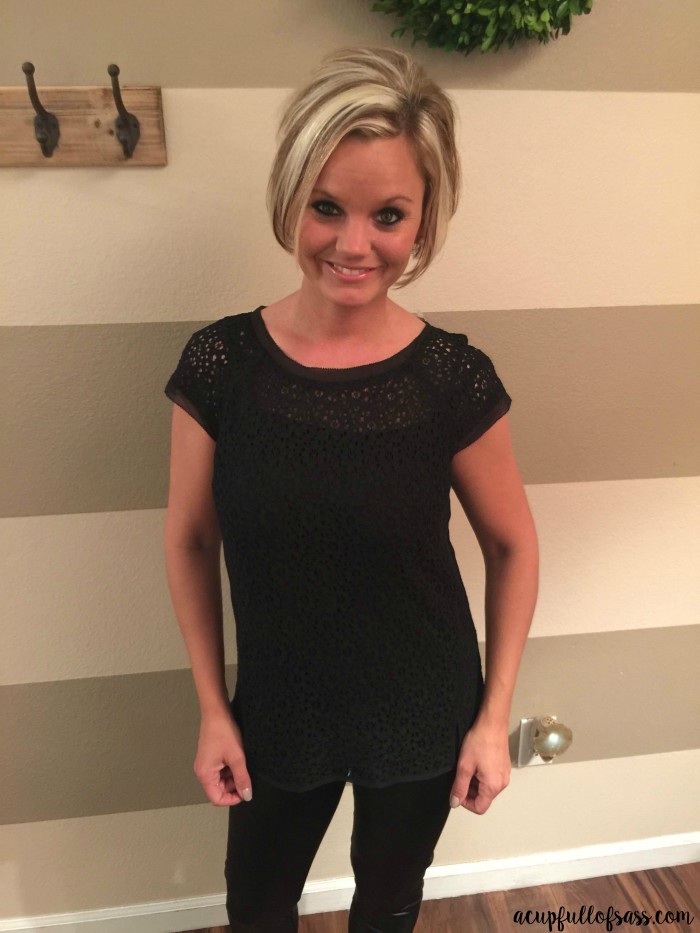 Item#4 – Look by M Sammie Plaid Infinity Scarf – Black $34 Black I'm in LOVE with this scarf!! I love plaid so this is so me!!  Item #4 – KEEPING.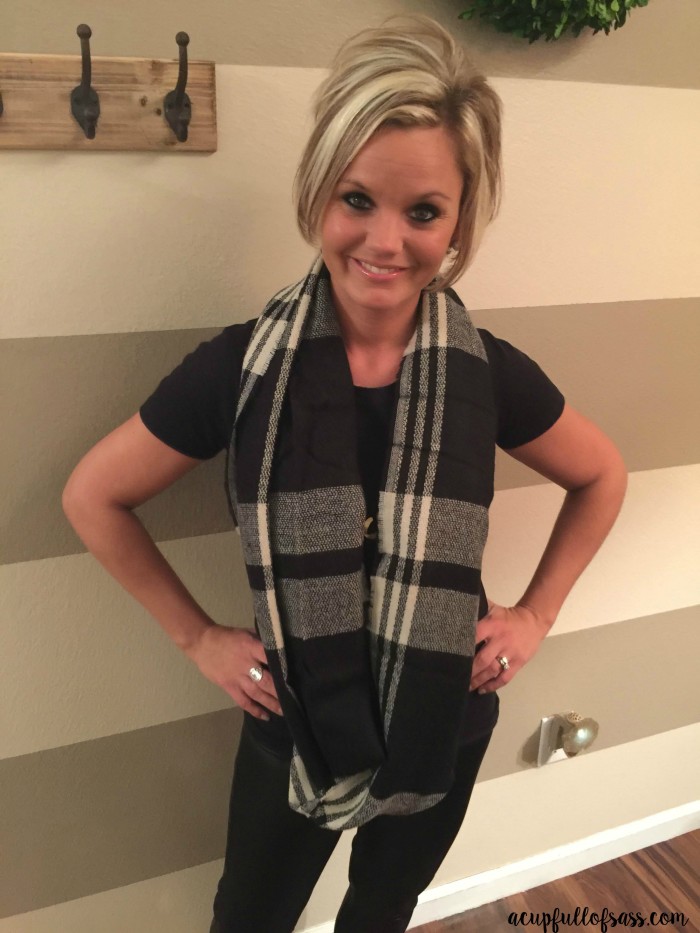 Item #5 – Lila Ryan Liza Skinny Jean – Navy $88  I was excited to see jeans in my box! They fit great! However, they were more of a stretchy material than a jean material. They also did not have front pockets. They remind me of jeggins. I don't think I will be keeping them. But I am still deciding. Item #5 – Undecided. (I did not post the picture of me wearing the jeans because you could not even see that they were jeans.)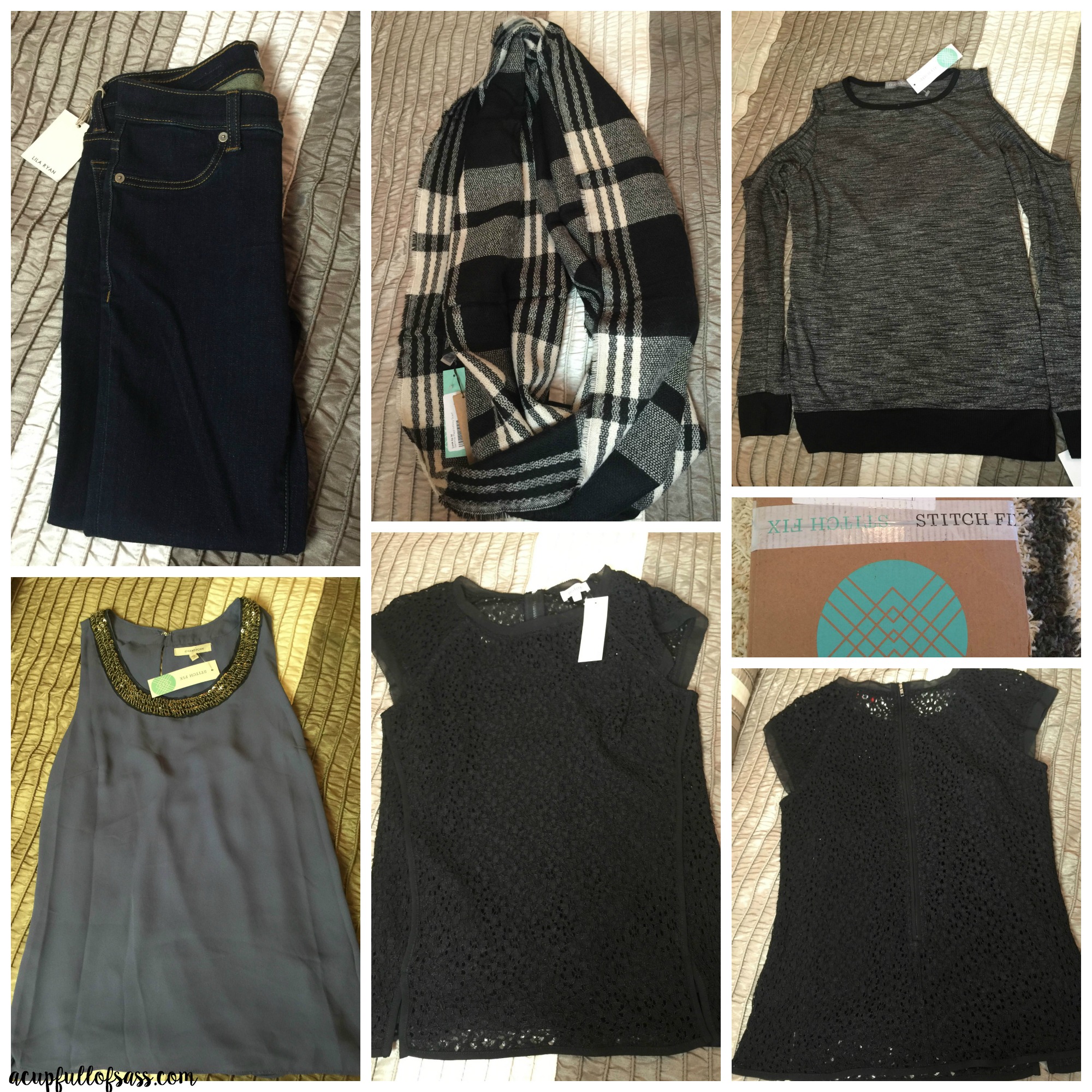 On the Style Card it showed a picture of a Faux Fur Collar Knot Vest and in was not in my box. In my personal note from my stylist she even talks about the item. I am going to email her and see why I did not get it. I hope they will send it to me because I think I would have loved it!! I am a little sad about this. And the black lace top I received was not on my style card. Something definitely went wrong. Oops.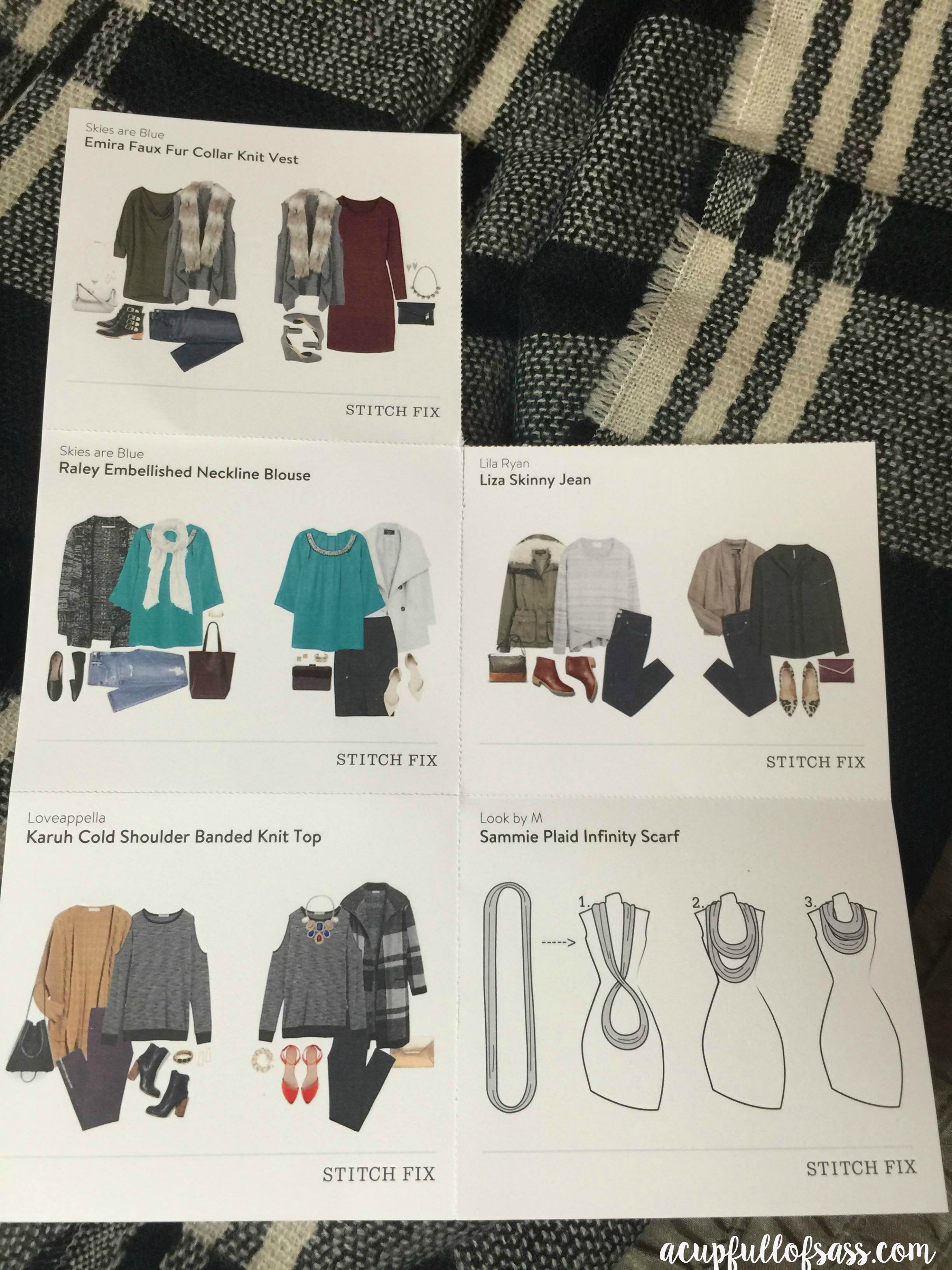 I can't tell you how excited I am that I am actually keeping something from this Fix!! That has never happened! I am so so glad I gave it another go. If you haven't tried Stitch Fix sign up here and see what you think. You will never know until you try.  I can't wait to show you next months Stitch Fix! I hope I can wait that long.
Now that you have seen my adorable stuff, I know you are dying to try Stitch Fix. Sign up now!
Facebook | Pinterest | Twitter| Instagram| Periscope