I finally signed up for Stitch Fix and as soon I hit the submit button, I anxiously waited for this box to arrive.  I could hardly wait! The anticipation was killing me.  To my surprise it actually arrived a day earlier then excepted.  Yay!  I am almost certain you have heard of this neat trendy company by now.  But if not, let me explain what Stitch Fix is.
What is Stitch Fix?
Stitch Fix is an online styling service that ships you clothing and or accessories as frequent as every 2-3 weeks, every month or every other month.  You will fill out a Stitch Fix Style Profile and a personal stylists will handpick a selection of five clothing items and ship them right to your door.
What is the Cost?
You will be charged a $20 styling fee for each fix.  That $20 will be applied toward anything you keep from your shipment.  If you don't keep anything, it's just $20.  Most items cost around $55.  You are also able to pick a price point for the items you receive.  If you choose to buy all 5 pieces, you get a 25% discount off of your entire purchase!  Also a return envelope with a prepaid shipping label is included in each package.  So simple and convenient.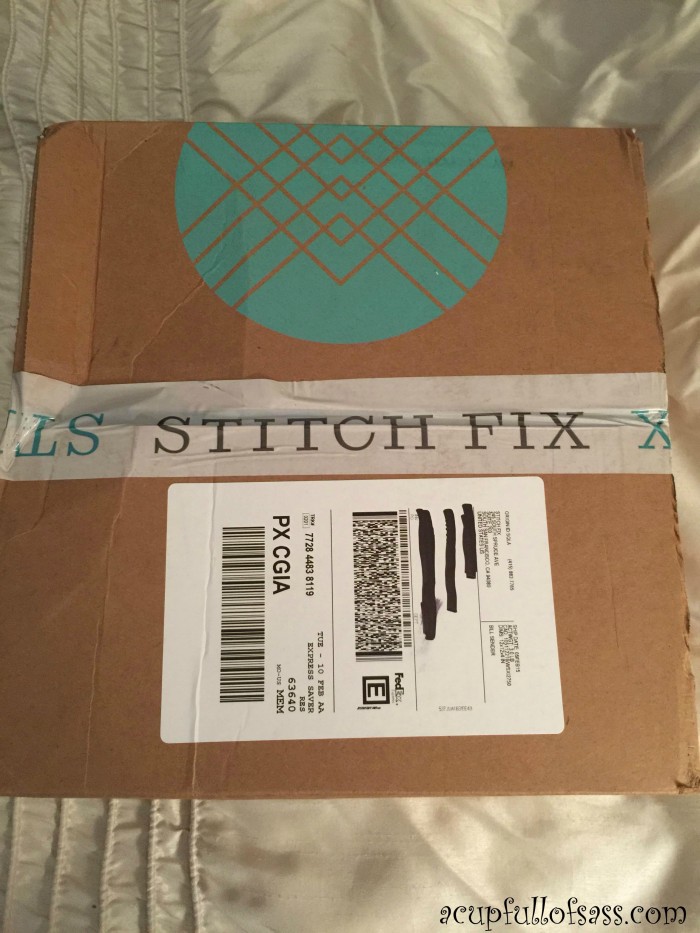 I finally jumped on the bandwagon to Stitch Fix.
I debated for months and here is why:
I am a shopper and I like it.
I have no problem with putting my own outfits together.
I am Very picky.  I like what I like.  And I am not the easiest person to please.  Just ask my hubby or anyone close to me. lol
I am a "get the best deal kind of girl"  Meaning I can spend money like no-ones business, but if there is a coupon I am using it.
I am a short petite person, so things seem to fit me differently.  I have the hardest time finding jeans that fit correctly.  I always have to try things on before I buy it.
Giving someone else control is well, hard for me
So now let's get why I decided to do it:
I know a ton of people who receive Stitch Fix and LOVE it.
The thought of receiving a surprise in the mail each month is exciting to me.
I see lots of cute cute things from Stitch Fix on blogs I follow.
You never know unless you try.
Inside I found the clothes nicely wrapped in tissue paper along with a styling guide showing ideas of how to wear the items sent.  I also received a personal note from my stylist.  This was such a nice touch.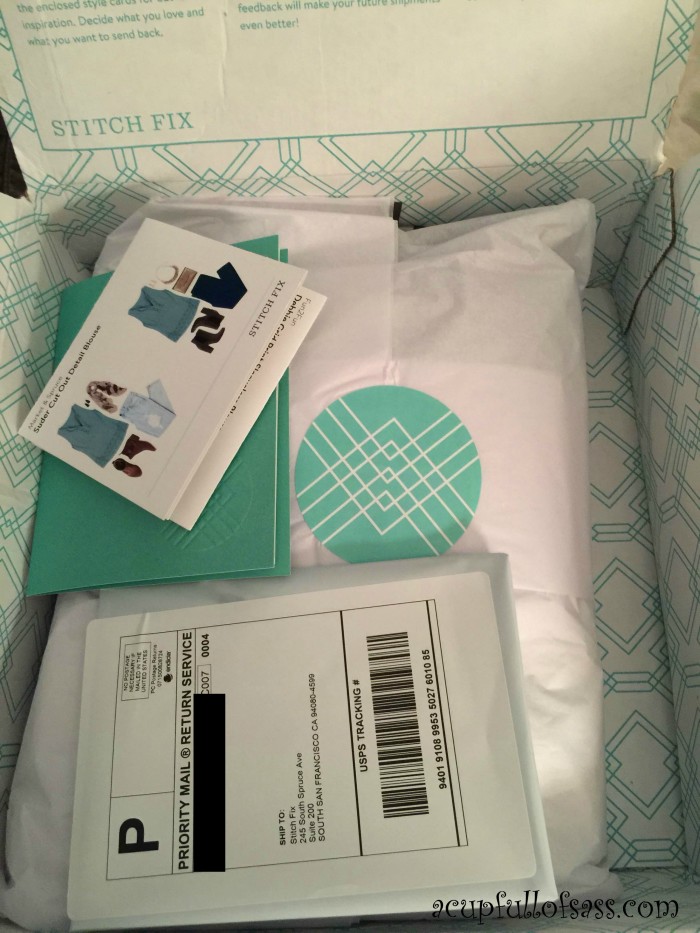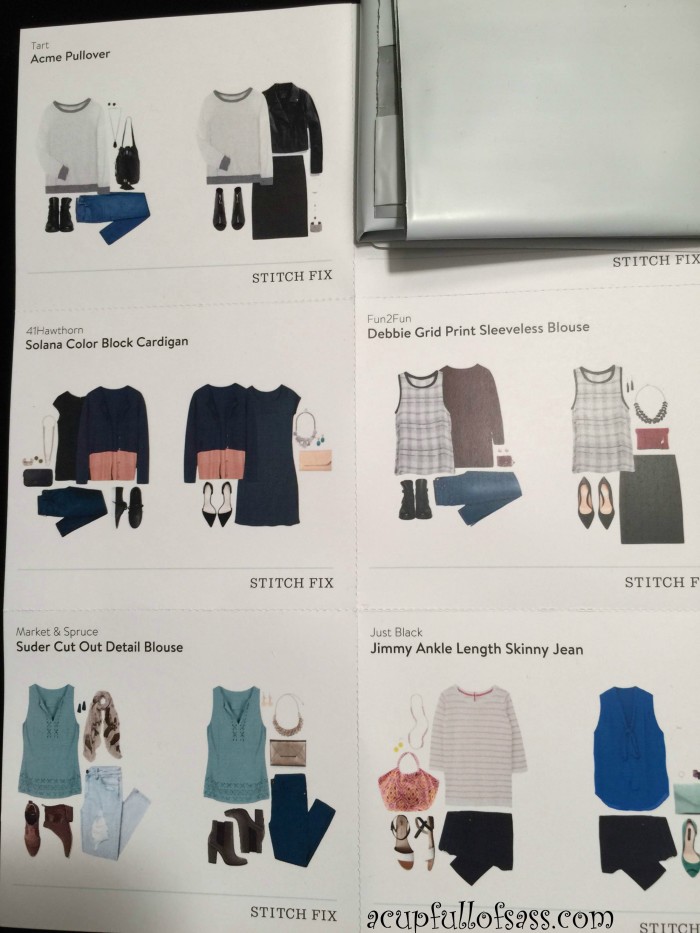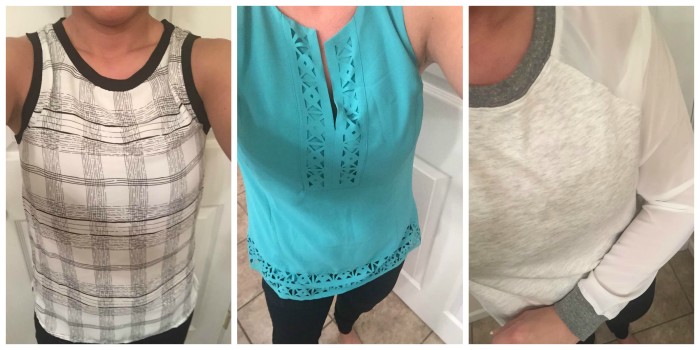 Item#1 – Fun2Fun Debbie Grid Print Sleeveless Blouse $38 This was so not my style.  I don't care for loose fitting tops.  Nor sleeveless tops.  And it's only February.  I still have at least two more months of cold weather in the midwest. Item #1 –  Sent Back
Item #2 – Market & Spruce Suder Cut Out Detail Blouse $54 I like the color of this blouse, but again it is not my style.  The front of the blouse did not lay correctly.  One side kept falling down.  And I did not like the way it fit.  Item #2 – Sent Back.
Item #3 – Tart Acme Pullover $ 58 This top was my favorite.  It is a very different style, which I actually likes.  It was a sweatshirt like material with sheer sleeves. I would have kept it, but it was a little big on me.  Item #3  – Sent Back.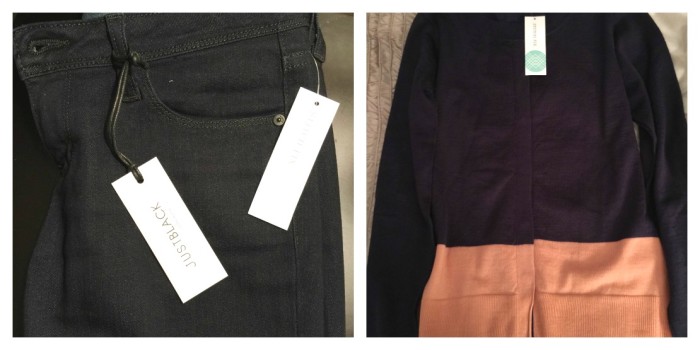 Item #4 – Just Black Jimmy Ankle Length Skinny Jean $88 Color Navy  These jeans fit perfectly!  Seriously I loved the way they fit and felt!!  I had a hard time deciding if I was going to keep them or not.  The color said they were Navy but they looked more black to me.  So I did not keep them.  If they had looked more Navy they would have been a keeper.  Item #4 – Sent Back
Item #5 – 41Hawthorn Solana Color Block Cardigan $68  I like the two tone color block of this cardigan.  The colors were Navy and Camel.  The material was a little itch and I thought the price was outrageous.  Item #5 – Sent back
Overall, I was not happy with my first shipment.  However, I am not giving up.  I think it takes time for them to figure out your likes and not likes.  I did send a link to my Pinterest style board, but I think I am going to critique it a little.  Maybe that will help. I also sent detailed notes to my stylist explaining why I did not like each item.
I am excited to see what my next fix is!  I just know I am going to love it! 😉  And don't you worry, I will be honest with you once again.
I receive a small commission each time someone signs up using my referral link.  This helps offset my blog cost and I greatly appreciate it!
See my Stitch Fix #2 Unboxing here.