These Rice Krispies Treats for Fall is such a fun and easy treat for this time of year! All I did was add orange gel food coloring to the marshmallows before adding the cereal. Then I used a small pumpkin cookie cutter to cut out the pumpkin shaped rice krispies. Decorate with Micro Leaves Sprinkles or any sprinkles. Seriously, so easy and my kids go crazy over them (and so do I)!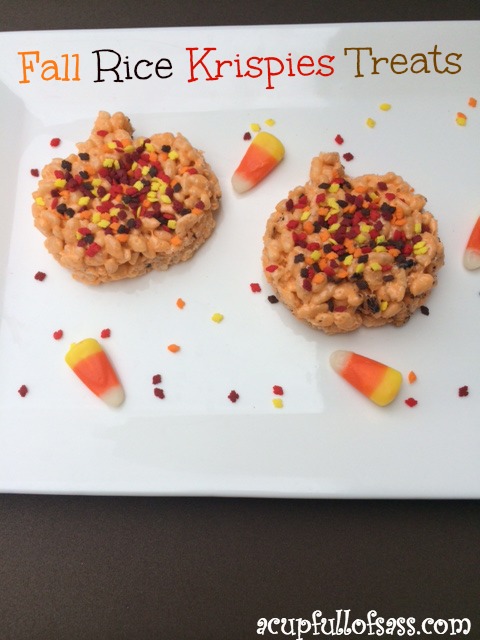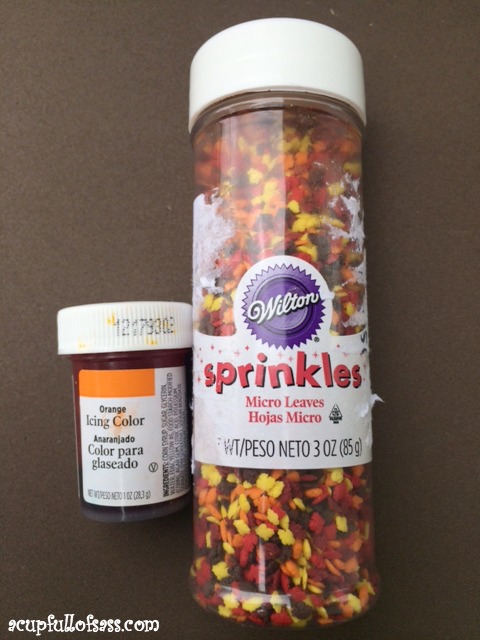 Ingredients:
3 tablespoons butter
1 package (10 oz., about 40) JET-PUFFED Marshmallows Or 4 cups JET-PUFFED Miniature Marshmallows
6 cups Rice Krispies Cereal
Wilton Orange Gel Food Coloring
Wilton Sprinkles Micro Leaves
Directions:
Spray a wooden spoon with non stick spray. Melt butter in a large saucepan over medium heat and add marshmallows. Once marshmallows start to melt add the orange gel food coloring until you reach your desired color. Stir well with your coated wooden spoon until marshmallows are completely melted. Stir in cereal and mix until cereal is coated with the marshmallow mixture. Pour mixture in a greased 9×13″ baking dish. Press into the baking dish by using a piece of wax paper coated with non stick spay. Let cool and use cookie cutter to cut into pumpkin shapes. Add sprinkles and enjoy.