Can you believe Halloween is already here? This year we started a new tradition. You know me and my traditions. I hosted a Halloween Dinner for my kids. I wanted to show you some Spooky Halloween Food Ideas, so you could host your own spooky dinner or party.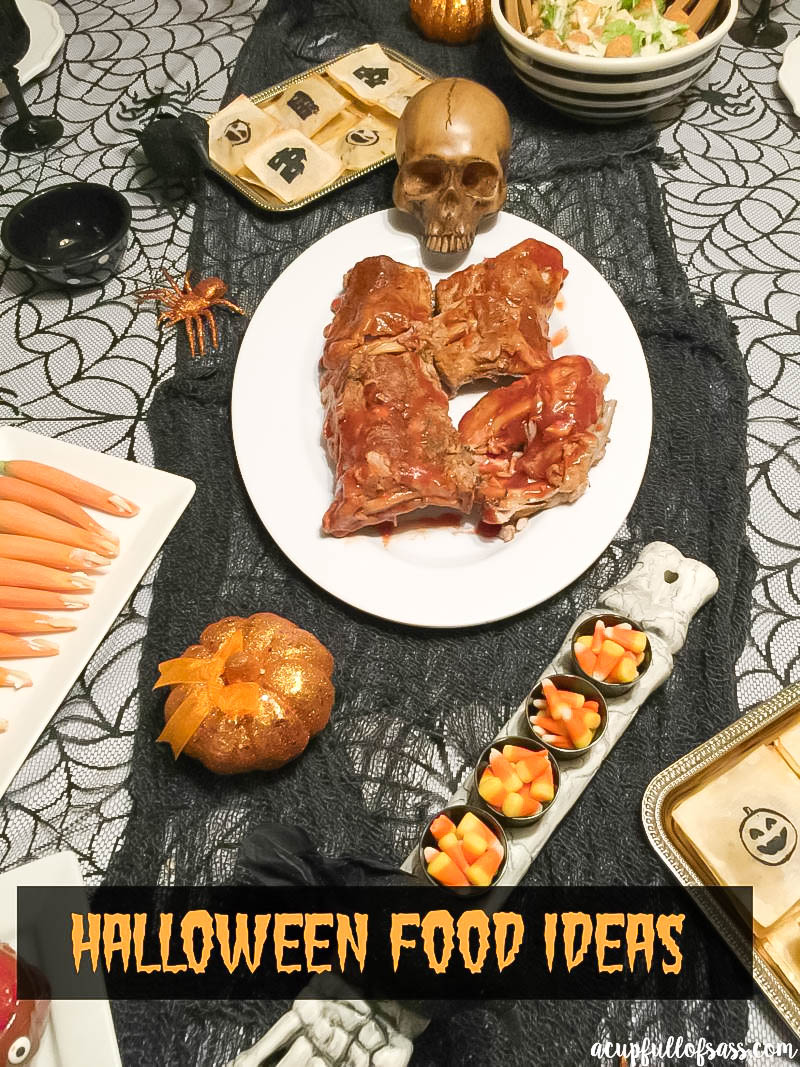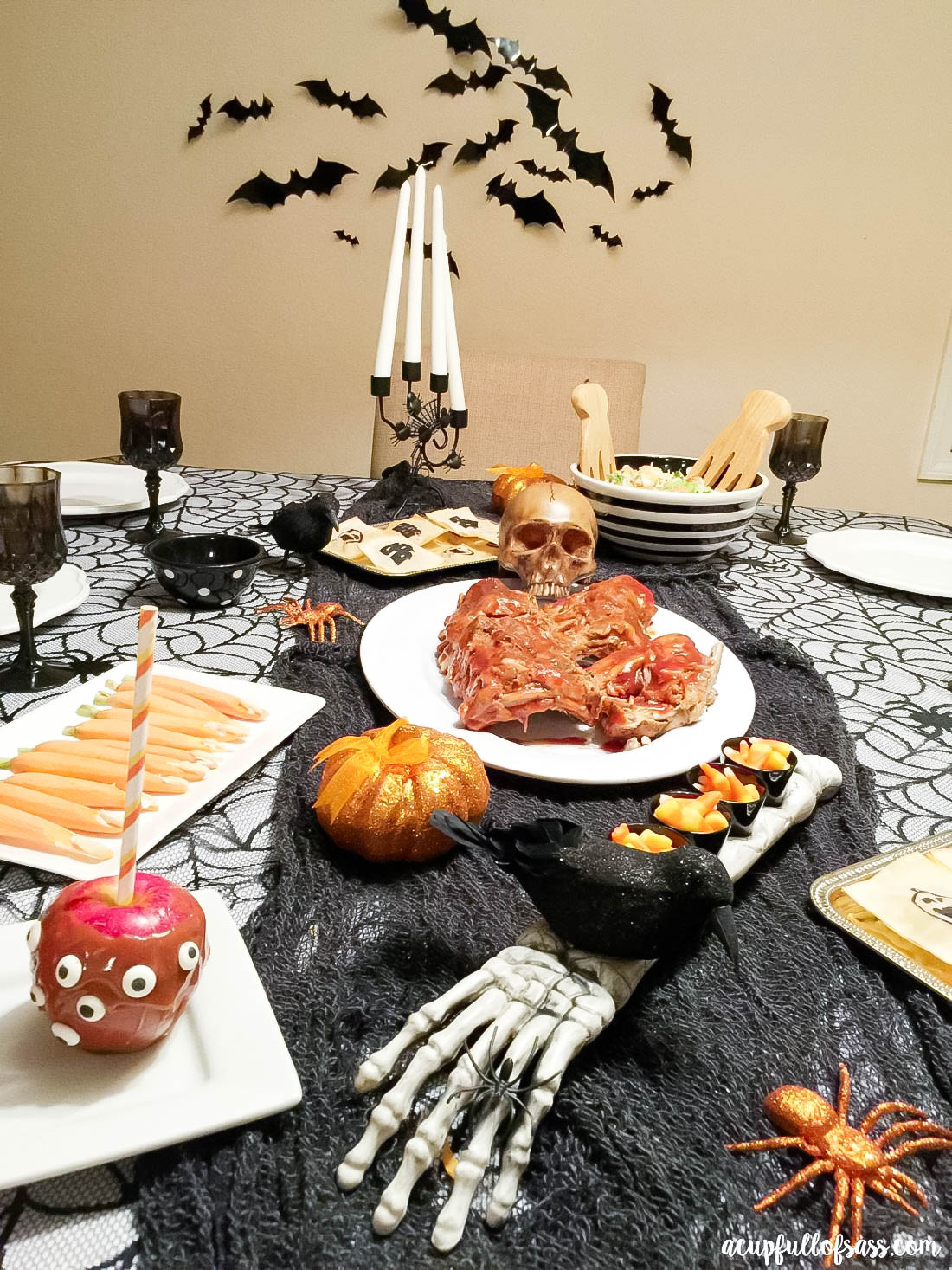 Halloween Tablescape 
Let's start with this Halloween tablescape. Creating a spooky table is just fun for Halloween.I had so much fun creating this look. I stayed with the traditional Halloween colors black and orange. Can find a lot of cute Halloween decor at the Dollar Spot at Target and Dollar General.
The bats I found on Amazon here. They went perfectly as a wall decoration behind the table. If you follow me on Instagram, you will see a lot of my Insta Stories where I share behind the scenes look at things I do daily. Along with a look into my real life.
I have a post with the Halloween decor items I used here.
Food Ideas
BBQ Baby Back Ribs
Now for the food. I decided to make BBQ baby back ribs as the main course. It just went perfectly for a spooky theme. I actually make these in my Pressure Cooker in only 40 minutes. Yes, I know! Amazing! I love my Instant Pot! I will share my recipe soon. Place them on a large platter with a skull at the top. So perfect for Halloween!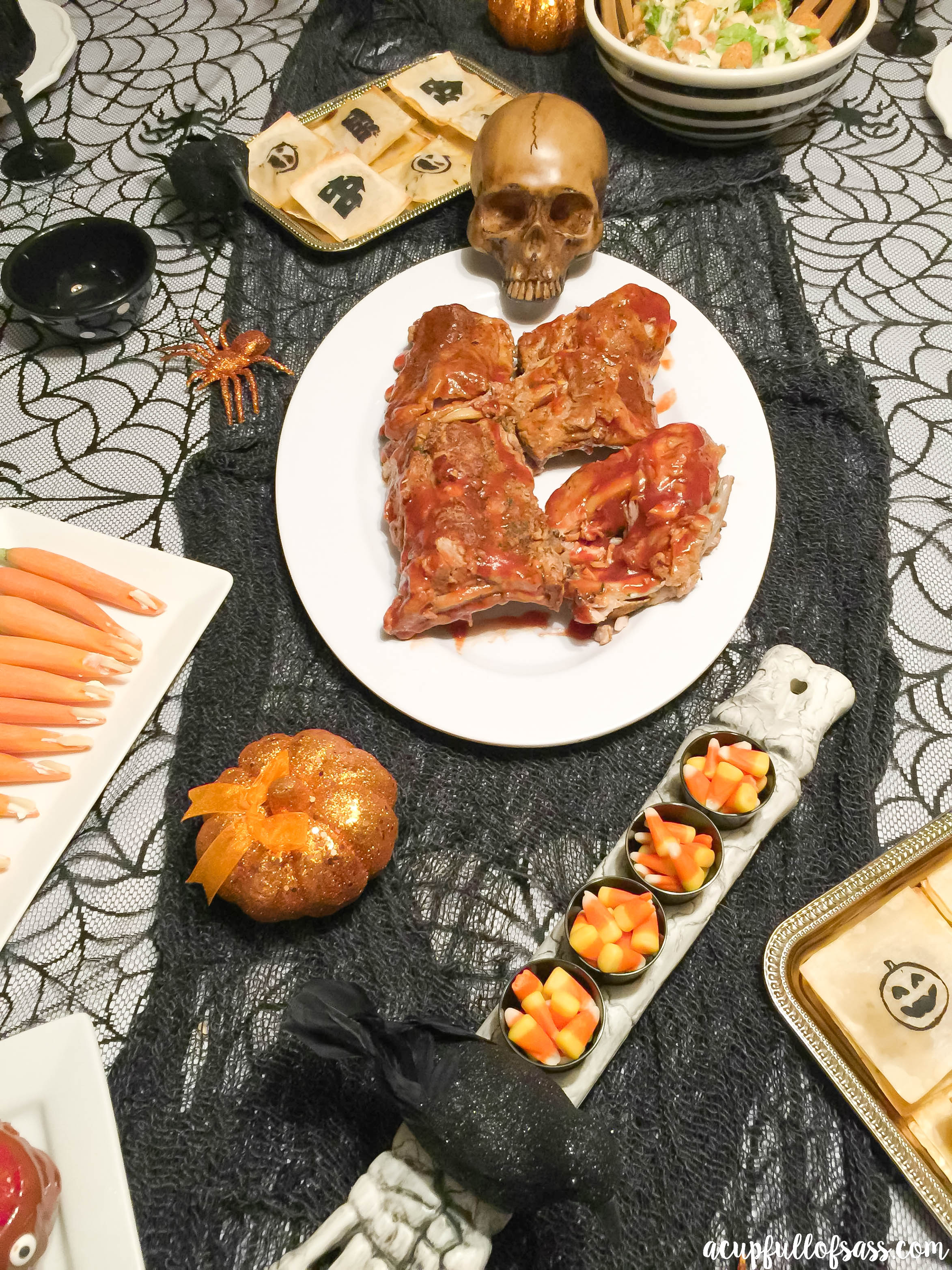 Halloween Ranch Wontons
Halloween Ranch Wontons. I found this stamped wonton idea from Hungry Happenings. It's such a fun idea! You can how to make them here. All you need is Wontons, a Halloween stamp, food coloring and a pastry brush or foam brush.
For the filling, I made I used my Wonton Cups recipe, except I used 1 lb. of turkey burger (or hamburger) instead of chicken. You can see my recipe here.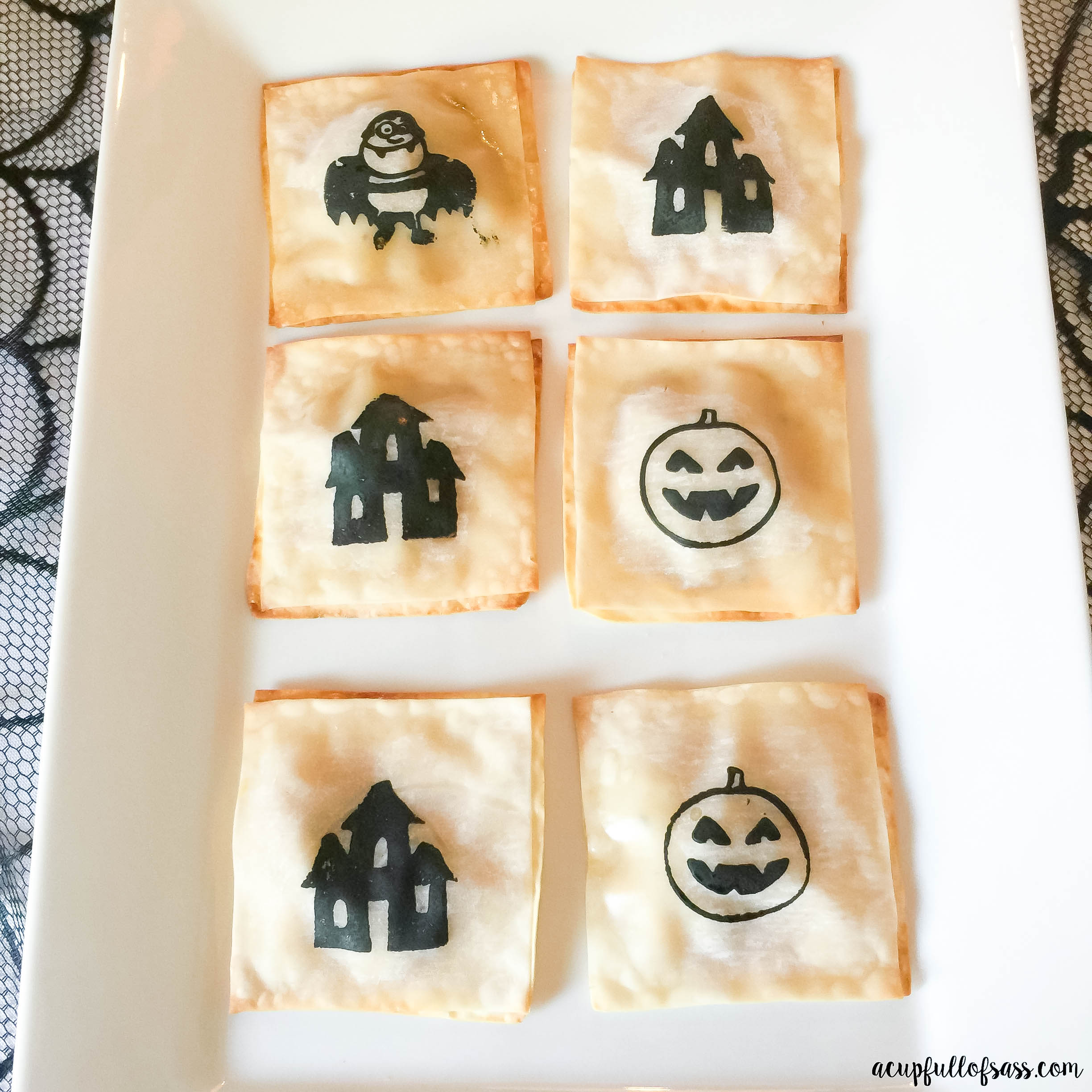 Witch Fingers
This kid actually helped me with this. All you do is slice the end of the carrots at an angle. Add a small dot of cream cheese and place a slivered almond on top. That's it.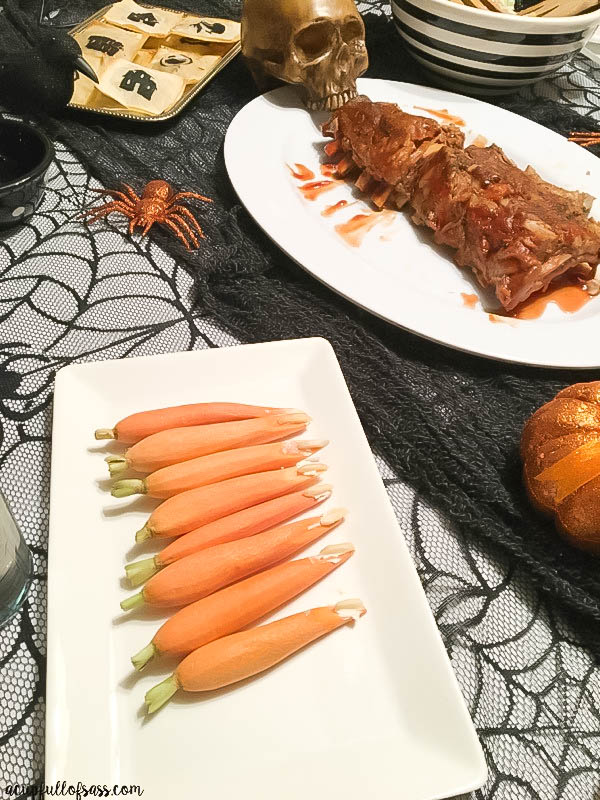 Caramel Apples
The kids helped me make these too. I did not get a good picture of them, but you get the idea. We added candy eyes for a spooky look. My Halloween Spooky Eyes Pretzel Bites would have been great to serve too. I just ran out of time.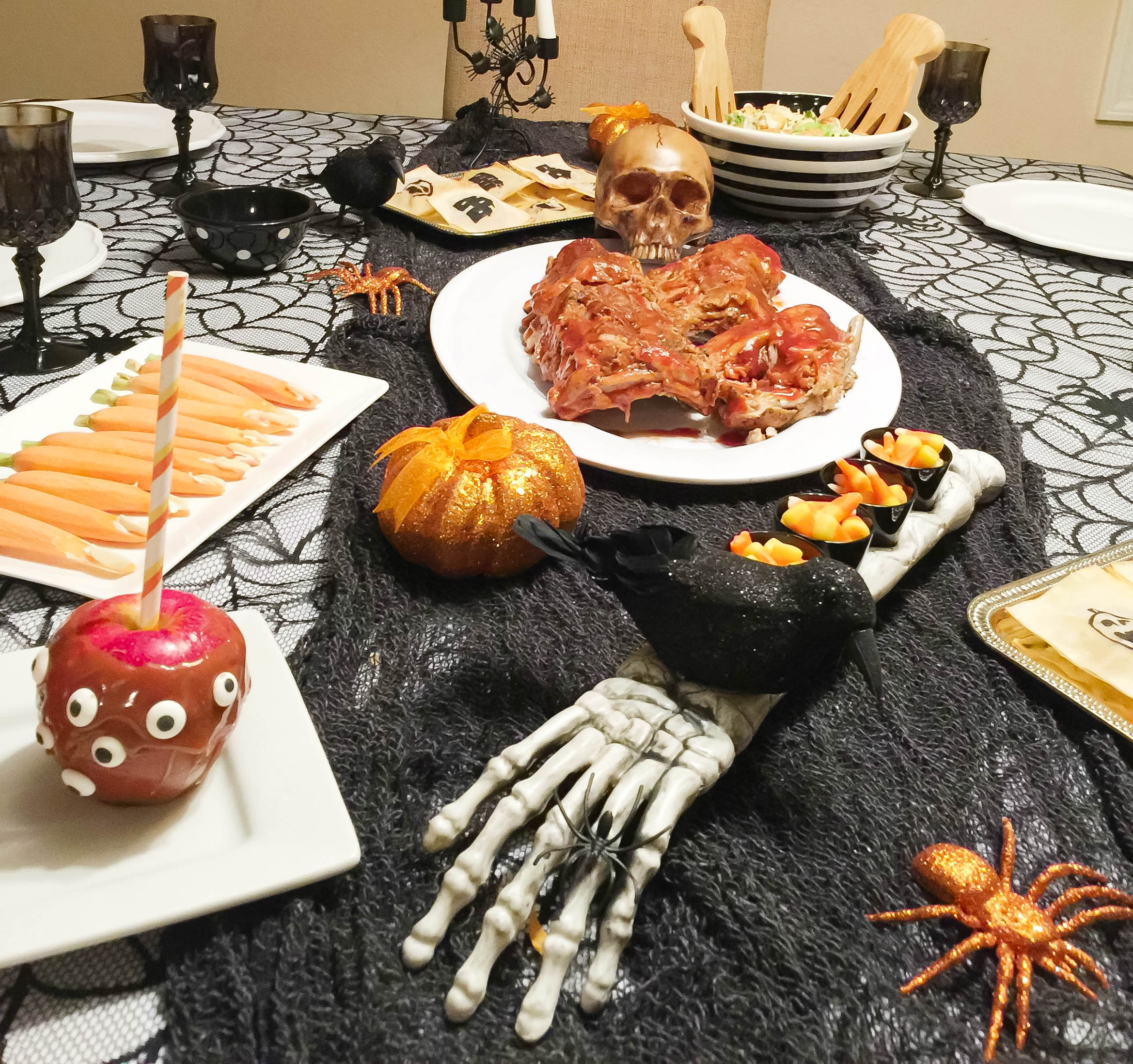 I also served a salad, corn on the cob and french bread. During dinner, we played fun kids Halloween music. You can see a video I shared on my Insta Stories. My kids are already talking about ideas for next year. Creating family traditions is something that will last a lifetime.
Other Halloween Food ideas: