So my Stitch Fix #3 arrived today and I was so nervous and excited to see what I got.  If you have been following my past posts you will know my First Fix and Second Fix were not a success.  I decided to give it one more try before canceling my subscription.  If you are new to Stitch Fix I have a detailed post on how it works, along with my Honest Review.  My Second Fix I actually added an Unboxing video so you could see my first reaction.  I think you will want to see this!
Now let's get to my #3 Stitch Fix Unboxing.
Here are the items I received:
Item #1 – 41 Hawthorn Berneen Dolman Knit Top $58.00  This top had a cute print to it.  The material was fitted which I  liked.  The sides bunched together and the sleeves were 3/4 length. After trying it on I decided it was not the best fit for me.  It did not look good on me.  Item #1 – Sent Back.
Item #2 – Pixley Montgomery Chevron Cross – Front Top $48.00  I like the color of this top and it's something I could see myself picking up at the store.  I wore a black tank under the top, but to my surprise you actually did not have to wear anything under it.  After trying it on I thought it was cute, but again I was not in love with it.  And certainly not worth $48.00 to me.  Item #2 – Sent Back.
Item #3 – Daniel Rainn Swift Crochet Bib Blouse $68.00  This was so not my style.  It was very loose fitting, almost like a maternity shirt. Blah!  I did like the crochet part, but that was it.  I am sure you can tell from the picture how much I dislike it.  Item #3 –  Sent Back.
Item #4 – Mystree Skylar Asymmetric Knit Zip Up Jacket $78.00   This jacket was cute and very warm.  I can't say I loved it, but it was cute.  Not $78 cute.  And being the seasons are changing, I don't need to add any more winter clothing to my wardrobe.  Item #4 – Sent Back.
Item #5 – Rune Kiley Ankle Zip Legging $58.00  These were cute and fit great.  The zippers on the ankles added style to them, which I really liked.  However, my Victoria Secret Leggings that cost me $20 fit and look just as good.  Item # 5 – Sent Back.  I did not take a separate picture of me wearing these, but I do have them on it all the pictures below.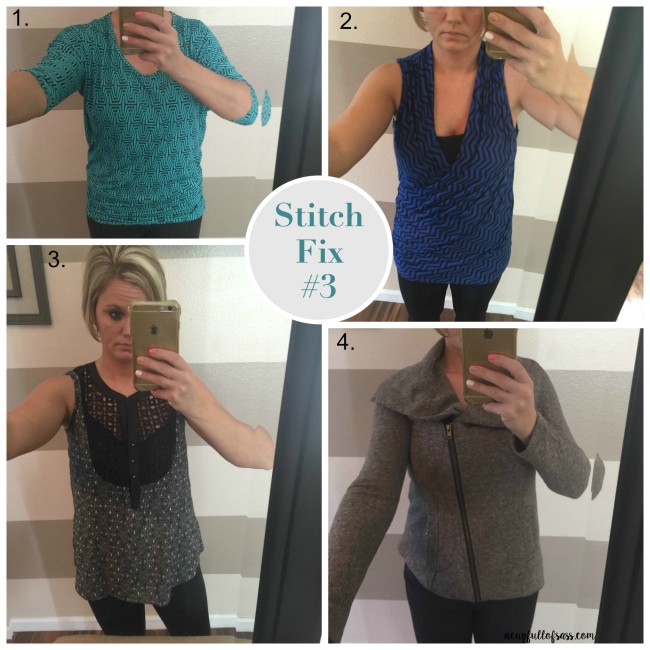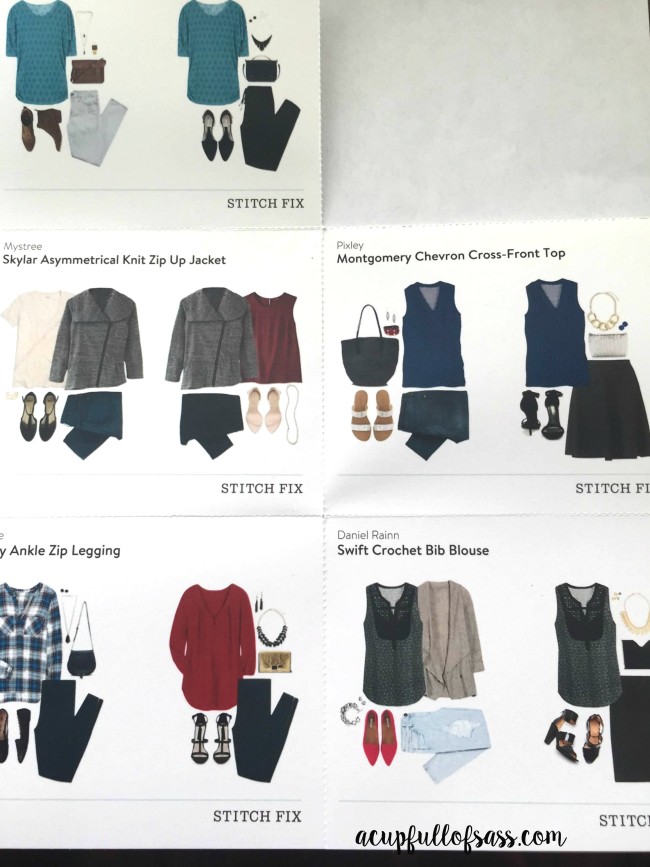 So after my third fix I have decided to cancel my subscription.  I am so bummed because I really really wanted this work!  I love the concept of this company.  I love the idea of having clothes sent to my door and surprising me each month!  Now if you are thinking of trying Stitch Fix, I say do it.  Just because it did not work out for me, does not mean it won't for you.  I know tons of people who get Stitch Fix and are really happy with it.  And how will you ever know if you don't try?  You won't.  So try for a month and see what you think.  It could become your new BFF. 🙂