It has bee a while since my last detailed Stitch Fix post. So many of you have asked if I would start doing them again. Because I love my you (my readers) so much, I couldn't say no. So today I am sharing my STITCH FIX SPRING 2017 Review for you.
If you are new to my blog, you may be wondering what Stitch Fix is and how it works. Since it has been so long since my last Stitch Fix post, I thought it might be helpful to explain everything again in this post as well as tips on how you can receive a great Fix.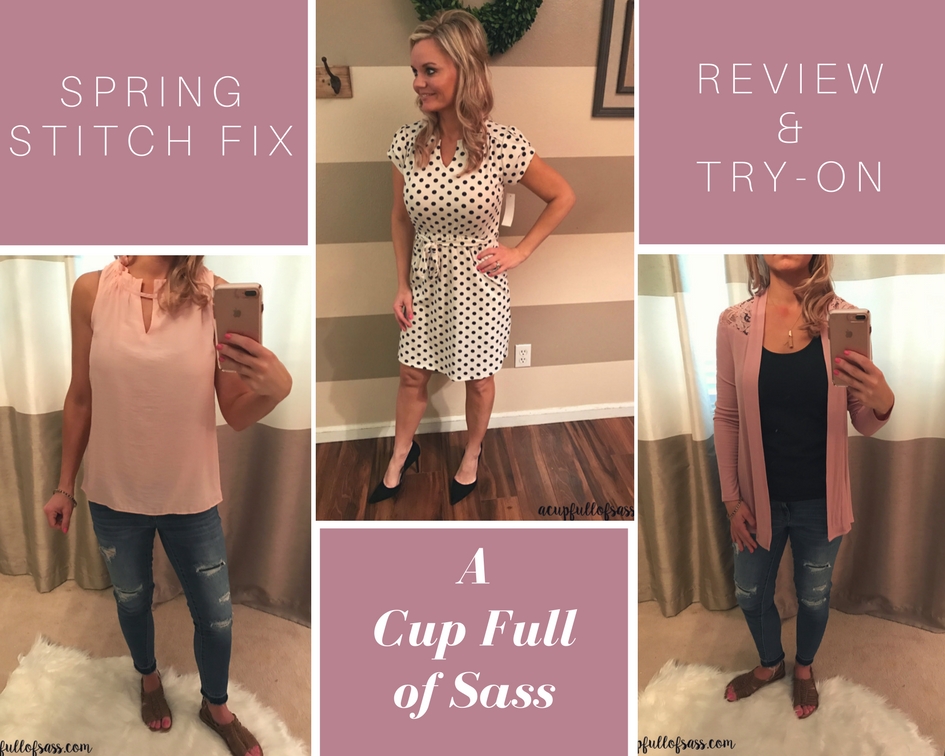 What is Stitch Fix?
Stitch Fix is an online styling service that ships you clothing and or accessories as frequent as every 2-3 weeks, every month or every other month.  You will fill out a Stitch Fix Style Profile and personal stylists will handpick a selection of five clothing items and ship them right to your door.
What is the Cost?
You will be charged a $20 styling fee for each fix.  That $20 will be applied toward anything you keep from your shipment.  If you don't keep anything, it's just $20.  Most items cost around $55.  You are also able to pick a price point for the items you receive.  If you choose to buy all 5 pieces, you get a 25% discount off of your entire purchase!  Also, a return envelope with a prepaid shipping label is included in each package. So simple and convenient.
How to Sign Up?
All you need to do is go Here and fill out a little information. It takes less than 5 minutes, and your Fix will be delivered on your doorstep before you know it.
By using this link to Sign Up, I get STITCH FIX credit. So Thank You Thank You! Once you Sign Up, you too can receive Stitch Fix credit by referring your friends and family. How awesome is this?!
How to receive an Awesome Fix?
Trust me when I say I have had my fair share of disappointing Fixes. It can be really frustrating. Here are a few things I think really help to receive a great Fix.
Create a STITCH FIX Pinterest Board. This is Huge! My Stylist often refers to my Pinterest board for my style & colors. You can see my board here.
Comments and Notes can be a huge help in communicating with your Stylist. For example, I have been very clear that I do not care much for loose tops. I am not saying I've never received any, because I have. But for the most part, they listen. Also, you can ask for a specific item you see on a blog or on Pinterest. That is why I always give you the name of my items as well as the designer. It helps your Stylist a ton.
Ask for a specific Stylist. If you follow many bloggers, you know they usually tell you the name of their Stylist. If you like the items they receive, try asking for that Stylist by name.

Now let's get started. This Fix was Ah-mazing! And to my surprise, I had a new Stylist this Fix. This time Michelle styled me instead of my normal Stylist Betsy. Can I just say Michelle did an Excellent job!! Like really really good!! If I had not read the note before looking through my Fix, I would have bet Besty styled me. That's how well Michelle did.
STITCH FIX Polka Dot Dress LOVEAPPELLA ABERDEEN DRESS XS $68 – Kept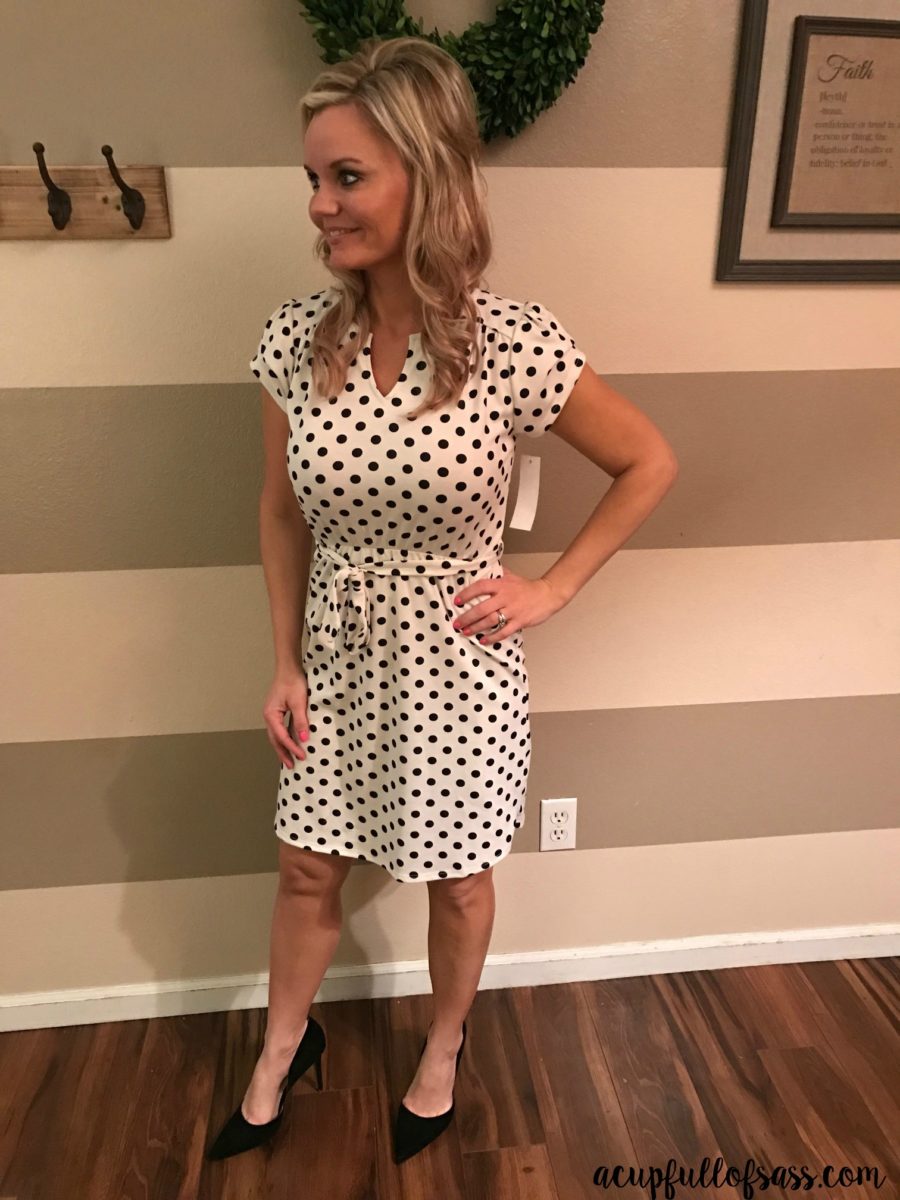 I seriously love this dress! You can dress it up or down. I tried it on with my Jessica Simpson heels and loved the way it looked. Flat sandals would look super cute too.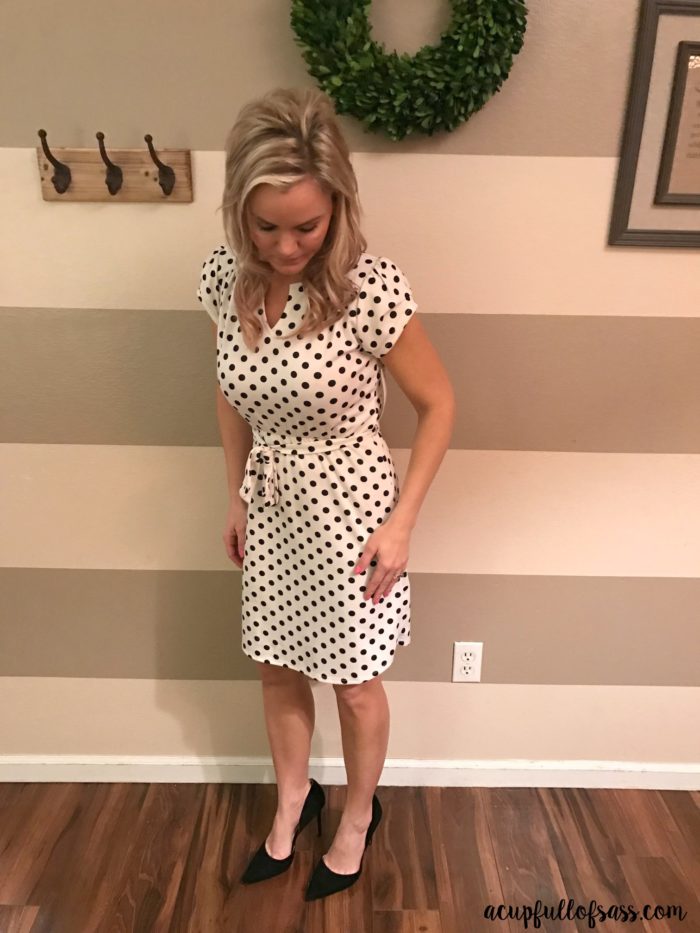 STITCH FIX – LAILA JAYDE LAUTIE DOLMAN KNIT TOP XS $58 – Sent Back
You guys, I seriously struggled with whether or not I should keep this top. I really liked it, but thought $58 was a tad high for this top. Plus spring weather is quickly approaching. However, I am wishing I would have kept it. Sigh.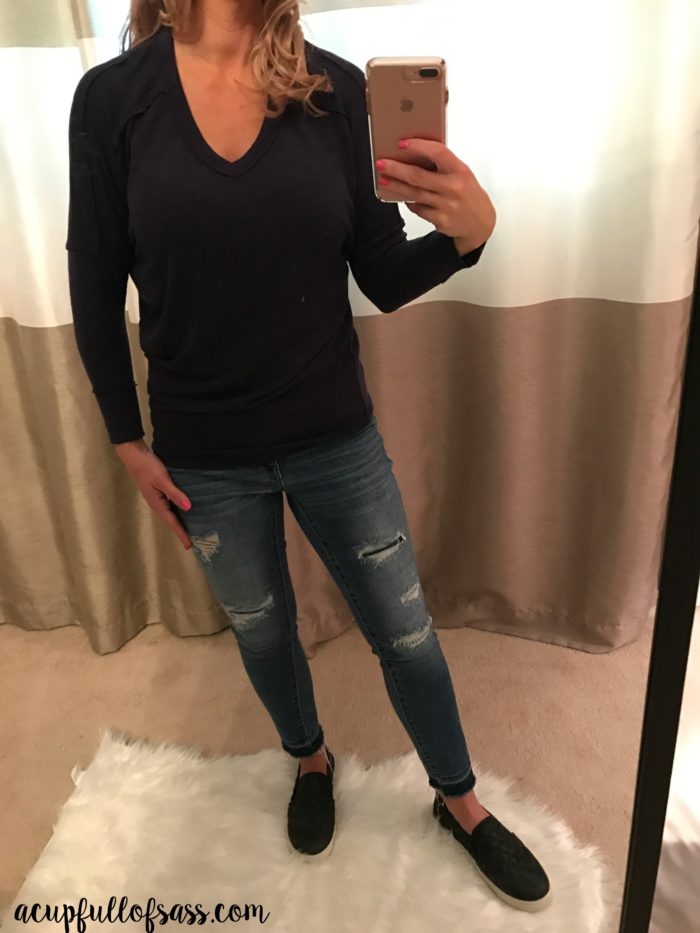 Similar Skinny Jeans & here | Shoes (my favorite)
STITCH FIX 41HAWTHORN PINER LACE DETAIL KNIT CARDIGAN XS $54 – Kept
Loved this blush cardigan. I just added a black undershirt, skinny jeans, a cute necklace, and sandals.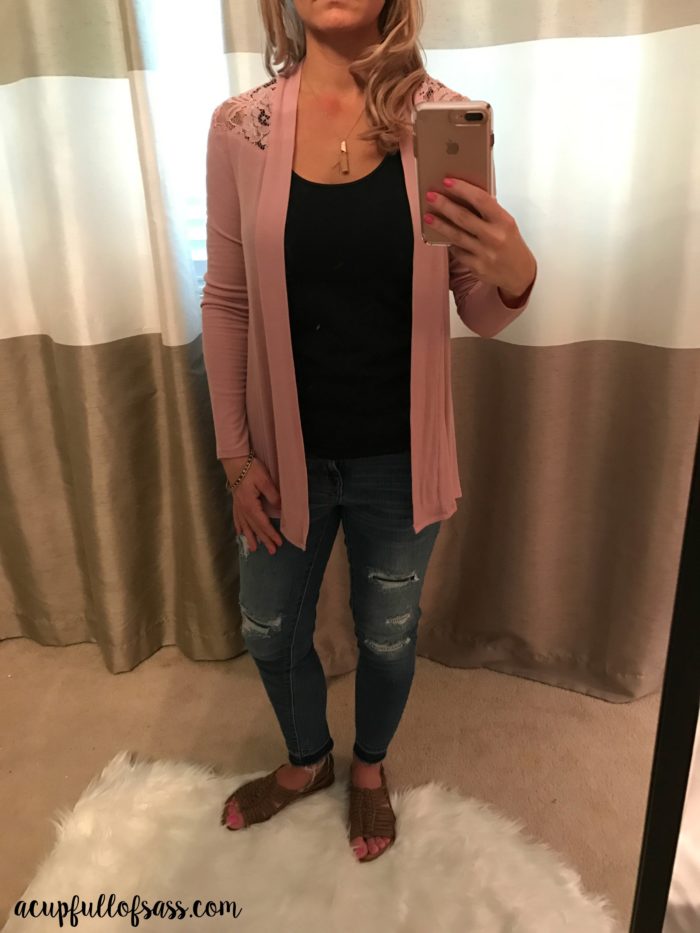 Similar Skinny Jeans & here | Similar Sandals & here
STITCH FIX – CURRENT AIR RIVA RUFFLE NECKLINE BLOUSE $54 Size XS
I loved this top! The color, the style, everything! I actually found a top similar to this one from TJMaxx. You can see it here.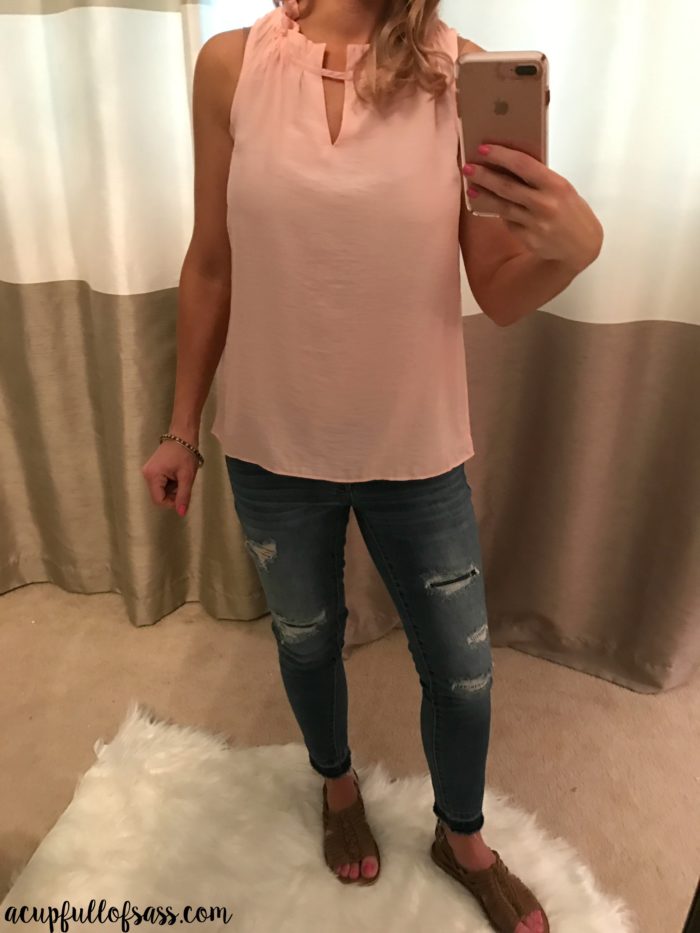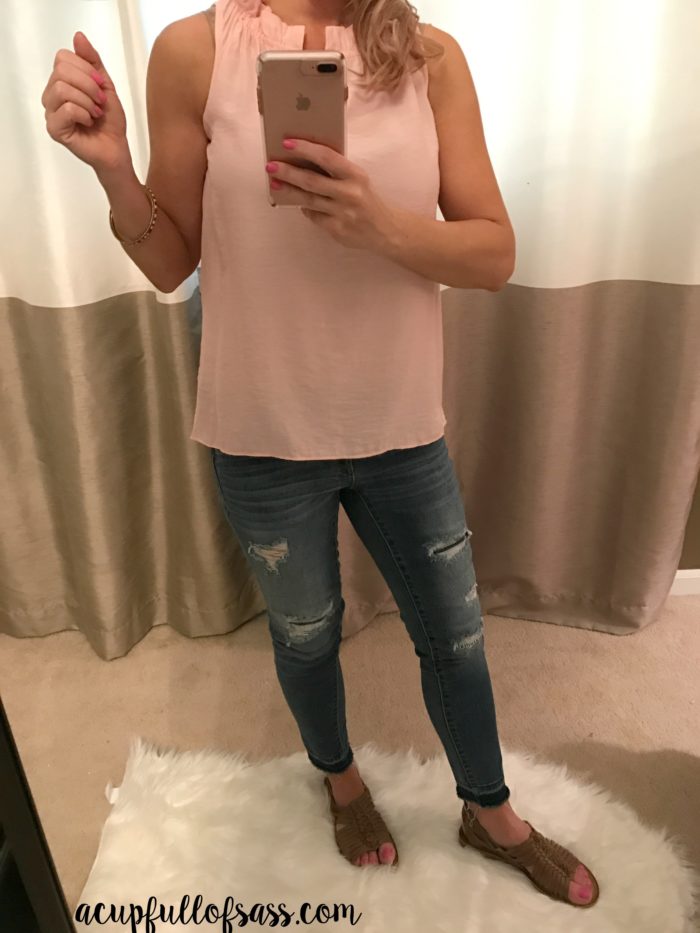 Similar Skinny Jeans & here | Similar Sandals & here | Similar Top
STITCH FIX – FRANCO SARTO BECCA ANKLE TIE BALLET FLAT $99 Sent Back.
I thought these were cute, but not for the price. Yikes!  Not to mention, red is not really my color.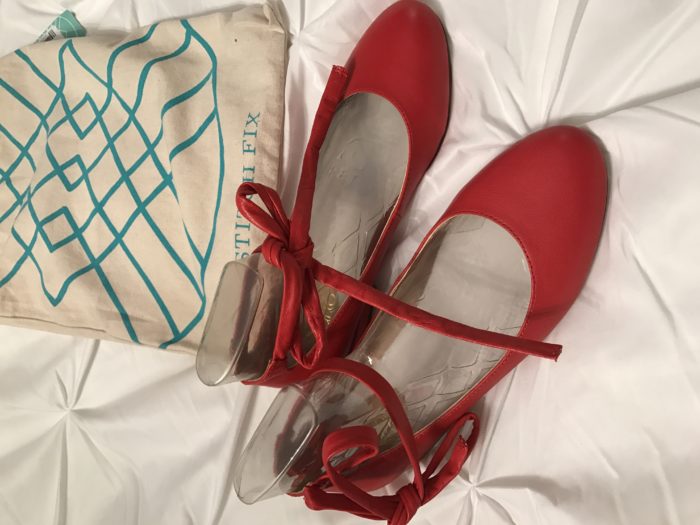 Have I convinced you to sign up yet? I share all of my STITCH FIX UNBOXING videos on my YouTube channel. You can subscribe to my channel so you don't miss a video. See my Unboxing Video for this Fix here.
                                                   xoxo,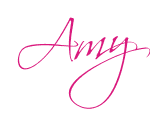 Facebook | Pinterest | Twitter| Instagram| YouTube