It's that time again. Stitch Fix time! I was so excited to see what I got in this Fix! Everything I pulled out of the box I really loved. But as we all know the try on is what really determines if I keep anything. I started with the videos for this post per a request from a reader. 🙂
ITEM #1 – Stitch Fix – Brayer Mixed Material Halter Top by Le Lis – $48 – SENT BACK
This top was cute. It tied in the back and I like the print. I tried it on with the yellow skirt they sent me. The shirt was a little loose at the bottom and I just wasn't in love with it. Does that make sense? So I sent it back.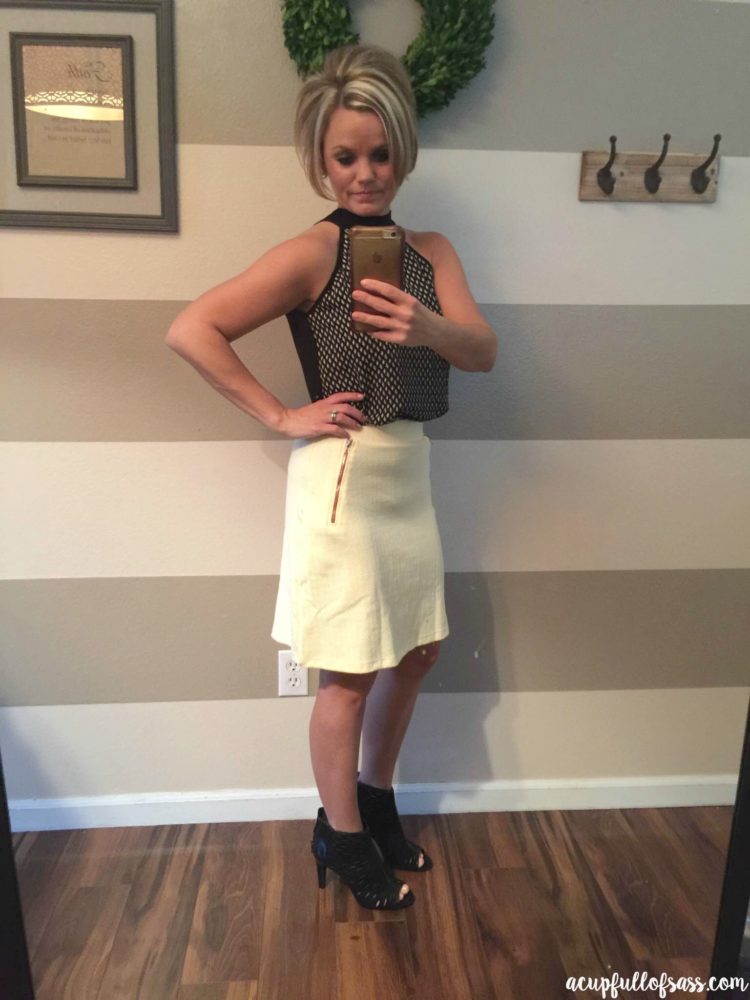 ITEM #2 – Stitch Fix – Cecilia Zipper Detail Aline Skirt by Le Lis – $58 – SENT BACK
I really loved the style of this skirt. I loved all the details. It fit great too. Being it was pale yellow, I really had a hard time coming up with what I would wear with it. So I sent it back.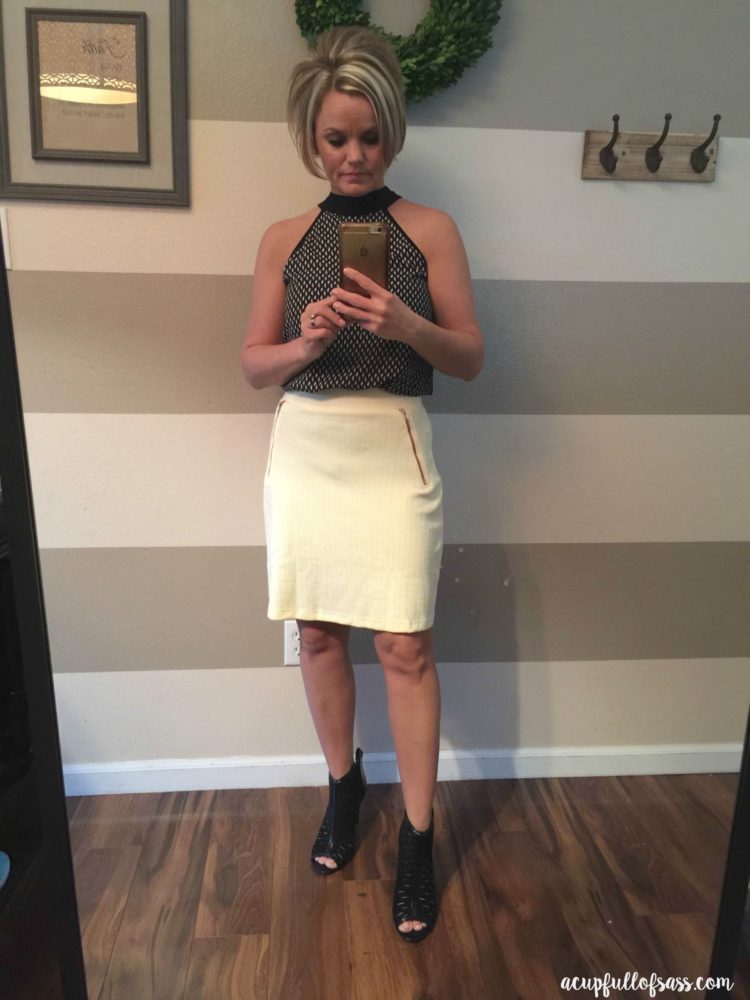 ITEM #3 – Stitch Fix – Diggory Button Down Top by RD Style– $58 – Sent Back
This shirt fit loose. The top of the shirt looked like a button could have been added. You can see it in the Try On video. It also reminded me of a shirt my mom had when I was a kid. Kind of like the shoes I am wearing in the photo. My mom had a pair of white shoes like these. hehe  But I love the shoes. I just did not think the shirt was for me. Sent back.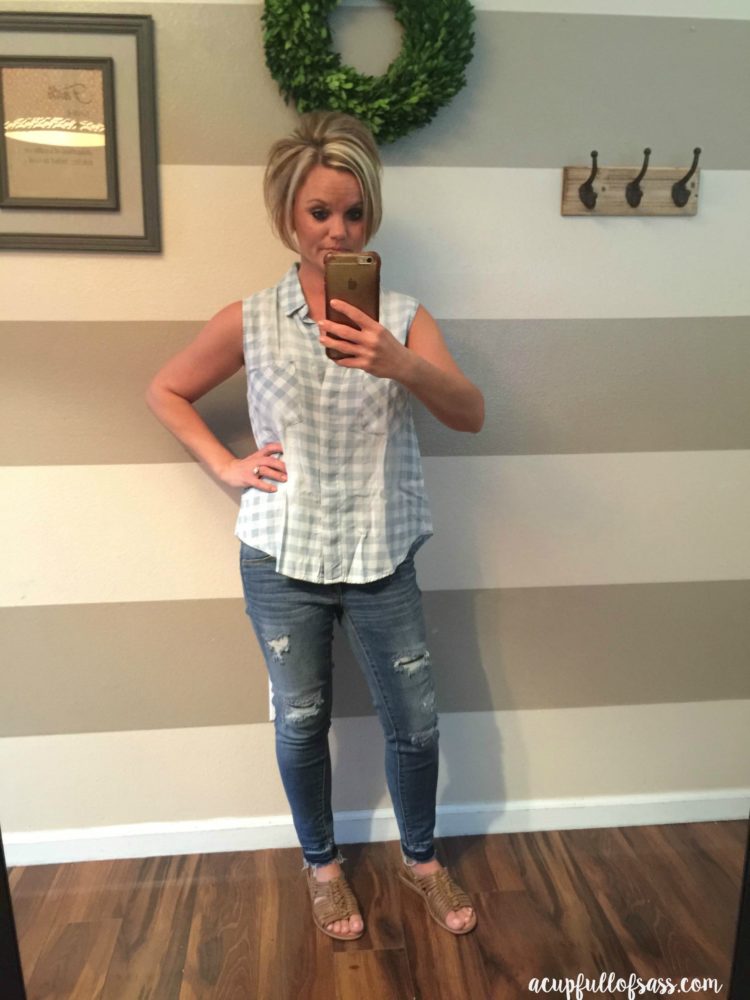 ITEM #4 – Stitch Fix Vickie Texture Dress by Collective Concepts – $78 – Sent Back
When I pulled this dress out of the box I squealed with excitement! I love the texture of the fabric and the tie bow! Super cute, right? Well, after trying it on I wasn't as excited. I mean it fit, I just did not love the way it looked on me. I liked it, but I needed to love it for $78. Sent back.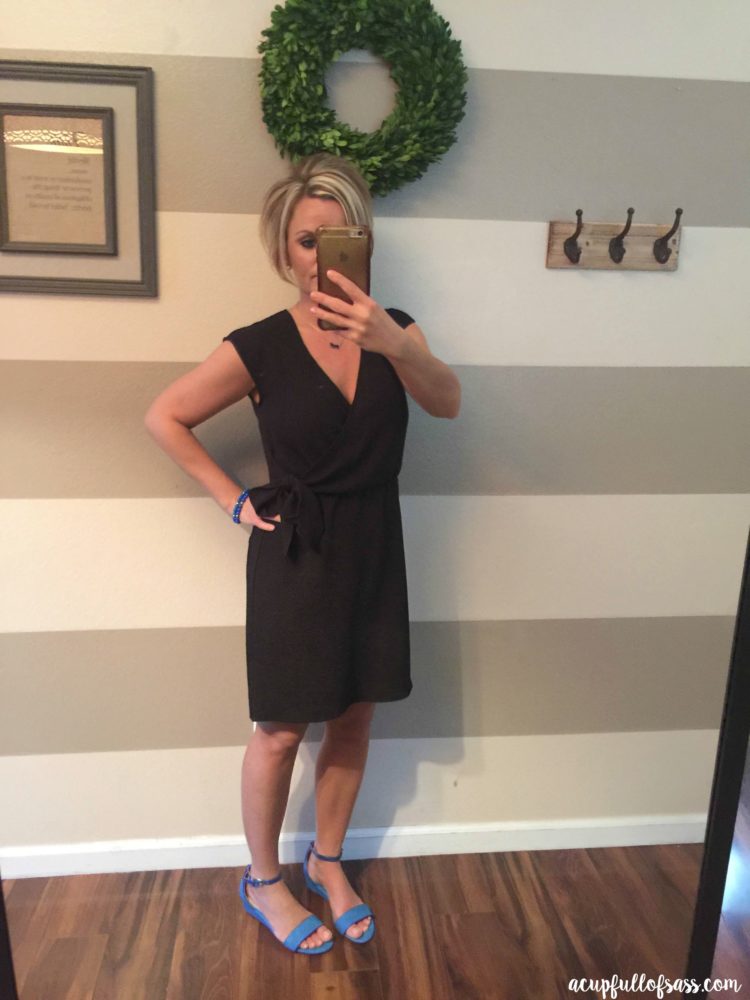 Another view. 🙂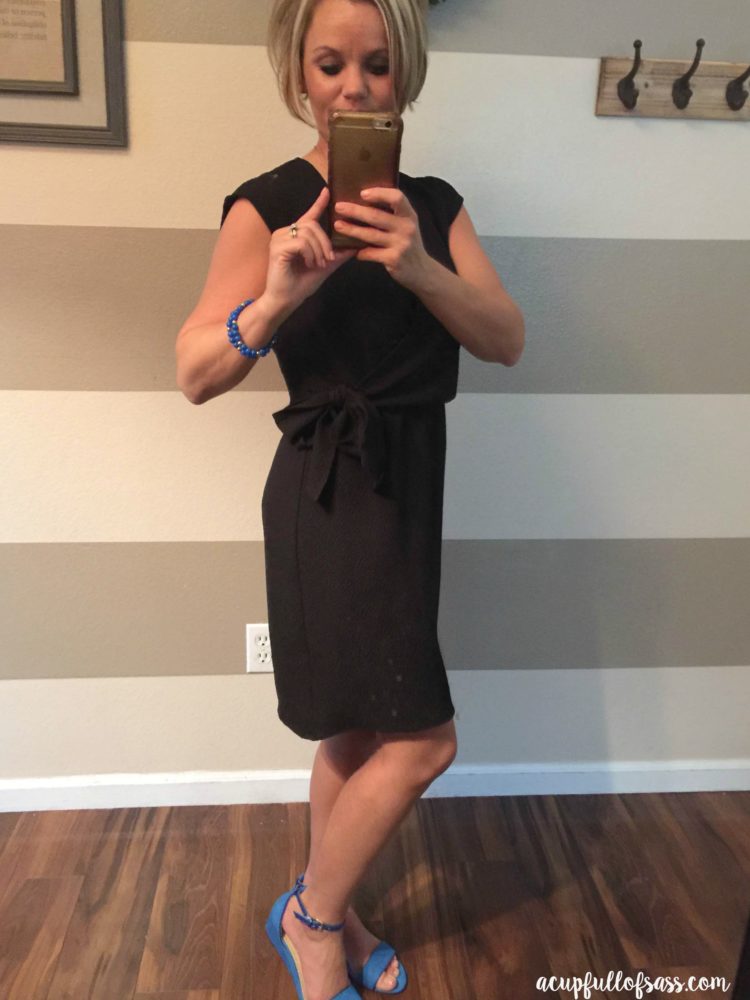 ITEM #5 –  Stitch Fix Jessica Snakeskin Wedges by Diba – $45 – Sent Back
You can see the shoes in the above photo. I loved the style, color and price of the shoes! After trying them on I felt they were a tad big and one of the straps seemed to bother my ankle. I decided to send back because of that.

So with all that said, I did not keep anything!! I mean can you even believe this?! Like I said before, I loved how everything looked when I did the Unboxing Video. After trying everything on I decided I did love how things fit.
So needless to say I can't wait for my next FIX!!
                                                                                               xoxo,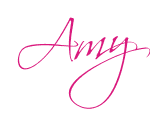 Facebook | Pinterest | Twitter| Instagram| Periscope