This healthy BBQ Chicken Pizza Cauliflower crust is a favorite of mine. I like to eat this on my regular carb days. Cauliflower is a healthy carb so this pizza is a guilt-free treat for me.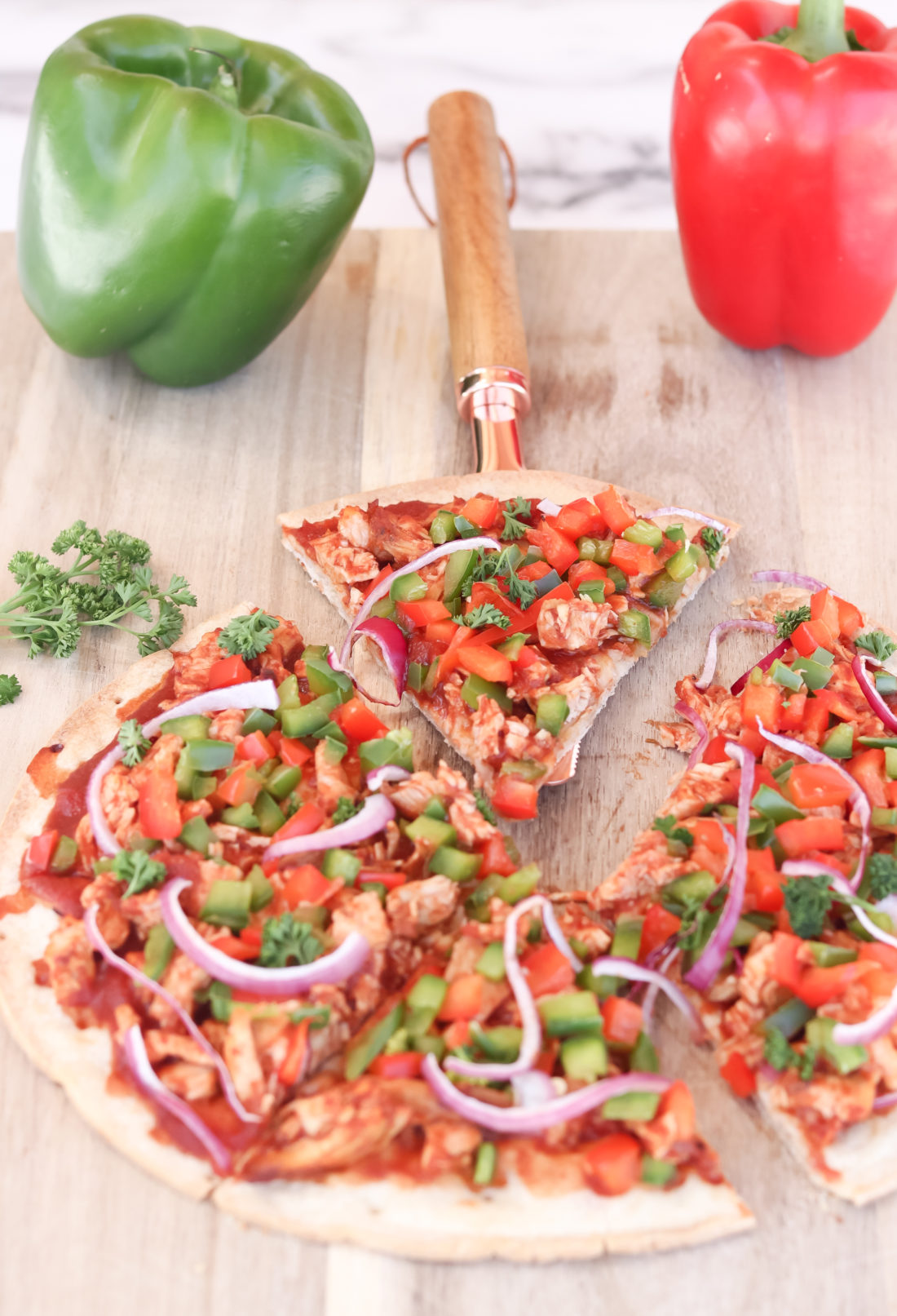 Cauliflower Pizza crust
If you have never tried Cauliflower Pizza crust you may be wondering how it compares to traditional pizza crust. I will say it is different, but I really like it. And adding the right toppings will make all the difference. I used Trader Joe's Cauliflower Pizza crust for this recipe, but you can use any brand or even make your own. I have tried others and this is by far my favorite. With Trader Joe's crust, it recommends cooking the crust frozen before adding your toppings. All the details are listed in the recipe instructions below.
Toppings
I used already cooked chicken breast. I like to grill or bake chicken and have it on hand for the week. If you don't have time to make any rotisserie chicken works great too. I also added green peppers and red peppers along with a little red onion. I left off the cheese in this recipe because when I went through the Faster Way to Fat Loss Bootcamp, I eliminated cheese from my diet. I have since added it back in, so I do add a little cheese to this recipe now. So feel free to add some if you desire.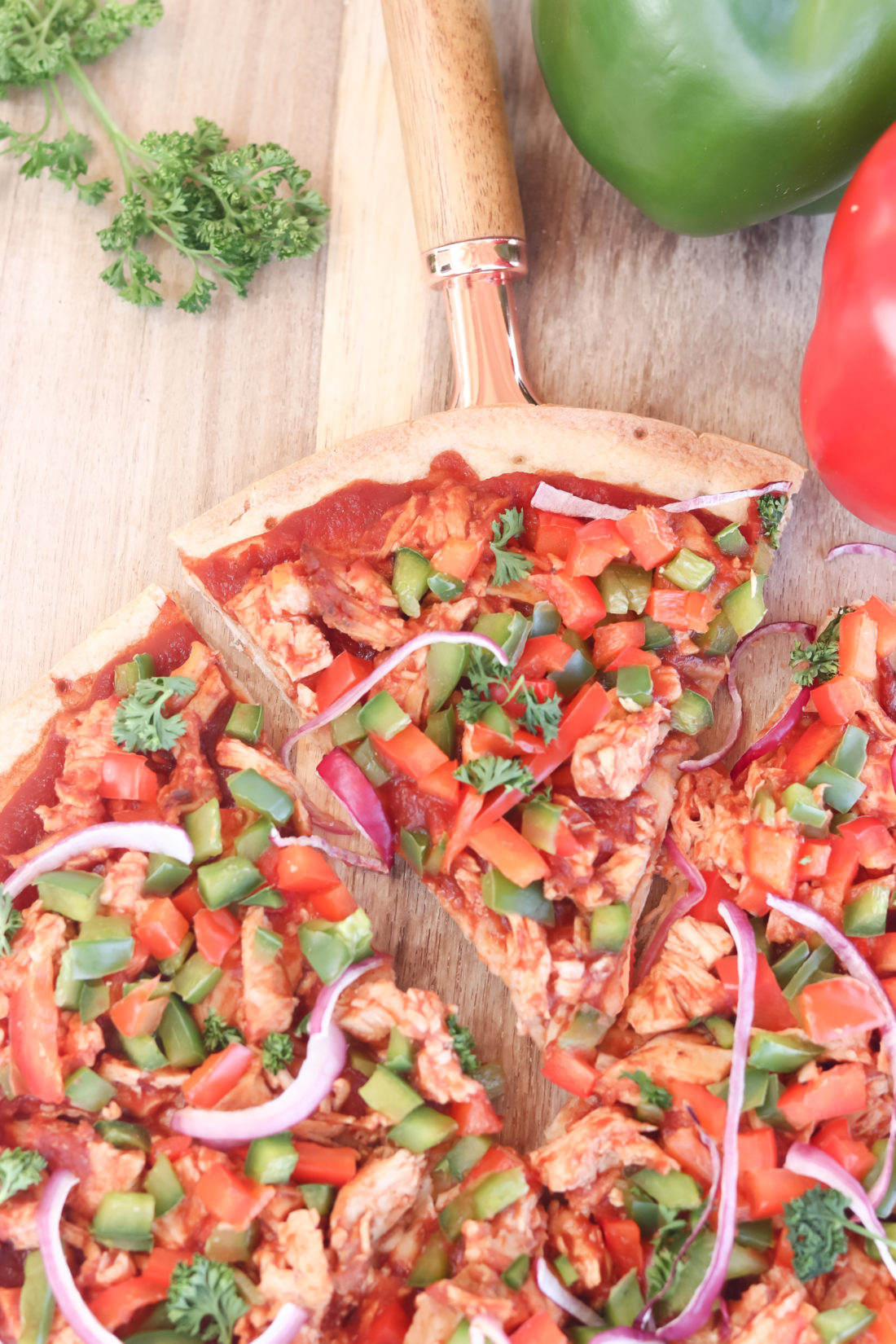 BBQ Sauce
I found a sugar free BBQ sauce at Walmart and was so excited. I went with sugar-free because I knew it would be FWTFL friendly. You can also to go with your favorite BBQ sauce.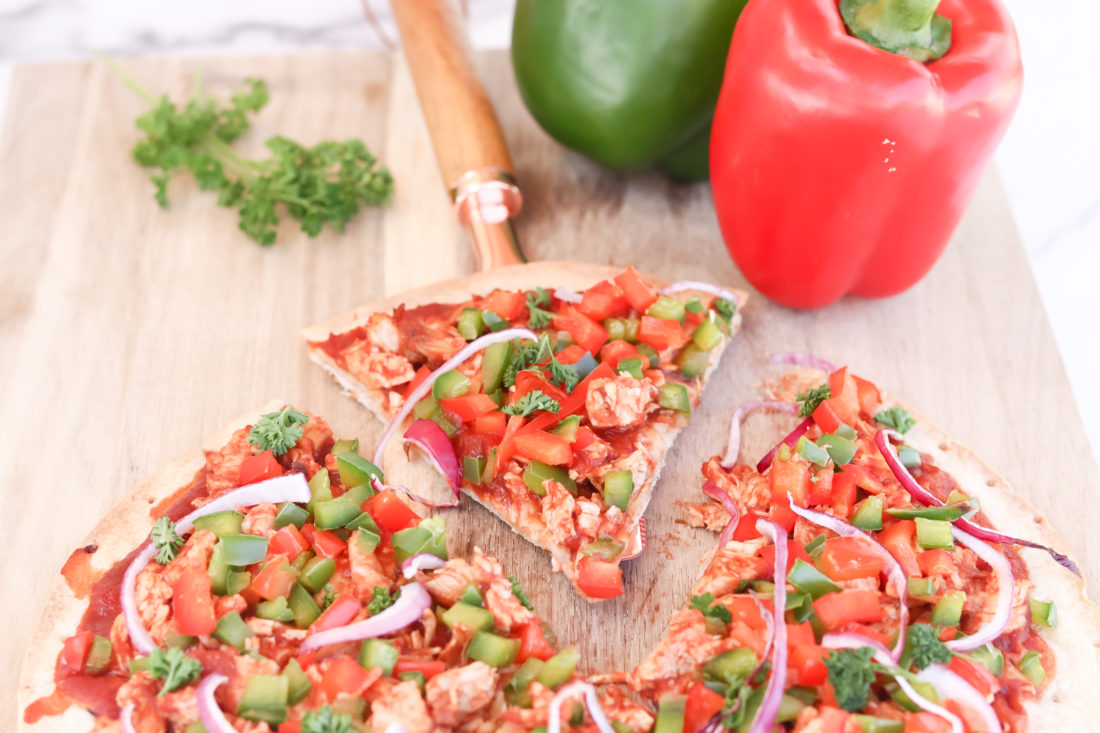 Keep in mind, this recipe can be altered to your liking. I have a passion for creating healthy recipes for you as well as myself. This is so we can still enjoy foods we love while living a healthy(ish) lifestyle. Follow me on Pinterest to see more recipes.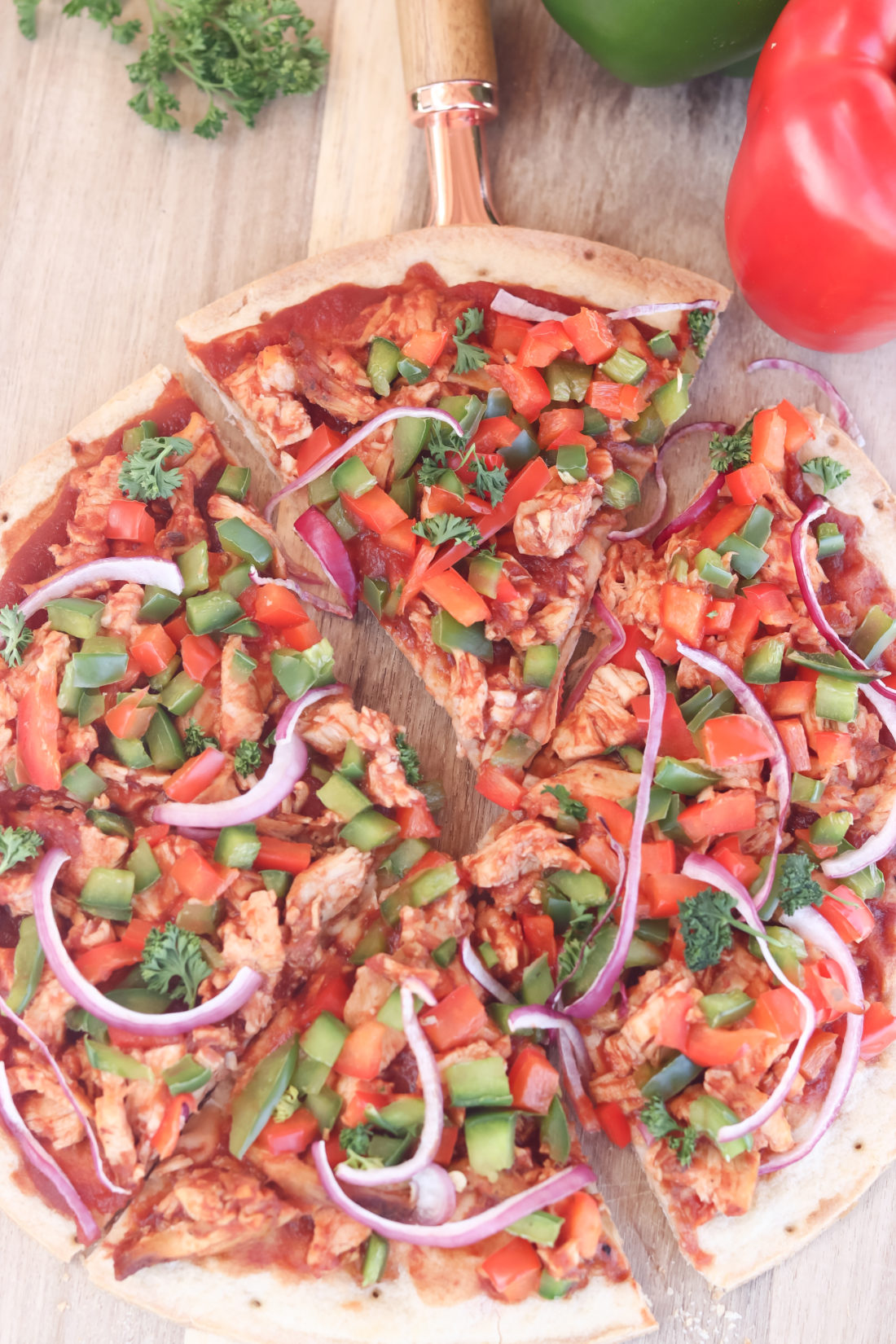 BBQ Chicken Pizza Cauliflower Crust
Ingredients
1

cup

cooked chicken

1/4

cup

red onion thinly sliced

1/4

cup

small Green Pepper, chopped

1/4

cup

small Red Pepper, chopped

1

cup

Sugar-free BBQ Sauce

Divide BBQ Sauce in two parts. See notes below.

fresh parsley, optional

1

Trader Joe's Cauliflower Crust
Instructions
Preheat oven to 450 degrees or what the Cauliflower crust recommends.

Place crust upside down on a pizza pan (so that the top of crust is facing the bottom of pan.)Bake for 10-12 minutes.

Remove crust from oven and turn over. Put back in oven and bake for an additional 10 minutes.

While crust is cooking, coat chicken with 1/2 cup of barbecue sauce.

Thinly slice red onion.

Chop green and red peppers.

Remove crust from oven and coat with about 1/2 cup of barbecue sauce. Or as much as you desire.

Add Barbecue chicken.

If you want cheese add it next.

Top with chopped green and red peppers along with sliced red onions.

Top with chopped green and red peppers along with sliced red onions.

Put pizza back in oven and bake for an additional 10-12 minutes or until toppings are to your liking.

Garnish with fresh parley if desired.

Trader Joe's Pizza Crust
Notes
In this recipe, I am using Trader Joe's 10.6 oz. Cauliflower Pizza Crust.
Nutrition
Serving:
1
g
|
Calories:
206
kcal
|
Carbohydrates:
38
g
|
Protein:
8
g
|
Fat:
1
g
|
Saturated Fat:
1
g
|
Cholesterol:
20
mg
|
Sodium:
508
mg
|
Potassium:
204
mg
|
Fiber:
2
g
|
Sugar:
17
g
|
Vitamin A:
6.5
%
|
Vitamin C:
16.6
%
|
Calcium:
1.9
%
|
Iron:
3
%