I love taking popular foods like and making them healthy. That is exactly what I did with this Healthy Taco Bake.
I used turkey burger instead of hamburger. This is a healthier alternative to ground beef and I use it for my spaghetti and tacos too. I use greek yogurt in place of sour cream. Again, another healthier option.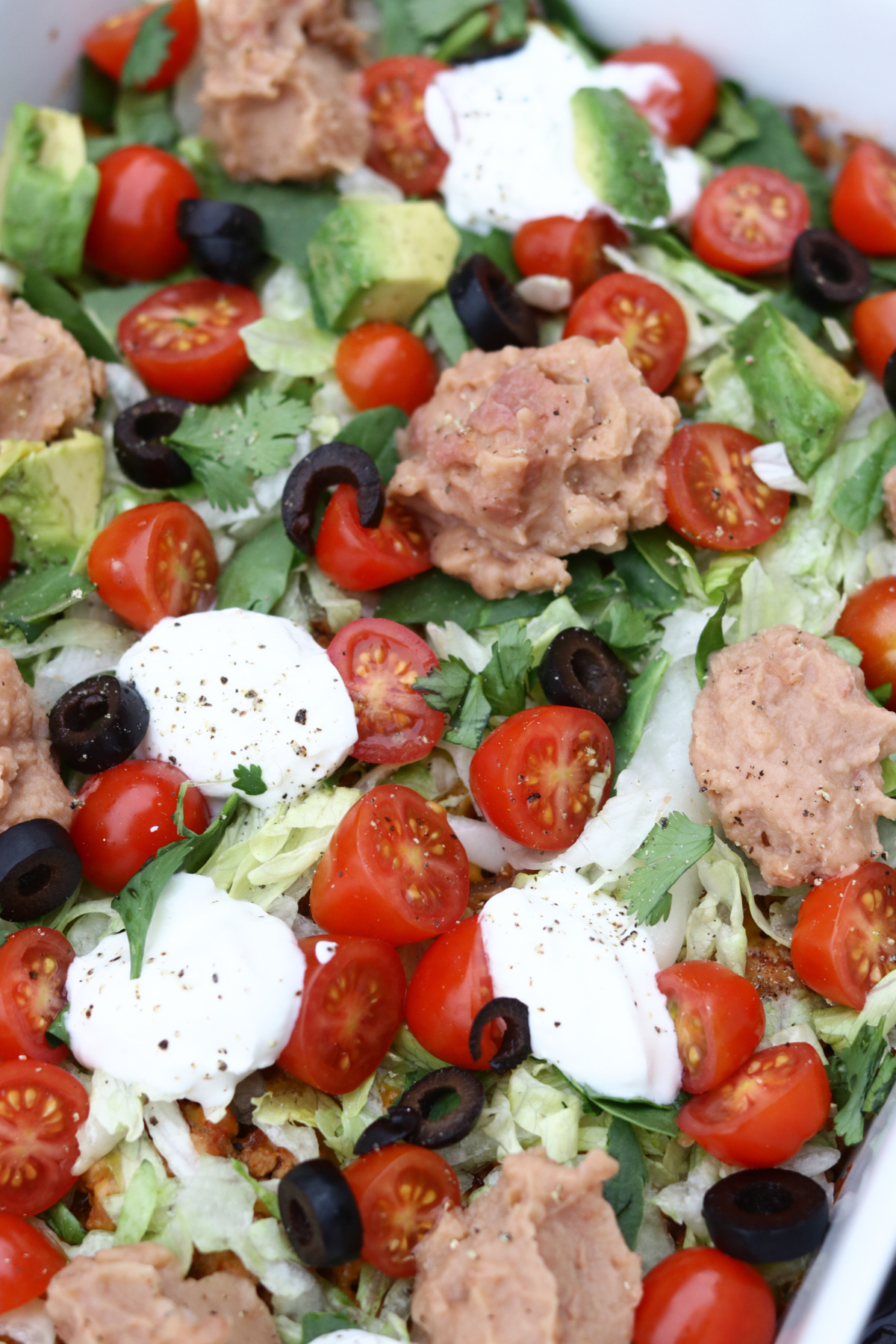 I also like to make my own taco seasoning. I have a recipe down below. Making your own taco seasoning is free of preservative and sugar. The stuff we don't want in our diet. I make my own and store it in a glass jar.
I love using ancho chili pepper season because it adds a great flavor to this recipe. Ancho powder is made from ground ancho chilies. It has a mild heat and sweet fruity flavor. It's used in authentic Mexican recipes. Don't get this confused with traditional chili powder. It's different. If you don't have this on hand you can certainly leave it out. This recipe is still delicious without it.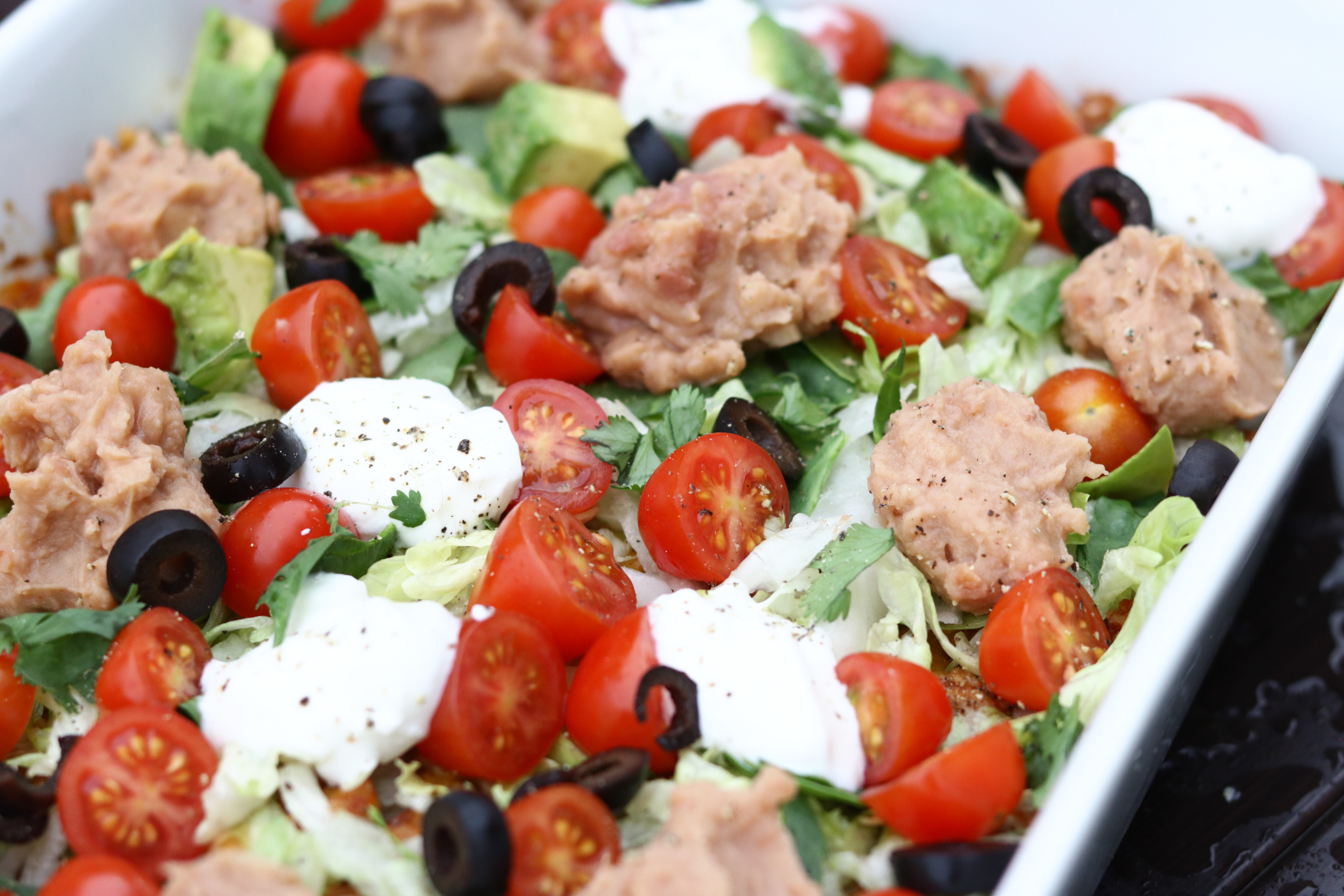 You can also make this recipe Faster Way to Fat Loss Friendly by leaving out the dairy and using gluten-free tortilla shells. Leave out the tortilla shells for Paleo and Keto. You can adjust this recipe to your liking. That's why I love it so much.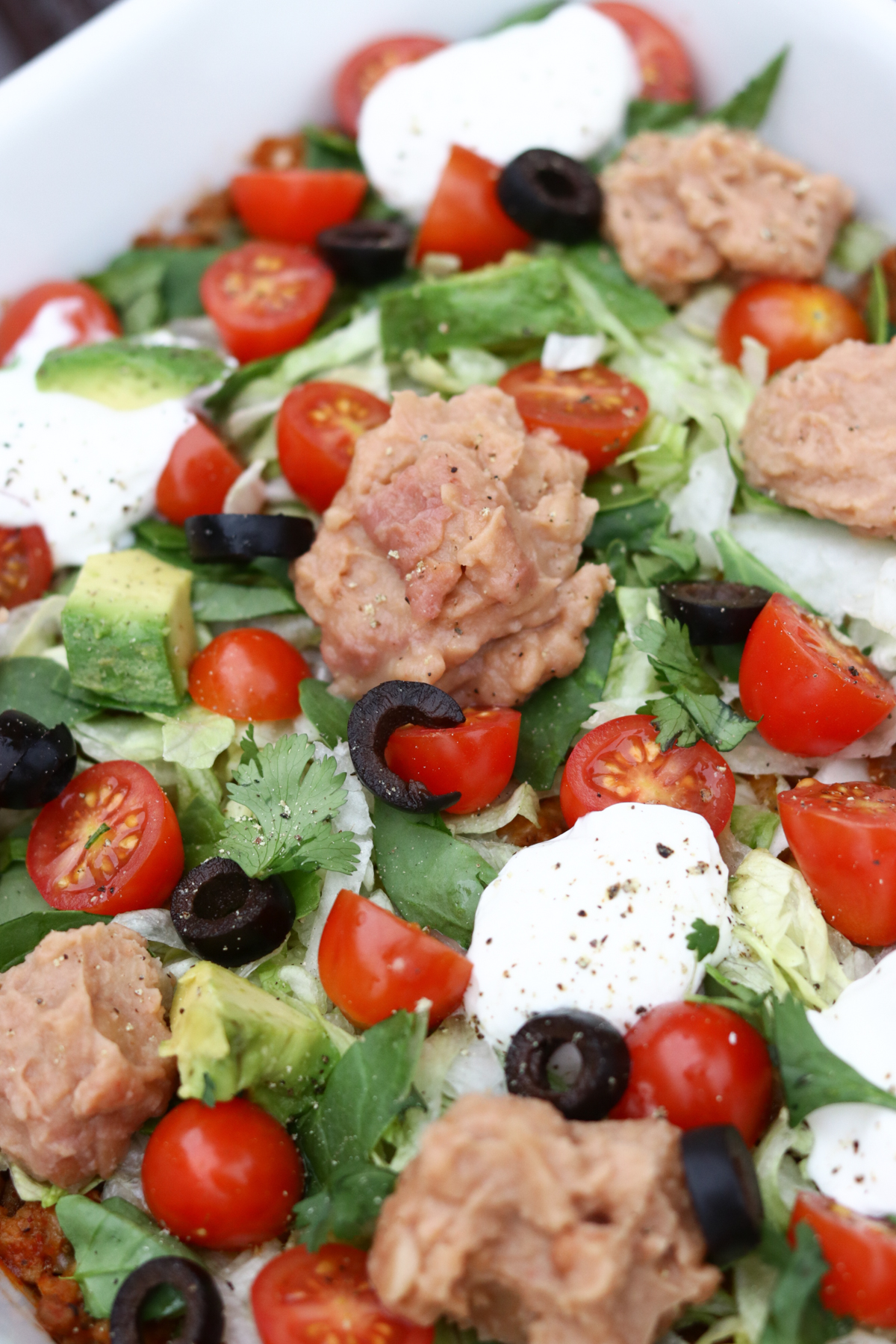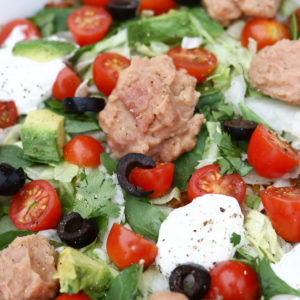 Healthy Taco Bake
This Taco Bake is delicious and healthy. It's perfect for Keto, Paleo, gluten-free and
Faster Way to Fat Loss
.
Ingredients
1

lb

ground turkey

1

small onion chopped

1

small green bell pepper chopped

2

cloves

of minced garlic

2

Tablespoon 

Taco Seasoning

I make homemade see recipe below

1

teaspoon

Ancho Chile Pepper

1

cup

salsa

1

3.8 oz. can sliced black olives, drained

1/2

can refined beans

1

cup

grape tomatoes

halved

Shredded iceberg lettuce

A handful of fresh cilantro

chopped

1

cup

sharp shredded cheese

1/2

avocado

chopped

3

Tortilla shells

gluten-free or 100% whole wheat
Instructions
Start by browning turkey burger. After a few minutes season with taco seasoning and ancho chile pepper.

Next add minced garlic, onion, and green bell pepper and cook until turkey burger is thoroughly cooked.

Add salsa to skillet and mix well.

Coat a 9x13 baking dish with nonstick spray (I use avocado spray). Lay 3 tortilla shells in the bottom of the dish. You will need to cut one in half to fit.

Spread a layer of refined beans onto tortilla shells. Next spread cooked turkey burger mixture over beans.

Sprinkle cheese over mixture. Omit for dairy free and FWTFL.

Bake at 350 for 15 minutes or until cheese is melted. Remove from oven and top with shredded iceberg lettuce, tomatoes, olives, cilantro.

Dollop with refried beans and greek yogurt.
Notes
Omit dairy for FWTFL. Omit tortilla shells and beans for Keto.
Homemade Taco Seasoning
1 teaspoon garlic powder
1/4 teaspoon crushed red pepper flakes
1/4 teaspoon cayenne pepper
2 teaspoons ground cumin
1/2 teaspoon. dried oregano
1 teaspoon black pepper
1/2 teaspoon of sea salt
Mix together and store in a glass jar. Double or triple recipe for more.
See more of my healthy recipes here.