The last thing I thought I would be doing is making Homemade Dog food in my crockpot for my fur babies. But here I am doing it and it couldn't be easier. I literally add the ingredients to the crockpot or slow cooker and let it cook.
Why I decided to make my own dog food
We only want the best for our pets, don't we? My two pugs are a big part of our family and I want them to be around as long as possible. I looked into human-grade dog food from some online companies because after some research I knew this was a much better option than kibble. After learning the cost of the dog food subscription services, I quickly decided I could make my own and save money.
Ingredients
There are so many things you can add to your homemade dog food. Depending on your dog's diet and needs, it is best you speak to your veterinarian. Here is what I used for my Homemade Dog Food.
Ground Turkey
Peas and Carrots (Frozen mixed bag)
Frozen Sweet Potaotes
Frozen Spinach
Organic Brown Rice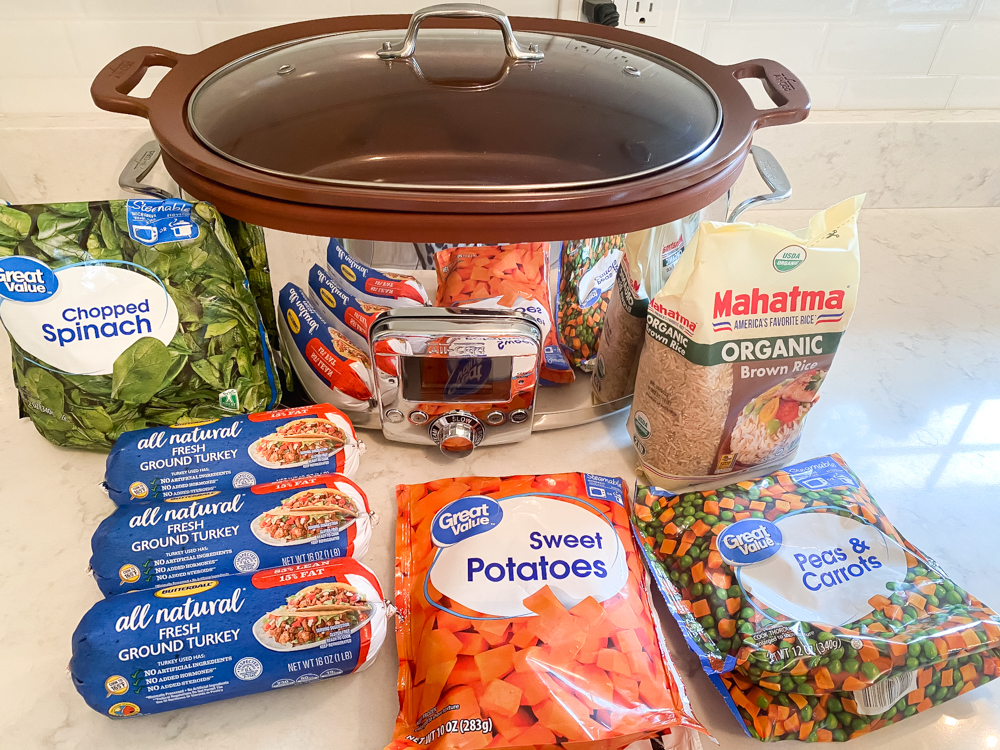 Consult your veterinarian before making your own dog food.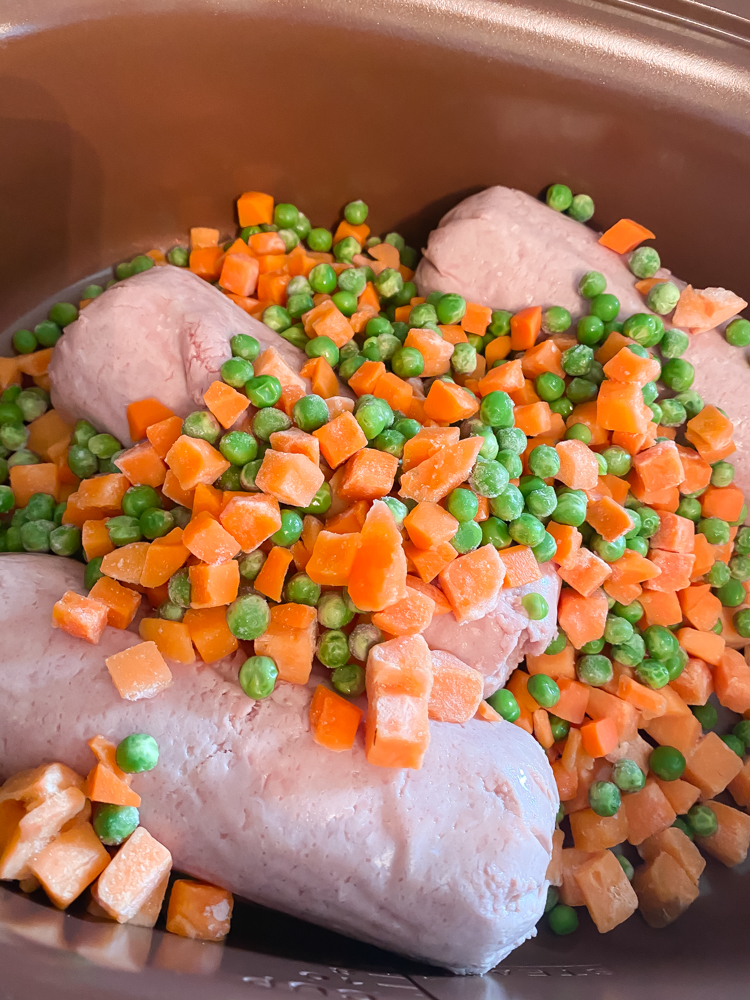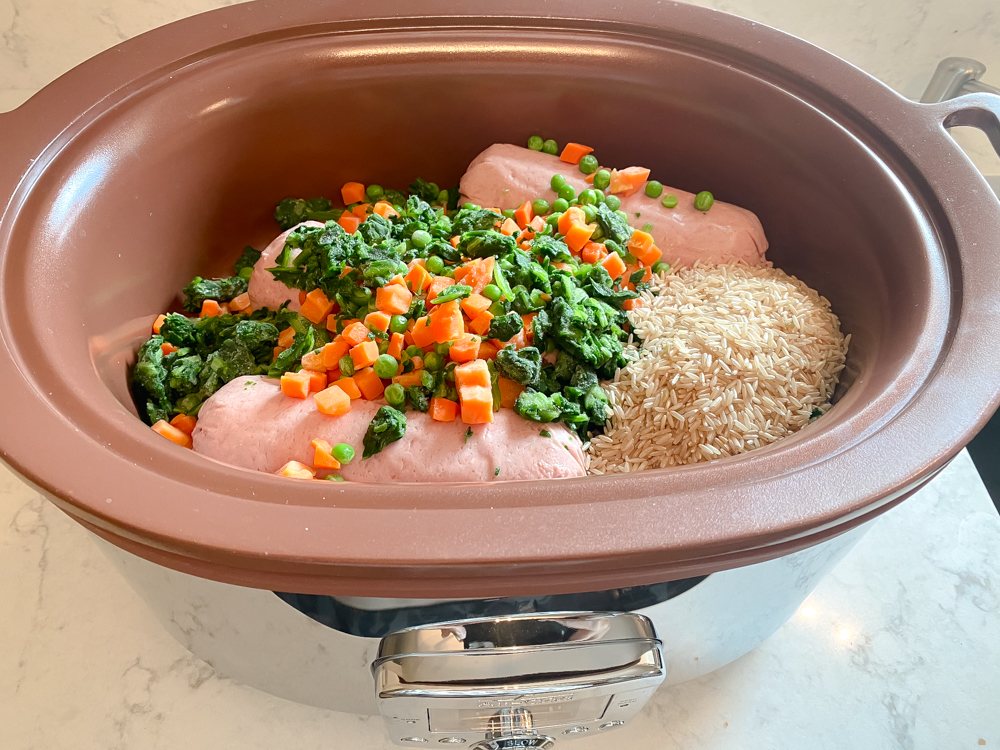 Liquid
After adding all the ingredients to the crockpot you will add your liquid. The first couple of times I just added water which worked out great. In my most recent batch, I decided to add in a cup of no-salt chicken stock in place of one of the cups of water. I thought maybe it would add a little more flavor. You want to make sure to only use the NO SALT chicken stock because of the sodium in the regular kind. Add stock is not necessary and is optional.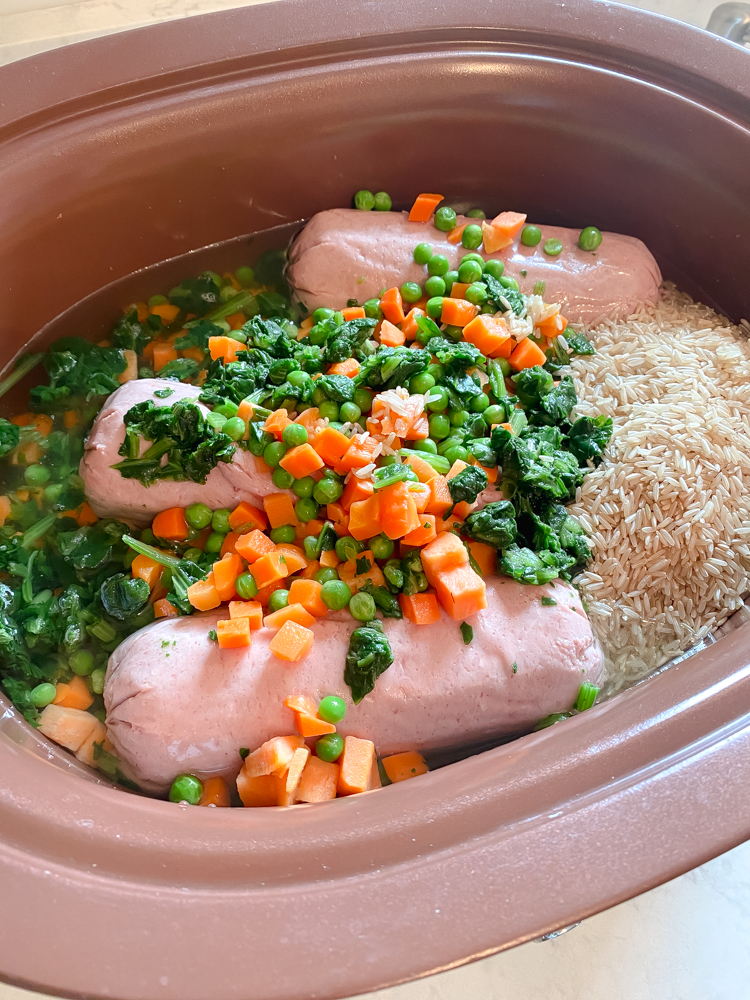 Break up Ground Turkey
Once it starts cooking I use my Mix and Chop tool to break up the ground turkey. I then stir ingredients as needed.
Cook Time
You can set your crockpot to cook on high for 3-4 hours or low for 5-6 hours. It really depends on your crockpot. However, mine was finished in about 3 hours.
How to store homemade dog food
Once your batch is finished let it cool completely before serving and storing. I use an airtight container to store my batch in the refrigerator. I also freeze some of it in freezer bags by dividing them into single servings. When you are ready to serve, you can defrost it in your refrigerator and then warm it up in the microwave. Make sure it is cooled before serving it. I do add a little kibble with the homemade food since we are adjusting to the new food.
What my dogs think about homemade dog food
My dogs love this recipe and have done so well with the transition. They look forward to it every day. I honestly can't believe how easy making your own dog food is.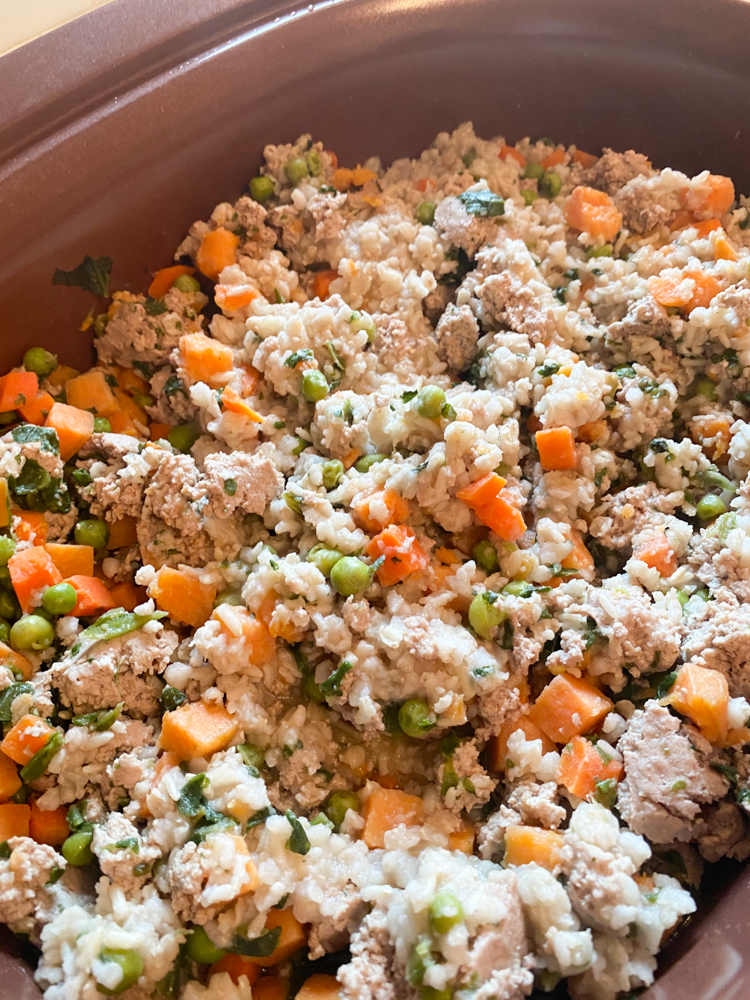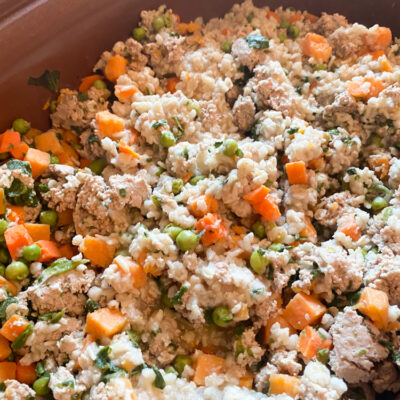 Homemade Dog Food in Slow Cooker
Ingredients
3

lbs.

ground turkey

85% lean 15% fat

1 1/4

cups

frozen sweet potatoes

10oz. bag frozen

1 1/2

cups

mixed frozen peas and carrots

12oz bag frozen

1

cup

frozen spinach

1 1/2

cup

brown rice, uncooked

or white rice

4

cups

water
Instructions
Add ground turkey, frozen pea & carrots, frozen sweet potaotes, frozen spinach, brown rice and water in slow cooker.

Break up ground turkey and mix well with other ingredients.

Cover with lid and cook on high for 3-4 hours or on Low for 6 hours or until meat is cooked. Stiring occasionally. NOTE: I cooked mine on High and it was ready in 3 1/2 hours.

Let cool completly before serving.

Store in refrigerator in an air tight container or freeze.
Notes
Consult your veterinarian before making your own dog food.
Nutrition