Since I have been doing Paleo I am always looking for new recipes to try.  I came across a few different recipes and put my own twist on them.  This is what I came up with.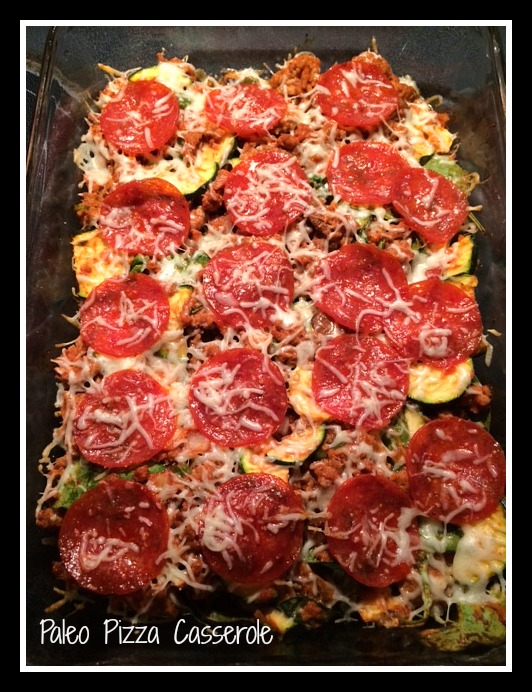 Ingredients:
1 lb turkey burger
3/4 cup tomato sauce organic or natural (add more if desired)
1 zucchini, sliced
1 squash, sliced
1/2  – 1 cup sliced fresh mushrooms
2 – 3 tbls diced onion
3 cloves fresh garlic (I used my garlic press)
1/2 green pepper, diced
2 handful of fresh spinach leaves
2 tbls oregano
2 tbls basil
Directions:
Cook turkey burger and drain.  In large bowl mix cooked turkey burger,  zucchini, squash, onion, garlic, green pepper, mushrooms, spinach leaves and tomato sauce. Next add basil and oregano.  Spray a casserole dish with non-stick cooking spray and add mixture.  Bake at 350 degrees for 25 minutes (or until vegetables are soft to your liking).  Take out and add mozzarella cheese and pepperoni on top of casserole.  Bake for an additional 5 minutes or until cheese is melted, and voila!
This was so so delicious and very simple to make.  I don't eat cheese very often but wanted to add it because…well…it's pizza.  And my husband was eating it too and he's not on the Paleo kick like me. 😉  Feel free to leave it off if you choose.  So there you have it.  A very healthy yummy Paleo recipe.