My blog friends and I have 27 last minute Thanksgiving Dishes & Table Settings to share with you.

Thanksgiving is a time to give thanks, gather around the table and enjoy a meal. I am hosting Thanksgiving dinner this year and I have been working on my table setting for awhile. Your table is the focal point of the entire dinner. I want to show you how you can have a festive Thanksgiving table setting without spending a lot of money.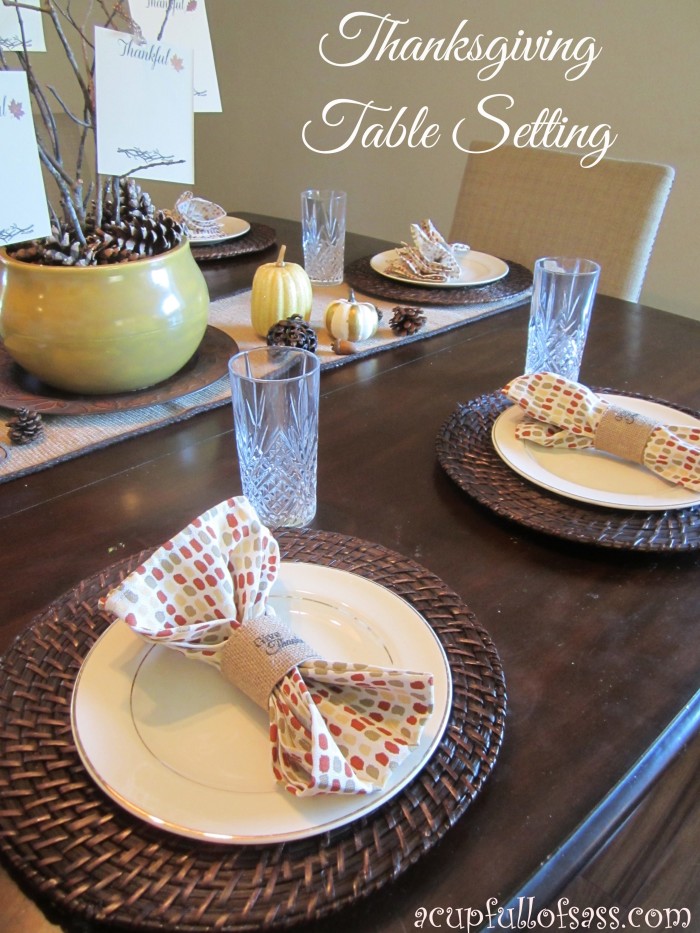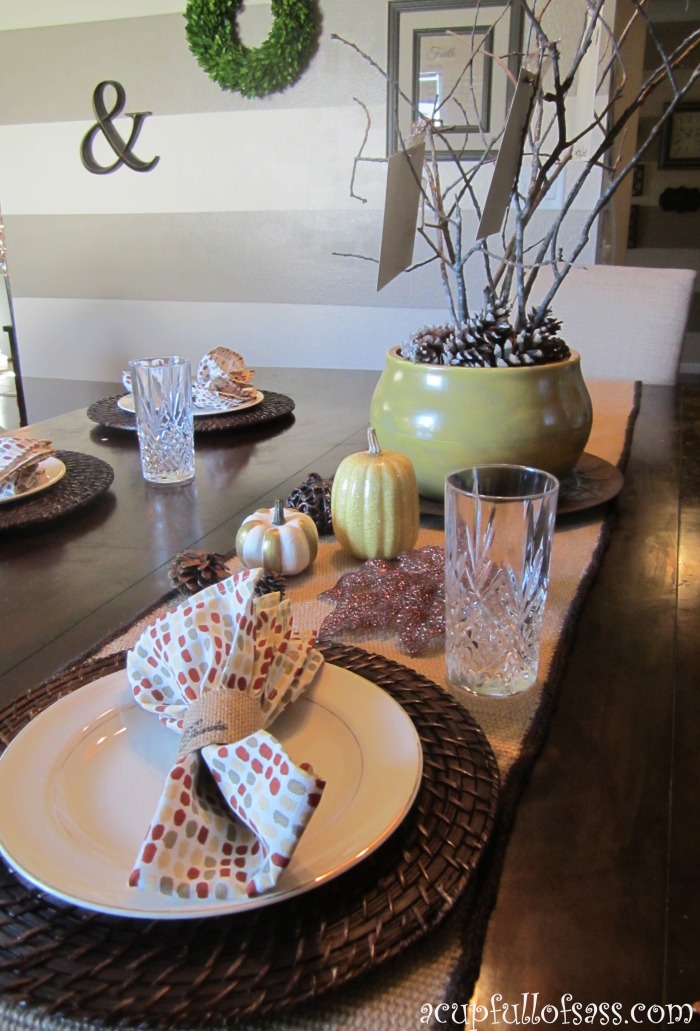 The plates I bought at Goodwill for $0.50 each. I was so excited to find these because they are actually real china. Score! The rattan chargers I found at Walmart and they were more than I cared to spend. I paid $4.95 for each one, but I really felt they would add to my place setting, so I caved. The Waterford crystal glasses were a wedding gift we received 15 years ago. It's so strange for me to say I have been married for that long because it doesn't feel like it. I only get the crystal out for formal dinners like Thanksgiving, Christmas and Easter.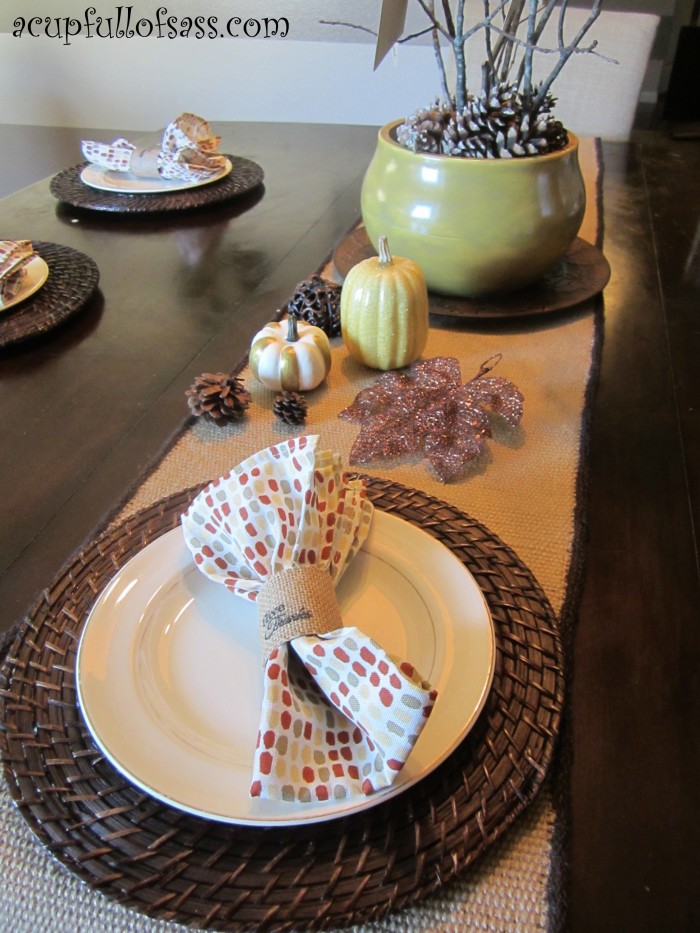 The napkin rings I made thanks to another bloggers tutorial. I seriously love how they turned out. You can see the tutorial here. The cloth napkins I found at Marshalls. They were the perfect fall colors.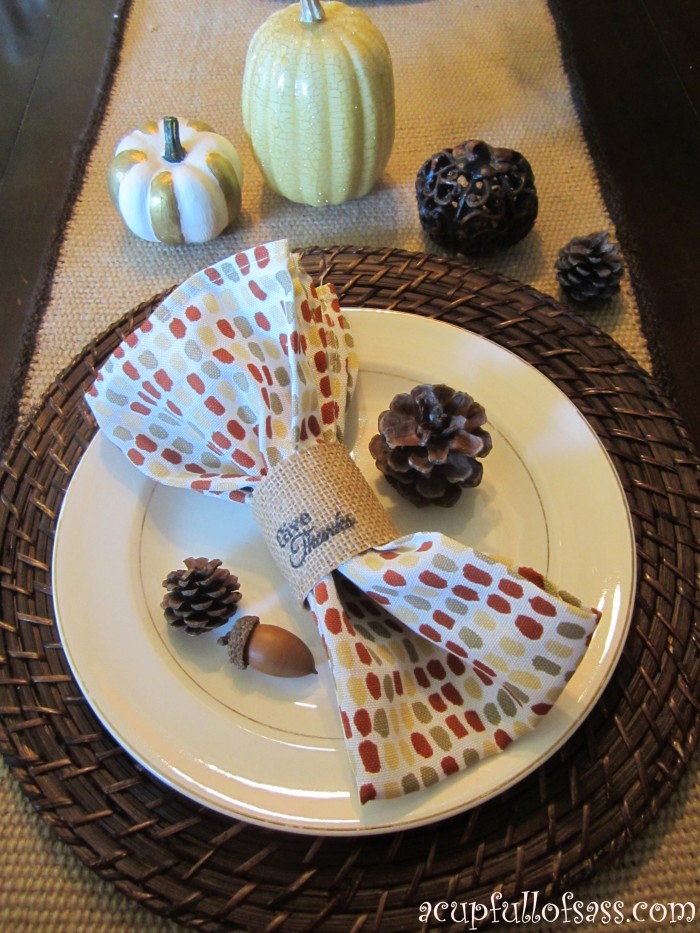 My Thankful Tree centerpiece I actually made. And it cost me nothing. I had everything I needed laying around my house. This will be our first year doing a Thankful Tree and I can't wait! You can see my tutorial here.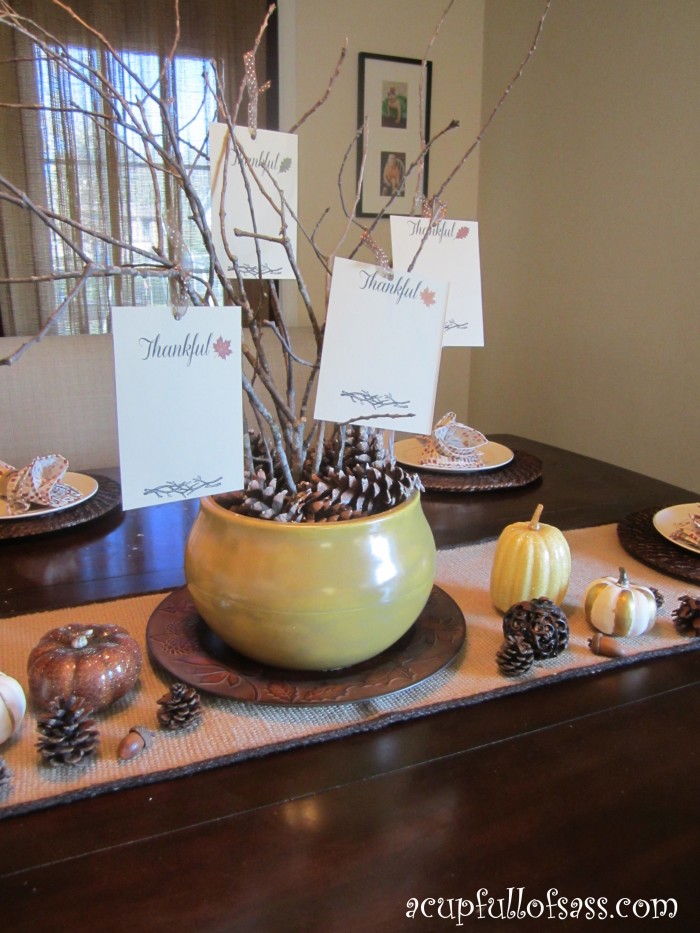 I also designed Thankful Notecards you can print for Free. Each guest will fill one out and read it during dinner. I then plan to save these to read again next Thanksgiving .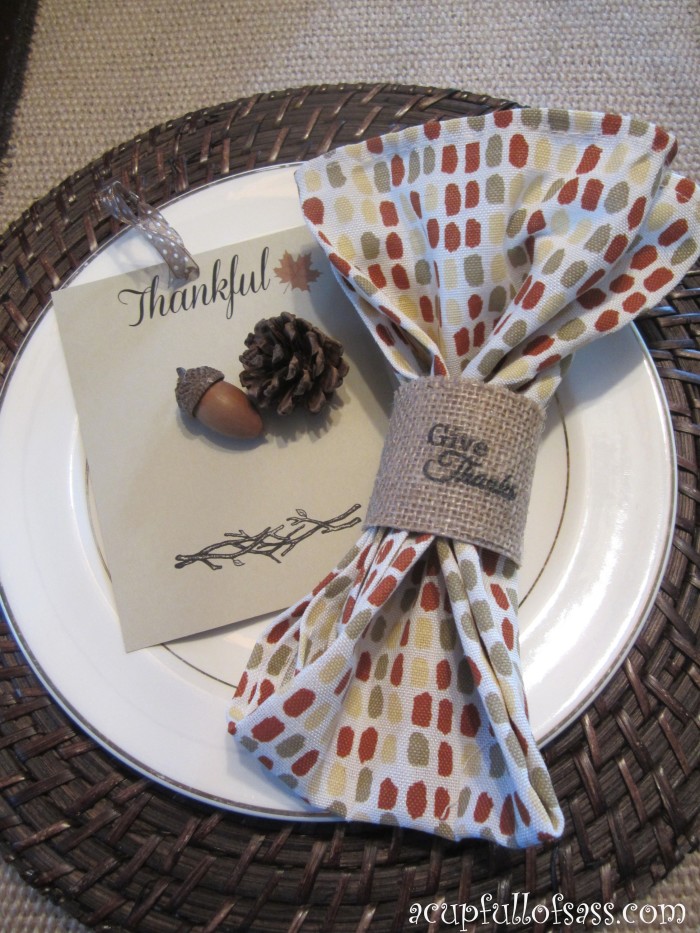 I am so happy with the way everything looks! I hope this gives you some ideas on how to decorate your table without spending a fortune.
List of items I used:
Plates – $.50 each from Goodwill.
Rattan Chargers – $4.95 each from Walmart.
Waterford Crystal Glasses – Free. I already had from a wedding gift.
Burlap Table Runner – I already had. From Hobby Lobby.
Cloth Napkins – $6.99 from Marshalls.
Napkin Rings – Free. See the tutorial here.
Thankful Tree – Free. See the tutorial here.
Thankful Notecards – Free. Print here.
Small pumpkins – $3.00 from Walmart.
Acorns and pinecones – Free. My front yard.
Now please check out the other Last Minute Thanksgiving Dishes and Table Settings below. We have some great ideas I just know you are going to love.
xoxo,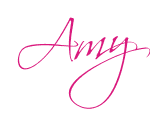 Facebook | Pinterest | Twitter| Instagram| Periscope