I was sent product in return for my review.  As always I give you my honest review.  You can read about my disclosure here.  
You probably know by now, eating heathy is something that is very important to me.  I recently learned about company called Green Chef.  I was so excited to try it out.  Have you heard of them?  This company delivers fresh organic pre-measured ingredients with easy to follow recipes for three meals weekly, right to your door.  As a busy mom, preparing healthy meals can be sometimes hard for me.  We have sports and dance in the evenings as well as my workout classes.  With Green Chef I can make healthy delicious meals in 35 minutes or less.  Green Chef is a must for me.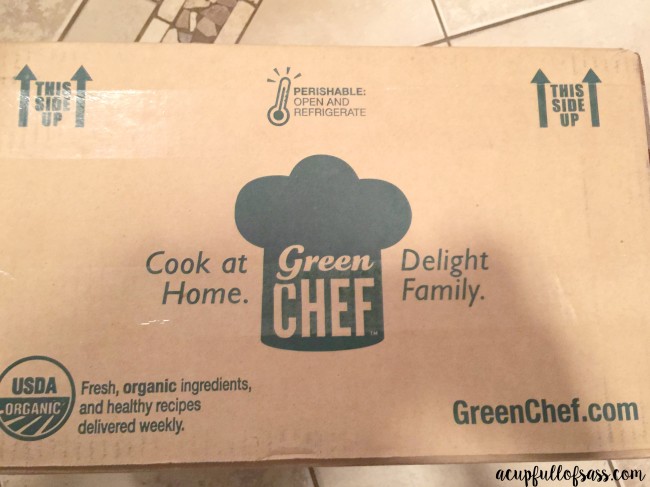 How it works:
Every week Green Chef will deliver three easy to follow recipes with all the ingredients right to your door.  Organic, fresh ingredients pre-measured and ready for you to cook.  Each recipes takes between 20-35 minutes to prepare.  I can't tell you how easy they make this to do!
The food arrives in a refrigerated box.  No need to be home either.  The food will stay cold for hours!  Inside the box is the three easy to read recipe cards with sep by step instructions.  Along with all of the ingredients you will need, measured and ready to use.  How easy is that?!  Seriously I was so impressed with the presentation of everything I could hardly wait to start cooking.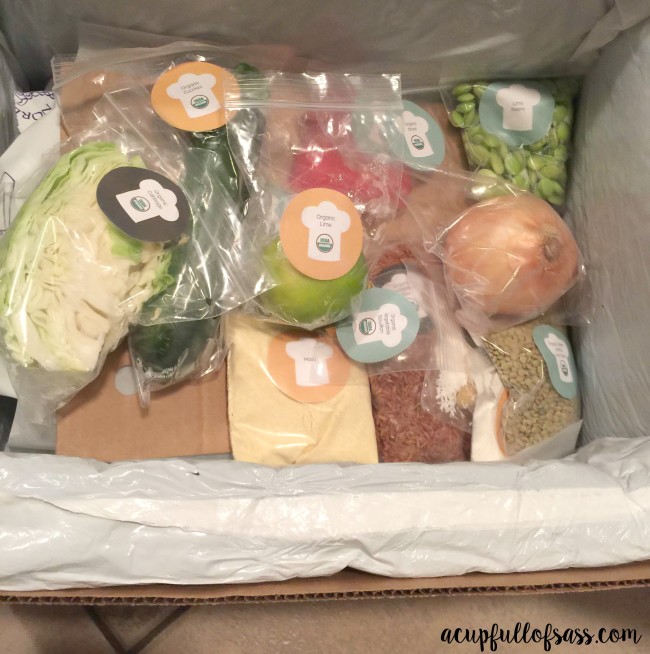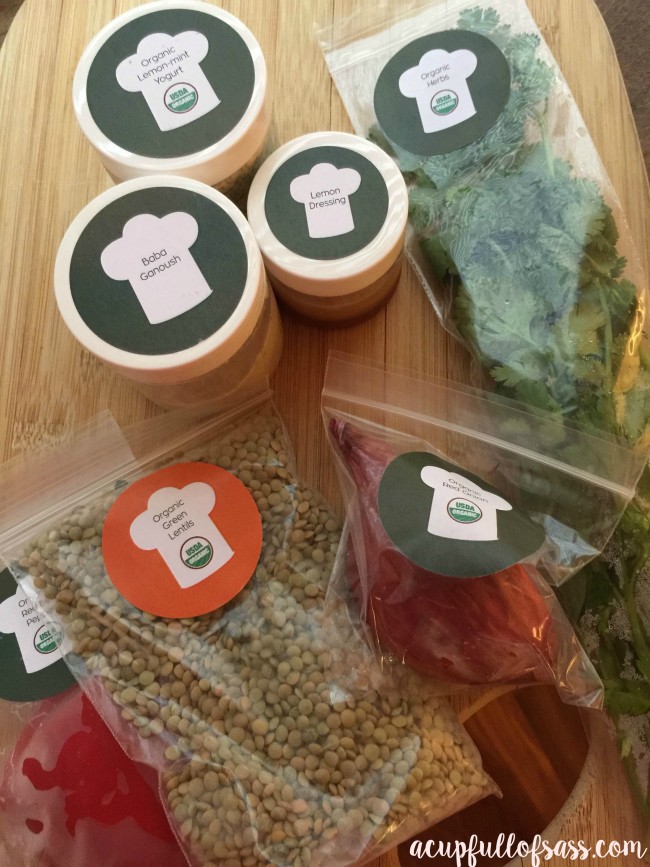 The first dish we made was called Chicken Tinga Sopes, Refried Black Beans, Sautéed Lime Zucchini & Cotija Cheese.  It was a type of Mexican dish.  All I an say is AMAZING!!  So not kidding!  It was so delicious and easy to make.  I felt like I was eating something from a restaurant.  And the fact that I would have Never attempted to make this type of dish on my own, makes this even more exciting!  With Green Chef I am able to prepare a healthy organic delicious meals for my family in less than 35 minutes.  That's a winner for this mom!  Let me also say, my husband and I have actually teamed up and cooked some of these meals together.  It has been so fun to do this as a couple.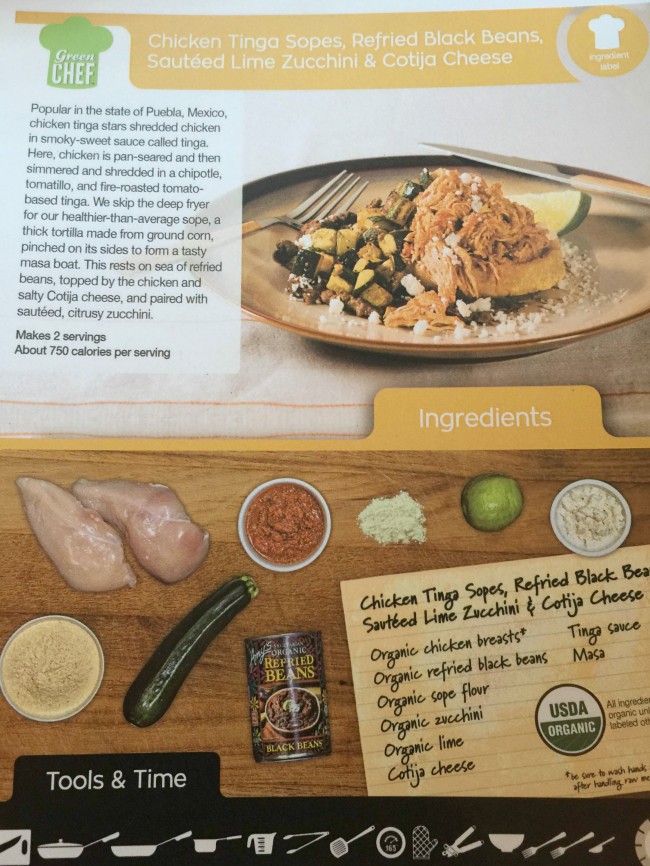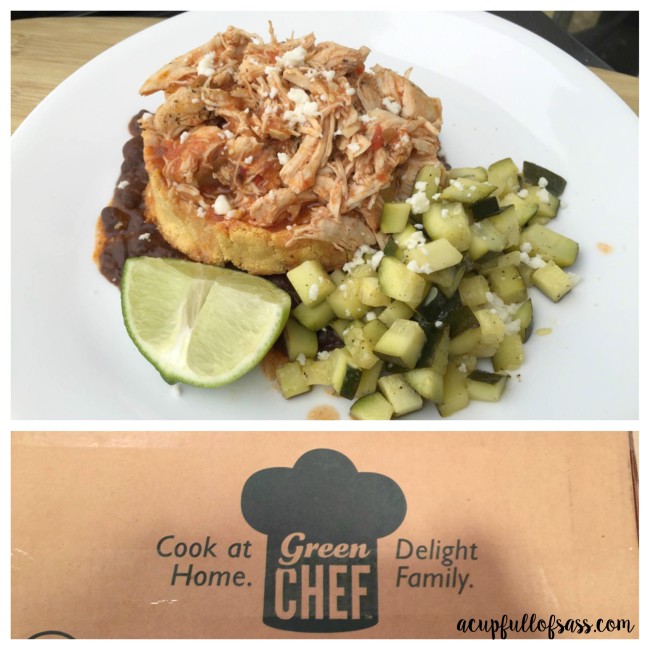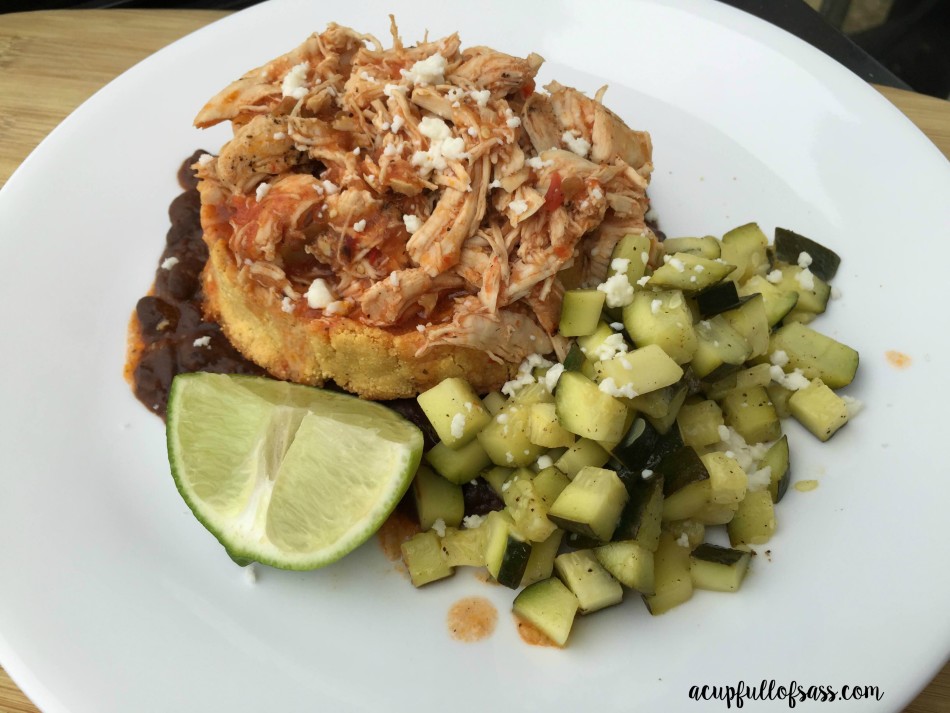 Next we made a Middle Eastern dish called Chickpea Falafel, Israeli Salad. Baba Ganoush, Mint Yougurt.  This meal took 25 minutes to prep and cook.  It was like nothing I had every had before.  We loved it!  So fresh, easy and oh so good!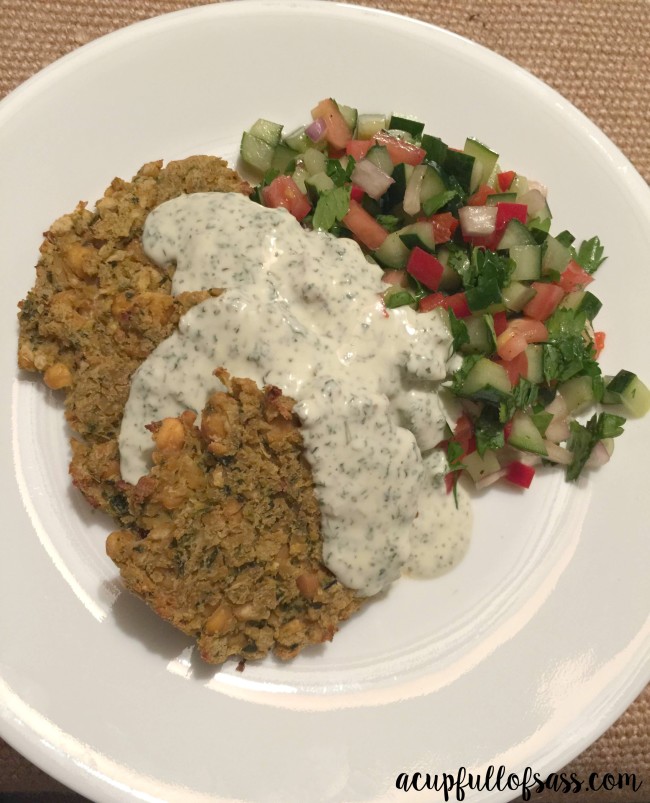 This next dish is called Sesame-Crusted Tuna, Rice Noodle Salad, Wasabi Aioli.  This was by far the best tuna dish I have ever had!  It reminded me of something you could order at a sushi restaurant, but I made it at home!  And the rice noodles went so well with it!  With Green Chef all the ingredients just go together!  They all play a part in complimenting each thing in the dish.
Not only are the recipe cards east to read, they also have the calories per servings listed.  No calorie guessing for each dish.  This was important to me.  Green Chef has thought of everything!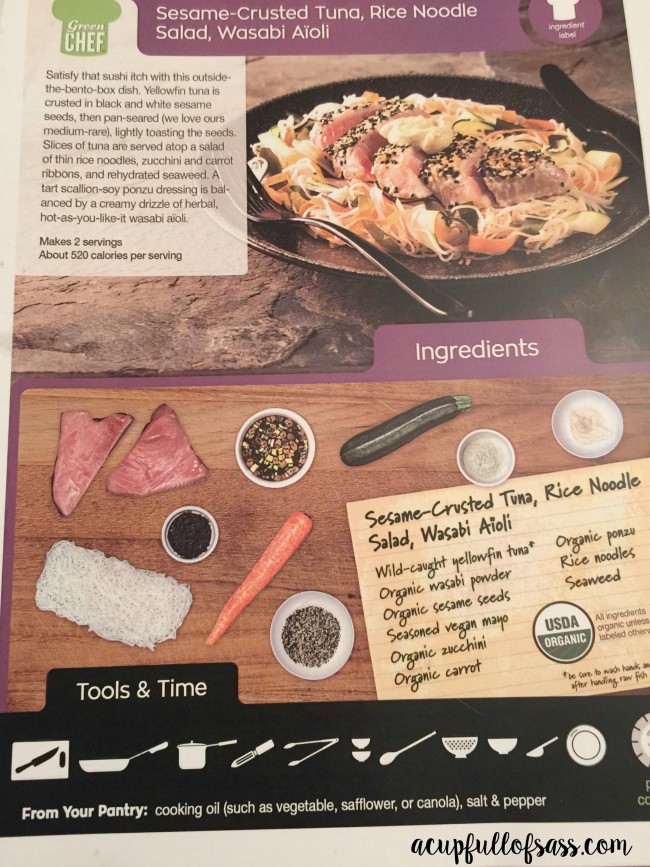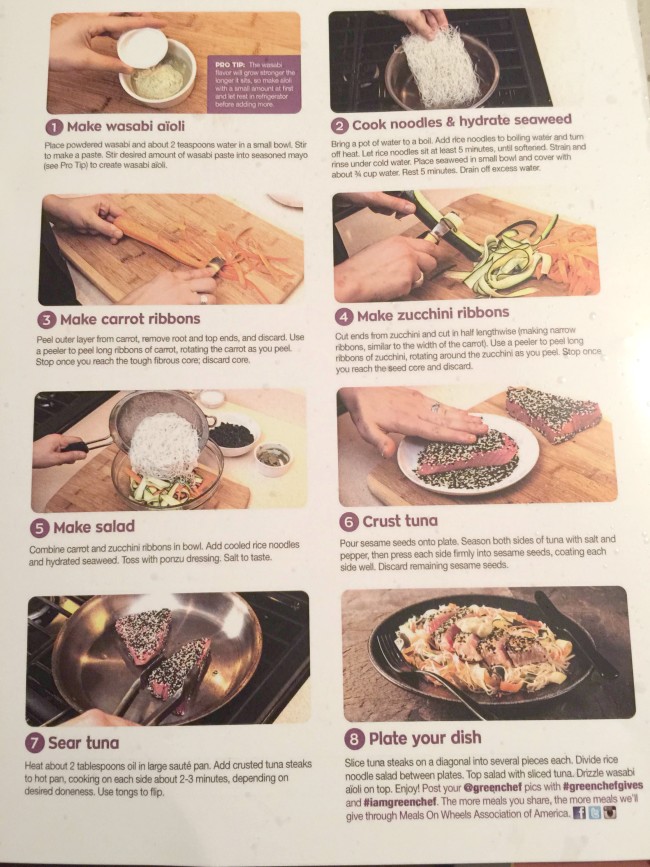 Here is how it turned out.  Amazing!  My hubby and I both look forward to our shipment every week!  So far we both have liked and or loved everything we have made.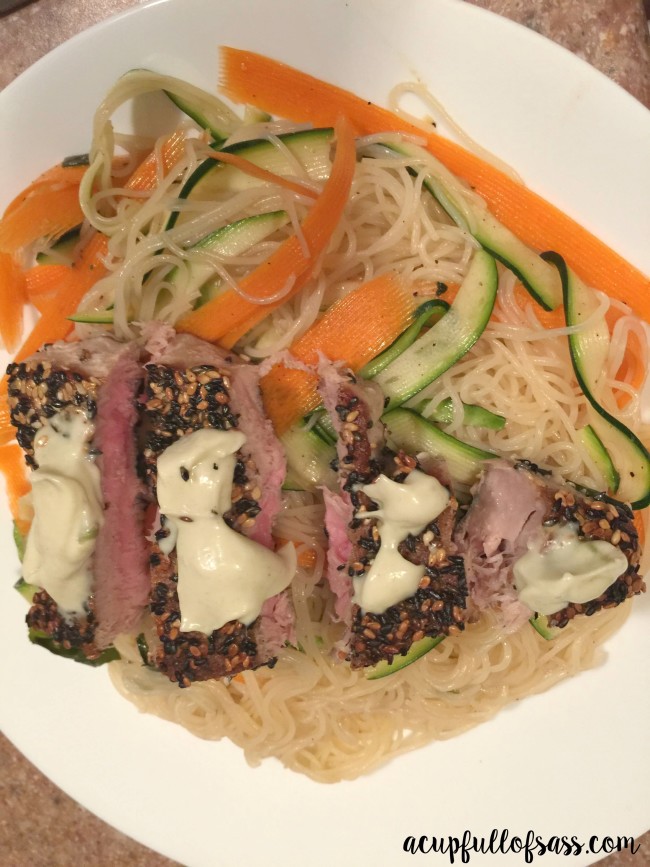 The customer service at Green Chef is top notch!  This company has impressed me from start to finish.  From the packaging of each ingredient, to the easy to make healthy recipes.  I cannot say enough about them.  Here is a link to their Frequently Q & A that might help answer any questions you may have.
I am so excited that Green Chef has agreed to do a Giveaway for One Free Week to one of my readers!  This winner will receive 3 meals for a 4 person serving.  Or if you only need 2 servings, they will send you Two FREE weeks.
And that's not all!  All of my readers can get One Week FREE!  All you pay is the $9 shipping.  This is for New Green Chef customers only.  So either way it's a WIN WIN!  I cannot wait for you to try Green Chef!  Click this link to get your Free Week and only pay shipping.  
The Giveaway is now closed and the winner has been emailed.
We have been receiving Green Chef for many weeks now.  I wanted to share more pictures with you of dishes we have made.  Seriously, when I cook with Green Chef  I feel like I am eating something from a gourmet restaurant.  But I made it!  I can't say enough good things about them!
Broiled Moroccan Steak & Preserved Lemon Relish with Spiced Chickpeas, Grated Carrots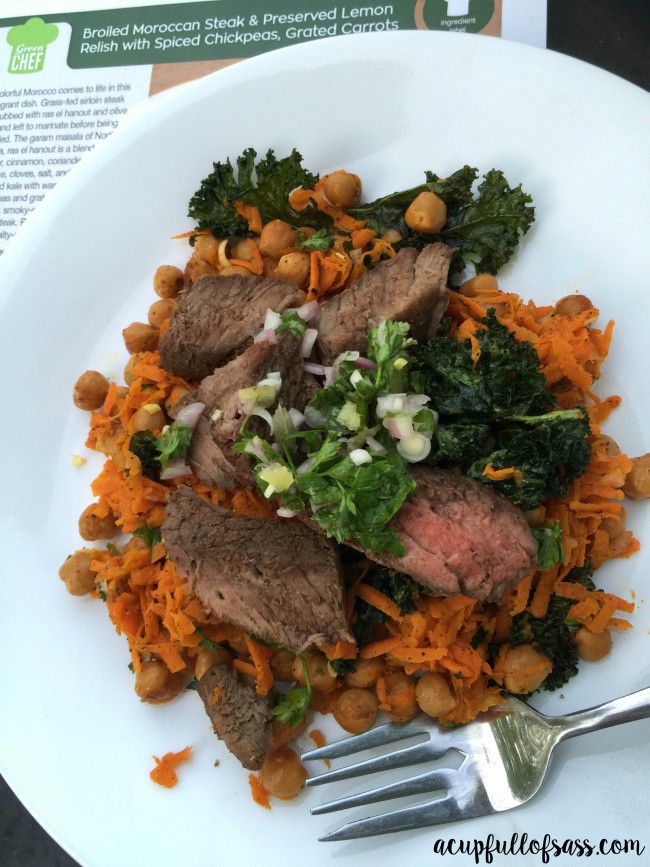 Chicken Cordon Blue Salad