I don't know about you, but I use my slow-cooker a lot in the fall and winter months. Make this easy honey garlic chicken recipe in the crock-pot is an easy dinner for busy weeknights. It is also a family favorite. I love using chicken thighs because they stay juicy and tasty no matter how you cook them.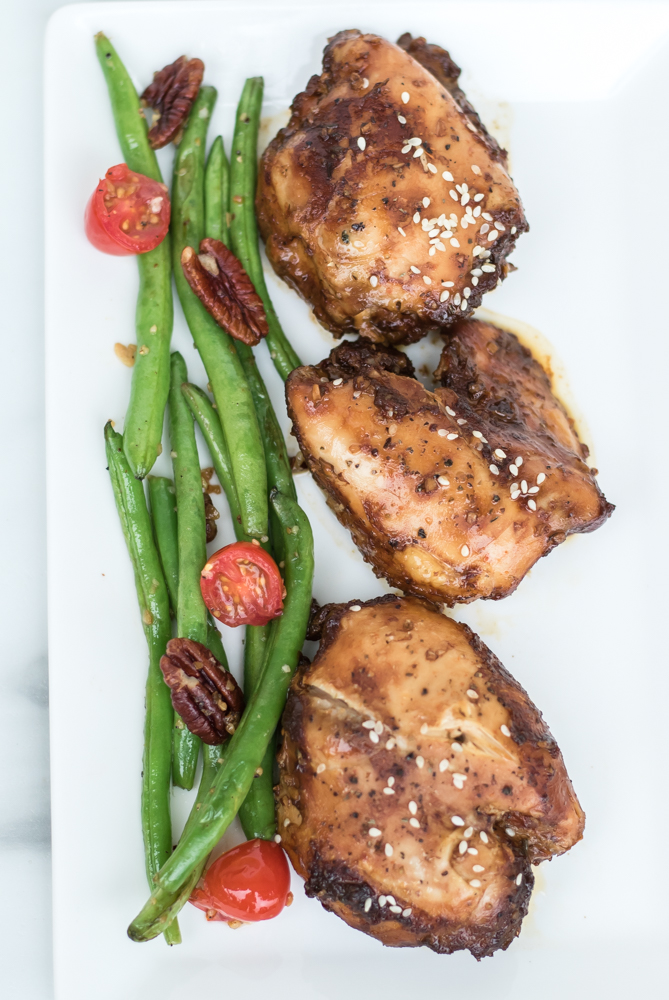 Ingredients:
Boneless Skinless Chicken Thights. You can use bone-in with skin on if you desire. I have used both.
Low Sodium Soy Sauce
Ketchup
Honey
Ginger paste
Minced Garlic
Seasame Oil
Oregano
Seasame Seeds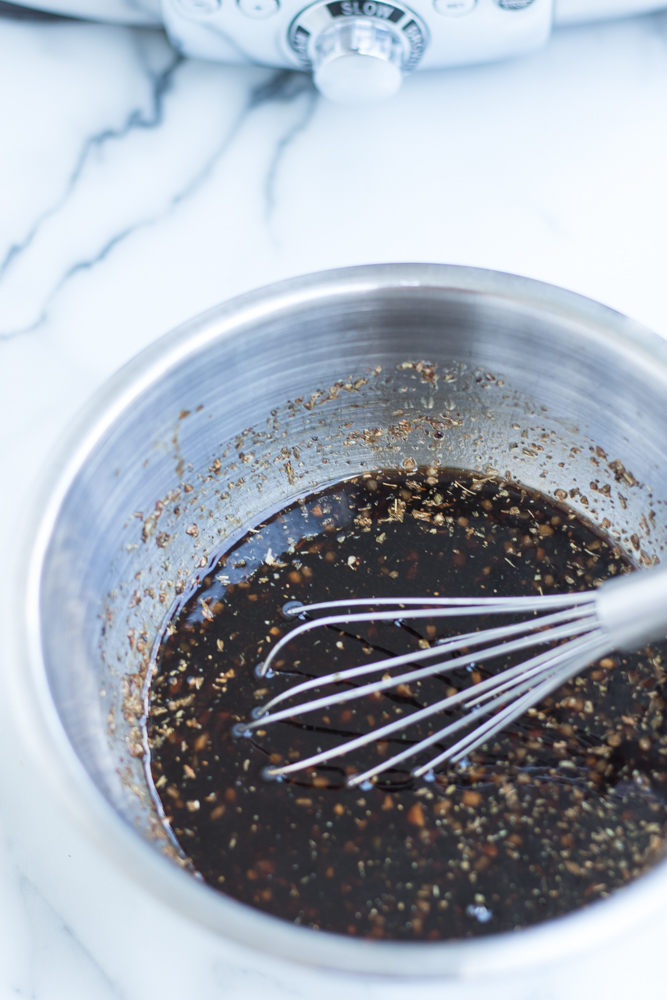 Boneless or Bone-In Chicken Thighs
I prefer boneless skinless chicken only because I have kids and it is easier for them to eat this kind. I have used bone-in and they turned out just as delicious. No matter your preference, it's sure to be a hit.
Crockpot
Add chicken thighs to the bottom of the crockpot and pour liquid mixture over the chicken. Set on high for 3-4 hours or low 4-5 hours that is it. All crockpots are different so time can vary. Just make sure the internal temperature reaches 165 degrees. I also use my digital thermometer to check. You will have Honey Garlic Chicken in no time.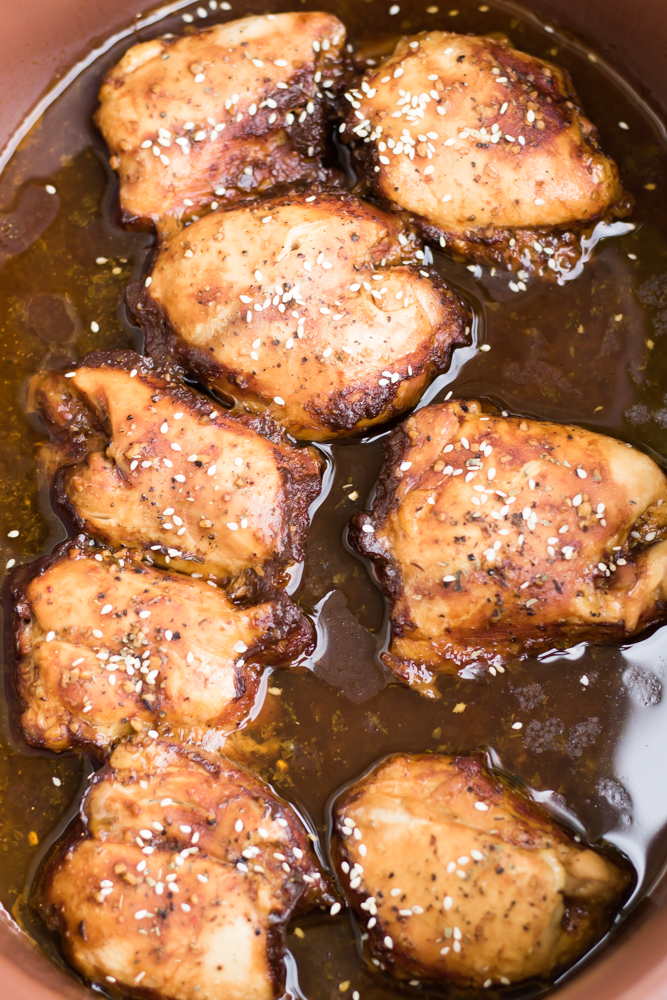 What to serve with:
I always make brown rice or jasmine rice to add to this dish. The chicken and sauce really compliment the rice. I also make a side of sauteed green beans. I will be sharing how I make my green beans recipe soon. If you are not a fan of green beans, try broccoli or asparagus. You can also serve with quinoa or couscous.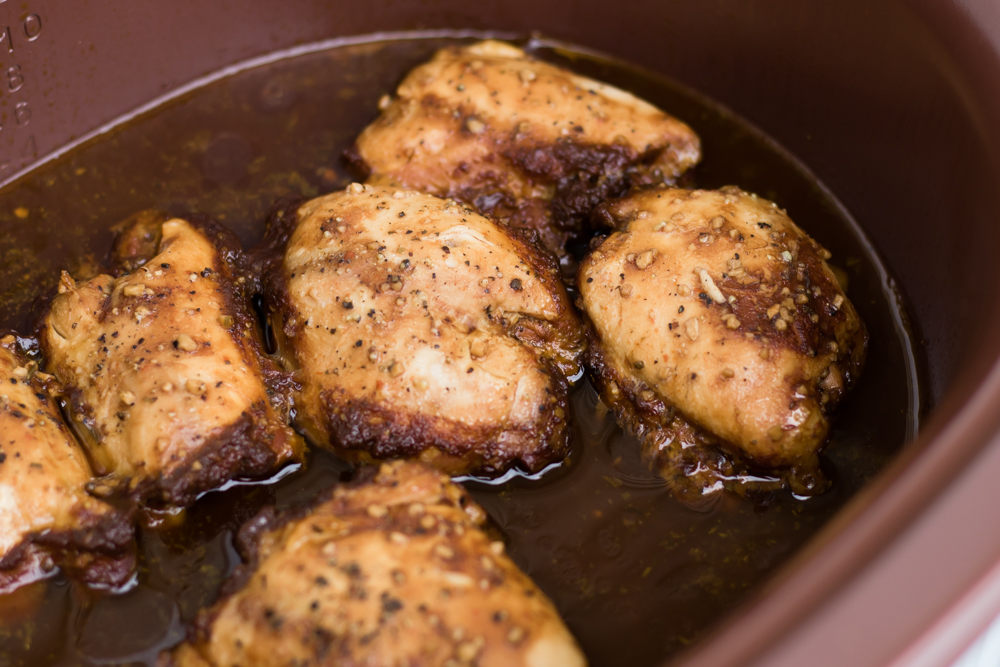 This recipe is one you will want to add to your list this week. If you make it, tag @acuptfullofsass on social media. If you aren't already following me on Instagram and Facebook, make sure you do for all my daily stories. I am always sharing things.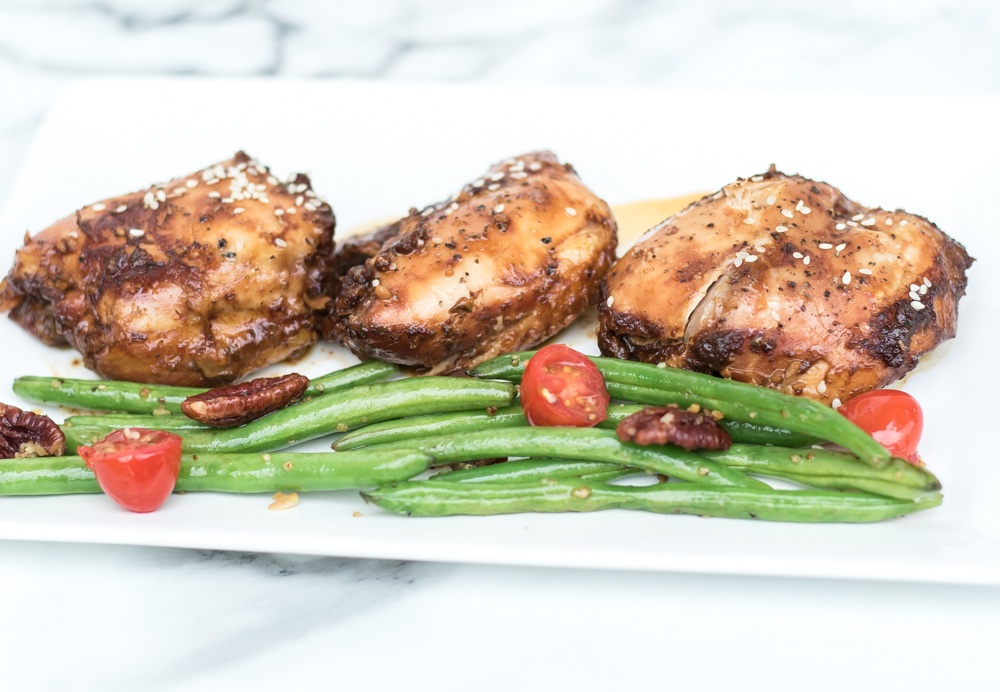 If you want more slow-cooker dinner ideas, check out this pork chop recipe.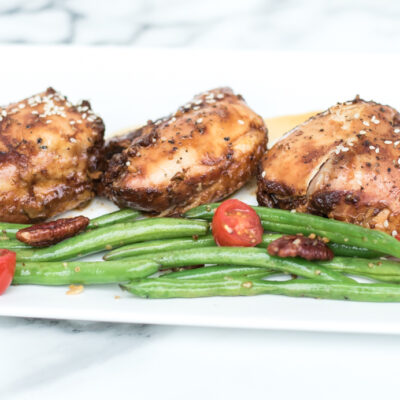 Honey Garlic Chicken Crockpot
Ingredients
8

skinless boneless chicken thighs

around 3 – 3.5 lbs.

1/2

cup

low sodium soy sauce

1/4

cup

Ketchup

1/2

cup

honey

1/4

tsp.

Ginger paste

1

TBSP.

Minced Garlic

1

tsp.

Seasame Oil

1/2

tsp.

Oregano

1

TBSP.

Seasame Seeds
Instructions
Cover the bootom of your slow coomer with the chicken thighs.

In a bowl, combine honey, ketchup, minced garlic, soy sauce, and Oregano.

Pour the sauce over the chicken thighs. Cover with lid and cook 3 – 4 on HIGH. Or cook on Low for 4 – 5 hours or until internal tempeture reaches 165 degrees. NOTE: It only took 3 hours for mine to cook on High.

Plate chicken thighs and cover with sauce. Add sesame seeds. Opitional: Add cooked brown rice to dish.
Nutrition