Host a Holiday Party for your girlfriends, friends or some of your family members. Hosting and entertaining is some of my favorite things to do. I am going to show you how I host a holiday party that will wow your guest and how you too can enjoy the party.
Choose a Theme or Colors
Doing these things really help when planning the decor and look you are going for. For this party, I decided to use plaid prints & picecones. Try using things you already have around the house. This will save you both money and time.
Signature Drink
Every time I entertain, I like to create a Mimosa Bar. Why do you ask? Well, I am a champagne girl and I love how festive and inviting Mimosa Bars are. They work for any occasion. Plus I have a signature drink called  Sunset Mimosa that I am known for. I serve it at all of my parties. You can see the recipe here.
For the Cranberry Mimosas:
Start by coating the rim of the flute glasses with white Karo syrup.
Add a couple pieces of fresh fruit to the bottom of your flute glass.
Next, Pour Champagne into flute 2/3 full.
Top off with cranberry juice.
Use a toothpick and add fresh cranberries and sprigs of Rosemary.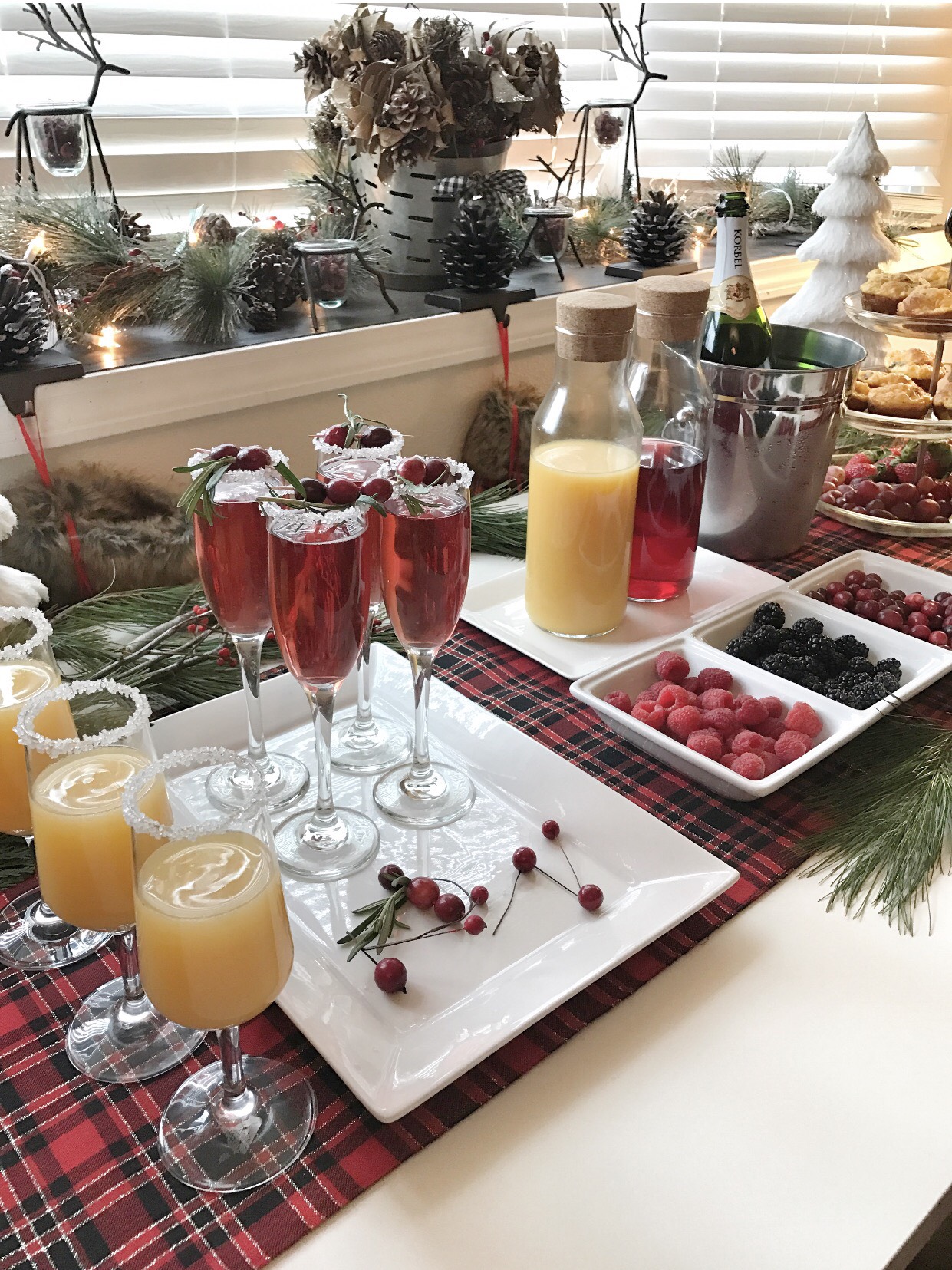 Using Glass Carafe for the juice makes it easy for your guests to serve themselves. Also, having a tiered tray with fruit and snacks means your guest can grab a snack at their own leisure.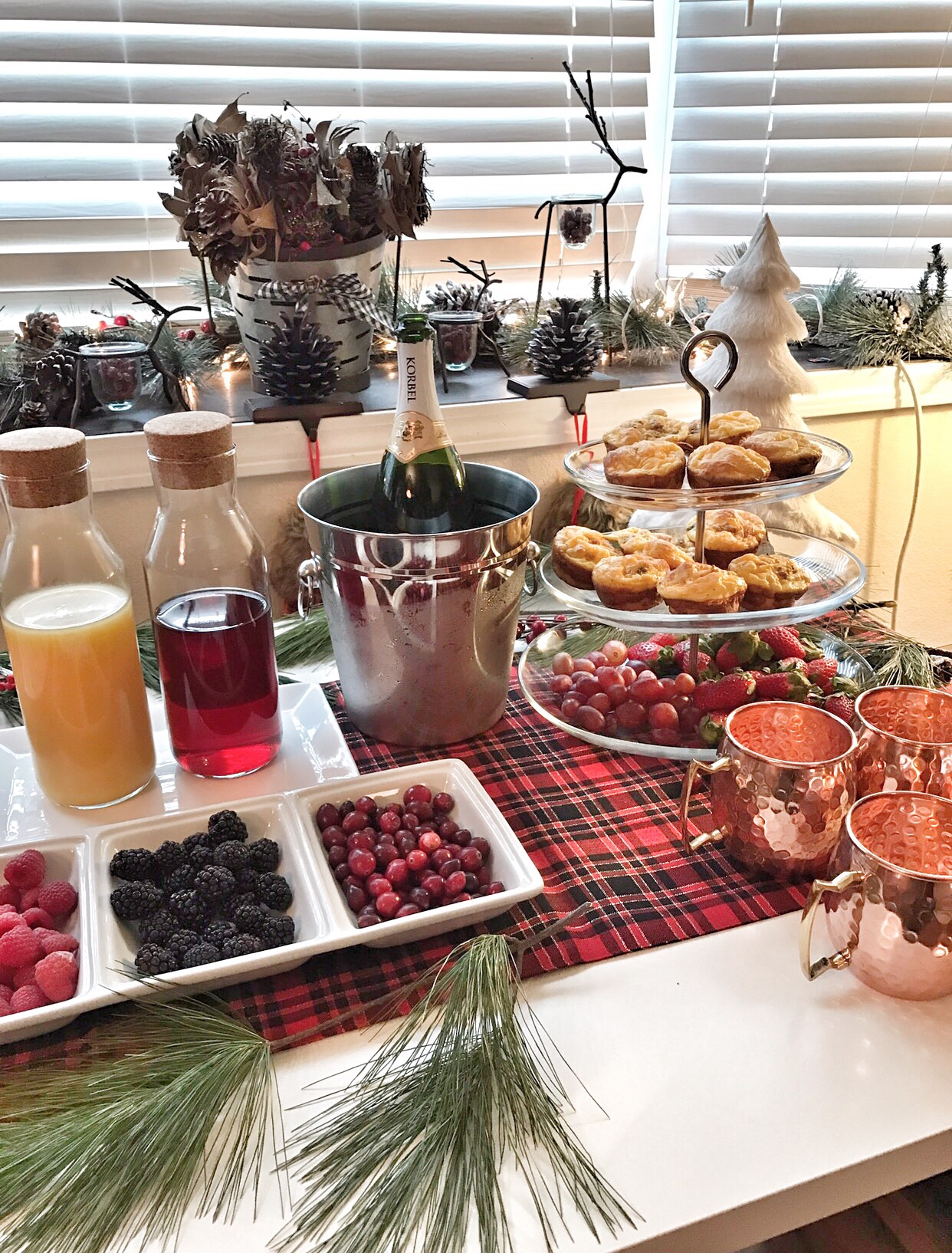 Don't these Cranberry Mimosas look so festive? I love it, and so will your guest.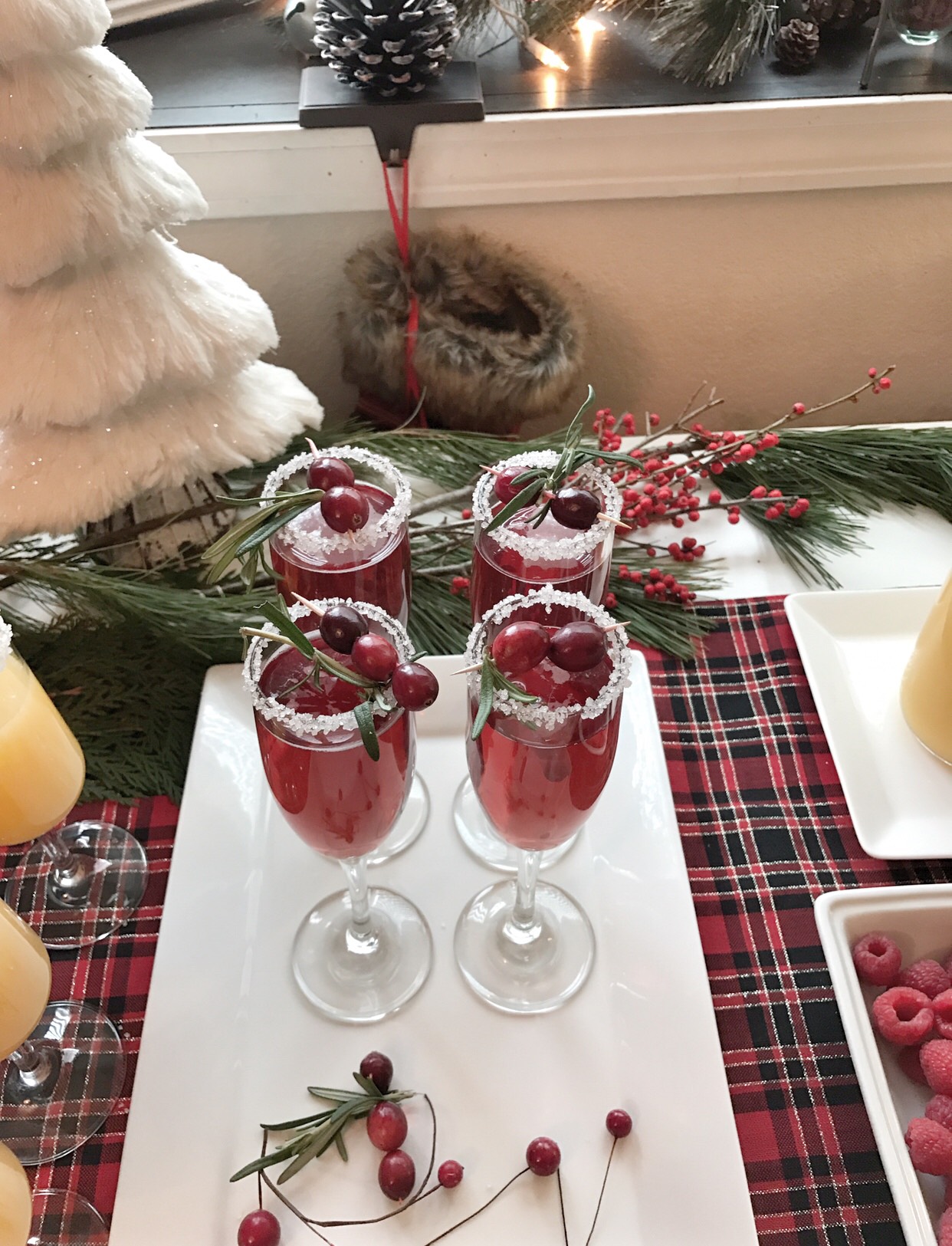 Prepare Food Ahead of Time
Prepare food as much as you can ahead of time. Make easy foods your guest can enjoy while walking ab=round and mingling. A Cheeseboard is a great item to serve at parties. I add three different styles of cheese along with some fresh fruit and crackers.
Easy Food Ideas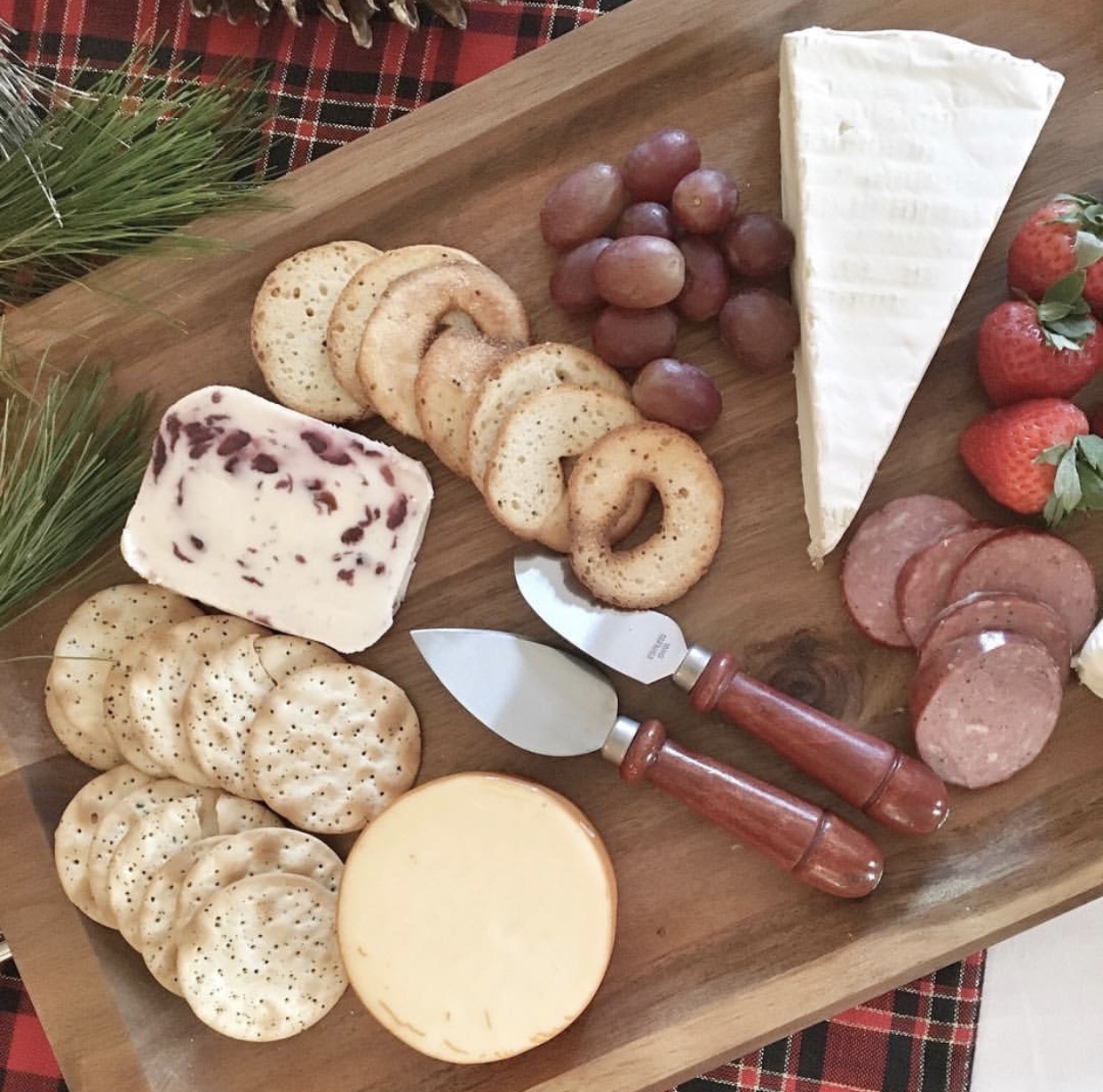 Buy Store Bought Food
There's nothing wrong with buying store-bought food. In this case, I bought desserts at a local bakery. I set up a dessert bar. You just can't go wrong with dessert. Look how gorgeous they look.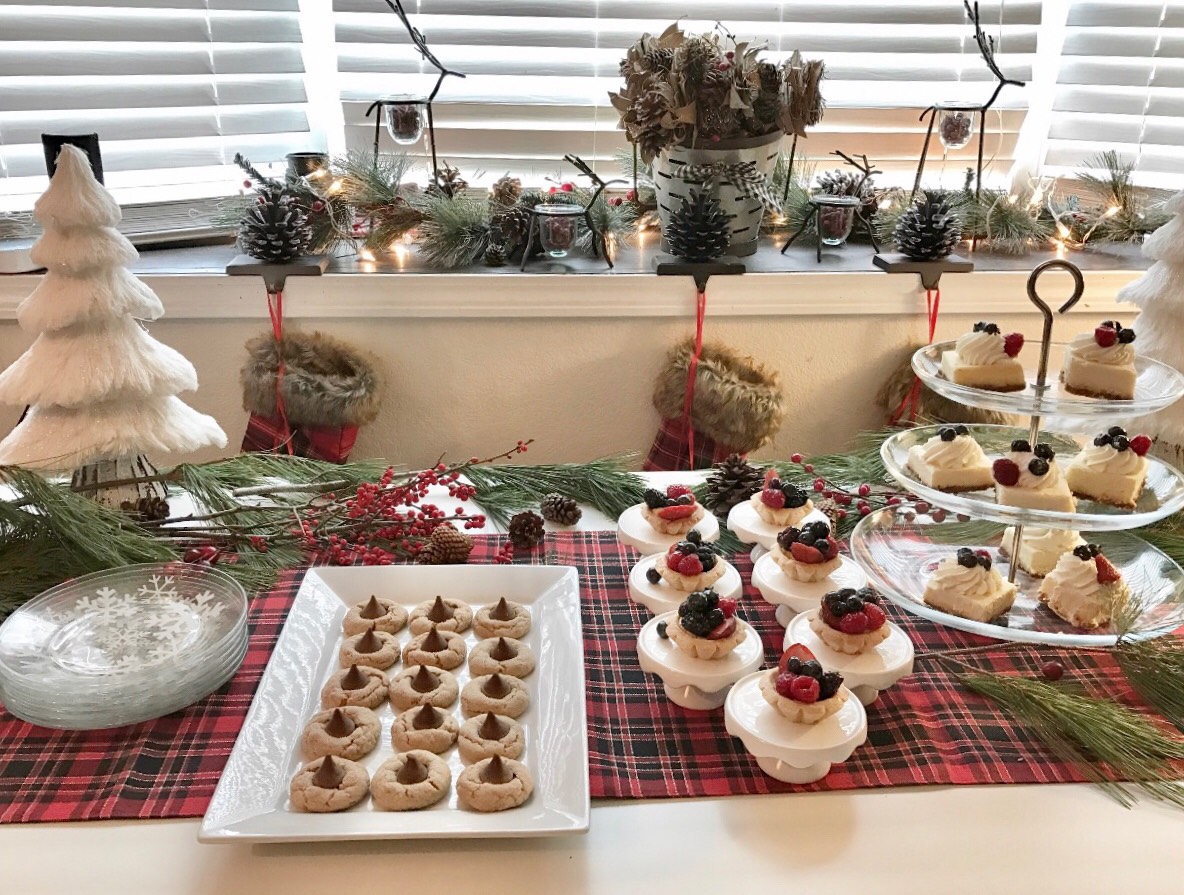 Music
Create a playlist ahead of time and play on repeat. That way you never have to think about it. Stet the volume to low so guest can talk to each other.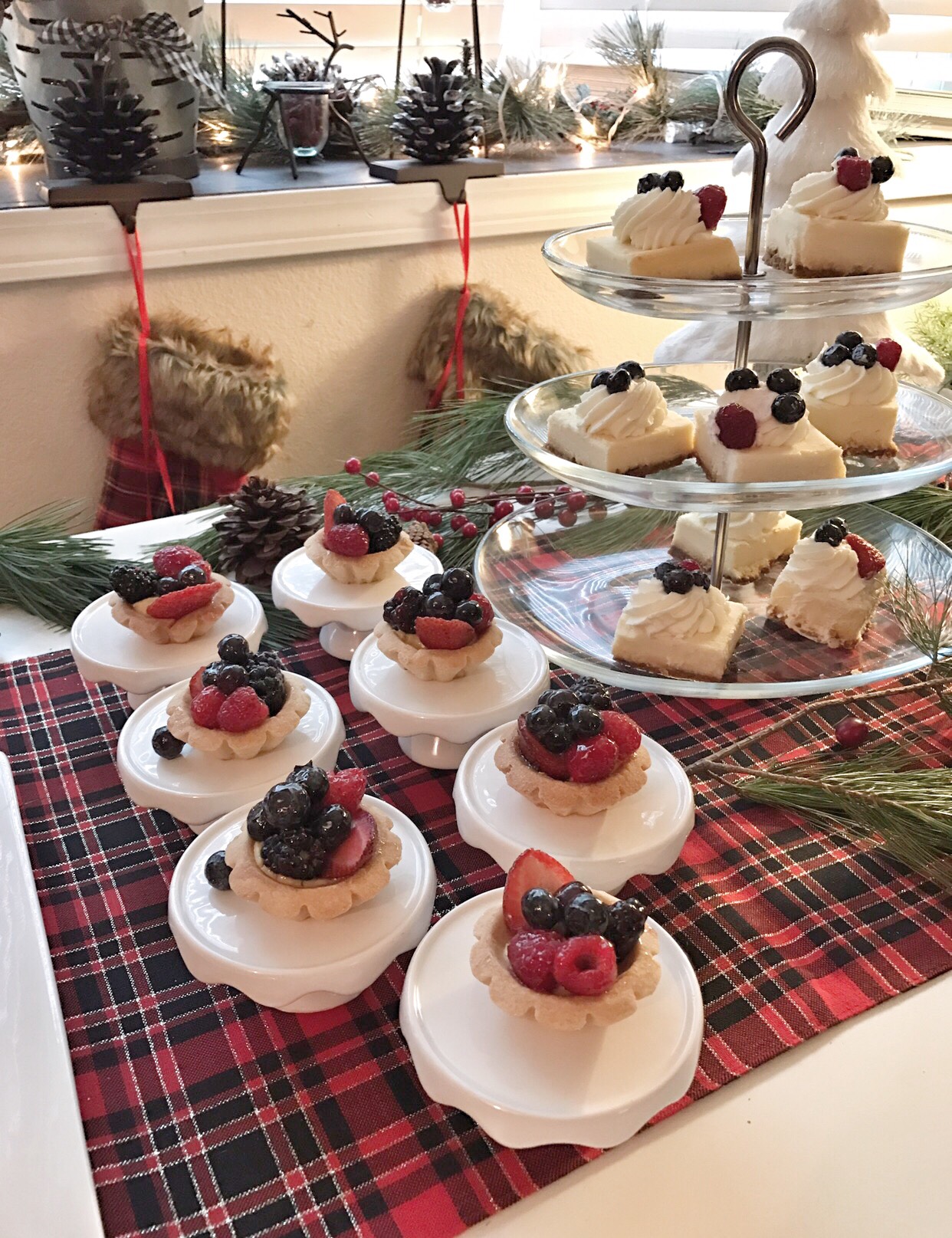 Now, who's ready to host a party?! I hope this gives you some ideas for your next Holiday Party.