I struggle with organization. No, really I do. I am determine to get organized this year. I have already started the process and it feels amazing. I wanted to show you how I organized my pantry.
Warning: The before picture is disturbing. I am actually a little embarrassed to show it, but I know there are others who struggle with organization, just like me. My hope is that this may encourage you to start getting organized. Are you ready for this?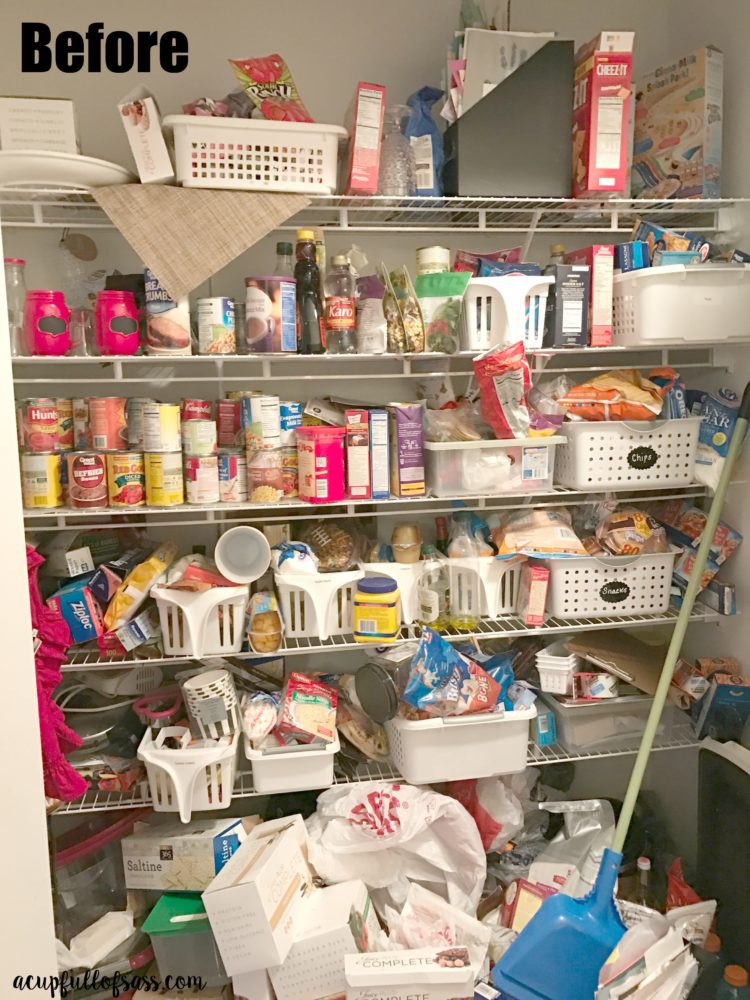 Such a mess! It stressed me out every time I went to the pantry. Enough was enough. Here is how I did it.
Declutter
First I decluttered the space by throwing away any expired food. Then I removed the items that did not belong in the pantry. You can see I have a lot. We recently bought large shelves for the basement so I finally had a place to store these items. If you follow me on Instagram, you probably caught my Insta Story showing my new space.
Remove remaining food items from shelves and set aside
Once food is out of pantry, group food into similar areas. For example; can goods, cereals, baking items, ect. Next use a shelf liner if need be. I used a piece to help my can goods can lay flat.
Baskets and Containers
Purchase different size Containers and Baskets. Most of my things I found at Walmart. Others I found on Amazon. I have links below to each item. The baskets with the handle on the front are my favorite! So easy to grab and they work great for kids.
Start filling the baskets and containers with food. I used a large basket for Chips and one for dry Pasta noodles. I used the smaller baskets for Popcorn, Oils, Cake Mixes, Applesauce's and my Cookie Cutters. The clear containers I filled with Oats, Powdered Sugar, Sugar, Flour, Cookies and Pretzels. Do what works best for you.
Labels
I used Chalkboard Labels Waterproof Peel and Stick Labels on my chips and snacks basket. You can find them here. I also used my Label Maker to create other labels. This makes putting groceries away easier because everything has a home.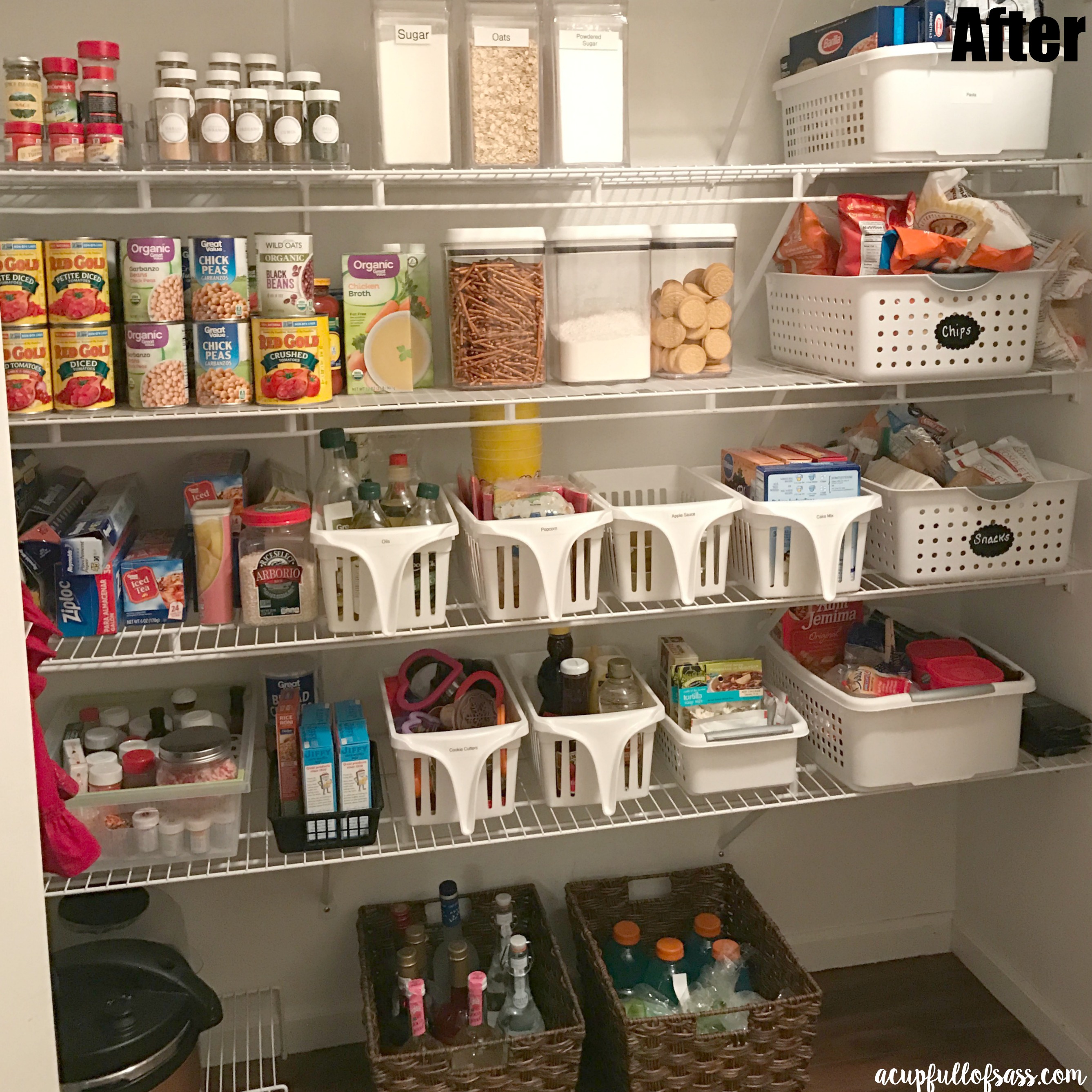 Now arrange baskets and containers that work for you and looks appealing to the eye. If there is an item you don't use often, put that basket on a higher shelf. I am in the process of putting all of my spices in glass jars. I just like the way this looks. Clean and organized.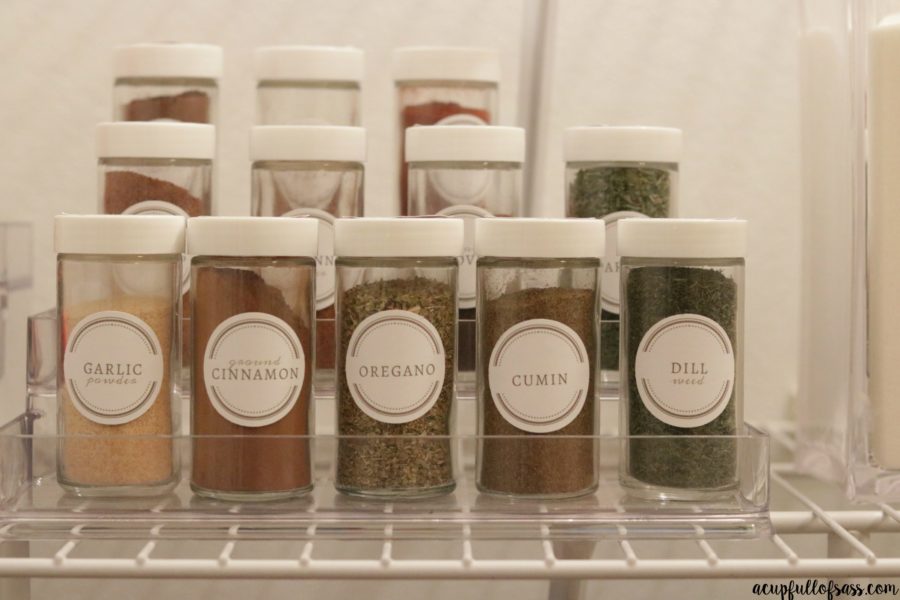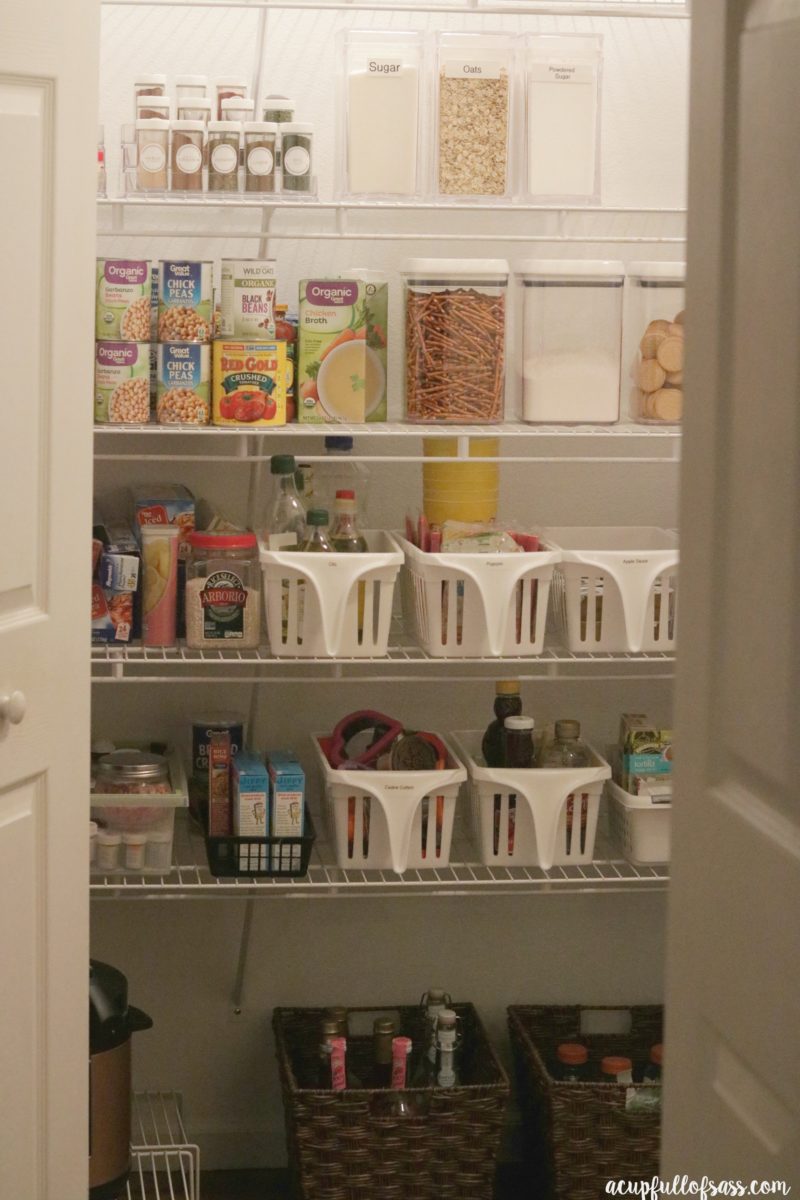 Don't you just love this? I can't believe the difference.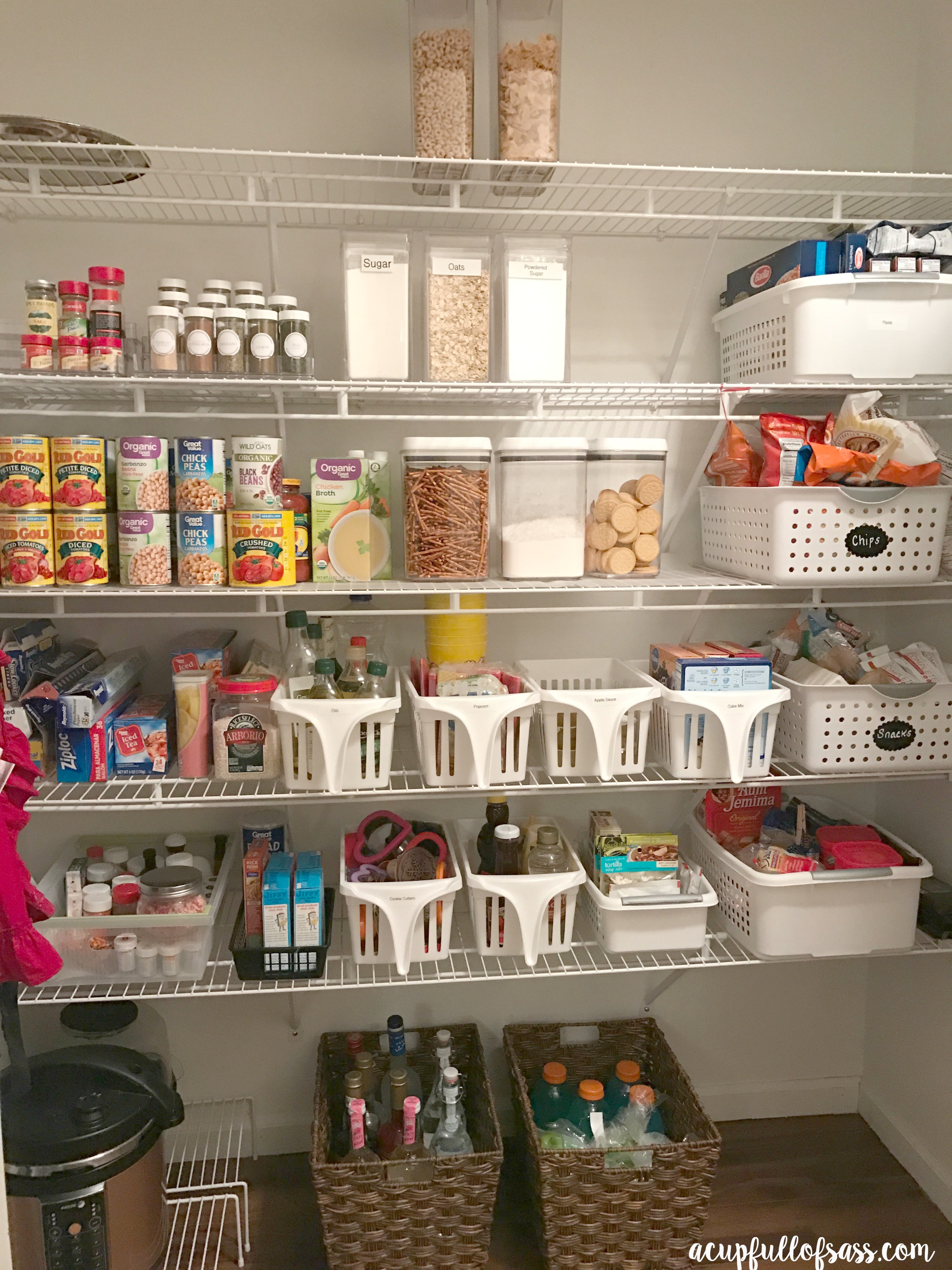 These canisters I found at Walmart a couple years ago, but they no longer carry them. So I used these.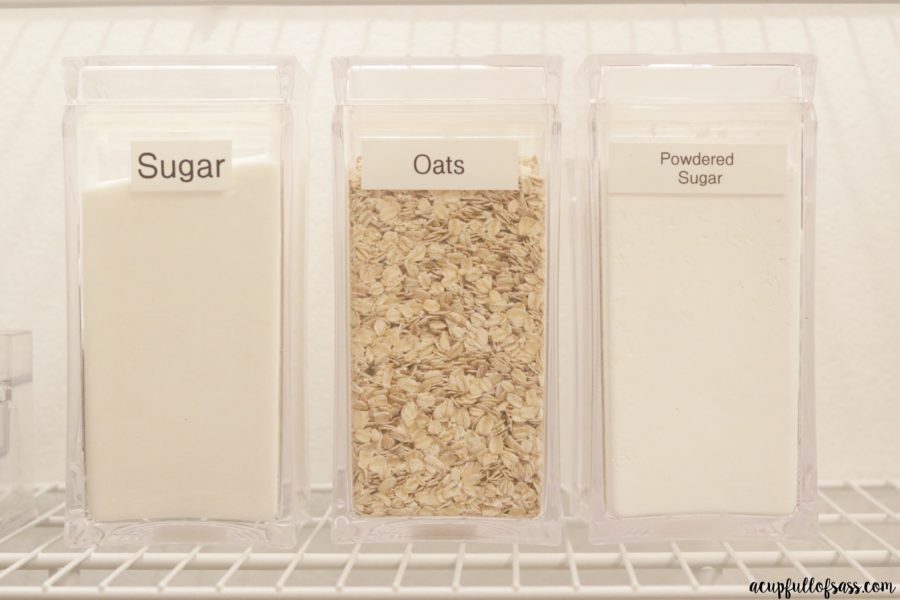 This isn't in my pantry, but it is in my kitchen cabinet. I wanted to show you these amazing plastic canisters. See how nice my Keurig cups fit inside. You can find them here.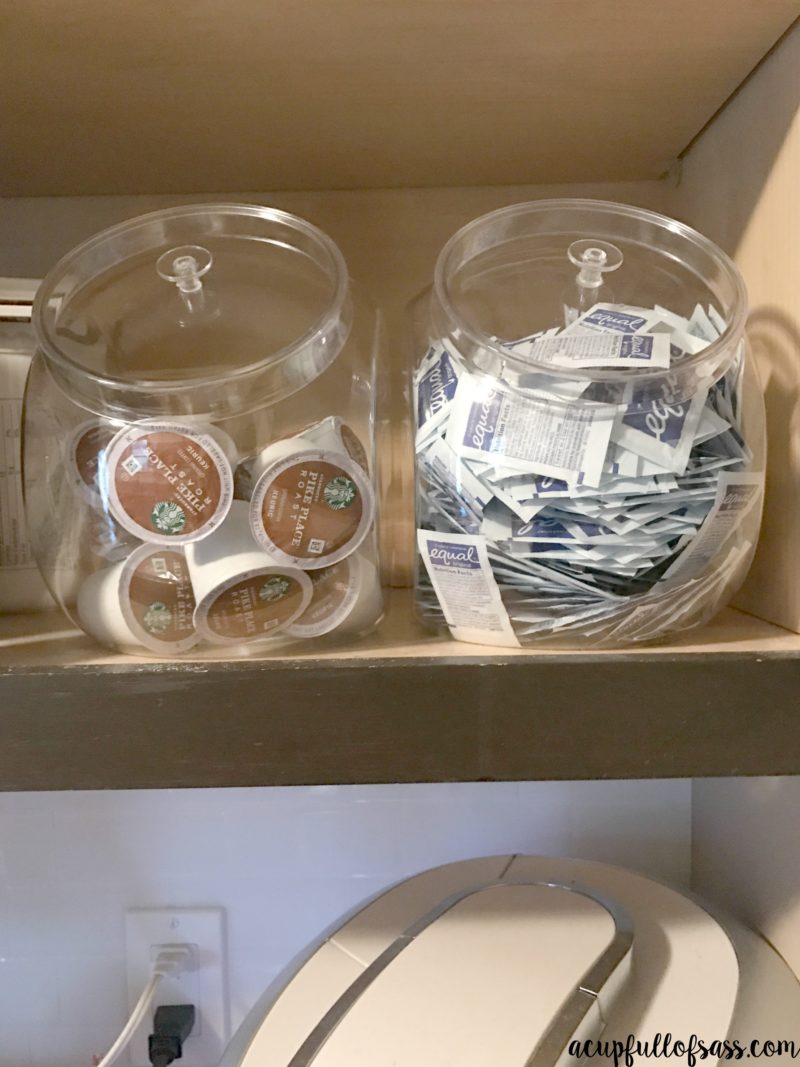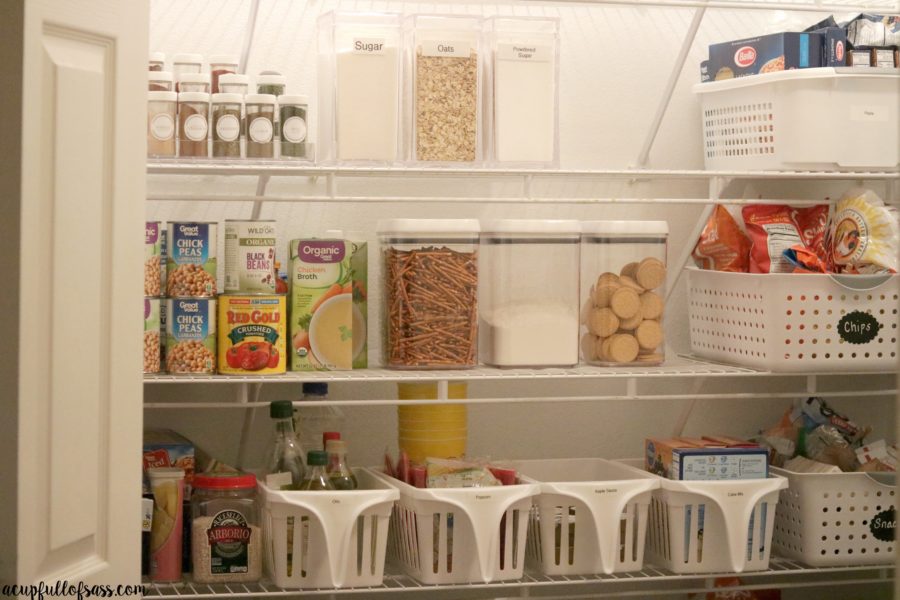 I hope this post gives you ideas on how to organize your own pantry. Here's to getting organized. I'd love to see some of your organization success. Post a picture on social media and use the #acfosOrganize  This was we can see everyones success. I will be watching.
Items Purchased from Walmart or Amazon
Items Purchased from Amazon