It's no surprise to anyone who knows me, I am a salad lover. Most of the time I don't even use salad dressing. I know I know, weird right? My new favorite salad is my Kale and Quinoa Salad. It's the best! I eat this multiple times a week. Because I am in love for roasted Brussel Sprouts and Chickpeas, I had to add it a salad. If you haven't tried brussels sprouts you don't know what you're missing. I tried them for the first time this year. I can't believe I waited this long to try them. If you aren't a fan of some of the ingredients I added, just leave them out.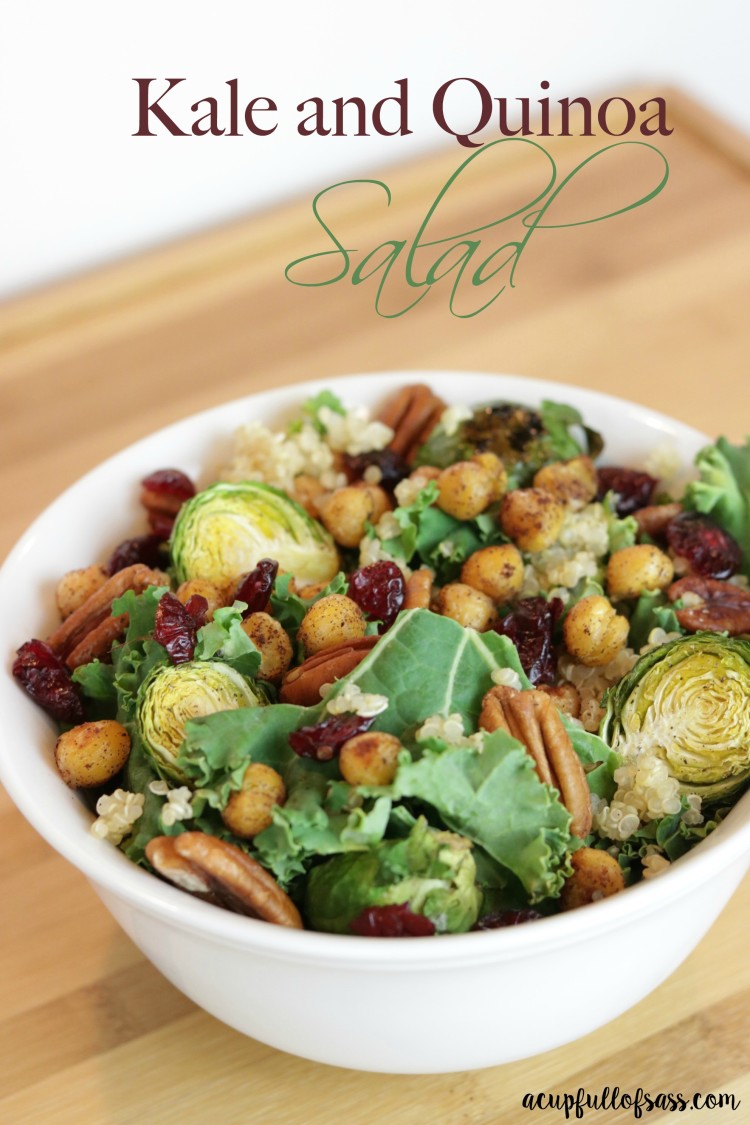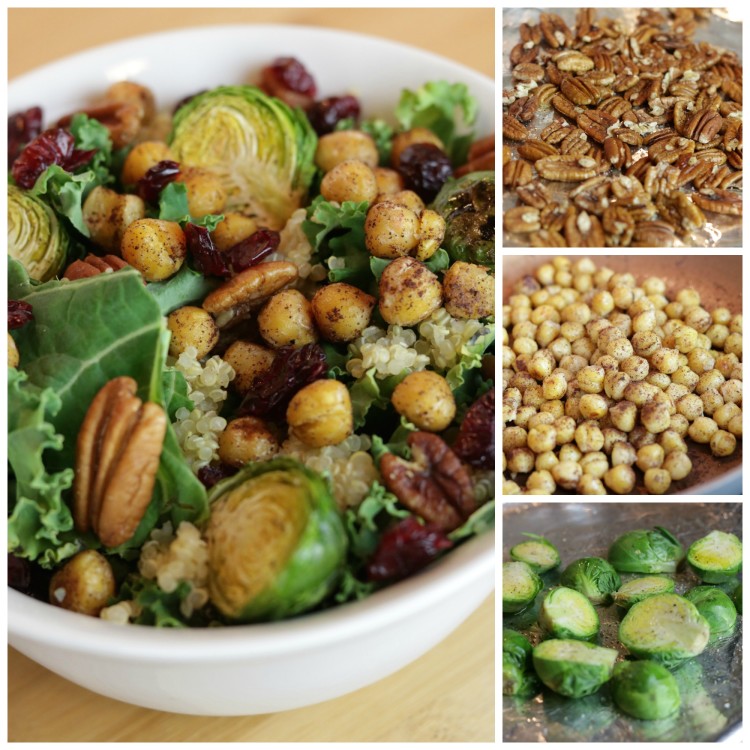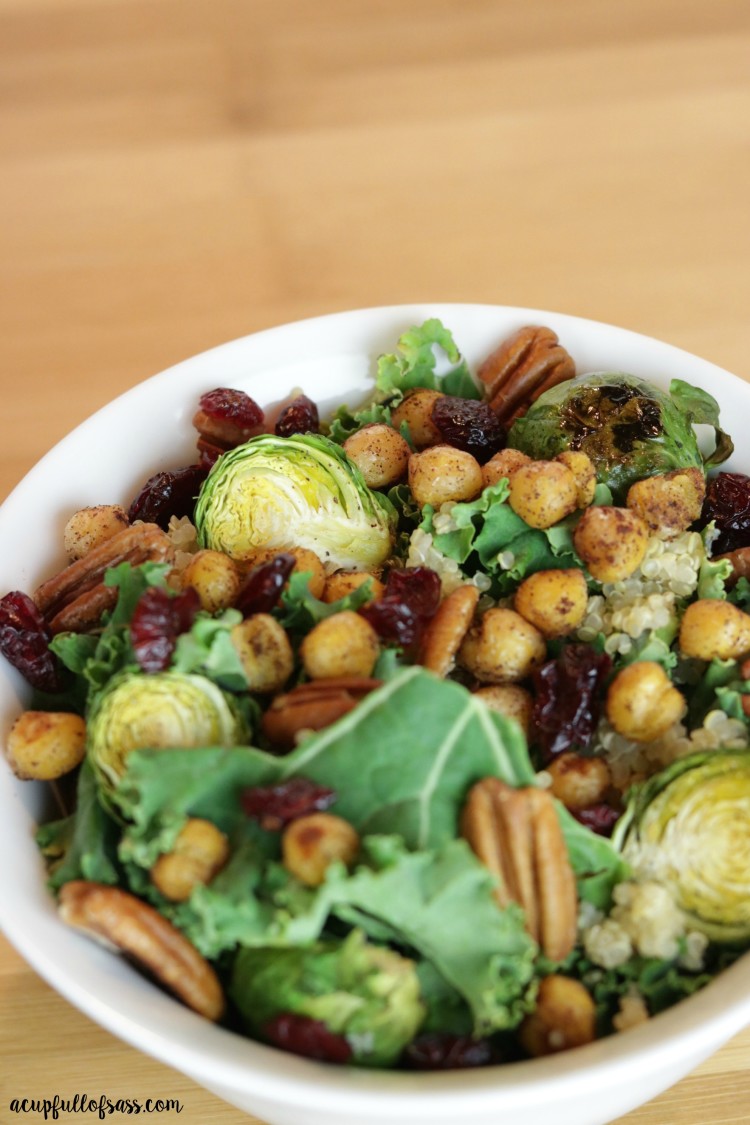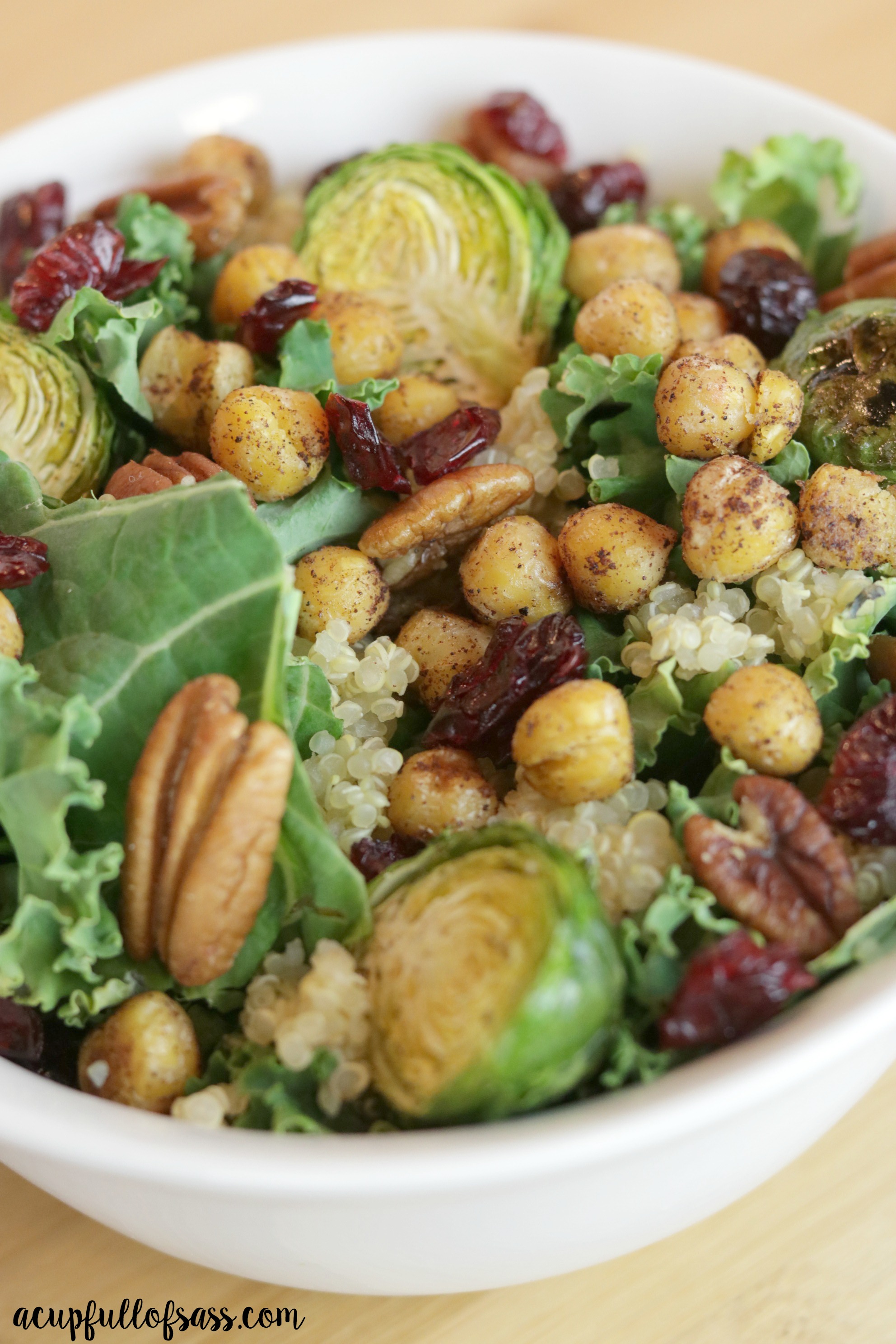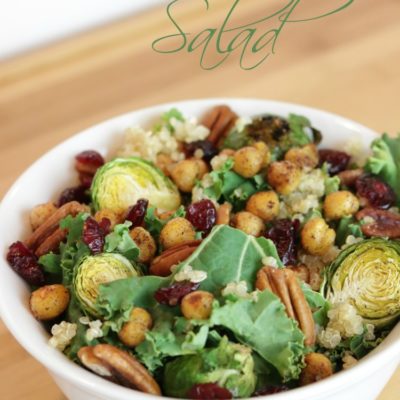 Kale and Quinoa Salad
Salads don't have to be boring. Quinoa, Kale, Dried Cranberries, Brussels Sprouts and Chickpeas makes this salad delicious!
Ingredients
1/2

cup

Quinoa

Kale

Dried Cranberries

sprinkle on top of salad

5-7

Brussels Sprouts

14

oz.

can of Chickpeas

Garbanzo Beans

1/2

cup

Pecan Halves

1/2

tsp.

Cinnamon

Sea Salt & Pepper to taste

Avacado Oil
Instructions
Bring 1 cup of water and 1/2 cup of Quinoa to a boil, in a medium pot. Cover and reduce heat to medium-low. Simmer 15-20 minutes. Remove from heat and rinse with cold water. Add Quinoa back into the pan and set aside.

While the Quinoa is cooking Preheat oven to 400 degrees. Cut Brussels sprouts in half and add Brussels to baking sheet. Drizzle with ½-tablespoon olive oil. Season with salt and pepper. Roast 20 minutes, or until tender with a fork.

Open, drain, and rinse chickpeas. Pat dry with a paper towel. Heat 1 ½ tablespoons of olive oil in a large sauté pan over medium-high heat. Add chickpeas to hot pan. Cook 4 minutes. Next season with salt, pepper and 1/2 tsp. of cinnamon and cook for an additional minute. Remove from heat.

Place pecans on a baking sheet and drizzle with ½ tablespoon olive oil. Season with salt and pepper. Toast in oven 4-5 minutes, or until golden brown.

Add a small amount of Quinoa to the salad bowl, next add kale, then add more quinoa. Add the desired amount of Chickpeas on salad. Next, add roasted Brussels sprouts. Top with a handful of roasted pecans and dried cranberries.

You can choose any dressing for the salad. I chose a vinaigrette dressing. Sometimes I skip the dressing.
Nutrition