One-pan meals are my favorite. This one happens to be a one-skillet chicken thigh with orzo. It's an easy dinner that looks amazing when serving to guests. I had no intentions of putting this recipe on the blog when I was making it, but after a shared a picture on Instagram stories I was messaged numerous times about sharing the recipe. So I only have a couple of pictures to share. You won't believe how easy this recipe is.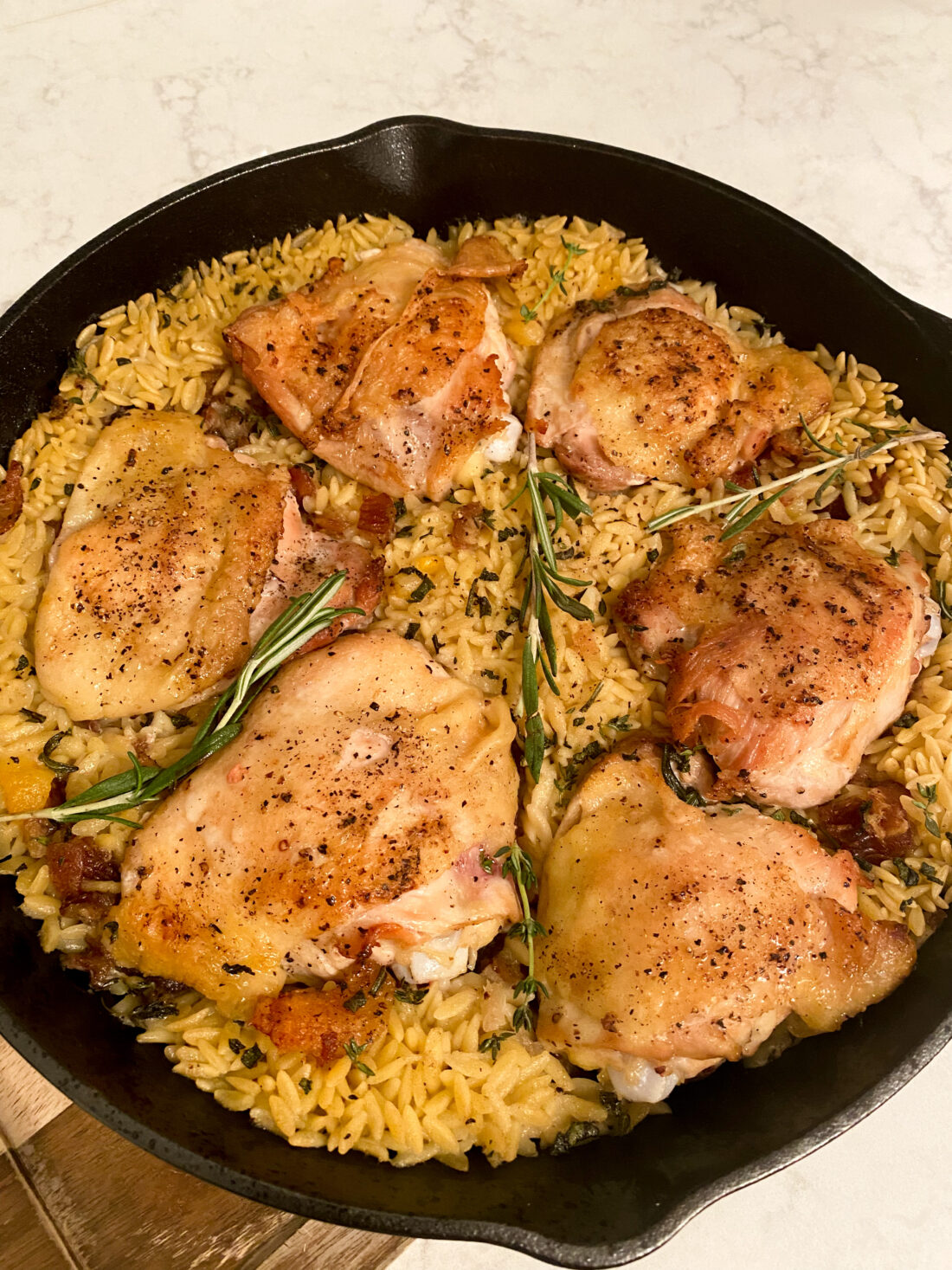 Chicken Thighs
I love to use bone-in skin-on chicken thighs because they have a ton of flavor and stay juicy. Pan-sear the chicken thighs for 7-9 minutes, untouched. You will know when the chicken is ready to remove when it easily lifts out of the skillet. If it is sticking, it's not quite time to remove it from the skillet.
Orzo
Orzo is a small rice-shaped pasta that makes a great side dish. It absorbs liquid very well and cooks fast.
Pitted Dates
Using Medjool dates is a great way to add a little bit of sweetness to your dish. It pairs nicely with the orzo and chicken. Chop up the dates and add them to the uncooked Orzo.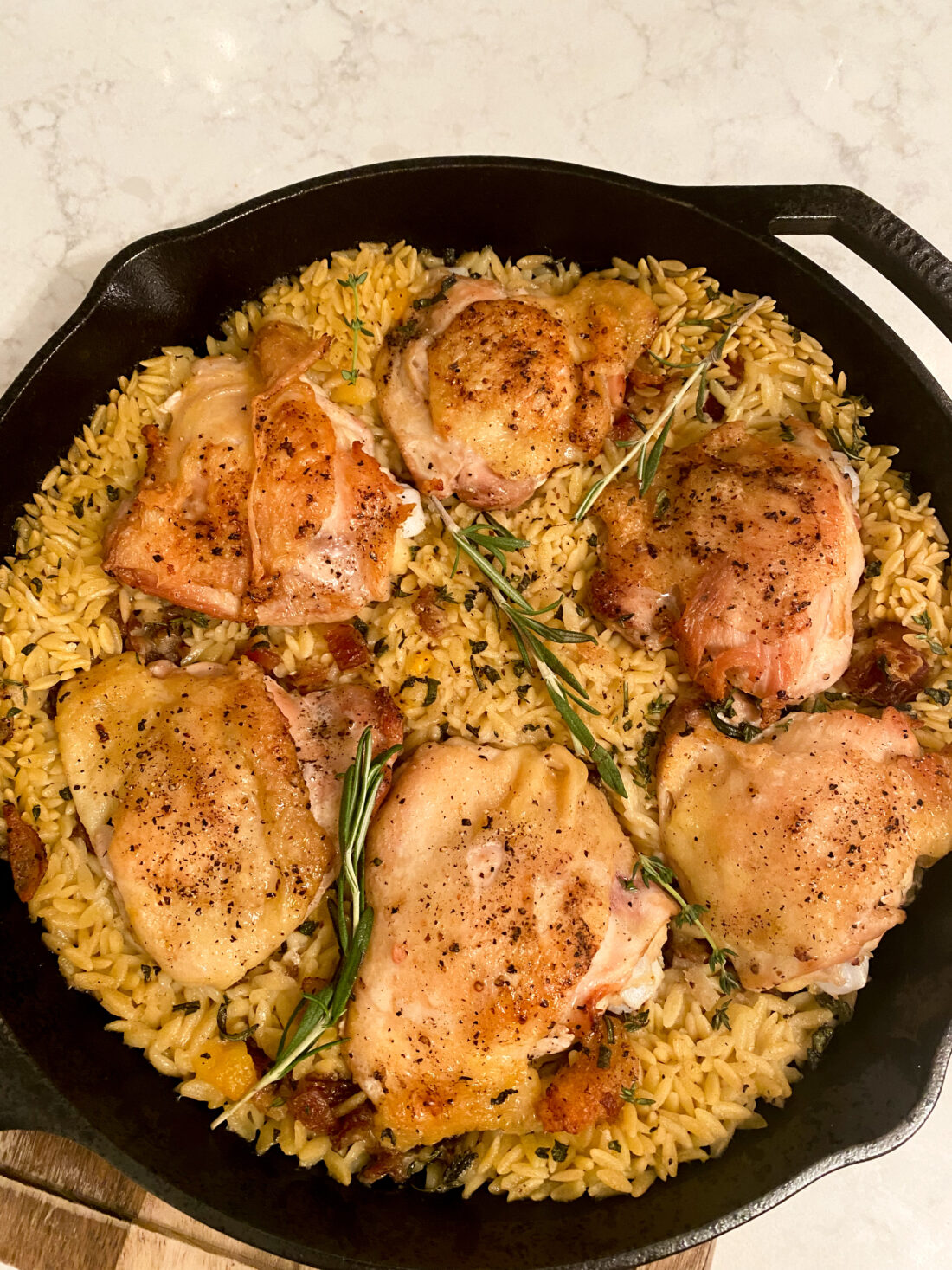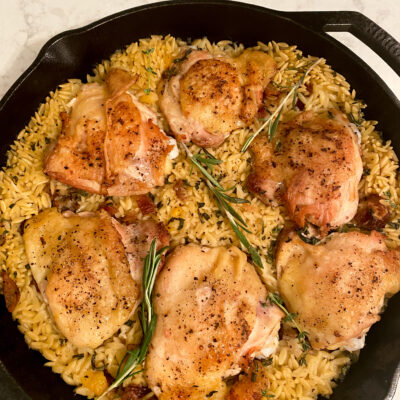 One Skillet Chicken Thighs with Orzo & Dates
One skillet chicken dinner for the whole family.
Equipment
12 inch Cast Iron Skillet
Ingredients
4-5

Chicken Thighs Skin On and Bone in.

I ususally get the family pack.

6

Pitted Dates, chopped.

2 1/2

cups

Chicken Broth.

1

cup

Orzo

Salt & Pepper to your liking.

1

Tbsp

chopped fresh Sage

2

tsp

chopped fresh Rosemary

1

Tbsp

chpped Thyme

4

additional sprigs of fresh rosemary for presentation. Opitional.

This is optioanl and only for presentation.
Instructions
Chop fresh Rosemary, Thyme and Sage. Set aside.

Chop Pitted Dates. Set aside.

Use a 12-inch cast-iron and heat 1 tbsp oil of your choice on medium. (I use Avacodo oil).

Season both sides of chicken thights with with salt pepper.

Once oil is hot, place chicken thighs, skin side down and brown for 5-7 minsutes. Remove from chicken from pan and set asisde.

Remove skillet from heat.

Add Orzo, fresh herbs, Dates, and chicken broth. Stir.

Add chicken thighs back into pan skin side up.

Season again with salt and pepper.

Bake in oven for 25-30 minutes or until chickens internal temperature reaches 165°F degrees and orzo is tender.

Remove from oven and serve.
Nutrition



If you need other dinner ideas see more here.