This Slow Cooker Chicken Kale Cabbage Sweet Potato Soup is both healthy and delicious.
Now that the new year is here it's time to start thinking of healthy recipes. Am I right?! This healthy soup is FWTFL friendly, paleo, gluten free, dairy free and Whole 30 soup is a winner in our house.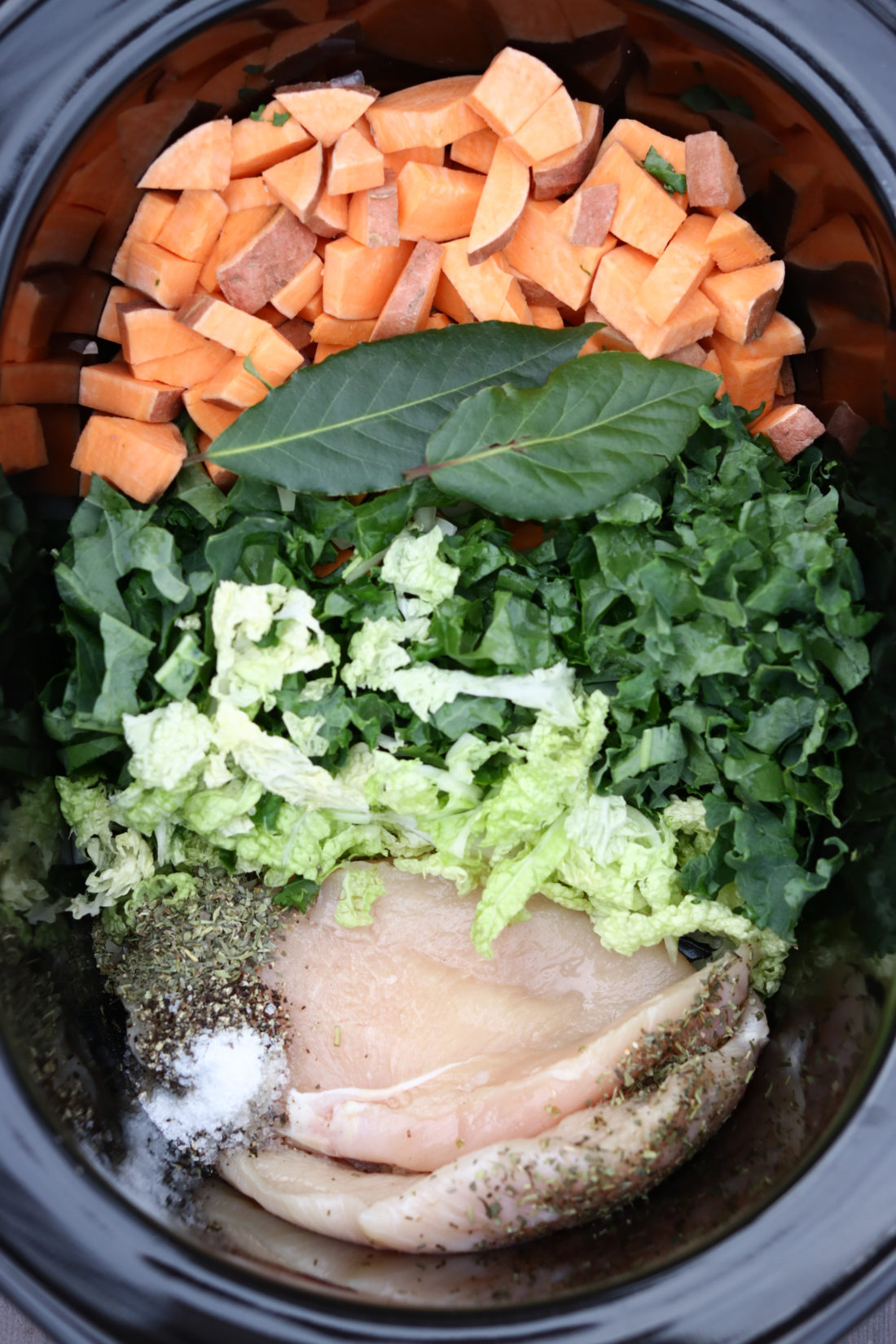 My husband asks if I would make this every week. It's so easy to do, why wouldn't I? This soup is so flavorful and so healthy.
Add all the Ingredients
Just add the ingredients to your slow cooker and you are done. In just a few hours your house will be filled with the most amazing aroma. I just love a bowl of warm soup on a cold winter day. I mean who doesn't
Sweet Potoates
Sweet potatoes are a healthy carb. They are a great source of fiber and vitamins C and A. They are also rich in vitamins B6. Again this is a healthy carb that you want to add to your diet.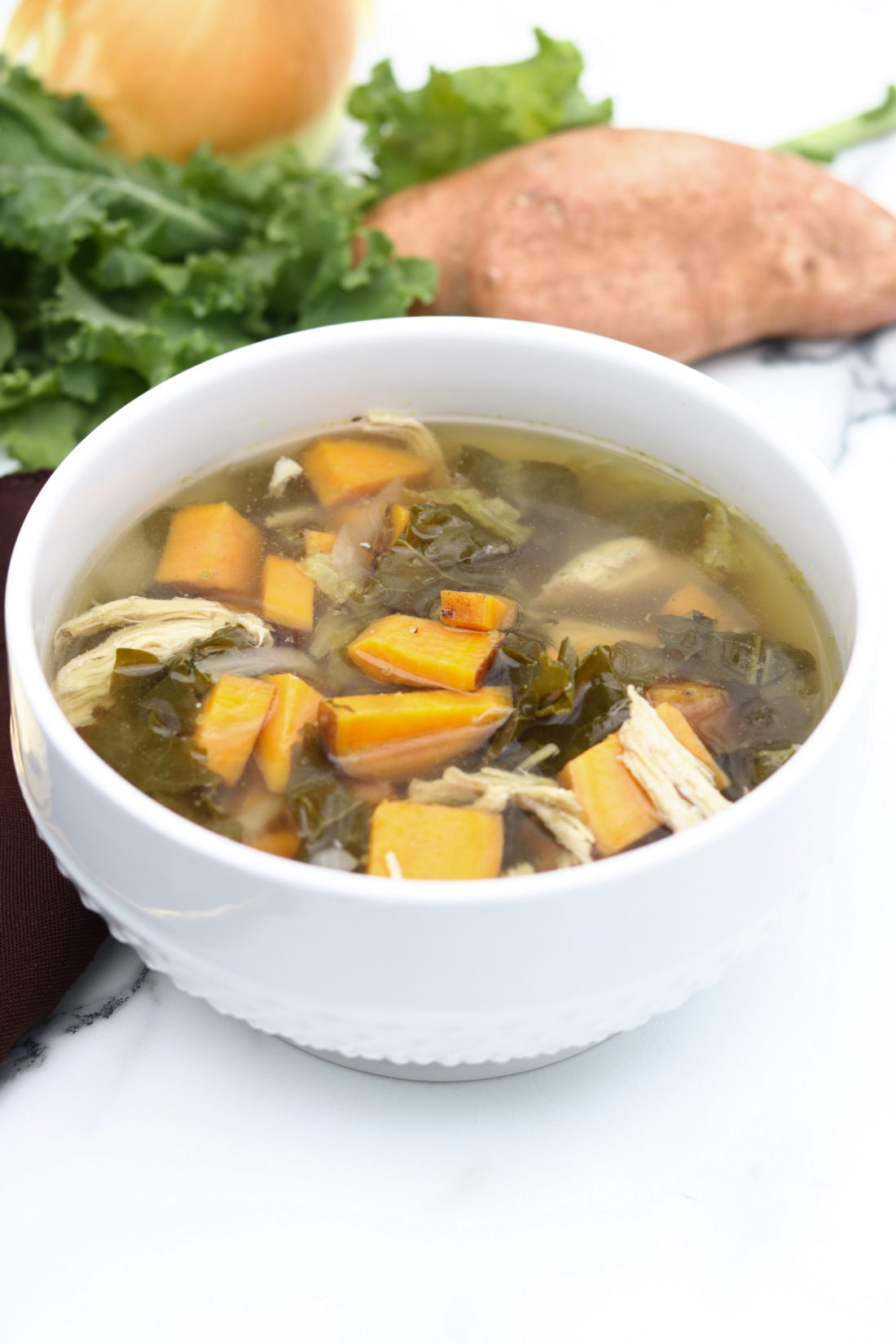 Cabbage
Cabbage is a super food. An excellent Source of Vitamin K. an Excellent Source of Vitamin K and C. It's also high in fiber and contains powerful antioxidants, including polyphenols and sulfur compounds. Seriously, you need to add this to your diet.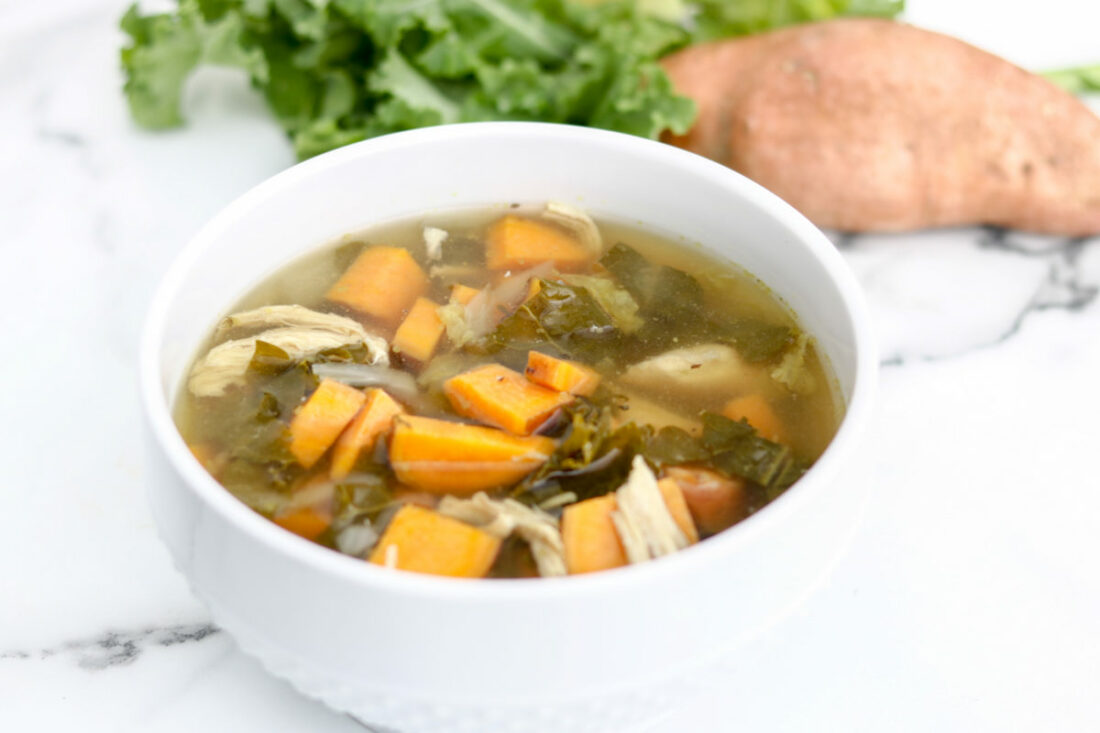 After I shared the behind the scenes on my Instagram stories I received so many messages asking for the recipe. I share healthy food ideas and the things I follow for the FWTFL on my IG stories.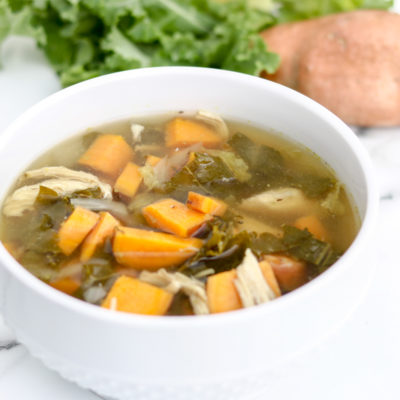 Slow Cooker Chicken Kale Cabbage Sweet Potato Soup
Slow Cooker Chicken Kale Cabbage Sweet Potato Soup is FWTFL friendly, paleo, dairy-free and whole 30.
Ingredients
2- 32.

oz

Low Sodium Chicken Broth

add more broth if needed

1

lb.

Chicken Breast

1/2

diced small/medium onion

yellow or white

2

large sweet potatoes

cubed ( I did not peel my potatoes, but you can)

2 

Cups

Kale

 roughly chopped stem removed and packed

1

Cup

Cabbage

 roughly chopped and packed

2

Tbsp.

Italian Seasoning

2

Bay Leaves

1

tsp.

Sea Salt

1/2

tsp.

Freshly ground pepper
Instructions
Season only one side of each chicken breast with 1 Tablespoon of Italian Seasoning. Save the other Tablespoon until the end.

Add chicken breast, chopped onion, cubed Sweet potatoes, chopped Kale, and Cabbage to a 6-quart slow cooker.

Add the additional 1 Tablespoon. Italian Seasoning to the pot, along with the sea salt and pepper.

Add the two Bay Leaves.

Pour the Low Sodium Chicken Broth over the vegetables and chicken.

Stir to combine.

Cover with lid and cook on high for 4 hours or low for 6, or until the chicken is cooked through and tender and the sweet potatoes are tender with the touch of a fork.

Remove the chicken from the slow cooker and shred chicken with two forks then return to the slow cooker.

Stir to mix soup thoroughly.

Add more salt and or pepper if desired.

Serve hot and enjoy.
Notes
Notes: 
Add more salt and or pepper if desired.