If you've never tried cauliflower rice you are missing out. It's low carb & gluten-free. My low carb cauliflower chicken fried rice recipe taste like your traditional chicken fried rice except mine is healthy. No, really it's so close. My kids couldn't even tell a difference. If you are looking for a Paleo, Low Carb, Keto, Whole 30, or Faster Way to Fat Loss recipe, you have found it. I share daily food ideas on my Instagram Stories to help show healthy easy recipes. Follow me so you don't miss a thing.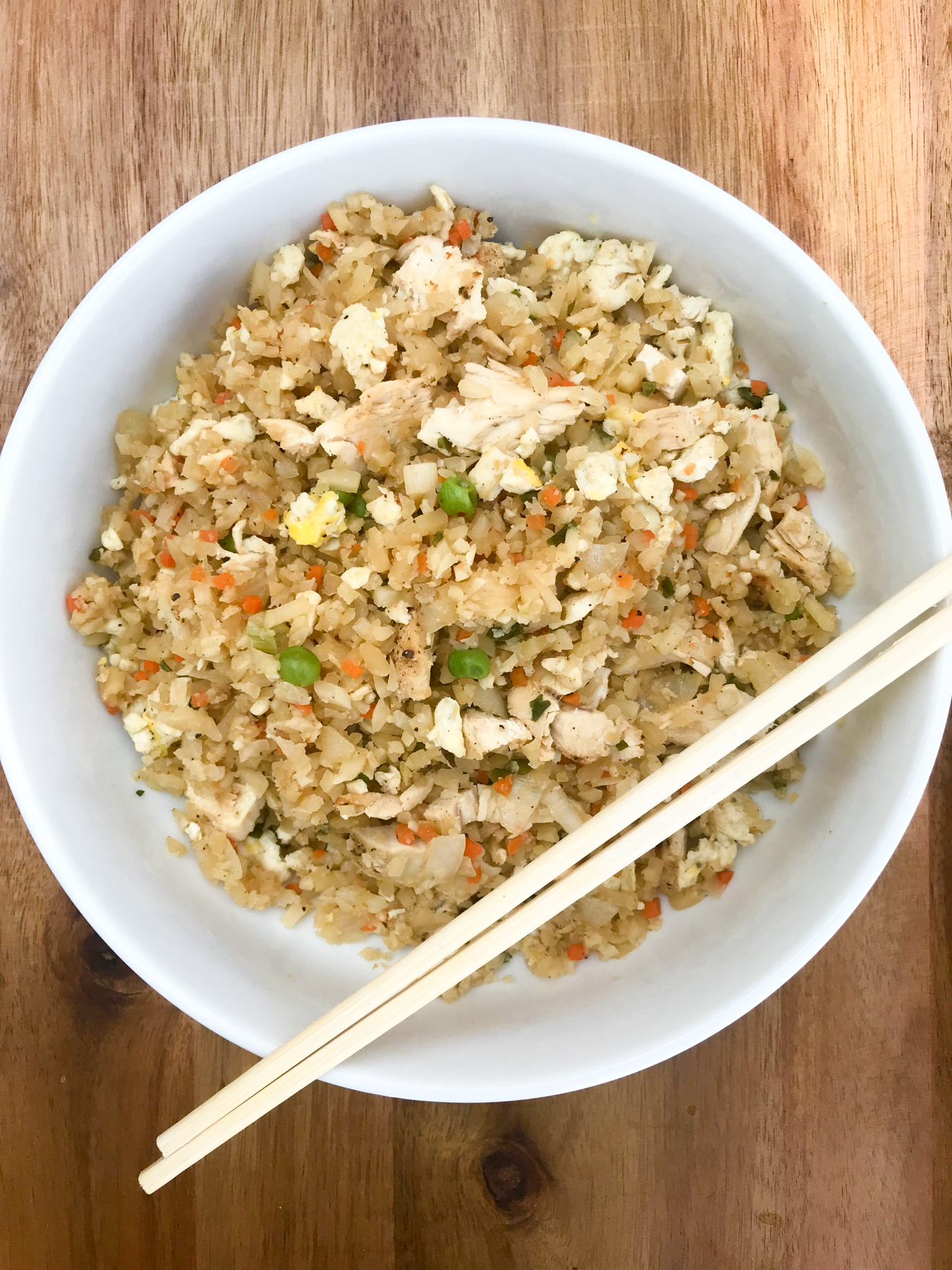 For this cauliflower chicken fried rice recipe, I used a frozen bag of Cauliflower Medley Riced Veggies. I love that it has green peas, onions, carrots and green onions already in it. I do add a little of my own chopped onion and garlic to this recipe, this is optional of course. You can also use any bag of frozen cauliflower rice or make your own. This just saves a little time and no mess is involved.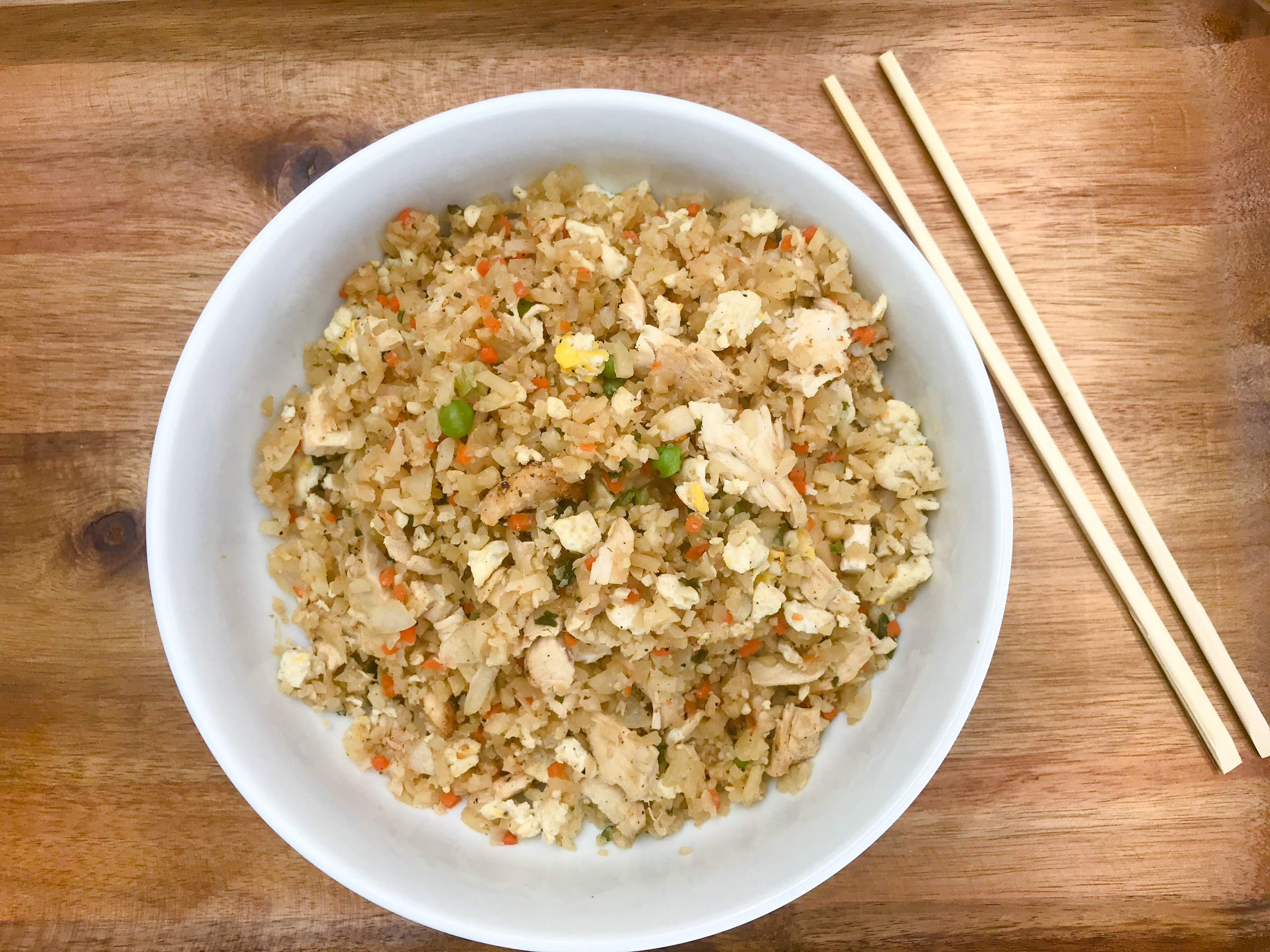 Now for the sauce, I used Liquid Aminos. This stuff is a gluten-free healthier alternative to soy sauce. This salt-free seasoning sauce is made from soy and water. If you are doing the Whole 30 use coconut aminos.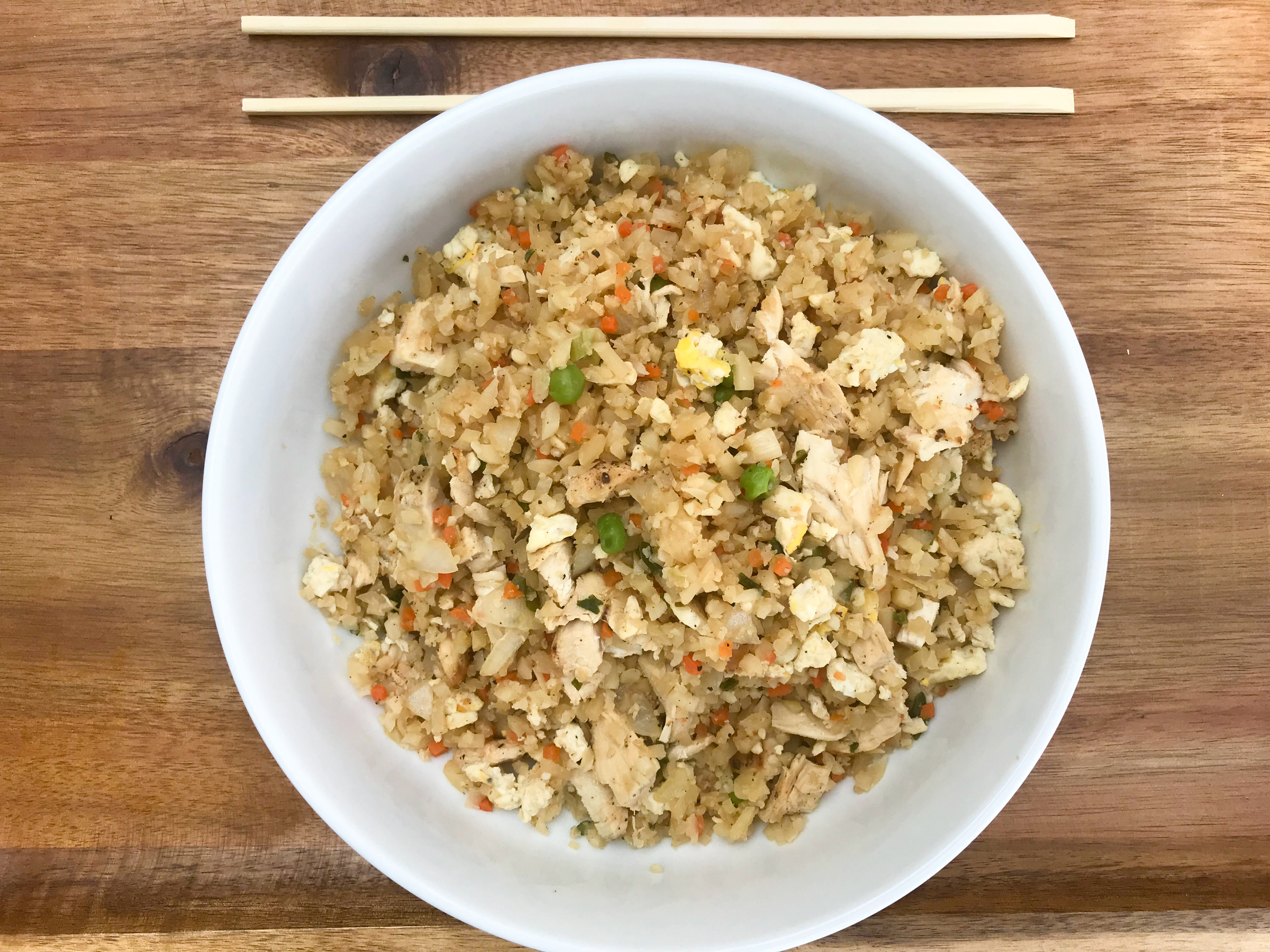 How's this for easy? Trust me, you are going to love this low carb healthy dish! It's perfect to make for meal prepping too so you can eat through the week. After you taste this recipe you won't be ordering Chinese take-out anymore.

Print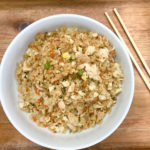 Low Carb Cauliflower Chicken Fried Rice
Author:

Prep Time:

5 mins

Cook Time:

7 mins

Total Time:

12 mins

Yield:

4

Category:

Healthy
---
Description
This Low Carb Cauliflower Chicken Fried Rice is healthy and delicious.
---
Ingredients
1 package of frozen Cauliflower medley
1 Tablespoon Avacado oil
1 garlic clove, minced
1/4 cup diced onion
1/4 Liquid Amino
1 large egg
2 egg whites (1/3 cup of liquid egg whites
1 large chicken breast, cooked (6 oz)
Sea salt and fresh ground pepper to taste
---
Instructions
Heat avocado oil in a skillet over medium heat
Add garlic and chopped onions. Saute for 3 minutes or so.
In a small bowl whisk egg and egg whites together. Season with a dash of salt and fresh ground pepper.
Spray a separate skillet with noncook spray (avocado) and heat. Add egg mixture and cook creating scrambled eggs. Set aside.
Add the bag of Cauliflower mix to skillet with the sauteed garlic and onion.Cook for 2 minutes and then add liquid aminos, scrambled eggs and cooked chicken breast pieces. Mix well and continue to cook for an additional 3 – 5 minutes, or until cauliflower is cooked thoroughly.
This recipe serves 4 and is 1 cup per serving.
Calories per serving: 127 | 

Carbohydrate 5

 

g | Protein 15 g | Fiber 1 g |Fat 5g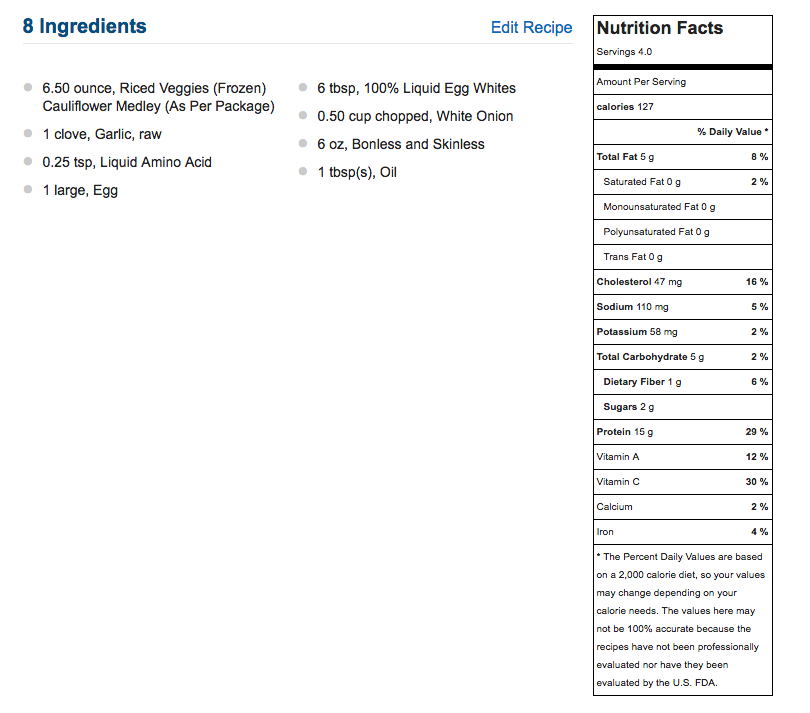 I try my best to calculate the nutrient facts for my recipes. I use MyFinessPal to calculate my daily macros. If you are on my MyFitnessPal you can copy this URL to this recipe and add it to your MyFitnessPal. See example below.