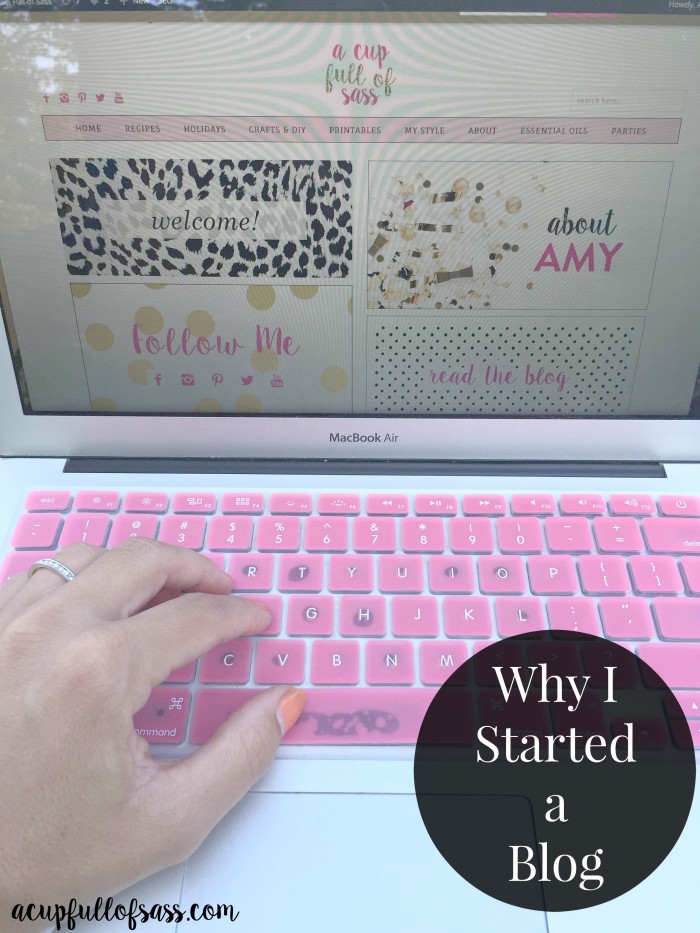 This post contains affiliate links
When I started blogging, I did it as an outlet.  I am a stay at home mom, and well, I needed a place where I could be something besides a mom.  Don't hear what I'm not saying.  I love being a mom and a stay at home one at that.  But I was losing my identity.  That is why I started a blog.  But I started a vlog first.  You may be asking yourself, what the heck is a vlog?  It's an video blog, if you will.  I started by documenting my mommy makeover journey.  I will share that info in another post. 😉  I wanted to share my experience with other woman who was thinking of having a mommy makeover.  After my vlog  I decided I wanted to share more things with other woman and moms.  I wanted to help moms like me feel empowered and fabulous!  I wanted to breath positive energy into woman!  I wanted to share fitness tips, crafts, recipes, real life and amazing products I find and use.  That my friends is how A Cup Full of Sass began.  On January 26th, 2013 I posted my first blog entry.
I knew nothing about blogs.  Nothing.  Lucky for me I have a husband who is in the IT world and creates websites for a living.  He was a Huge help with all the web and tech stuff, and still is!   Once my blog went live, I did not tell many people about it.  I was afraid of what they might say.  What if they didn't like it.  Or what if they did not like me?  I mean let's face it.  When you have a blog and or vlog you are inviting strangers into your personal life.  You are sharing things with people you probably wouldn't be sharing if it was not for the blog or vlog.  That can be a little intimidating.  My blog started out as a hobby.  My only real readers were my mom and hubby.  I just shared things when I felt like it.  It probably took months before I announced to my close friends and family that I had a blog.  All of my friends and family seemed very excited and supportive.  Yay!
The first year of my blog only posted 42 entries.  See I told you it was a hobby.  After my first year I really wanted to take my blog to the level.  I started investing more time into it.  I posted 86 entries for 2014.  That's double the post then 2013.   While searching for tips and information to help me become a better blogger I came across one of the best ebooks for bloggers.  Building a Framework by Abby Lawson from Just a girl and her blog.
I only wish I had this book at the beginning of my blogging journey.  But that would have been impossible because it was not written yet. 😉  This book gives you so much valuable information.  It shows you how to start a blog and goes into how to grow your blog.  What plugins she uses, what worked for her and what did not.  Abby's book is so easy to ready.  Seriously, I can't express how awesome her ebook is and not to mention her.  She is seriously the sweetest thing!  Thanks to Building a Framework, I have really learned the ins and outs of blogging.  If you are interested in starting a blog, or growing your blog, this ebook is a MUST for you!!
Blogging is a lot of work!  More then I ever thought.  Not only do you create the content, write the content, you are also taking picture, editing pictures, creating pinnable images, socializing on social media, etc.  I could go on and on.  However, I absolutely love it!  I love the relationships I have made with other bloggers.  I love connecting with you, my readers.  I love the fact that I am helping people.  It could be with a recipe, a hairstyle, or a DIY project.  That is what makes me happy. 🙂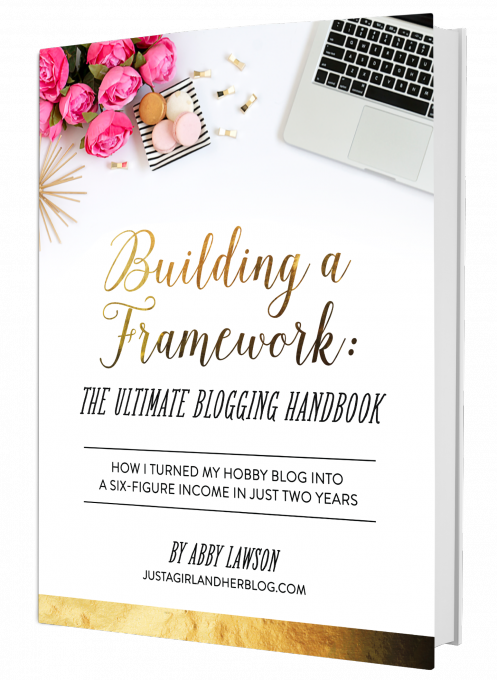 There are three packages to choose from.
Newly Updated eBook
Newly Updated Blog Binder Printables
Starter Guide with Complete Course Overview and Step-by-Step Outline
Lifetime Updates of the eBook + Printables
Newly Updated eBook
Newly Updated Printables
Access to an Exclusive Building a Framework Facebook Group
Starter Guide with Complete Course Overview and Step-by-Step Outline
15+ Step-by-Step Video Guides; Topics Covered:

Basic Blog Accounting
Google Analytics
Google AdSense
RSS
My Posting Routine
Plugins
BoardBooster
Tailwind
Buffer
CoSchedule
Facebook
Pinterest
MailChimp
PicMonkey
Photoshop

Lifetime Updates of the eBook + Printables + Video Guides
Newly Updated eBook
Newly Updated Printables
Starter Guide with Complete Course Overview and Step-by-Step Outline
Access to an Exclusive Building a Framework Facebook Group
15+ Step-by-Step Video Guides
15 Video Interviews with Expert Bloggers!!!
Audio files from the 15 expert interviews so you can listen to them on the go!
Lifetime Updates of the eBook + Printables + Video Guides + Expert Interviews
There is also a video with expert Interviews with some amazing talented bloggers.  Trust me, they know a thing or two. 😉
So if you are considering starting a blog, I say go for it!  Or you are looking to improve your blog  you must purchase Building a Framework ebook.  You will thank be later.  And make sure you connect with me if you do decide to come inside the bloggy world. 😉