I am so excited my sweet friend Bethany decided to share her Bible Journaling tutorial with us. I know you are going to love her just a much as I do.


Hello everyone! My name is Bethany and I live over at Southern Couture. My home is a lifestyle blog where I share DIY and crafts, recipes, and one of my most favorites is Bible Journaling. I love the printable scripture cards that Amy has shared in the past and couldn't wait to share more with y'all too.
Bible journaling has become a huge passion of mine over the last year. If you are curious to find out more about Bible journaling or have never heard of it, be sure to check out this beginner's post that will help fill you in on all the details. Plus you don't have to have a journaling Bible that comes with extra space in the margins. A journal will work perfectly too.
Today I want to share an entry that I did recently in my journaling Bible along with a FREE printable to help you get started.
My motivation for this entry came from Ecclesiastes 3 which talks about there being a time and season for everything in life. I find that this scripture is so good to remember that life isn't meant to always be happy and fuzzy and that it's okay when things don't go exactly as we plan.
I thought it would be fun to include this printable card with the bicycle because life is a journey and adventure with all different seasons in life. How we deal with those seasons is what is most important.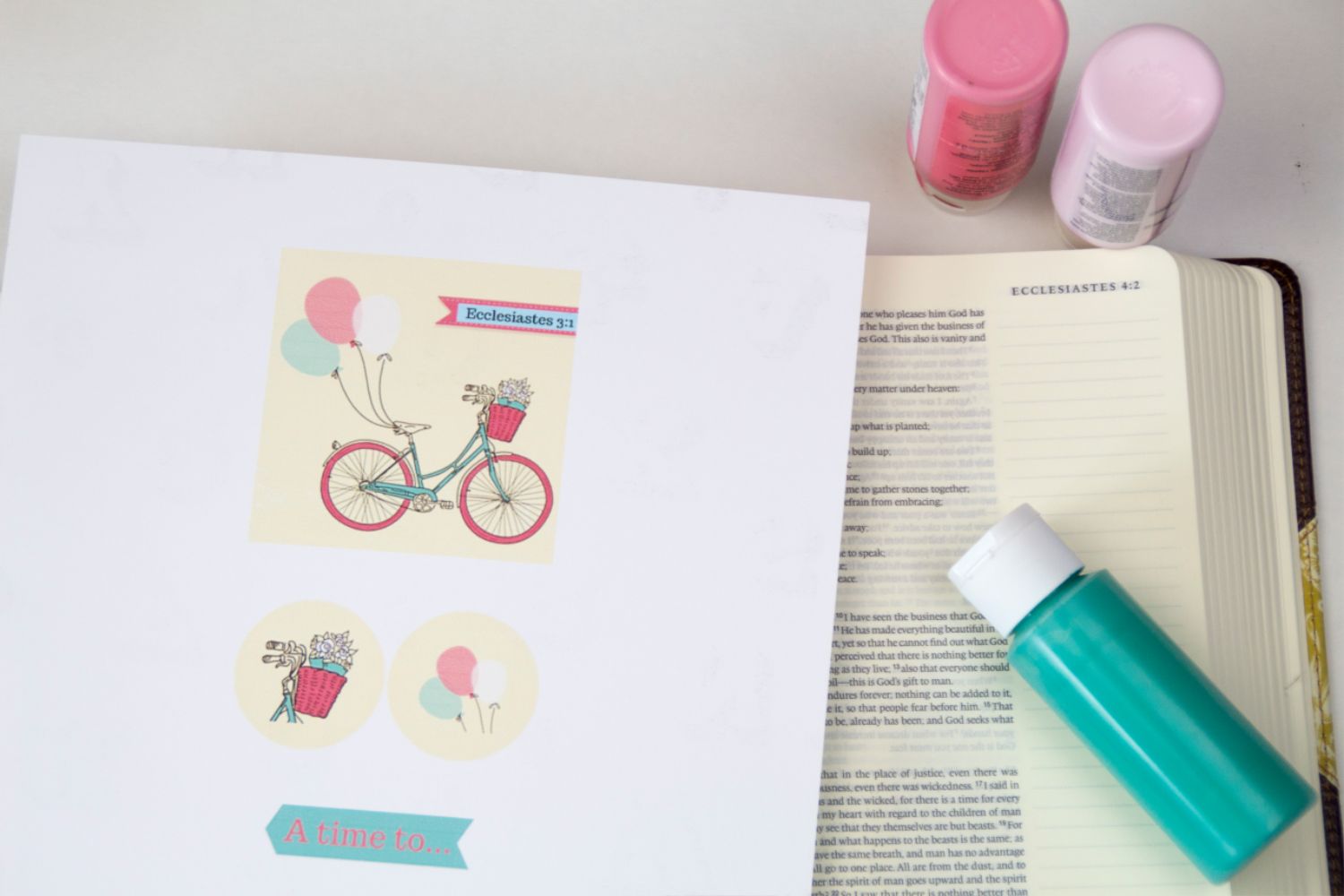 Be sure to get your FREE printable HERE too!
Cover the opposite page you are not working on and the pages underneath the page you are working on with kraft paper to protect them.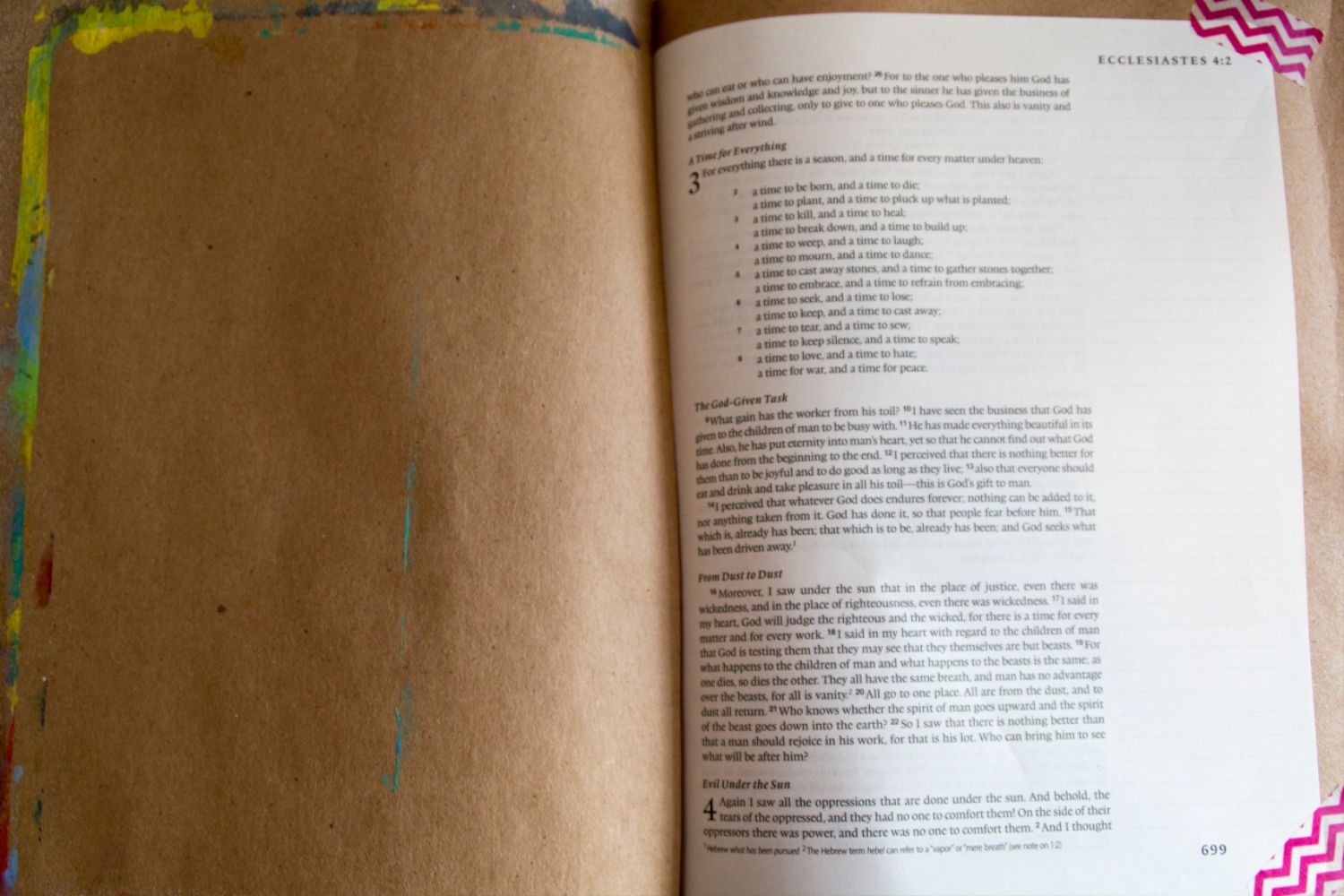 To start off I used acrylic paints on my Bible pages to get a colorful look. And Yes, you can use paint in your Bible. I know that might sound crazy, but it really does work. Plus you can still read the scripture through the paint with the technique I am showing you today.
Start by first testing this technique on scrap paper or extra pages in the back of your Bible.
Use an old credit card, rewards card, etc. and dip one end of it in a small amount of paint. Rub the card onto the page in a swiping motion. The paint will go on very thin and spread out easily.
I started by using one darker color. Then I added more layers of color that were in the printable as each layer dried before starting a new color.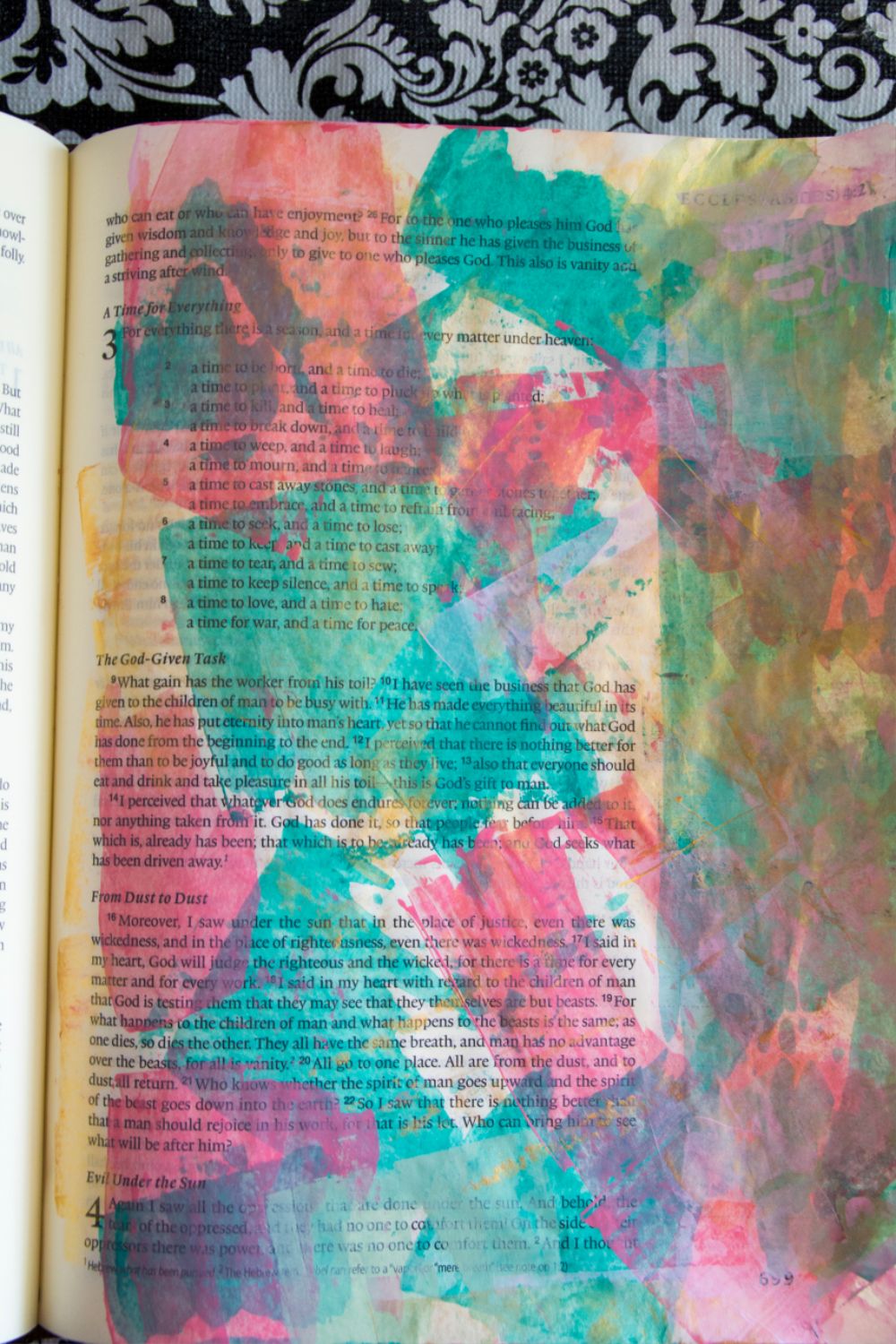 Decide on where you want the printables placed and start adding them to the page using scrapbook adhesives. Attach the larger card with washi tape so you can still fold it up and read the scripture underneath.
I also added some extra scrapbook stickers that I had that matched perfectly. And of course don't forget to date your page with a date stamp so you know exactly when the entry was done in the future.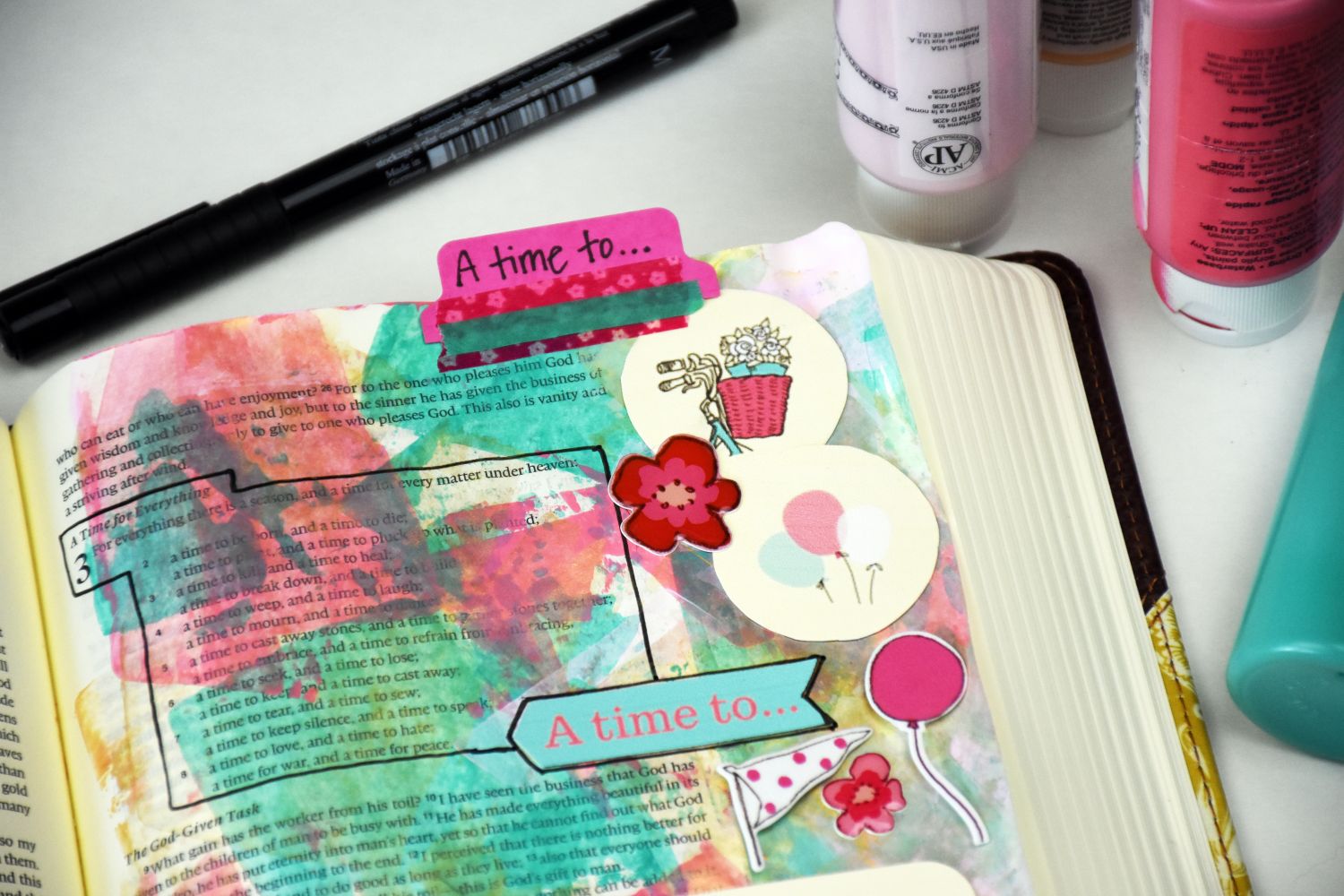 I added emphasis to the scripture I was illustrating by adding the black outline. To make it easy to find in my Bible, I used a tab punch to make a paper tab and attached it to the page using washi tape.
And there you have it! It may look elaborate but so simple to put together. I absolutely love this form of worship that combines my faith with a hobby that I love so much. You can even apply these same ideas with art journaling in a journal.
If you loved what you saw today, then I would love for you to check out my FREE 5 Day eCourse for Bible Journaling Beginners. You will learn all you need to get started today and design your very first entry too.
Click HERE to sign up for the FREE eCourse now.
I hope you enjoyed this today and look forward to seeing you over at the eCourse. Be sure to head over to my little part of the internet for more Bible journaling tutorials and much more. I can't wait to hang out!