A Creamy Tuscan Chicken recipe with bacon, sun-dried tomatoes and spinach served over gluten-free noodles.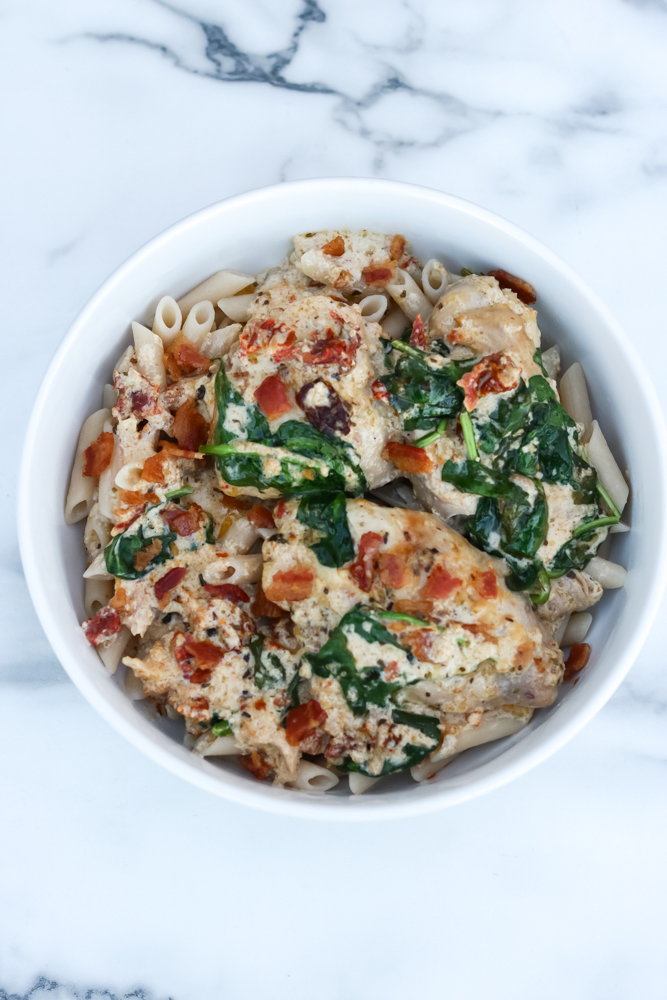 This slow cooker Tuscan Chicken Pasta is one of my families favorites. I love making this recipe on a cold winter day. Your house will smell amazing as this recipe is cooking. I also like doubling this recipe for leftovers for the week.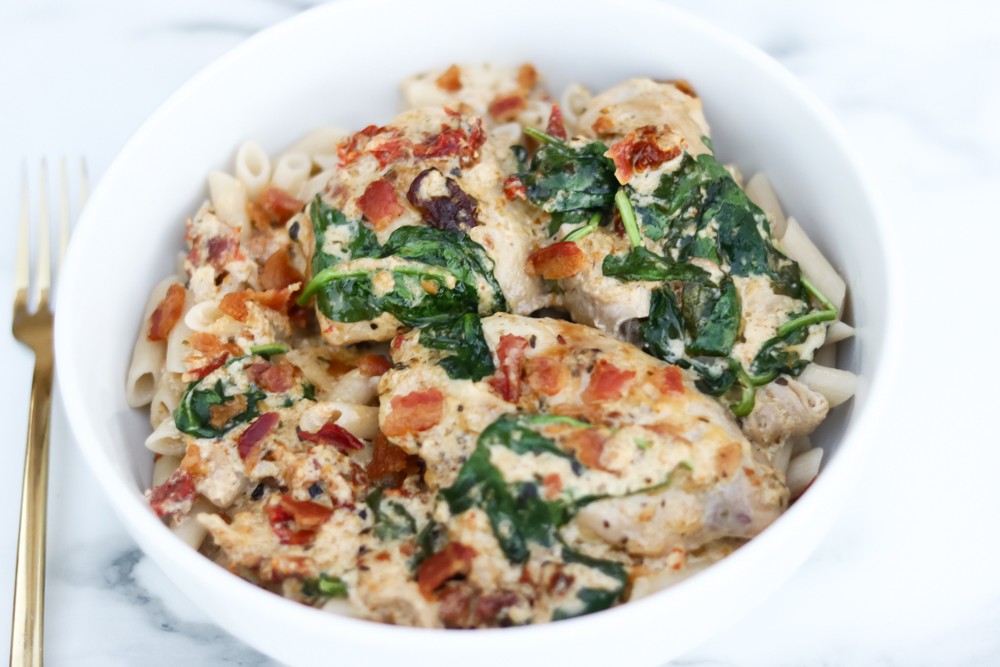 Boneless Chicken Thighs
I love using chicken thoghts in my slow cooker becusese they don't dry out like chicken breast seem to do. They stay tender and juicy.
Creamy Garlic Sauce
Making your sauce homemade makes all the difference in the world. Trust me. I like to make my sauce on the stovetop because it seals all the ingredients together. This creamy garlic sauce isn't too think or too heavy. I also like to add a splash of mine, but that is optional.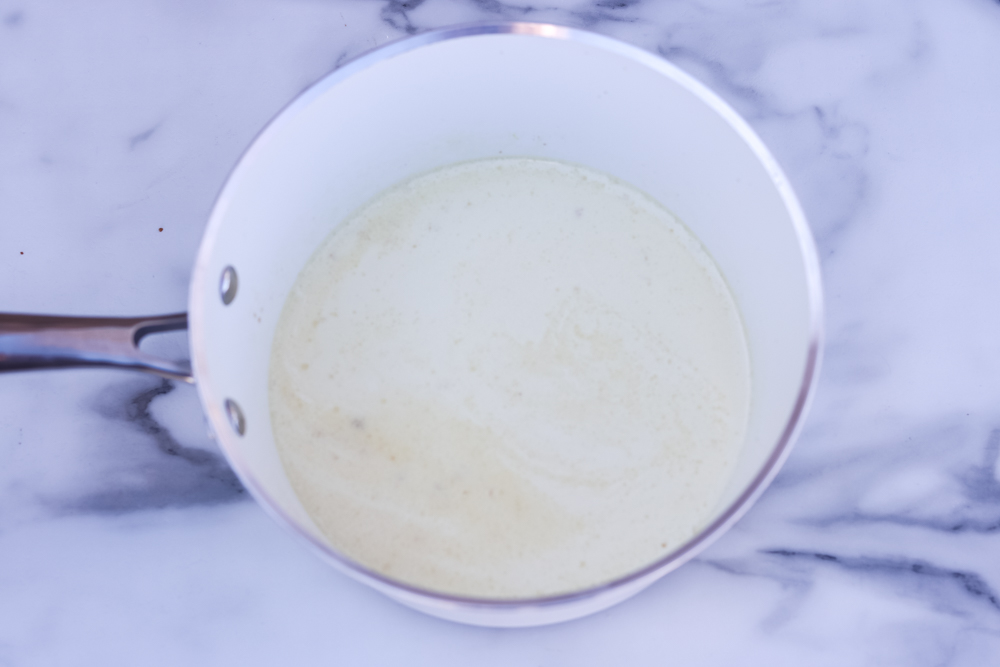 Sun-Dried Tomatoes
You can find sun-dried tomatoes in a jar at your local grocery store. This adds the pefect taste as it cooks with the chicken thighs.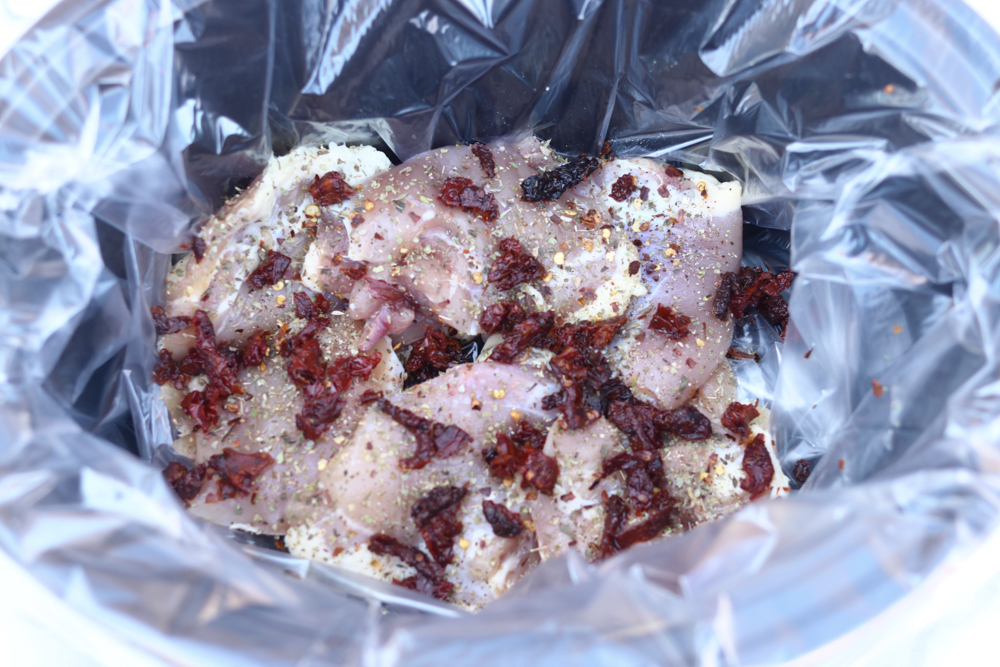 Bacon
You had me at bacon. Adding crispy bacon is a must. I like to bake mine in the oven, just becuse it's less work in my opinion. Top off your dish with this and you are set.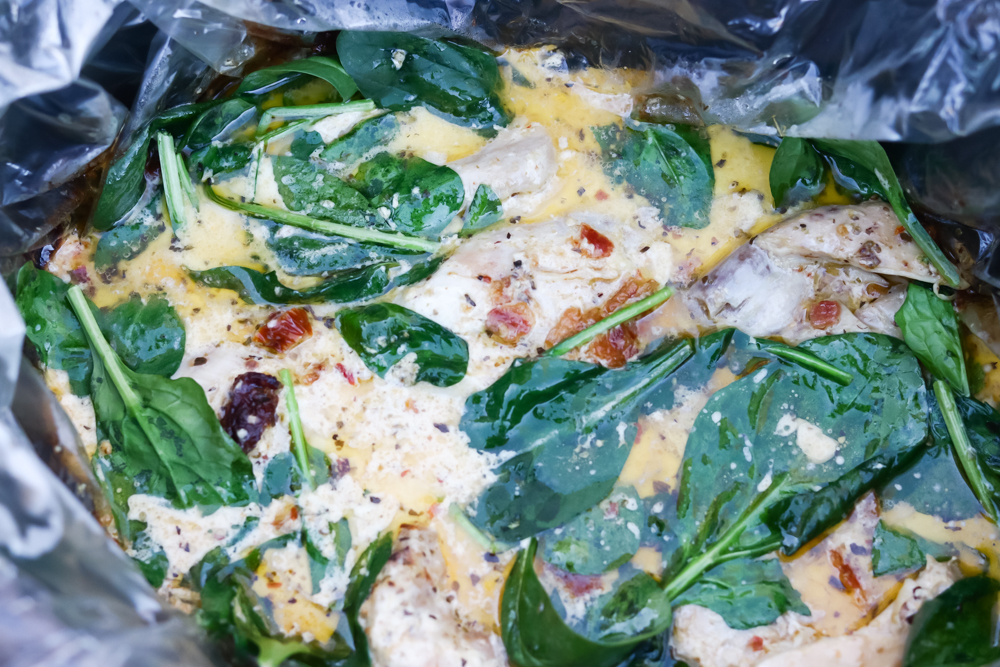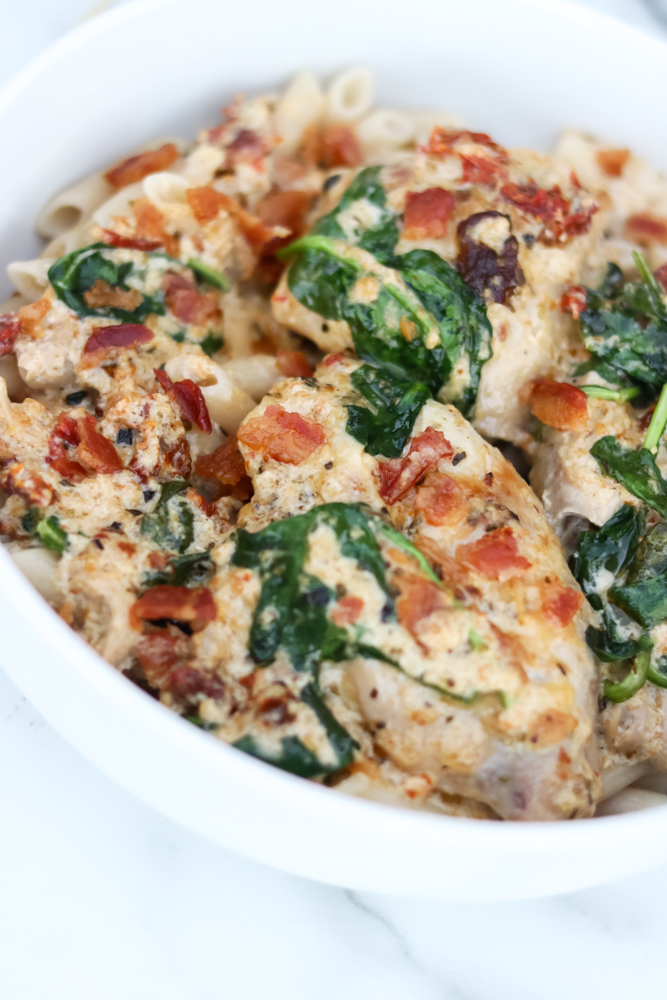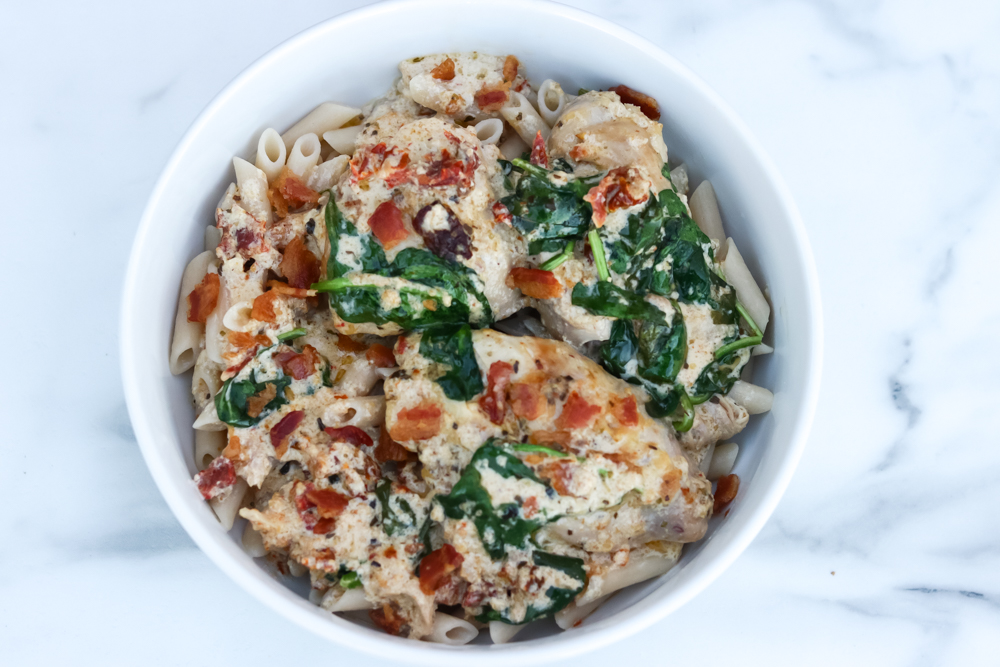 Slow Cooker Tuscan Chicken Pasta
Ingredients
6-8

Boneless Skinless Chicken Thighs

1

tablespoon

Avocado oil

4

Garlic Cloves, minced

1

tablespoon

Italian Seasoning

1/2

teaspoon

Crushed Red Chili Pepper Flakes

1/2

cup

Chicken Broth

2

cups

of Heavy whipping Cream

1/4

cup

sun-dried tomatoes, chopped

1

Tbsp

White Wine

optional

1/2

cup

Freshly grated Parmesan Cheese

Sea Salt and Fresh Ground Pepper, to taste

1.5

cups

Brown Rice & Quinoa Penne Pasta

optional

6-8

slices

bacon, cooked

You can always add more

1

cup

fresh spinach, chop if desired
Instructions
Spray slow cooker with a nonstick spray. Add chicken thighs to slow cooker.

Season chicken thighs with Sea salt, and black pepper, Italian seasoning, crushed red chili pepper flakes. Top chicken thighs with chopped sun-dried tomatoes.

For the cream sauce heat oil in a medium saucepan over medium heat. Add garlic and saute for about a minute, until fragrant.

Add the chicken broth and heavy whipping cream and bring to a boil. Reduce heat. Add freshly grated parmesan cheese and cook on low/medium stirring frequently.

Continue to simmer for about 10-12 minutes or until sauce thickens some.

Pour sauce mixture over chicken thighs in the slow cooker.

Cook on high for 3-4 hours or on low for 6-7 hours. Or until internal temperature reaches

Cook bacon in the oven or on the stovetop. Set aside for later

Before Chicken is finished boil pasts noodles if desired. I used the Organic Brown Rice & Quinoa Penne Pasta Gluten-Free Noodles.

Once the chicken is finished add chopped spinach and stir. Let sit for about 3-4 minutes or until spinach wilts.

Serve Tuscan Chicken and sauce over noodles and top with crumbled bacon pieces.
Nutrition