Today I am sharing everything you need to know about Botox and Fillers. I have been getting Botox and Fillers for over two years now. It has been one of the best things I have done for myself. Personally, I wish I had started even earlier. Botox and Fillers may not be for everyone, but I'm a firm believer that if there is something you don't like, do something to change it. This holds true in every aspect of my life. My weight, health, and happiness all come from me changing something.
If you don't care for your teeth, braces can help with that. Maybe you wish your teeth were whiter, try Crest White Strips. If you want thicker or longer hair, try hair extensions. Not a fan of your current hair color? Try a new color. Do you see where I am going with this? If doing these things make you feel more confident about yourself, I say GO FOR IT. You do You! I know that there are many women who have thought about or even considered botox and or fillers. I know this because I receive numerous emails and DM's about it. My goal is to give as much information about this topic from my personal experience.
Make sure you see the special for my readers at the end of my post.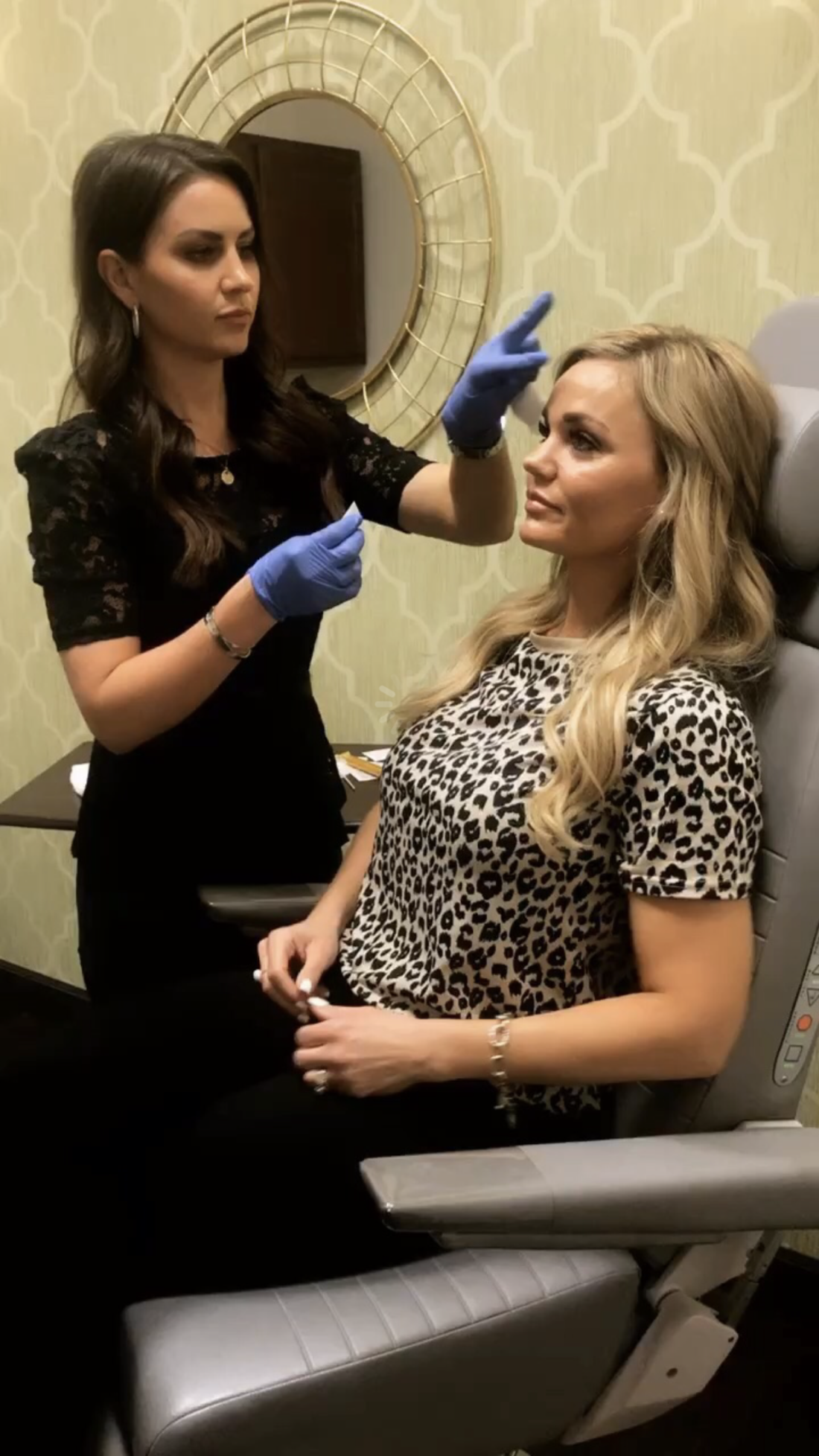 Find Someone You Trust
I cannot stress this enough! This is honestly the most important thing when searching for someone to perform Botox and or Fillers. This is your face we are talking about. Find someone who is an expert in this field and see examples of their work. Bottom line, don't Groupon your face.
I see Racquel Frisella who is an aesthetic nurse practitioner. Racquel has over 10 years of experience in the aesthetic nursing field and specializes in injectables, lasers, and skincare. I am telling you, this girl knows her stuff! She is amazing and listens intently to your concerns and helps lead you in the right direction to address your needs. I have a full video from my appointment below.
You can find her at two locations in St. Louis. Nayak plastic surgery & Avani Derm Spa in Frontenac and Avani Derm Spa in Des Peres. Both facilities are gorgeous. Racquel sees patients in-office on Tuesdays, Wednesdays, & Thursdays from 9-4pm. You can also check out her blog and Instagram page. Her consultations are complimentary for both procedures and skincare regimens. Speaking of skincare, my skin has NEVER looked better since I switched to the skincare regimen Racquel put together for me. She takes online skincare clients so you don't have to leave your home. You can see my post here.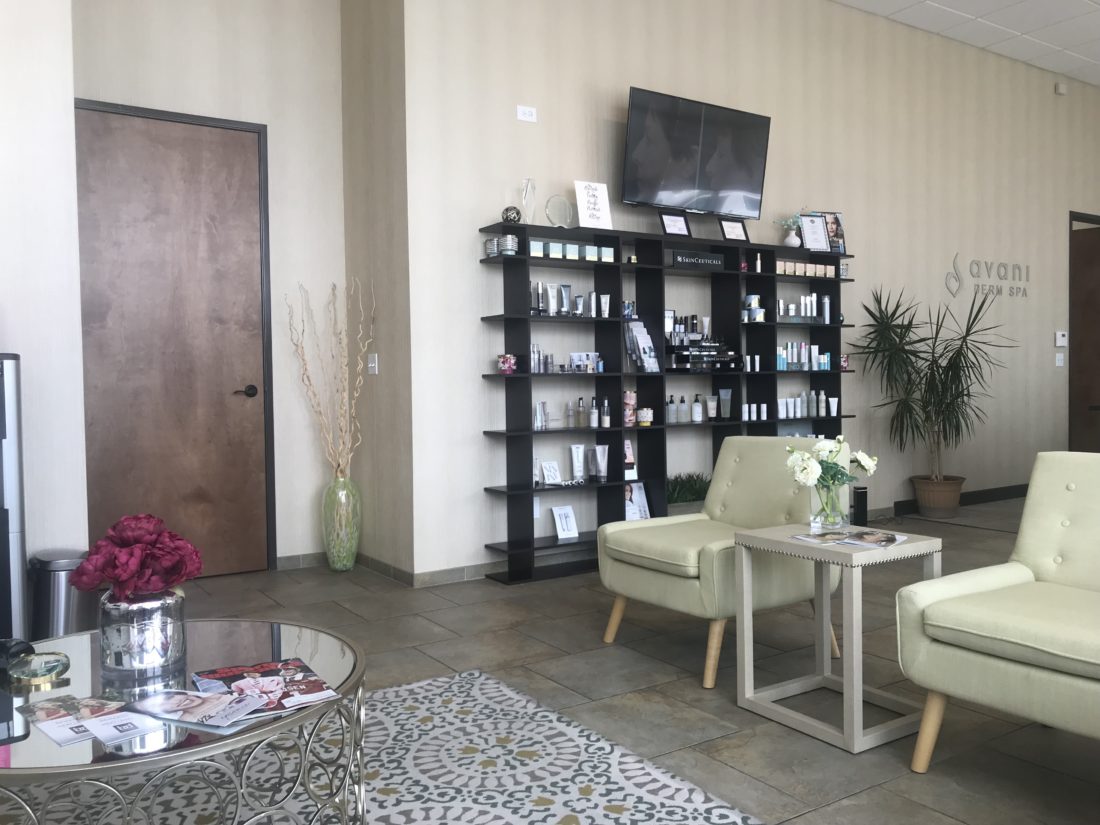 Full Correction with Botox and Fillers
This is what Racquel likes to call a "Full Correction" addressing all the areas in the face with a sprinkle of product to prevent and correct signs of again.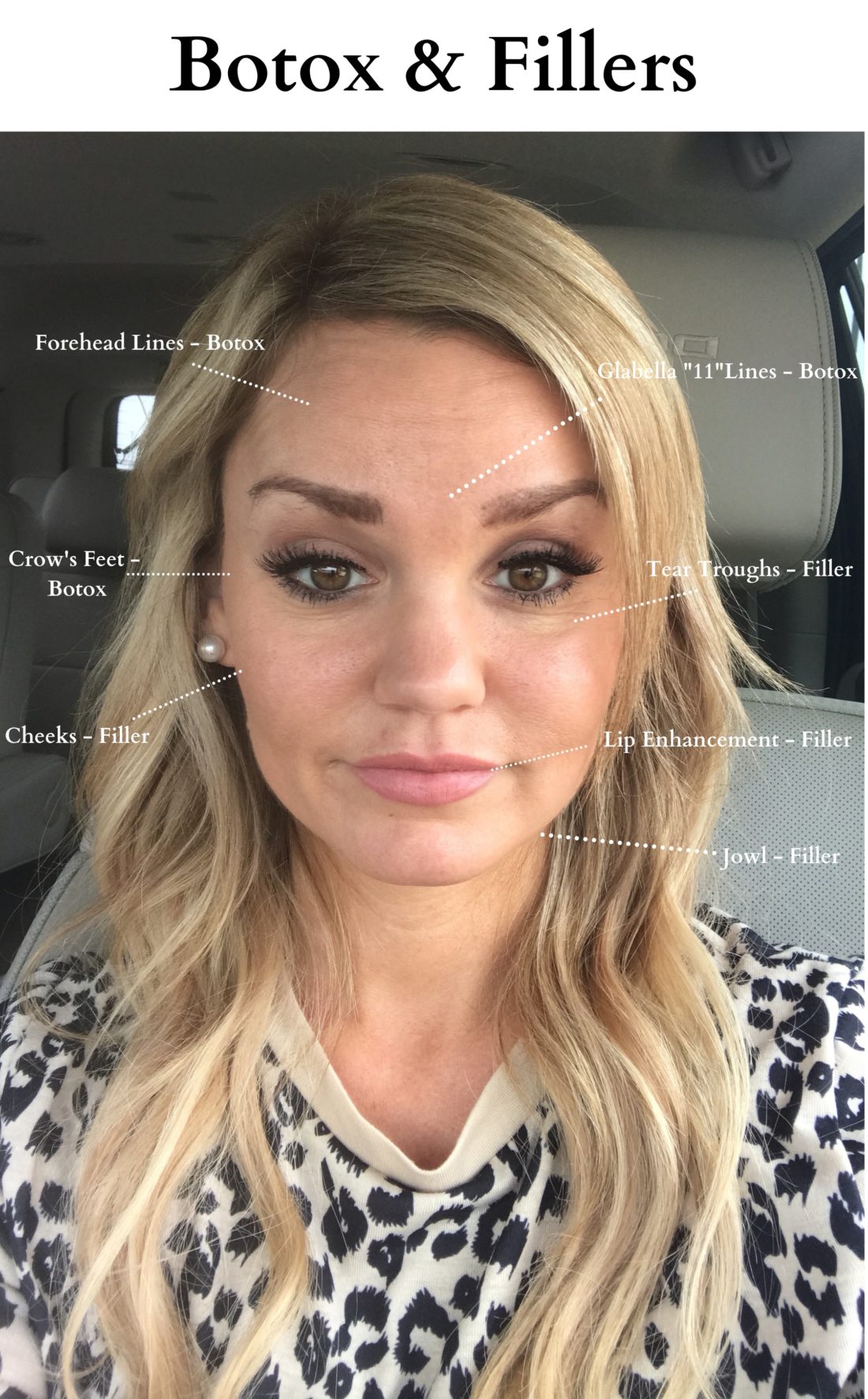 Botox
Botox is a prescription drug that is injected into muscles to improve the look of moderate to severe frown lines between the eyebrows (glabellar lines), on the forehead, and around the eyes. I am listing the areas I treat with Botox. You will see large bumps from the botox, but they were gone by the time I left my appointment. No need to worry. Some people actually do this on their lunch break.
Glabella
The Glabella is the wrinkles between the eyebrows also known as the 11 lines. This is a very common area for Botox.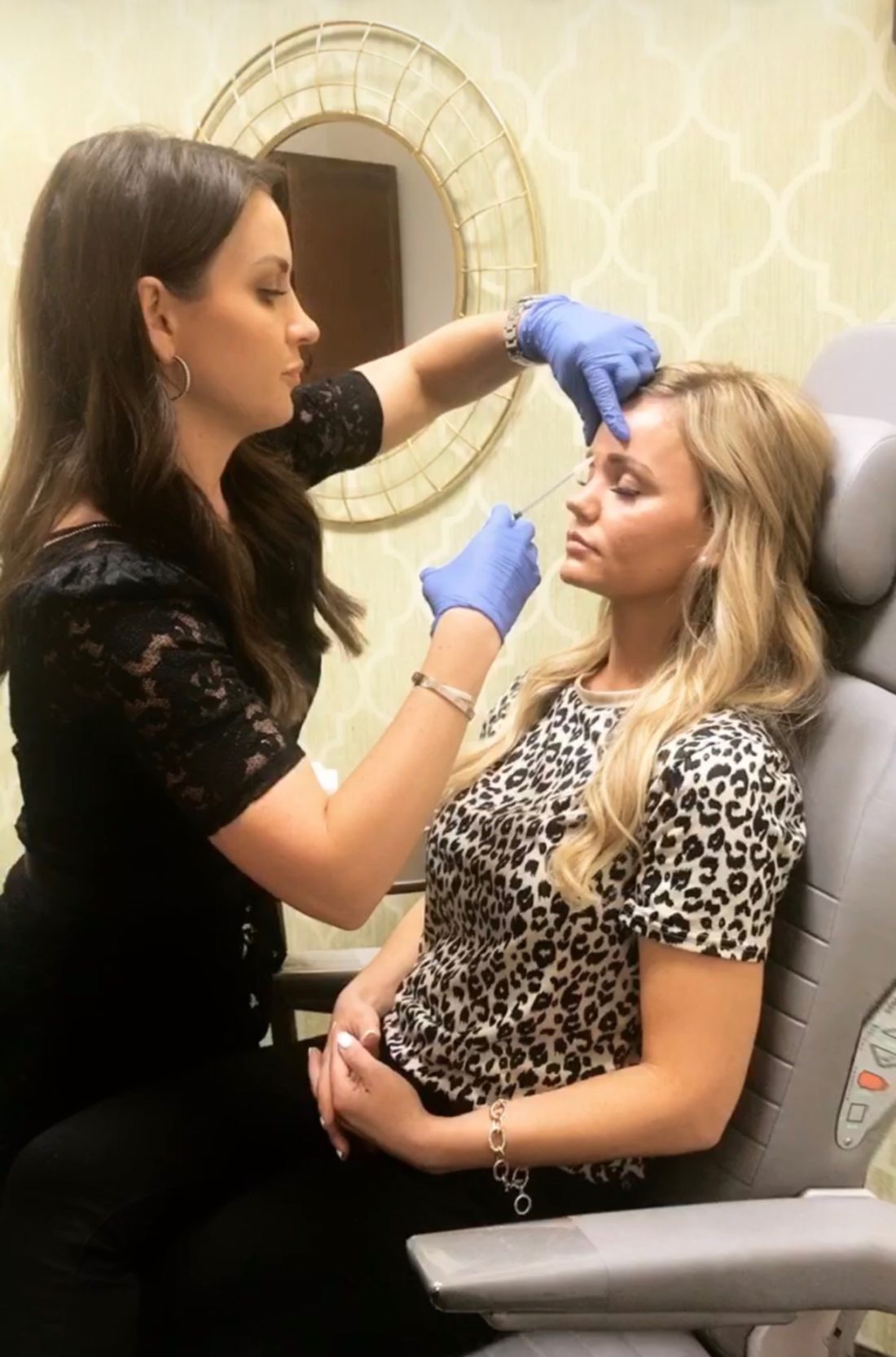 Forehead
These are the horizontal lines in the forehead. This is one is a big one for me.
Crow's Feet
This is known as the area around the outer part of the eyes. When you smile, the wrinkles appear.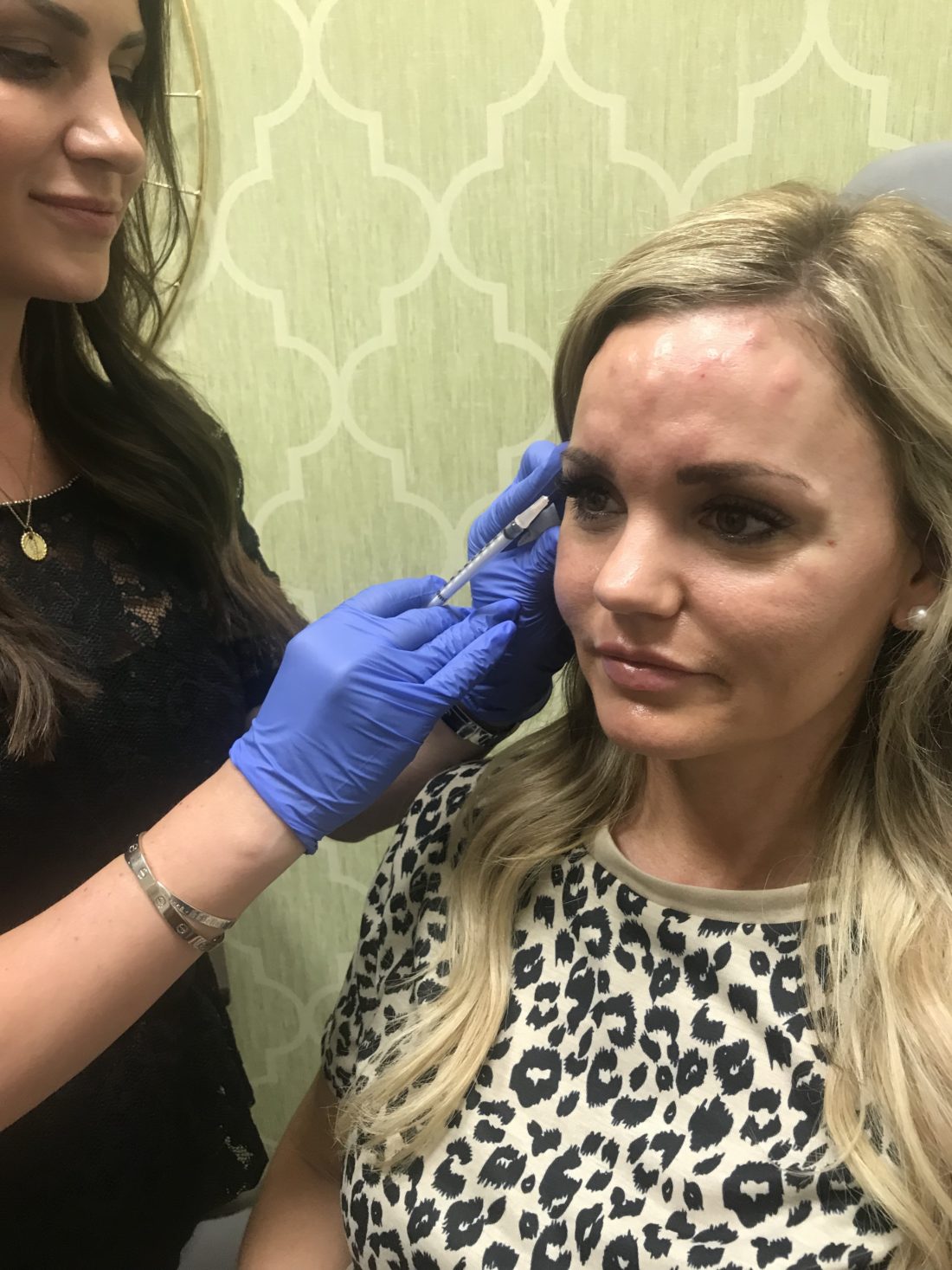 How Long Does Botox Last?
Botox can last up to 4 months. Results vary from person to person. It depends on how fast your body metabolizes the Botox. I tend to go every three months.
How Much Does Botox Cost?
Prices can vary depending on where you go and where you live. Racquel chargers $14.00 per unit.
How Many Units Will I Need?
Each person is different so you won't really know until your appointment.
Fillers
There are different Fillers for different areas of your face. Fillers do exactly that. It fills in the areas in the face where there is volume loss. Fillers are an injectable hyaluronic acid gel that naturally occurs in the body. It is not only safe but is also completely reversible! This is not my first time getting fillers, but it is my first time getting it in some areas.
Undereye (Tear Troughs) Filler
I had Juvederm Vollure to the Tear Troughs (undereye area) to correct any hollowness and "pop" the eyes open. For this area, Racquel uses an advanced technique known as the cannula technique – which is the safest method, most comfortable, and greatly reduces bruising and swelling. It is a blunt rounded tip that is flexible and allows multiple areas to the face to be treated through a single hole. We used 1 syringe and the cost is normally $700. This filler lasts about 12+ months before a touch up could be needed. I will also add I did not bruise at all. Sometimes bruising and swelling can occur, but luckily I didn't.
Cheek Filler
I had Juvederm Voluma in the cheeks to help lift the cheeks/face, contour & slim and hide the malar fat pads that really bug me. We used 1 syringe and the cost is normally $900. This filler usually lasts 18-24 months.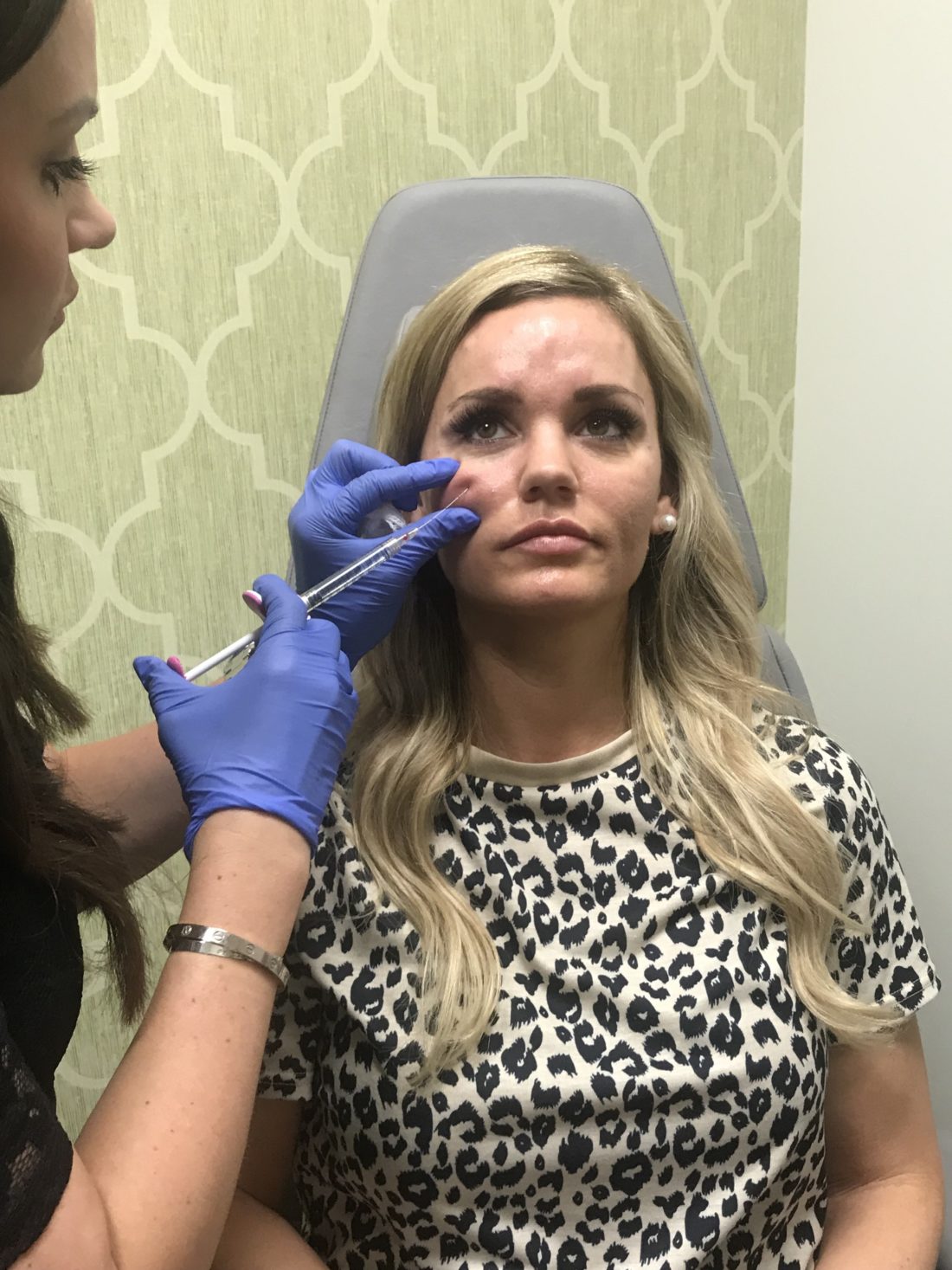 Lip Filler
This is an area that I have wanted to do for over two years. My lips were thinning and it was an area that really bothered me. However, I was so scared to get lip injections. I didn't want to end up looking like I actually had anything done. I wanted it to look natural. Racquel did exactly that. She is so good at what she does. I trust her completely. I had Juvederm Ultra in the lips for little more pop, volume, and definition. 1 syringe and the cost is normally $700. This typically lasts about 12 + months before the touch up is needed. I love how they turned out.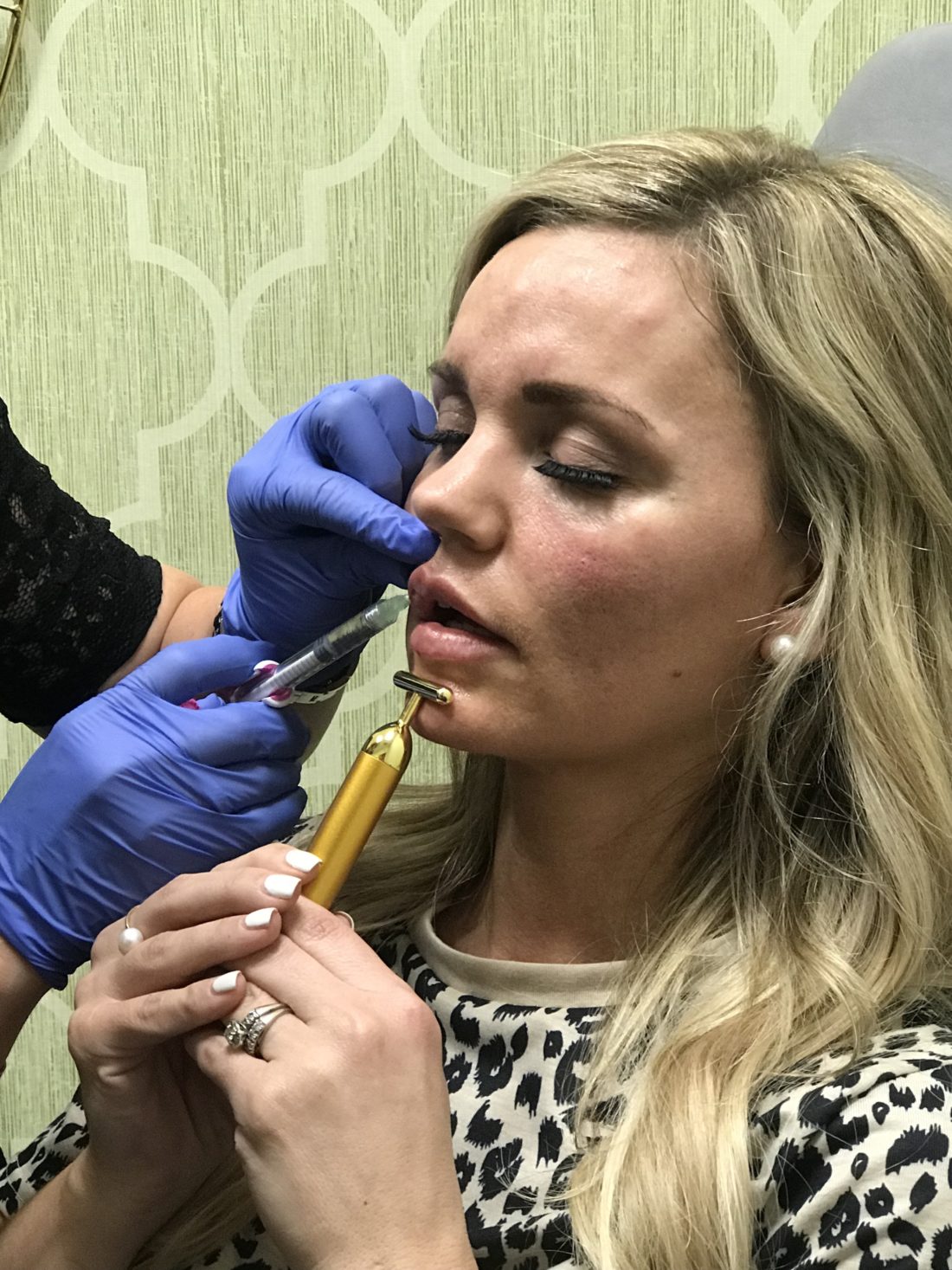 Jawline (Jowl) Filler
We added Juvederm Voluma to the Jawline. This is a subtle tweak that makes a big change! This tightens and straightens up the jawline, and adds little projection to the chin. It is very slimming for the face and hides any pre-jowling. We used one syringe and the cost is $900.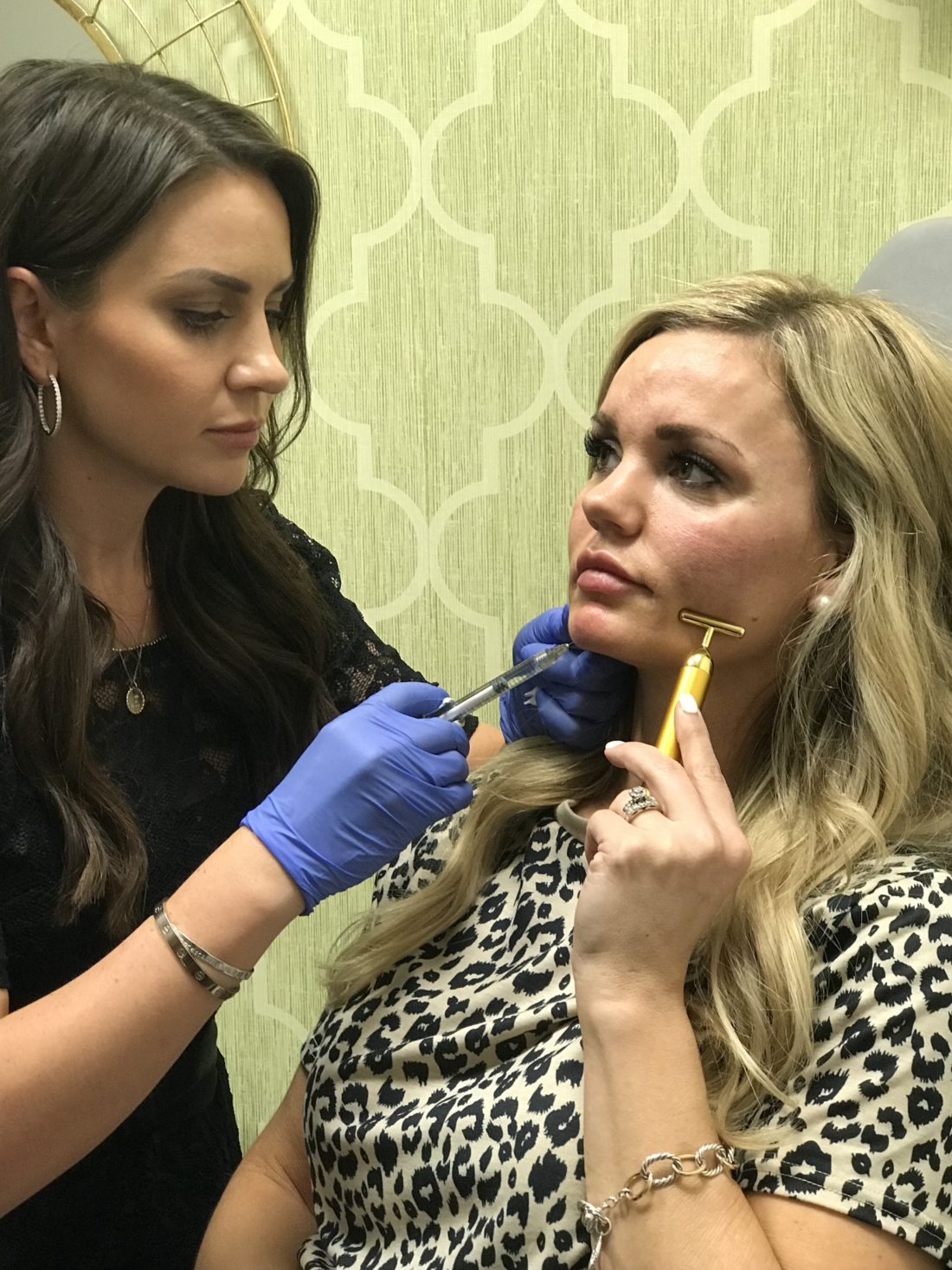 Does It Hurt?
Not at all. They applied a topical numbing cream to my face. I felt some tiny pinches, but I was not uncomfortable at all. I also used a small vibrating device that helps take distract you. I am telling you, Racquel does an amazing job! Watch the video below to see exactly what I had done. But again, I felt no pain.
Follow Up Appointment
Two to four weeks after your first appointment, Racquel likes to do a follow-up to see if everything has settled well and if there is anything she needs to tweak. Racquel always likes to undertreat instead of overtreating. This way the filler and botox have time to settle. When you go back for the follow up she can always make any further adjustments. I love that she does this because again I want to look natural. I have a video on that too. Go to my Instagram Stories Highlight to see it.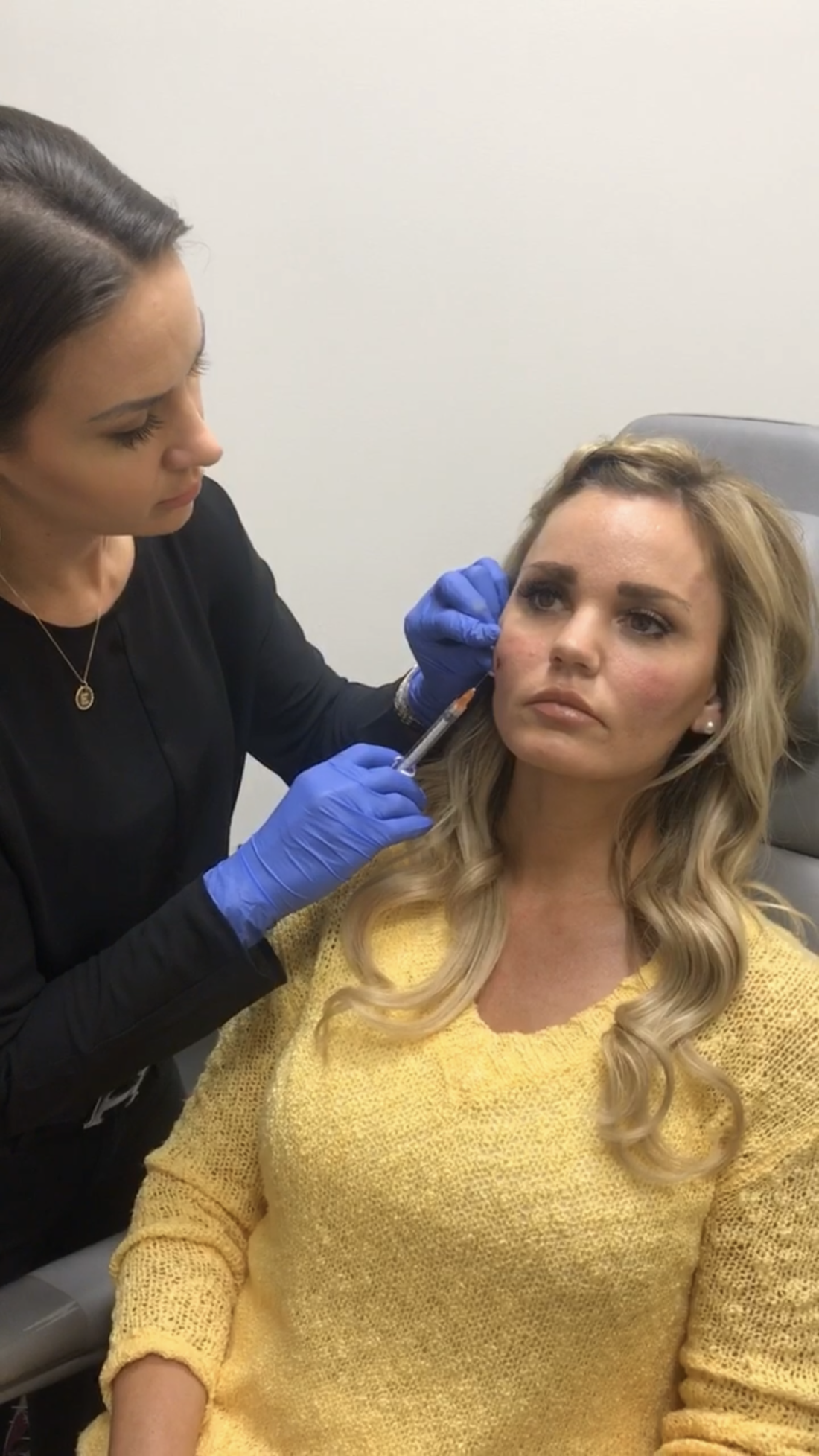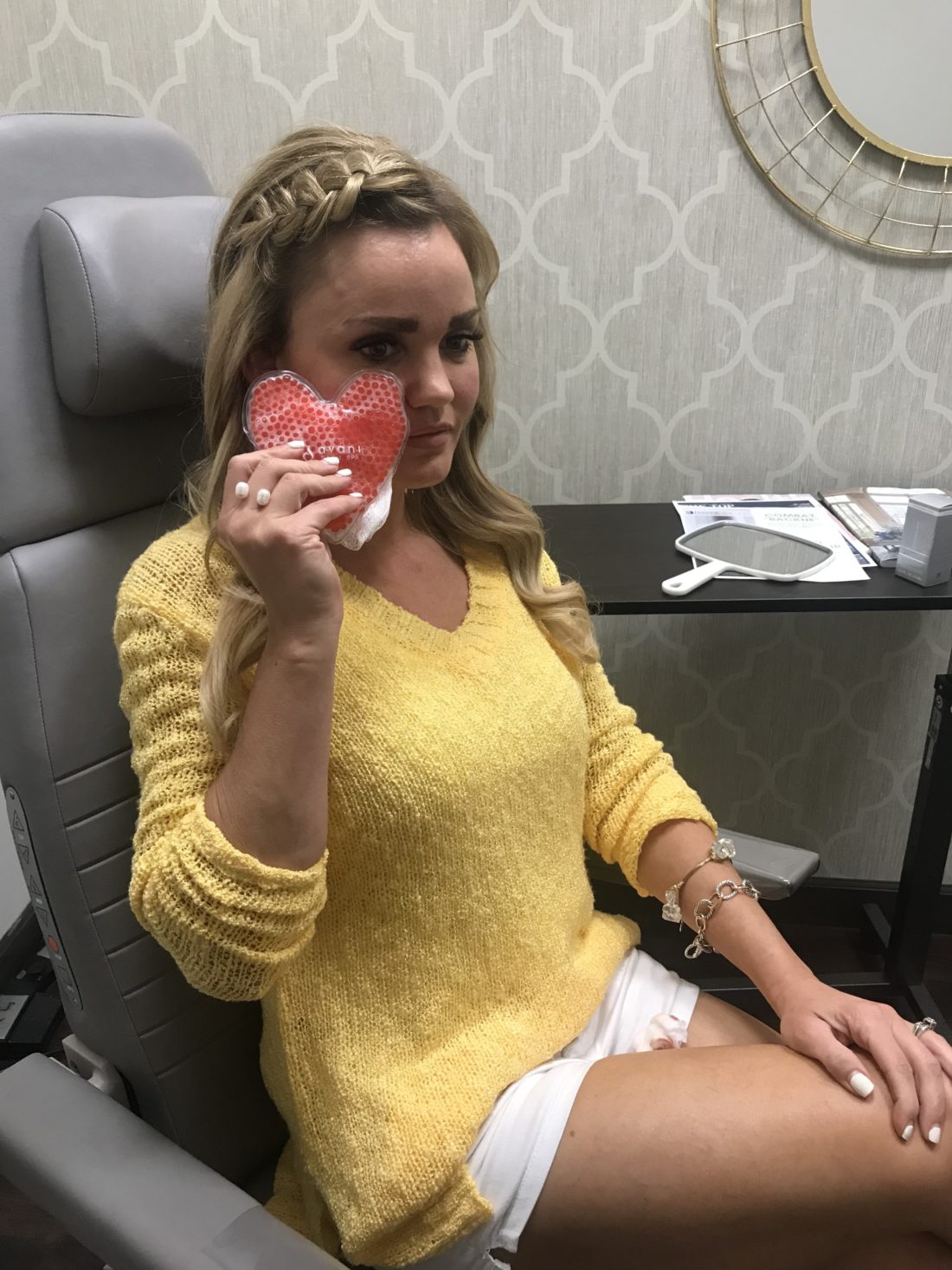 Multiple Syringe Discounts
Keep in mind you can start out slowly by doing one area at a time, or you can have everything done in one visit. They do offer multiple syringe discounts. They offer:
$300 off 3 syringes
$600 off 4 syringes
$900 off 5 syringes
$1200 off 6 syringes
After Getting Botox and Fillers
This picture was taken 4 weeks after my first visit. The botox and fillers settled nicely and I love how everything turned out. Not overdone, and done just right.
Getting Botox and or Fillers is a personal choice and is one I choose to do for myself.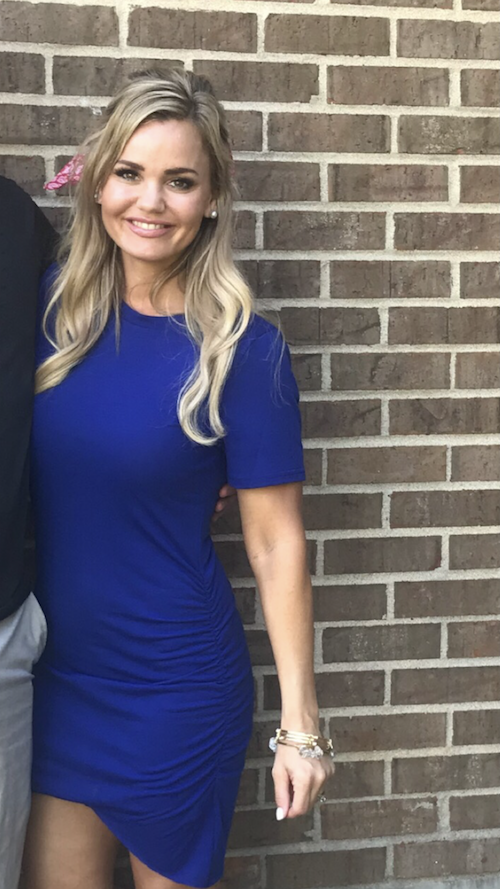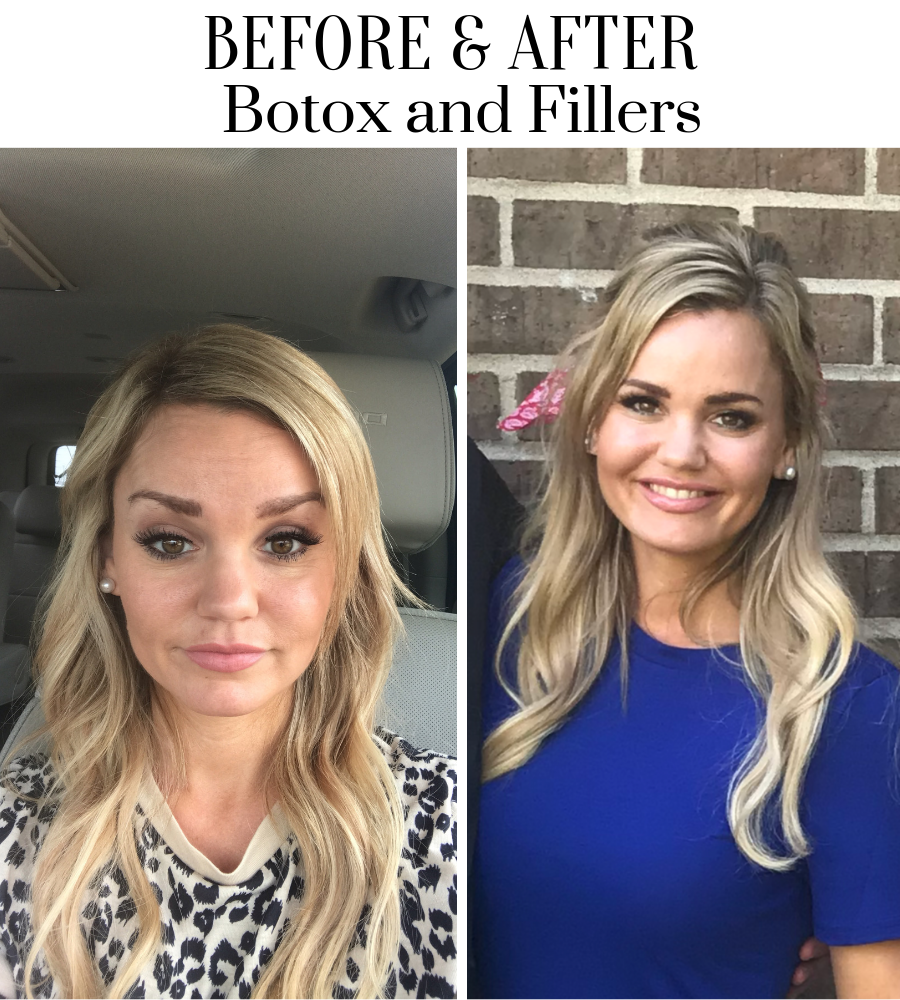 Side and front views after getting botox and fillers.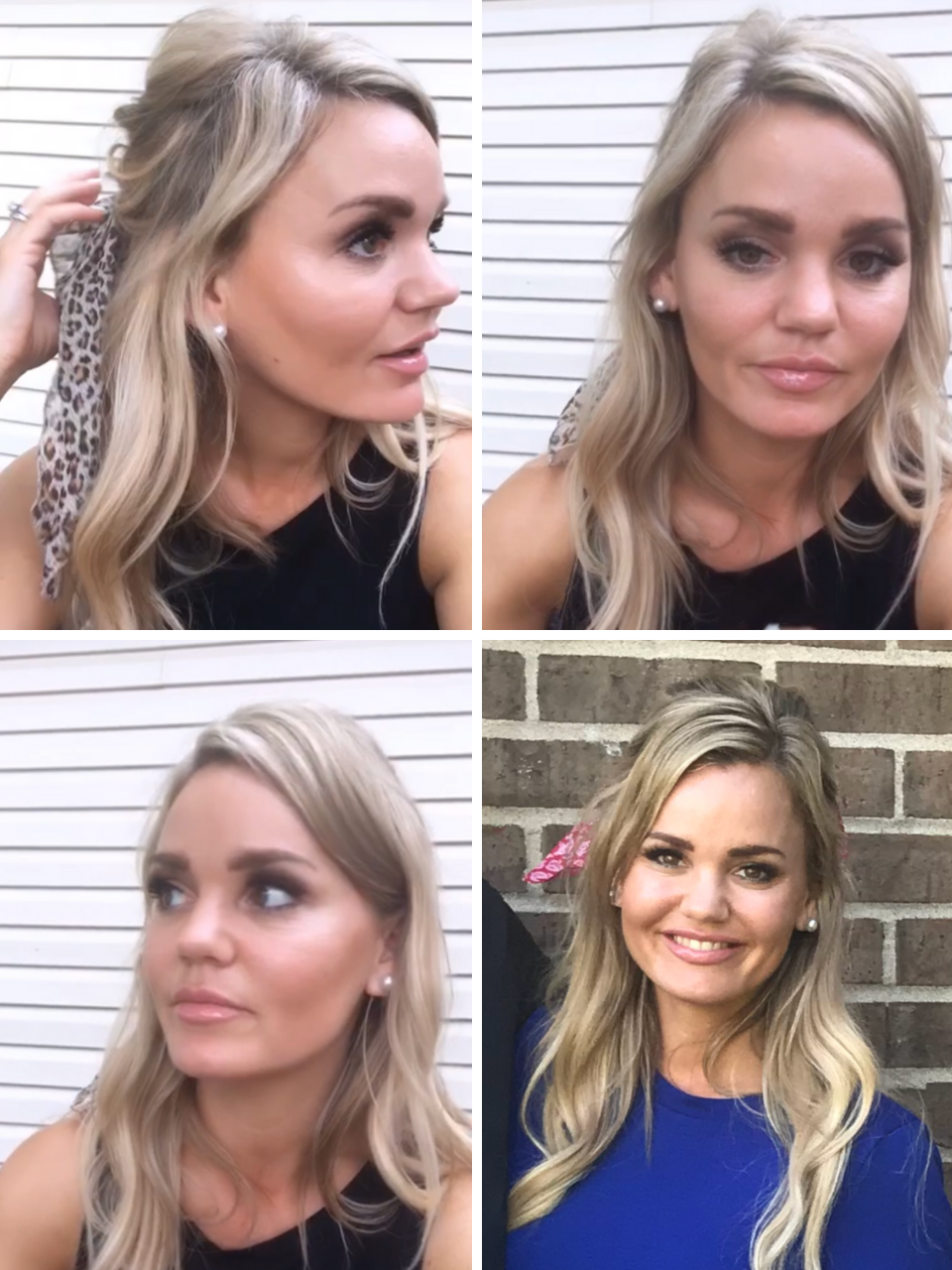 A Special for my Readers
My readers will receive $50 off of Botox or Filler by mentioning my name when booking an appointment with Racquel Frisella. You can contact her through her office, send her an email through her blog or a message on Instagram. I promise you won't be disappointed.